By Jeff White (jwhite@virginia.edu)
VirginiaSports.com
CHARLOTTESVILLE — Late in the first quarter of a critical ACC football game, University of Virginia quarterback Bryce Perkins went down with an ankle injury and headed to the sideline to be evaluated. In came his understudy, Brennan Armstrong, a true freshman from the small town of Shelby, Ohio, who wore jersey No. 98.
It was Nov. 17, 2018, at Bobby Dodd Stadium in Atlanta, and UVA was playing Georgia Tech. Armstrong's first pass fell incomplete, but then he rushed for 11 yards and a first down. Three plays later, on third-and-3, he passed to wide receiver Joe Reed, who broke a tackle and sprinted down the left sideline to complete a 56-yard touchdown play.
Perkins returned for the Cavaliers' next series and finished the game, but Armstrong had made a lasting impression, however brief his appearance that night.
"It seems like each time he goes in there's something electric that happens," Bronco Mendenhall, then Virginia's head coach, said after the game. "He has a presence where he just kind of thinks he can move the ball against anyone, no matter the circumstance, and he's probably right."
Armstrong's pass wasn't a long one, "but to his credit he made the right read, he made the right throw," Reed recalled this week, "and obviously the rest has been history."
In the same stadium where Armstrong threw his first touchdown pass as a Cavalier, he threw his 57thlast Thursday night in a 16-9 win over Georgia Tech.
"That's the first thing I thought about after I saw the play unfold," said Reed, who's now on the Los Angeles Chargers' practice squad.
Armstrong's pass to wideout Dontayvion Wicks in Atlanta broke his tie with Matt Schaub, who for nearly two decades held the program record for career TD passes, with 56. Schaub texted his congratulations, a gesture that touched Armstrong.
"Matt Schaub is an all-time great, especially when you think about the NFL," Armstrong said Tuesday night on head coach Tony Elliott's radio show.
Third on the Cavaliers' all-time list is Shawn Moore (1987-90), with 55 touchdown passes. Perkins (2018-19) is fourth with 47, and Kurt Benkert (2016-17) is fifth with 46.
A 6-foot-2 left-hander, Armstrong threw five passes in 2018, including the TD to Reed. He appeared in only four games that season and so, under NCAA rules, retained that year of eligibility. As a redshirt freshman in 2019, when the Wahoos won the Coastal Division title, he switched to jersey No. 10 and again backed up Perkins. For the season, Armstrong completed 15 of 20 passes for 196 yards and one TD, this one a 44-yarder to Wicks.
"That was my first touchdown, so I always think about that," Wicks said this week, "and being that B.A. was the one to throw it to me, that just made the connection even better."
Armstrong broke out in 2020, his first season as the Hoos' starter and his first wearing jersey No. 5 as a collegiate player. In an abbreviated season played under strict COVID-19 protocols, he threw 18 touchdown passes.
That was a steppingstone for 2021, when Armstrong set multiple program records, including passing yards in a game (554), passing yards in a season (4,449), total offense in a season (4,700 yards), and touchdown passes in a season (31).
He hasn't been as productive this season, the Cavaliers' first under Elliott and offensive coordinator Des Kitchings, but Armstrong has been heating up recently. He threw a 40-yard TD pass to Wicks against Louisville on Oct. 8 to tie Schaub for the all-time lead, and then broke the record Oct. 20 with a 44-yarder to Wicks against Georgia Tech.
"I didn't it do all by myself, I'll tell you that," Armstrong said when asked about his 57 touchdown passes. "There were a lot of guys that were with me."
Wicks, who's in his fourth year at UVA, has caught 12 of Armstrong's TD passes, by far the most of any player.
"It's been going on since my first year, so I feel like it's a great connection with me and him," Wicks said. "The work we've been putting there that everybody doesn't see, it's just coming to light."
Next on the list is tight end Jelani Woods, a rookie with the Indianapolis Colts who had eight TD receptions in 2021, his only season at UVA.
Wideout Ra'Shaun Henry, who's now on the Atlanta Falcons' practice squad, was on the receiving end of seven Armstrong touchdown passes, and two current Cavaliers, Lavel Davis Jr. and Billy Kemp IV, have caught six apiece from No. 5.
The others have spread among a large contingent of current and former Hoos: wideout Keytaon Thompson (five), tight end Tony Poljan (five), tailback Perris Jones (two) and, with one each, Joe Reed, Terrell Jana, Demick Starling, Shane Simpson, Wayne Taulapapa and Grant Misch.
Armstrong's longest TD, to Davis in 2020, covered 90 yards. He's thrown three 1-yard scoring passes: to Woods, Misch and Kemp.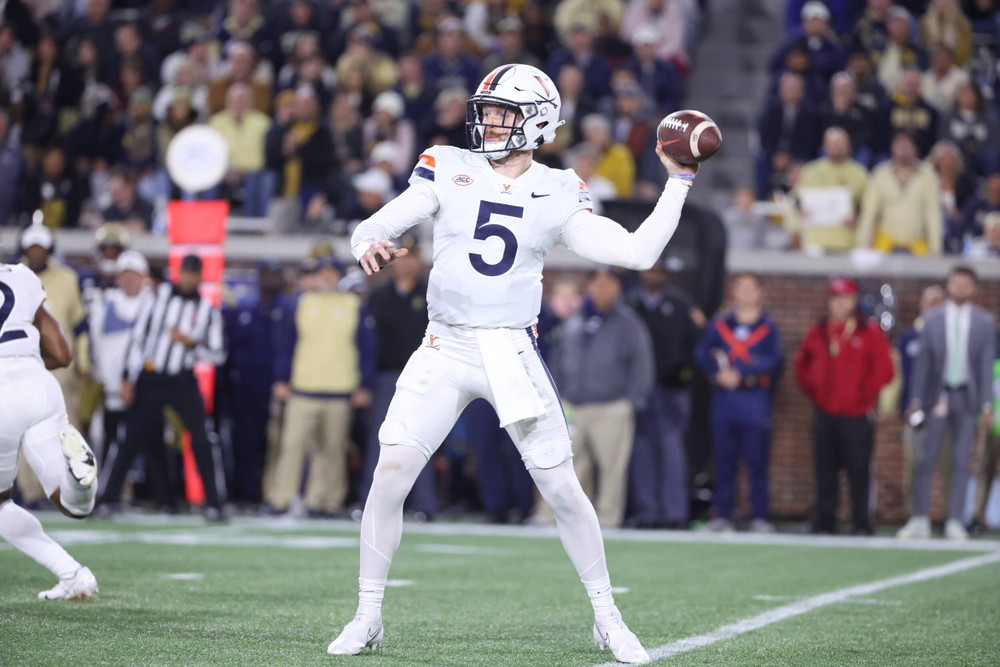 For his career, Armstrong is 636-for-1,039 passing for 8,442 yards and 57 touchdowns, with 32 interceptions. He's also a talented runner who's rushed for 18 TDs as a Cavalier.
"I will say I'm pretty proud of myself if I look back through it all," Armstrong said Tuesday night.
He enrolled at UVA in January 2018, as did Perkins, a junior-college transfer who had two seasons of eligibility remaining. Reed remembers giving Armstrong a ride to his dormitory that spring.
"Brennan and I talked about baseball for 20 minutes or so," Reed said. "He was a little homesick. He was missing his spring season of baseball, obviously, because he was there working out with us, and I know the situation had to have been tough for a kid. But my first impression of Brennan was just how positive, how optimistic he was, and how overall he was just a good dude.
"With him being as young as he was, I quickly realized also how mature he was. So really my first impression wasn't really football-related. And then after that I saw him practice, saw him in camp, I remember I always told guys, 'Nobody wants it to happen, but if something ever were to happen to Bryce at any moment, I don't think our offense would flinch.' And I was totally right."
Schaub's successor as Virginia's starting quarterback was Marques Hagans, who's now the wide receivers coach at his alma mater. Hagans remembers watching Armstrong in the spring of 2018.
"The way he threw the football was different," Hagans said, "and the way it came out of his hand, you were like, 'Man, if this young man picks up the offense, he's gonna be special.' I think he's gone through the process, he's paid his dues, and he's solidified himself as one of the best players to ever come through here. He's an amazing quarterback, and I'm grateful I've got an opportunity to be a part of his journey."
That Armstrong and Wicks have such a strong on-field bond doesn't surprise Hagans, who noted that "they spent time developing on the scout team. So a lot of times when Brennan was in, Wicks was in, so they developed that over time, as being the second-team guys, the scout-team guys. So when they got their opportunity, they already had that connection, because they had spent so much time in practice together. So it was good to see it come to fruition. Hopefully the best is yet to come and they continue it."
Virginia has five regular-season games remaining. The first is Saturday at Scott Stadium, where UVA (3-4 overall, 1-3 ACC) hosts Coastal Division foe Miami (3-4, 1-2) at 12:30 p.m.
"It's gonna be mano-a-mano," Armstrong said. "It's just gonna come down to who can make plays, protect the ball, and when we get to the red zone, put six on the board instead of three points or nothing."
Armstrong, who has a bachelor's degree in American studies, weighed his options after the 2021 season. He could have pursued an NFL career but chose to return for a fifth season at UVA, where he'd be playing for a new head coach in a new offense.
"I didn't really have to recruit Brennan Armstrong to stay, to be honest with you," Elliott recalled Tuesday night. "He was going through his process. We sat down and we talked a little bit of offensive philosophy, and I just tried to let him know who I was. But that's his decision. When it comes down to a decision like that, he's been working his whole life for that decision, and all I can do is just say: This is who I am, this is what I'm about, this is what my vision is, and I would love for you to be a part of it."
Elliott, who came to UVA after 11 seasons on head coach Dabo Swinney's staff at Clemson, remembers meeting Armstrong for the first time, at the McCue Center.
"Just a down-to-earth, blue-collar guy," Elliott said. "Just so unassuming. That's what I appreciate the most about him: With all the success that he's had, and even with some of the adversity that he's been experiencing this season, he's stayed the same."
For all of his touchdown passes, Armstrong says his favorite play as a Cavalier is probably his 5-yard touchdown run against Virginia Tech at Scott Stadium last season. Armstrong took a shotgun snap, dropped back to pass, and then took off. He bulldozed three Hokies on his way to the end zone.
"I think that's a good one," Armstrong said. "That was pretty wild."
To receive Jeff White's articles by email, click the appropriate box in this link to subscribe.