By Jeff White (jwhite@virginia.edu)
VirginiaSports.com
CHARLOTTESVILLE — The dress rehearsal is Thursday night at John Paul Jones Arena. The premiere, on the same stage, is Monday night.
The University of Virginia women's basketball team, in its first year under head coach Amaka Agugua-Hamilton, hosts Division II Pitt-Johnstown in an exhibition at 7 p.m. Thursday. Parking for and admission to the game are free.
After Thursday, the games start counting for the Cavaliers and Agugua-Hamilton, who's better known as Coach Mox. At 5 p.m. Monday, in its season-opener, Virginia takes on George Washington at JPJ.
"I think we're ready," graduate student McKenna Dale said Wednesday during the team's media day at JPJ. "I think Coach Mox and the entire coaching staff have done a really job of preparing us for what's to come. Almost everything we do is at game speed, and she does certain drills that are going to make us feel the pressure that we'll feel in an actual game. So we're excited to get it going."
Agugua-Hamilton came to UVA from Missouri State, where in three seasons as head coach she posted a 74-15 record, including a 46-6 mark in Missouri Valley Conference play. If not for the COVID-19 pandemic, the Lady Bears would have advanced to the NCAA tournament in each of those seasons. They reached the Sweet Sixteen in 2020-21.
At UVA, Agugua-Hamilton took over a program that in four seasons under Tina Thompson posted an overall record of 30-63. The Wahoos finished 5-22 overall and 2-14 in the ACC last season, but this is a new chapter for the program.
Virginia returned seven players from 2021-22: forwards Camryn Taylor, Mir McLean and London Clarkson and guards Taylor Valladay, Carole Miller, Kaydan Lawson and Dale.
New to the program are freshmen Yonta Vaughan and Cady Pauley and transfers Sam Brunelle (Notre Dame) and Alexia Smith (Minnesota). Vaughan, Pauley and Smith are guards. Brunelle, who's from nearby Greene County, is a 6-foot-2 forward.
Of the Cavaliers' top six scorers last season, only Amandine Toi has moved on. Taylor averaged 12.8 points in 2021-22, McLean 11.4, Valladay 9.5, Clarkson 5.2 and Miller 5.1. The 5-foot-11 McLean and the 6-foot-2 Taylor were the team's top rebounders, averaging 8.3 and 6.1 per game, respectively.
"I think we have a lot of talent," Agugua-Hamilton told reporters Wednesday. "I didn't really watch UVA women's basketball in recent years or last year. I saw the win-loss record and I knew coming in here, OK, there weren't a lot of wins last year, but when I had that first individual workout [last spring], my staff and I were like, 'We got talent. We have some talent here.'
"I was really shocked by that, just based on the record. So I'm excited about the talent we have, but you also have to get people to play together, buy in, understand and be able to go do it when the lights are on. So I think we're moving in that direction. It's still early, but I love the talent we have and I love what we're building and I'm very optimistic about the season. I know we're going to be significantly better. What that looks like, we'll see, but we definitely have a lot of talent on the roster."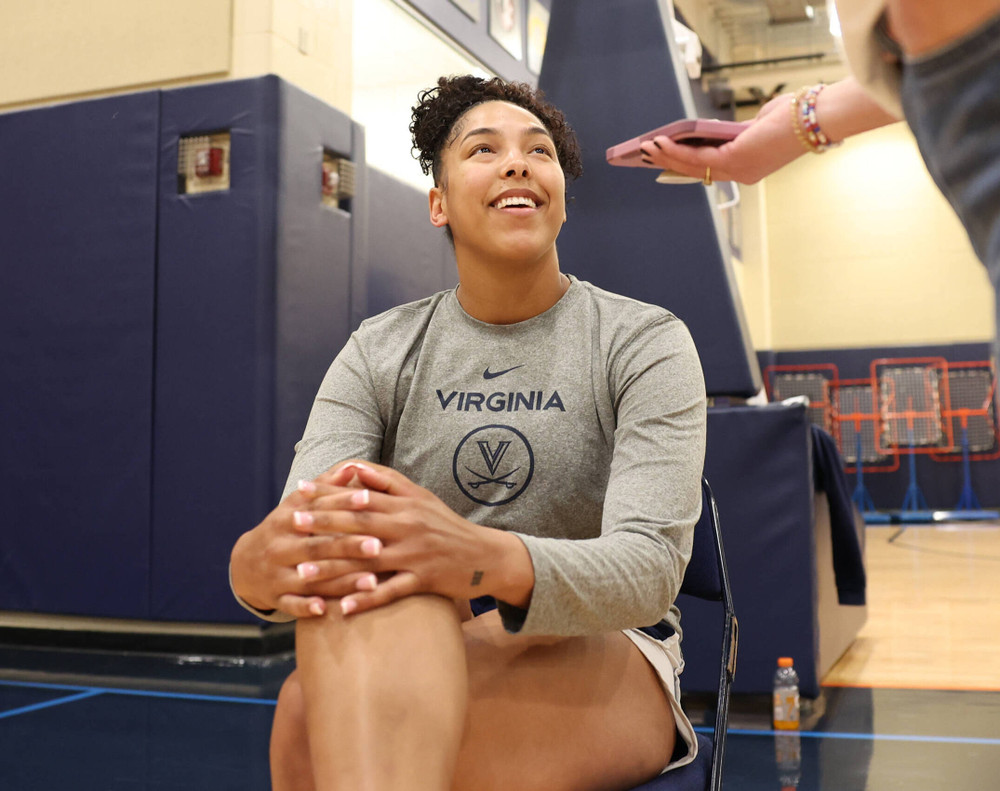 Virginia defeated JMU in a closed scrimmage late last month. Agugua-Hamilton could have scheduled another scrimmage for her team ahead of its season-opener, but an exhibition lets the players "get under the lights in front of fans and play a game. We know it doesn't count. We know it's a Division II team. I don't really care about that. But we prepare the same way for everybody. So we're doing a scouting report on them just like we would do for anybody. So now [the players are] learning how we prepare for games. I just like the trial run before we actually do it."
In the 2021-22 season opener, UVA lost 84-69 to JMU in Harrisonburg. Their recent scrimmage with the Dukes, Clarkson said, showed how the Hoos are progressing under Agugua-Hamilton.
 "We learned a lot [from the scrimmage]," said Clarkson, a 6-foot-2 senior forward, "but I think most importantly we learned we can beat teams and we learned how good we are and how well we can work together as a team. We've proven to ourselves and hope to prove to other people that we can win games this year."
Agugua-Hamilton's assistant coaches at Missouri State—Alysiah Bond, Tori Jankoska and CJ Jones—followed her to UVA, as did strength and conditioning coach Chris Toland. From day one, Agugua-Hamilton said, Virginia's players have embraced the new staff's philosophy and vision for the program.
"They're bought in," she said.
The mood around the program is different, players say. "From my standpoint, it's just been a full 180," Clarkson said. "We just really all bought in, and I feel like you're going to hear that a lot, but it's true. We've all bought into the program, and getting better has brought us all together."
Dale agreed. "We'll remember last year, of course, just because it motivates us a little, but we're really focused on this year, and we're super excited about moving forward."
Once the Cavaliers reconvened in Charlottesville for the start of the fall semester, Agugua-Hamilton said, she had the players vote on team captains. Clarkson, Brunelle, McLean and Valladay are filling those roles this season, but Agugua-Hamilton said other players, including Taylor, are providing leadership as well.
Since coming to UVA in late March, Agugua-Hamilton has focused on building a strong culture in which players hold themselves to high standards on and off the court.
"That's a journey that's going to continue through the course of the season, probably even years," she said. "It's kind of an evolution. You just start with the foundation of it and get people to buy in, but there's gonna be times where you have to go back to the drawing board and maybe just do an activity where people understand that it's not always gonna be great. There's gonna be some adversity, there's gonna be hard times. but we're gonna get through it together."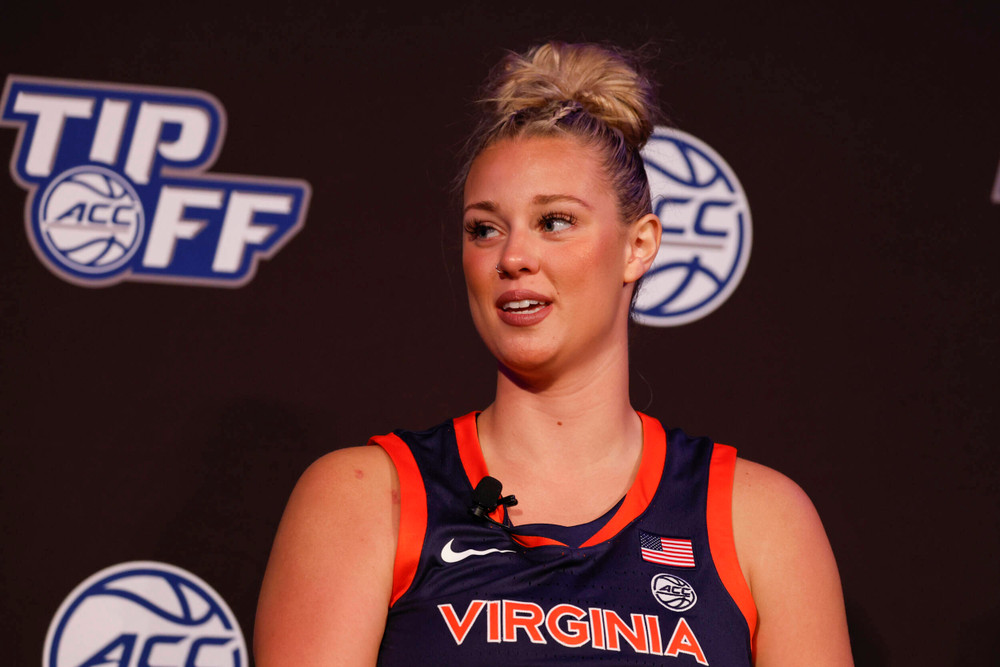 Brunelle was the first recruit Agugua-Hamilton landed after being hired at UVA. A graduate of William Monroe High School, where she was a McDonald's All-American, Brunelle was a ball girl at UVA women's games at JPJ when she was growing up.
In her three seasons at Notre Dame, where she battled injuries, she averaged 10.0 and 4.0 rebounds per game. She graduated from Notre Dame this summer and, with two seasons of eligibility remaining, decided to become a Cavalier.
"Sam is a great addition," Agugua-Hamilton said. "I said in my [introductory] press conference that I want to keep the hometown kids home, and I think we've done a pretty good job of that so far in recruiting. It's important, especially in a storied program like this, that either they knew as a young child or their parents knew what UVA women's basketball was like and where it's been and the Final Fours and the glory days that we're trying to get back to. So that's why it's important to keep them home, because they understand right away what it means to have that on their chest."
Fans should not expect too much from Brunelle early in the season. She had offseason shoulder surgery and wasn't cleared for full participation until this fall.
"She's got to work her way back in," Agugua-Hamilton said. "Missing a summer is a big deal. That's where you really grow, and that's where I saw our players grow the most. We just really dove into individual fundamental development and they got a chance to get used to our pace and understand what we're trying to do. And so Sam missed that part of it and she's a little bit behind, but I like where she's at. I like where we're at, and I expect great things from everybody."
Brunelle said: "I've only been back for a few weeks, and so it's going to take a few games probably for me to feel I'm in great shape again. I'm being positive about that and understanding it's a process. I wasn't able to do stuff for like five months, so being able to actually be on the court now and playing and getting back into my rhythm is good, and it's getting better and better every practice … So I know it'll come."
Agugua-Hamilton has been in perpetual motion, it seems, since taking the job, but she's thrilled to be back in her home state. She graduated from Oakton High School in Vienna, and she's been an assistant coach at Virginia Commonwealth and Old Dominion (as well as at Indiana and Michigan State).
"On the personal side it's been great," Agugua-Hamilton said. "The business side has been really good too. I just wanted to get to know the players and really pour into them and build relationships. That's really important to me. I like to have a pulse on them, understand what's going on in their lives and be there for them. We always [say] things are bigger than buckets, and I truly like believe that and live that, so when they're going through things I want to be able to be there and be a support system.
"But also the transition was a little bit easier than it was for me at Missouri State, because I brought my coaching staff and my strength coach, so there was some continuity there. And those are people that also understand the culture that I was trying to instill here and can defend the culture. They're loyal, great coaches, great people who really are family to me. So that made the transition a little bit easier because I could delegate, and then also there's one message coming from the top. So when we got into workouts and things like that, I didn't have to explain my style of play and system and all that like I did the first time around or standards or whatever it is. It was just kind of we picked up where we left off with a different team. So bringing my staff has been a tremendous help. But I think the transition has gone pretty well. I'm not really in the whirlwind anymore … Now it's November. It's time to play."
To receive Jeff White's articles by email, click the appropriate box in this link to subscribe.