By Jeff White (jwhite@virginia.edu)
VirginiaSports.com
CHARLOTTESVILLE, Va. — A UVA offense missing its top three wide receivers gained 418 yards, totaled 25 first downs and scored 28 points Saturday afternoon. Against No. 17 North Carolina, that wasn't quite enough before a crowd of 44,156 at Scott Stadium.
UNC, led by quarterback Drake Maye and wideout Josh Downs, features one of the nation's most prolific offenses. The Tar Heels, who lead the ACC's Coastal Division, came in averaging 41.8 points per game, and Virginia's defense held them well under that. But after the Cavaliers scored a touchdown with 3:24 left, they were forced, with no timeouts left, to try an onside kick.
It was unsuccessful. UNC recovered and then ran out the clock to escape with a 31-28 victory.
"I'm really proud of the guys and the way they fought," said Tony Elliott, UVA's first-year head coach, "but, man, this one hurts a lot, because they were so close. Just gotta encourage the guys to continue to persevere through the adversity, because the joy's on the other side."
The Wahoos fell to 3-6 overall and 1-5 in ACC play. Of their losses, three have been by three or fewer points.
"These kids, they fight," offensive coordinator Des Kitchings said. "They're doing everything we ask, eliminating all the outside noise, working every day. And they will see the fruits of their labor. It's slow and it's painful, and I get it. But today, they should be able to believe [in] what we can do offensively. Yes, we had a turnover, but we were able to run the ball, we threw it when we wanted to, took our shots, and if we didn't get a shot, we were able to convert third downs in the first half and second half to stay on schedule. So, just keep believing, just keep working at it, and it's going to come."
The Cavaliers learned during the week that wideouts Dontayvion Wicks, Lavel Davis Jr. and Keytaon Thompson—"The Big Three," as Elliott called them—would miss the game for medical reasons. Those three have combined for 99 catches this season. Also out with an injury was starting tailback Perris Jones, but in their absence numerous players turned in memorable performances for Virginia against UNC (8-1, 5-0).
His team, Elliott said, showed the "mentality of next man up."
Not since its 34-17 win over Richmond in the season opener had Virginia scored so many points in a game.
Quarterback Brennan Armstrong rushed for 64 yards and two touchdowns and became the 15thplayer in ACC history to reach 10,000 yards of total offense for his career. Armstrong completed 17 of 35 passes for 232 yards, with one interception.
Tailback Mike Hollins ran 16 times for 75 yards, both career highs. Another tailback, Ronnie Walker Jr., carried six times for 30 yards in only his second game of the season, and true freshman Xavier Brown ran three yards for his first touchdown as a Cavalier.
Posting career highs in catches and receiving yards were tight end Sackett Wood Jr. (six for 94) and wideout Sean "J.R." Wilson (five for 61).
"We knew we weren't going to be at full strength," Elliott said, "but they didn't flinch, and they just came out with a mindset … that they were going to play to win, and in the first half that's what you saw."
Virginia took a 14-10 lead into halftime but lapsed into bad habits in the third quarter, after which Carolina led 24-21. The Heels stretched their lead to 31-21 on Maye's second touchdown pass, a 22-yarder to tailback Elijah Green, but the Hoos battled back.
"We've got plenty of good to look at, to stay humble with," Elliott said, "and plenty of opportunities for growth going forward."
After the Cavaliers' defense forced a turnover on downs, their offense went back to work. Armstrong completed passes of 11 yards and 40 yards to Sackett and wideout Demick Starling, respectively. On third-and-10 from the Carolina 20, Armstrong connected with wideout Billy Kemp IV on a 12-yard completion. On the next play, Armstrong scrambled eight yards for a touchdown, running over UNC defenders near the goal line.
"This is a tough group of guys," said Wood, a former walk-on. "So far this year, we haven't been able to really put it together fully on offense, but I think you saw glimpses of it today and hopefully we can build on this performance."
Virginia used its first timeout of the second half before a fourth-down play on which Walker ran for a first down. That drive ended with Walker's touchdown run, and Will Bettridge's extra point put the Hoos up 21-17 with 7:49 left in the third quarter.
In the fourth quarter, though, UVA had to call its final two timeouts—one with 11:25 to play, the other with 6:11 remaining—because of confusion among members of its punt team. Those breakdowns proved costly and left Virginia with only one viable option after Armstrong's second TD run: an onside kick.
Timeouts are necessary "if you're going to have a chance to win there at the end of the game," Elliott said, "and I was really frustrated with that, because that was just a lack of communication, and I gotta do a better job with the staff because we got tons of checks and balances to make sure that we got everybody that we need."
For UNC, Maye played brilliantly, as he has all season. The redshirt freshman completed 26 of 37 passes for 293 yards and two touchdowns, with no interceptions. He also ran 16 times for 74 yards and a TD. Downs caught 15 of Maye's passes, for 166 yards and one TD. He hurt the Hoos on special teams, too, totaling 57 yards on his two punt returns.
"The chemistry that you see between Maye and Downs, it's special," Elliott said. "It's special for a young quarterback to be on that same page, and if you just watch the game within the game, you see the communication, the hand signals, the eye contact, all those things that they're doing that [show] that they have a really, really good chemistry. And I think that gives that quarterback the confidence to be able to sit in the pocket and extend the play because he knows he's got a safety valve sitting out there in the flats, that if you get it to him, he breaks one tackle and it's a touchdown."
ANOTHER MATINEE: Next Saturday at noon, UVA (3-6, 1-5) hosts Coastal Division rival Pittsburgh (5-4, 2-3) at Scott Stadium. The game will air on ACC Network.
Pitt, playing at home, knocked off No. 22 Syracuse 19-9 on Saturday.
The Hoos are 4-9 all-time against the Panthers, who have won five of the past six games in the series.
The Cavaliers' four-game homestand concludes Nov. 19 against Coastal Carolina. The starting time for that game has yet to be announced.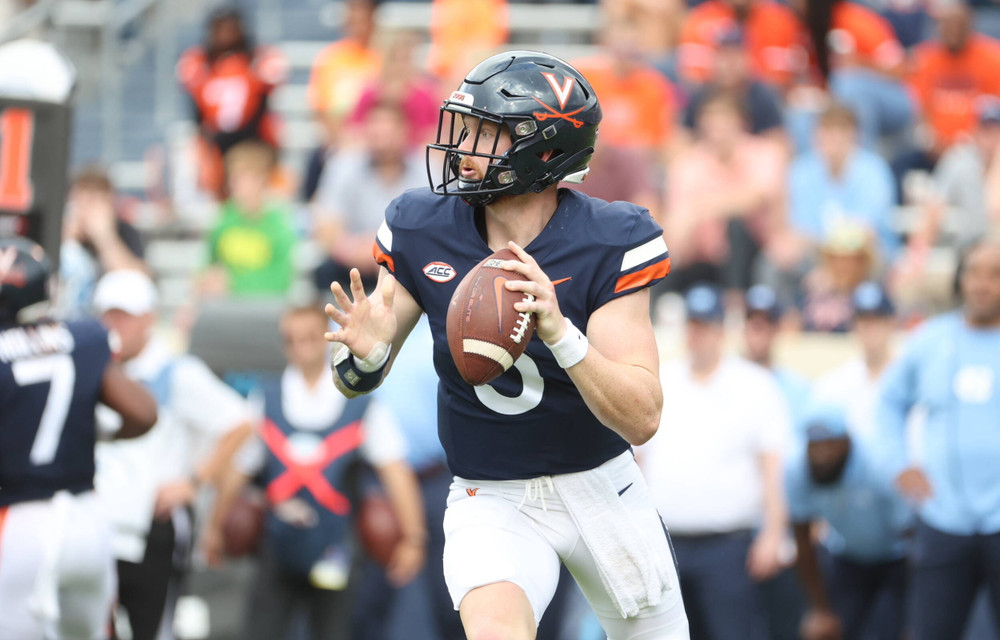 SOUND BITES: The victory was the Tar Heels' first at Scott Stadium since 2016. Among the postgame comments Saturday afternoon:
 * UNC head coach Mack Brown: "Give Tony Elliott credit. They played hard, they played well, and they gave themselves a chance to win. So Tony's got things headed in the right direction."
* Elliott on when UVA's top three wide receivers might return: "There's nothing that we believe is going to be too long-term."
* Elliott on Wood: "I thought today he was playing with that competitive toughness that we all know that he has, and he came up big for us. He had some big plays in the course of the game and we needed him to, considering the situation with the depth today."
* Elliott on Downs: "He's a problem for anybody."
* Kitchings on UVA's struggles this season: "It's painful, and I get it. People are frustrated outside the building, but inside that room those guys are fighting and we believe in what we're doing."
* Defensive coordinator John Rudzinski on sophomore linebacker James Jackson, who recorded a career-high 11 tackles: "James exemplifies what it is to be a Virginia Cavalier. He's made tons of strides here in the last six months, not only physically, but his ability to find the ball."
* Rudzinski: "Every day, we're building. Every opportunity we get as men, we get a chance to be better, to learn from the good, the bad, the indifferent. I know that locker room is very disappointed, and they'll be hurt. At the same time, we're going to come back and go to work here on Monday."
* James Jackson: "We just needed a couple more stops. I think in the first half we played them pretty well. And then in that third quarter, we came out and couldn't get off the field."