By Jeff White (jwhite@virginia.edu)
VirginiaSports.com
CHARLOTTESVILLE, Va. — On the first day of the late signing period for college football, University of Virginia head coach Tony Elliott held a news conference at John Paul Jones Arena. He spent little time discussing recruiting, largely because the Cavaliers added no scholarship players Wednesday. But Elliott talked at length about the state of a program that continues to recover from the tragedy that ended UVA's season prematurely in November.
After three players—Devin Chandler, Lavel Davis Jr. and D'Sean Perry—were shot and killed on Nov. 13 after returning to Grounds from a class field trip, the football program and the University community went into mourning. The team stopped practicing, but amid the funerals and memorial services, the coaching staff kept returning to work and laying the foundation for the 2023 season.
"For the coaches, it never really stopped for us," Elliott said.
He wasn't sure, however, what to expect from the players when they returned to Grounds last month, but "they've come back with a great spirit, a renewed spirit," said Elliott, who's in his second year at UVA.
"We had to address what we had to address [at] the first team meeting. Obviously, we're still in a space where we're not moving on, we're moving forward, and we're moving forward with what has transpired within our program, but to see the guys, the way that they're working, you notice the attention to detail has a heightened sense of urgency related to that. With our accountability, just the way we're tracking things, you're starting to see guys with some more buy-in.
"So it's really been refreshing and encouraging to me as a coach when the young people come back with that, because obviously they're there at ground level. They're in it, and so to see those guys come back, refreshed and then the influx of the new guys. I think it's been a good blend, their eagerness, their hunger to get going, has really, really blended with the guys' renewed spirit to kind of get back together and get back to work."
Since the early signing period in December, three transfers have joined the program: offensive tackle Ugonna Nnanna (Houston) and defensive backs Cam Kelly (North Carolina) and Tayvonn Kyle (Iowa State), all of whom enrolled at UVA last month and are training with the team. Also enrolling midyear were five players who signed in December. Quarterback Anthony Colandrea and wide receiver Jaden Gibson are recent high school graduates, and the other three are transfers: quarterback Tony Muskett (Monmouth), tailback Kobe Pace (Clemson) and wide receiver Malik Washington (Northwestern).
Elliott said the Wahoos had hoped to augment the recruiting class with more high school players this month but lost "some intense battles." And so they're likely to add several more transfers after spring practices end around the country.
UVA has two new assistant coaches. Terry Heffernan is overseeing the offensive line, and Adams Mims is in charge of the wide receivers. Heffernan and Mims replaced Garett Tujague and Marques Hagans, respectively.
After seven seasons at Virginia, Tujague left in December for NC State, where he's been reunited with offensive coordinator Robert Anae. Hagans, who also was the Hoos' associate head coach in 2022, left last month for Penn State, whose staff includes one of his closest friends, former UVA great Anthony Poindexter.
Hagans, a beloved figure in the Charlottesville area, played at UVA for Al Groh and then coached under Mike London, Bronco Mendenhall and Elliott.
"First and foremost, excited for Marques and his new opportunity," Elliott said, "and I'm very, very grateful for his service to the institution and also the impact that he made in the community. He and his wife, Lauren, were instrumental for years, not just [with] Virginia football, but in the Charlottesville area. So very, very appreciative of an opportunity to be around them, and I became a better person being around Marques … I definitely did not want to see Marques leave, and I was excited about the opportunity for us to work together going forward, but I also understood where he was coming from, and he has an opportunity to be reunited with a person that's very, very close to him. So there were a lot of factors, and he went through it the right way and processed it the right way, and at the end of the day you trust that that he believed this was the best decision for him and his career moving forward."
Mims, a former star wideout at Furman, where his coaches included Elliott, served as a senior offensive analyst at UVA last season. He's previously been receivers coach at UT-Chattanooga, Tennessee Tech and Presbyterian.
When it came time to replace Hagans, Elliott said, "I thought about it long and hard. Obviously Adam played for me and I coached him, but he also had a year to work alongside Marques as well. And so he had relationships with the guys that were on the roster. He was a part of the process of recruiting the guys that we brought in, alongside Marques. And so for me with that position and the transition, it made the most sense to stay in-house as opposed to looking at the offensive line situation."
There's less experience among UVA's returning offensive linemen, and Elliott opted to hire a veteran coach. Heffernan, who coached Stanford's offensive line in 2021 and '22, also has worked with the NFL's Detroit Lions and Buffalo Bills and at Eastern Kentucky and Wayne State. He's a former graduate assistant at Louisville and Michigan.
At Stanford, Heffernan worked for a head coach, David Shaw, who emphasized the running game. "But also in the interview process we had a chance to talk about pass protection and things of that nature," Elliott said "and I think he's got a wealth of experience in that area. I want to run the football, but you've got to be balanced, especially in this league. So I think it's a good mix all the way around, from the run game and from the passing game."
After 11 years on head coach Dabo Swinney's staff at Clemson, his alma mater, Elliott came to UVA in December 2021. His first year as a head coach was a learning experience in almost every way, Elliott said.
"When you're an assistant, you're with your guys every single day, you know their body language, you know what buttons you can push," Elliott said. "As a head coach, you're trying to do that for an entire team and it's a little bit different. So I learned that my approach as a head coach, I have to evaluate that and make sure that I understand from the head coach's seat what buttons you can push, what buttons you can't push, and that's different than being an assistant and different than being a coordinator."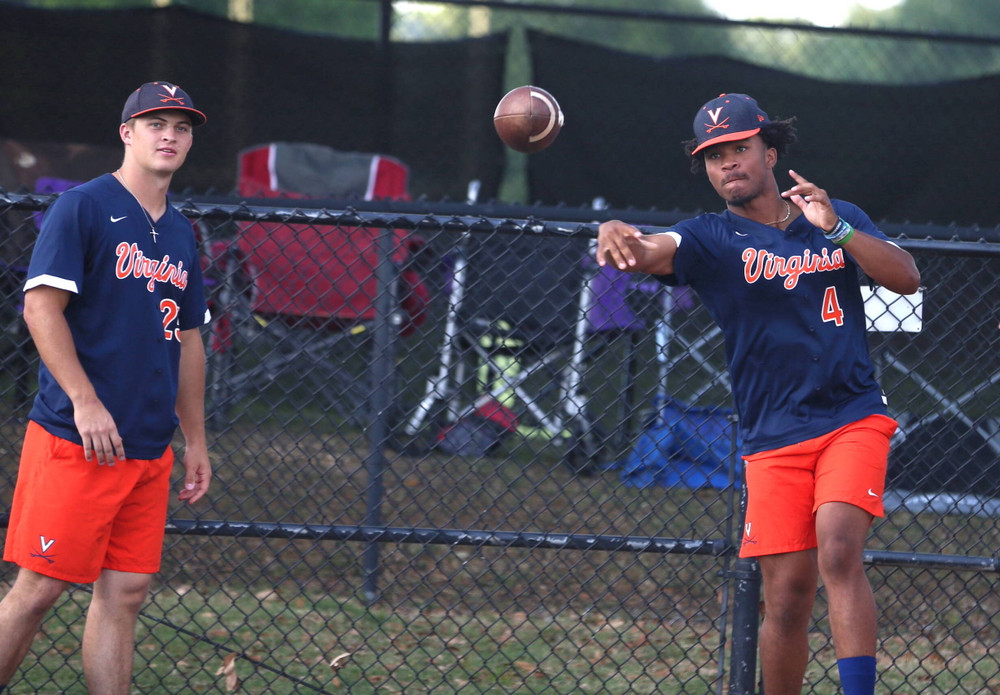 It was a challenging season for UVA. The Cavaliers were 3-7 when they canceled the rest of their season. But Elliott said he believes the adversity they experienced, on and off the field, will help them grow.
"I think that how the season ended and everything that we went through, it was a reset for all of us," Elliott said, "just in terms of our appreciation for the opportunity, our appreciation for life, our appreciation for where we are, and that's gonna motivate me to make sure that I … still continue to coach the guys hard, but coach with a lot of love."
He expects to delegate more responsibility to his staffers this year. His first year was "a big balancing act," Elliott said. "So that was probably harder than I thought it was going to be: being able to manage all of the different things that you have to manage on a day-to-day basis, but going forward, being able to empower the folks to handle some of the things that I probably don't need to do as a head coach. First year, you're trying to do all those things, because you want to get things the way that you want."
Virginia lost several players to the transfer portal after the 2022 season, including Brennan Armstrong, a three-year starter at quarterback. Armstrong ended up at NC State, which visits Scott Stadium for a Friday night game on Sept. 22.
Armstrong's successor at UVA has yet to be determined. Candidates include Muskett and Jay Woolfolk, who backed up Armstrong last season. Woolfolk, of course, is also a talented pitcher on Virginia's baseball team, and he plans to split time between the sports this spring, Elliott.
"I believe Jay's got a tremendous future in both football and baseball ahead of him," Elliott said. "Obviously I think it's a little bit more defined right now in baseball."
Spring practice for the football team begins March 14. Woolfok's role with the baseball team will "determine the amount of actual balls he'll throw for us in spring ball," Elliott said, "but the plan is to have him at every practice and all the meetings in the mornings, and then he'll do baseball in the evenings, and also being sensitive to [the fact that] he's not just a guy on the [baseball] team. In my opinion, he's a guy that can contribute and help, and I want to make sure that he's able to do that.
"At the same time, he's in a quarterback battle. We brought in a transfer, we've got a freshman and we've got two second-year guys that are here that are going to compete, so he needs to be there."
Two students were wounded in the Nov. 13 shooting, including UVA running back Mike Hollins. Hollins continues to recover and plans to take part in spring practice, Elliott said. "I'm proud of Mike, really, really proud of Mike and just the perseverance that he showed to get back to where he is, to be working out with the guys. Not a ton of restrictions … but it'll be a situation where we make sure that we monitor it closely, and we do what's best for Mike in his in his progression back."
The Cavaliers will wear helmet decals this year to honor the memories of Davis, Chandler and Perry, whose jersey numbers were 1, 15 and 41, respectively. Moreover, each of those three jerseys will have a special patch, Elliott said, so "whenever the jerseys are on the field, those guys are going to be remembered … Obviously, there'll be different tributes that we'll have throughout the year and in the future, when other things will be done, but the patch was something that immediately I wanted to do to honor the families, to honor the young men."
To receive Jeff White's articles by email, click the appropriate box in this link to subscribe.