By Jeff White (jwhite@virginia.edu)
VirginiaSports.com
CHARLOTTESVILLE, Va. — For the University of Virginia football team, a productive spring concludes Saturday afternoon with the Blue-White game at Scott Stadium.
Virginia is heading into its second year under head coach Tony Elliott, whose coordinators were also new in 2022: Des Kitchings (offense), John Rudzinski (defense) and Keith Gaither (special teams).
On the field, offensive struggles marked Elliott's first season with the Wahoos. Among ACC teams, UVA ranked 10th in total offense and last in scoring offense. The Hoos turned the ball over too often, dropped too many passes and allowed too many sacks, Kitchings told reporters after practice Tuesday.
He's not expecting a repeat this fall. FBS teams are allowed 15 spring practices. Thirteen practices in, "I've seen growth in all those areas this spring," Kitchings said, "and we still have work to do … But where we are right now, I'm very encouraged and excited about the growth that we've had."
UVA fans weren't the only ones displeased with the offense's performance in 2022.
"My expectations are high offensively as well," Kitchings said. "This is a competitive venue of college athletics, and it's become a business. You gotta produce and it's about production, and we didn't produce last year, and I'm at the forefront of that, and I'm just as upset as any fan or teenage kid or whoever is watching UVA football."
Newcomers abound on offense this spring, including four transfers who enrolled at Virginia in January: quarterback Tony Muskett (Monmouth), tailback Kobe Pace (Clemson), lineman Ugonna Nnanna (Houston) and wide receiver Malik Washington (Northwestern).
Also new is offensive line coach Terry Heffernan, who held that position at Stanford in 2021 and '22. Moreover, Adam Mims, Virginia senior offensive analyst in 2022, now oversees the wideouts. All the turnover hasn't changed his and Elliott's vision for the offense, Kitchings said.
"We want to be able to run the football," he said. "We both believe in running the football, not only as an offense but as a program, and toughness and physicality and winning games in the fourth quarter. But we also believe in playing with some tempo … The passing game evolves from the running game and our ability to be able to run the football."
The Cavaliers fared better when opponents had the ball last season. Virginia ranked seventh among ACC teams in both scoring defense and total defense. The defensive staff returned intact this year, and that continuity can be an asset, Rudzinski said Tuesday.
"The longer that you spend time with people," he said, "the better you naturally become as communicators with each other, understanding each other's language, both the good, the bad, and then also as far as just the emotional part, which is part of the process of building a team. And so it's been super valuable."
Gaither also met virtually with media members after practice Tuesday. Virginia returns punter Daniel Sparks, a second-team All-ACC selection; kicker Will Bettridge, who was 7 for 10 on field goals last season; and long-snapper Aidan Livingston, among other specialists.
Candidates to return punts include Washington, Jaden Gibson and Ethan Davies. Washington doesn't have college experience in that role, but Davies returned five punts for 28 yards at UVA last season. Gibson is a true freshman who enrolled at Virginia in January, and he's also pushing for playing time at wideout.
"In 13 practices you would never tell this kid is coming out of high school," Gaither said.
Of the Cavaliers' 20 kickoff returns last season, Demick Starling had 14, Mike Hollins had five and Perris Jones had one. All three are back this year, and also in the mix are Washington, Pace and defensive back Cam'Ron Kelly, a transfer from North Carolina.
"So we've got six or seven guys that can return," Gaither said.
His top priority this spring has been improving the punt-coverage unit.
"We have a great kicker [in Sparks]," Gaither said. "We've got to do a better job getting off hold-ups, better job covering kicks. I think we addressed that. I think then the other aspect we need to improve is kickoff [coverage] … I'd be disappointed if we're not better in special teams."
Kitchings feels the same way about the offense. He has veteran tight ends in Grant Misch and Sackett Wood and a large stable of running backs, including Hollins, Pace, Jones, Xavier Brown, Cody Brown (no relation) and Amaad Foston.
"The competition in that running back room is the best I've been around, and I've had some good running back rooms," said Kitchings, who coached that position for eight years at NC State and for one year with the NFL's Atlanta Falcons. "And that competition in that room is very healthy, and guys are playing for each other, competing for each other. And it's just been a great spirit the spring."
There's not as much experience at wideout, apart from Washington, but Malachi Fields (6-foot-4, 214 pounds) and JR Wilson (6-foot-4, 219 pounds) are big, talented targets. The situation on the line is similar. Center Ty Furnish is the only lineman who has significant starting experience, but Kitchings raved about Heffernan's impact this spring.
"Coach Heff is a tremendous teacher first," Kitchings said. "With his way of relating to the players, there's total buy-in from our guys up front, and it shows on the field. It shows in how they play for each other, how they compete with each other, and how they're communicating better up front. I tip my hat to Coach Heff. He's done a great job with those guys in the short time he's been here, and I look forward to continuing to work with him throughout our time here."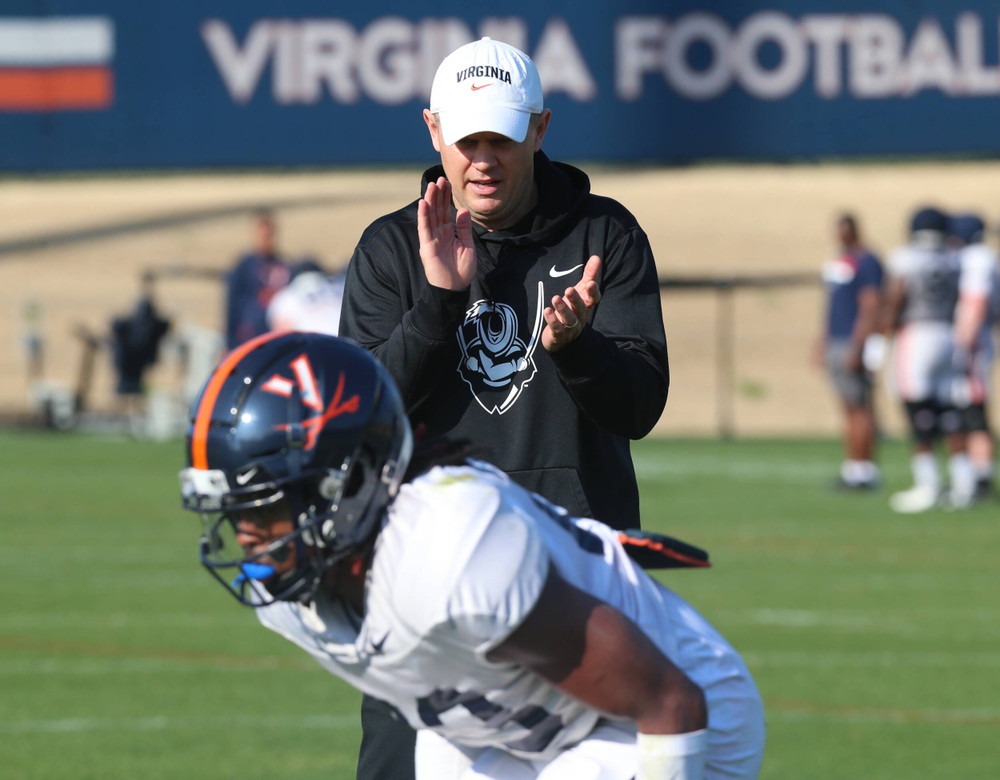 And then there's quarterback, where Brennan Armstrong, who's now at NC State, started for the Hoos in 2020, '21 and '22. The leading candidates to succeed Armstrong are Muskett and Jay Woolfolk, Virginia's backup quarterback last season. Woolfolk is splitting time between baseball and football this spring, so Muskett has taken most of the snaps with the first-team offense.
"Both of them can throw the football," Kitchings said, "so that's a plus. They both have the capability of throwing the football and being accurate when they throw the football. They're both versatile enough that if we ask them to run the ball, they can run the ball. If a protection breaks down—hopefully it doesn't—they're athletic enough to get us a first down with their legs."
Also impressive this spring has been Anthony Colandrea, a true freshman who enrolled at Virginia in January.
Woolfolk will focus on football once baseball season ends, and it'll be "an open competition up until we open up that first game," Kitchings said. "But I like where are in that room. We have really good competitive depth so that any guy can go out there, we believe, and lead us to a victory."
The 2022 season ended in tragedy for the Cavaliers. Three players were shot and killed on Nov. 13 after returning to Grounds from a class field trip, and Hollins was wounded in the shooting. Virginia canceled its final two games and finished the season with a 3-7 record.
Since reconvening in January, Kitchings said, the Hoos have shown "a renewed spirit, a life. We're moving forward but honoring the guys that are no longer with us and the families [while displaying] that happiness and joy to play football and be on the grass with each other, support each other, pull for each other. And spring football, it's iron sharpens iron, it's offense versus defense, but we're all working together to be one UVA come the fall.
"So I think from that standpoint, we all just are appreciative of this opportunity that we have of pouring into these players, investing in our players even more so than probably we ever have. Not that we didn't do it beforehand. But again, our players are investing in us, and if I want to say one thing [to describe the] program, it's just total investment."
The defense added two transfers in January: Kelly and Tayvonn Kyle, a cornerback from Iowa State. Numerous veterans return for Rudzinski, including edge rushers Kameron Butler, Chico Bennett Jr., Paul Akere and Ben Smiley III; interior linemen Jahmeer Carter, Michael Diatta, Aaron Faumui and Olasunkonmi Agunloye; and safeties Coen King, Antonio Clary and Jonas Sanker. Some of those players are returning from injuries and haven't participated fully this spring, but all are expected to be cleared for training camp in August.
The biggest losses on defense were linebacker Nick Jackson and cornerbacks Anthony Johnson and Fentrell Cypress II. Jackson, who twice was named to the All-ACC second team, led the Hoos in tackles, but Rudzinski is high on the team's next generation of linebackers, a group that includes James Jackson (no relation), Trey McDonald, Stevie Bracey and Lex Long, a converted safety.
"You've got a bunch of guys that this is really, really important to," Rudzinski said, "and that's how you can find ways to get better each and every day."
The 6-foot-4, 268-pound Diatta, who has three years of eligibility left, has been a revelation this spring. Other Cavaliers have stood out on defense, "but I guess if you had to say one guy," Rudzinski said, "[Diatta] would probably be one that has done a really, really nice job this spring of taking what he did in the fall and then now putting himself in a position to play a ton of snaps here this fall."
The defense appears to be strongest up front, and it will need to be, Rudzinski said. 'We'll need to win in the trenches. How we play on defense frankly will be dictated by how we can own the line of scrimmage."
UVA's defense, a liability in 2020 and '21, improved dramatically last season. Still, every year is a new year, Rudzinski noted.
"We've all got to have humility," he said. "I think that the young men in this program understand that we can't take anything from last year with us. Frankly, we can't take yesterday with us. We can learn some life lessons. And so it's the challenge in front of us, particularly after we get through the spring game, of these guys getting into the next training cycle, doing a great job of getting their bodies and minds ready for the rigor of both the ACC and our really competitive non-conference schedule."
Virginia opens the season Sept. 2 against Tennessee in Nashville.
To receive Jeff White's articles by email, click the appropriate box in this link to subscribe.