By Jeff White (jwhite@virginia.edu)
VirginiaSports.com
CHARLOTTESVILLE, Va. — At last year's Blue-White spring football game, the Virginia Cavaliers had so few offensive linemen available that two had to play for both teams. One of those linemen was tackle Charlie Patterson.
"I was definitely dead tired after the game," Patterson recalled. "I played every single snap until there was three minutes left."
The offensive line is in a better place this year as the Wahoos prepare to wrap up their second spring under head coach Tony Elliott.
"We've got plenty of bodies this time," Patterson said.
UVA's annual Blue-White game is Saturday afternoon at Scott Stadium, and no offensive linemen will have to pull double duty. More important, the depth on the O-line has enabled the Cavaliers to accomplish more over the past five weeks.
"Before the spring I scripted out all 14 practices," Elliott said. "and you were able to almost stay on your script, but with last year, it was like, 'We can't do that, we can't do that, we can't do that.' "
Having enough players for at least two lines "helps the quarterbacks and it helps the running backs," Elliott said, "because, again, when you have consistency in the guys that you have practicing, you're able to develop that cohesion. So it's been just completely different."
Patterson, who stands 6-foot-6, is from Roswell, Ga., about 25 miles north of Atlanta. He enrolled at UVA in the summer of 2021 and did not appear in any games while redshirting that season. Coming off a productive spring in 2022, he was eager to make his debut for the Hoos last fall, but he tore ligaments in his foot in September. Surgery followed, and Patterson missed the whole season.
"It was a little bit of a blow, especially being that close to playing time," Patterson said. "I was playing a lot better, but it happens. Stuff happens."
The Cavaliers went into 2022 with a rebuilt offensive line. There was more turnover after the season, with the departures of four linemen who had starting experience: Jonathan Leech, Logan Taylor, Derek Devine and John Paul Jones Flores.
"With all those people leaving, of course that's gonna push you up the [depth] chart," Patterson said. "Not in the way you want it to, but it did. It happened, and I'm just trying to take advantage of it."
Garett Tujague, who'd been the Cavaliers' offensive line coach for seven years, also left after the season. To fill that position, Elliott hired Terry Heffernan, who'd coached the offensive line at Stanford in 2021 and '22.
When Heffernan arrived on Grounds in January, he spent little time reviewing videotape of his linemen from UVA games. In Patterson's case, Heffernan said, "There is no tape."
Patterson, who wears jersey No. 60, has been the starter at right tackle all spring.
"Charlie has had a really good spring," said Heffernan, who's also coached in the NFL. "Again, he's a guy who was hurt and didn't play a lot of football here, but he's developed his body, he's gotten bigger, he's gotten stronger, and he's a guy who knows football. He knows how to study, he's assignment-sound, and I really think there's a ton of growth potential for him.
"He's a big, long, athletic player who I think can be really, really good. Part of what we're doing right now is convincing him that he can be really, really good and getting him to believe in himself and all those tools that I just talked about."
Patterson weighed about 280 pounds when he arrived at UVA in 2021. He's still under 300, but he's "gotten significantly stronger," Patterson said.
"We got him up as high as 296 and then he lost a little during spring," Heffernan said. "And so that'll be a huge part of his summer. This is a physical game, and to be a right tackle in the ACC, you gotta be big, you gotta be strong, and you gotta be durable and robust. So that's going to be a big part of his summer."
At 6-foot-6, Patterson looks the part of a prototypical FBS offensive tackle, but height is only one factor, Heffernan said. "What you really seek is length, and length comes with height. That's why you see a lot of 6-8 guys, because 6-8 guys tend to have good, long arms, and Charlie is 6-6, but he's also very long. So there's a huge advantage, once you figure out how to use your hands, of being able to press and keep a guy off your pads."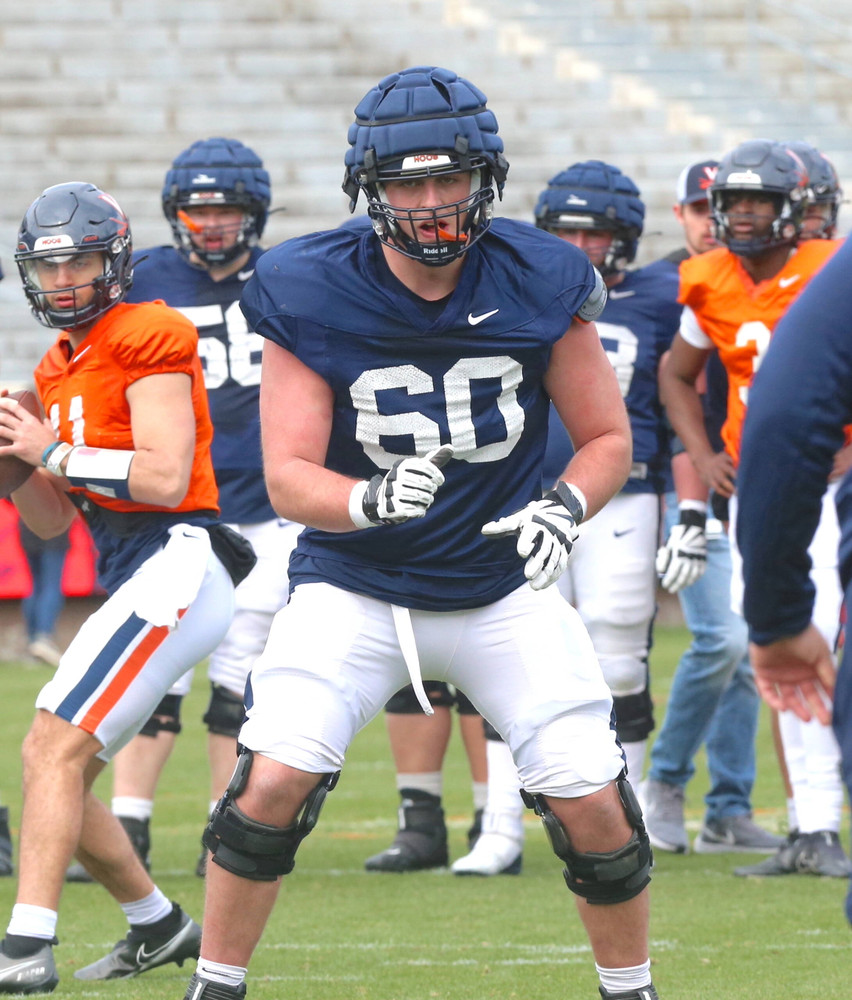 Patterson, who was born and raised in the Atlanta area, attended Fellowship Christian School in Roswell. The Paladins compete in the smallest private school classification in Georgia, but Patterson said he regularly faced three-, four- and five-star recruits.
"In Georgia, you're gonna find the competition in all of the classifications," he said.
Twice during his high school career, Patterson said, he played against Tate Ratledge, who's now a starting offensive guard for reigning national champion Georgia.
"I definitely think that you're going to find significant talent no matter what level you play in Georgia football," said Patterson, whose father played football at East Carolina. "It's just kind of bred down there. Everyone loves it, and it's kind of part of life there."
Like his fellow offensive linemen, Patterson talked up the impact Heffernan has had since coming to UVA.
"It's been good," Patterson said. "I like Heff. He brings in a bit of a new outlook on the game, which is honestly what we needed. He has improved us."
The O-line came into the spring with considerable room for improvement. In 2022, the Hoos ranked 10th among ACC teams in total offense and last in scoring offense, partly because of the line's inability to open holes and pass-protect. Virginia allowed 3.4 sacks per game, the second-most of any ACC team.
"We 100 percent have something to prove after last year," Patterson said. "We did not play up to our standard last year and obviously need to improve from that."
Des Kitchings is heading into his second season as Virginia's offensive coordinator, and "there's definitely a different feel than last year," Patterson said. "Everybody seems to be a little bit more comfortable with each other and with the offense itself. It was a little bit of a learning curve last year and everybody was kind of butting heads, but we're all kind of comfortable with each other and learning the offense pretty well. So I think it's definitely a little more cohesive."
It all starts up front. Heffernan has seen clear progress from his group, but he's not satisfied.
"I think you can be pleased and happy and wanting more all at the same time," he said, "and that's kind of where I am. I've been really blessed to be able to work with this group. The kids have been receptive, they've worked hard, they've taken to heart what I'm coaching, and that's fantastic. But every day you're going to be on that tape, and there's going to be a bunch of things we need to correct. And I'm not going to stop coaching them and I'm not going to stop asking for more until those things aren't on the tape. Which probably will never happen, but that's just coaching."
For most of the spring, the first-team line has consisted of McKale Boley at left tackle, Ugonna Nnanna (a transfer from Houston) at left guard, Ty Furnish at center, Jesus Johnson III at right guard, and Patterson at right tackle. (Noah Josey, a candidate to start at guard, has had a limited workload this spring.)
In the spring game Saturday, Boley, Furnish and Nnanna will play for the White; Patterson and Johnson, for the Blue.
"We're truly splitting the squads here," Heffernan said, "which from a chemistry standpoint is always a little concerning as the O-line coach, but it makes for more of a fun game."
After the Blue-White game, UVA won't play in front of fans again until Sept. 2 in Nashville, Tenn. That's when the Cavaliers open against the Tennessee Volunteers, and Patterson is looking forward to making his long-awaited college debut.
"I've been anticipating it since I got here," he said.
To receive Jeff White's articles by email, click the appropriate box in this link to subscribe.