By Jeff White (jwhite@virginia.edu)
VirginiaSports.com
CHARLOTTESVILLE, Va. — Still to come this year are more days that will test the University of Virginia football team emotionally: the season opener in Nashville, Tenn., on Sept. 2; the home opener a week later; and the first anniversary, on Nov. 13, of the tragedy that devastated the program, the University and the local community.
The Cavaliers have resolved, though, to move forward together, and on Saturday they crossed another significant barrier. For the first time since three players—Lavel Davis Jr., Devin Chandler and D'Sean Perry—were shot and killed on Grounds, the Cavaliers played in front of fans at Scott Stadium.
"Just being able to play football again is a blessing," wide receiver JR Wilson said.
The occasion was the annual Blue-White game, which capped the Wahoos' second spring under head coach Tony Elliott. In the stadium's north end zone were painted the names and jersey numbers of Davis, Chander and Perry—1, 15 and 41, respectively—and those tributes served as sobering reminders of what the program has endured.
"The defense, every time that we come down to Scott Stadium, we walk the field just to remind us that it's still 120 yards long," defensive coordinator John Rudzinski said. "But I know that as I walked to that far end of the stadium, where we got to honor three great young men and three great families, there were some tingles up my spine and a lot of emotion for us as a program to be here and just blessed to be able to be part of this great game, to be part of this great university, and frankly for the opportunity to be with these great young men."
Two UVA students were wounded in the shooting, including tailback Mike Hollins, who spent a week in the hospital after undergoing two operations. He's inspired his teammates and coaches with his courage and perseverance, and No. 7 had the same effect on fans at the game Saturday.
On the first play from scrimmage, Hollins ran for a 7-yard gain, a carry that drew a loud ovation from the crowd. Late in the second quarter, with his brother, Deuce, standing next to Elliott, Hollins ran for a 1-yard touchdown, after which his teammates mobbed him.
"We were through the roof," linebacker Trey McDonald said. "We were super excited, and it's just a testimony [to] how much he's worked this spring. Every day he's brought a smile and a hard-working attitude to the day, and that is just all we could ask from him. To see him score was amazing."
Deuce embraced his brother after the touchdown, which Hollins punctuated by placing the football on Perry's name for a moment in the end zone.
Hollins is still "carrying a lot, and he wants to do everything that he can to do things the right way," Elliott said, "and there's gonna be days where all of us are going to be emotional. I get emotional if I go a certain route on Grounds at times, I tear up a little bit, and so there's gonna be times [like that]. But also, too, I know that the byproduct of everything that we went through is that relationships are going to be better. And so that was a great opportunity to see him and his brother experience that, and then he's getting to share a moment with [Perry] that he knows was with him in spirit today."
Seeing Hollins at full strength again "just brought chills," offensive coordinator Des Kitchings said. "Early in the spring, he didn't practice. Then he started to practice. Then no contact, and then he wanted to get contact. So we just integrated him in the spring. He just kept building and building throughout the spring and to culminate it the way he did today, man, it's like a script that was written up. It's awesome."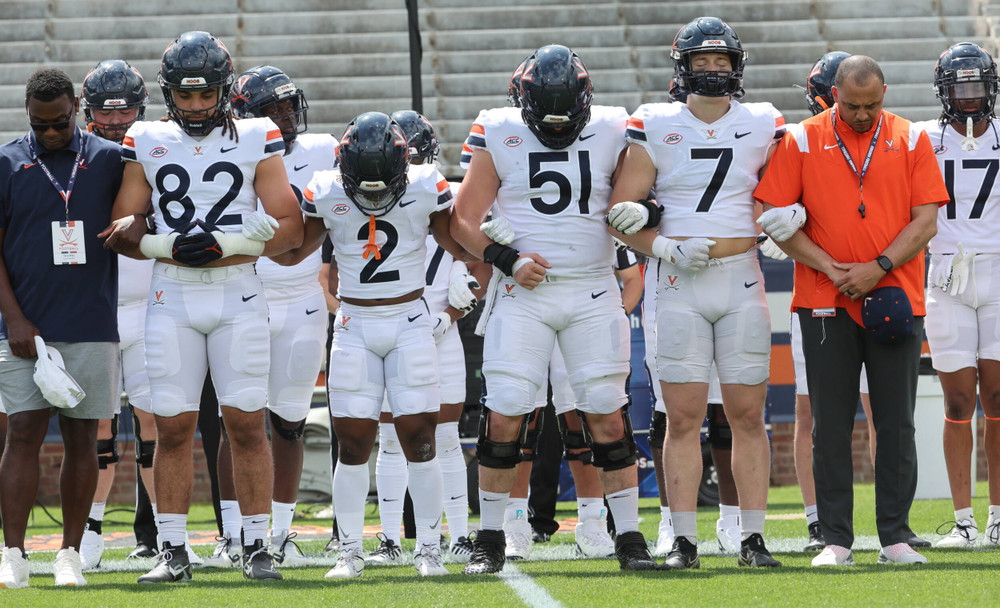 At the McCue Center, Hollins' locker is closest to that of quarterback Tony Muskett.
"I'm not a doctor or a nurse or anything like that, but I don't know how his recovery was that quick," Muskett said. "That's tremendous and a credit to him, because he's one of the hardest-working people you'll ever meet in your life … Just seeing him walking every day and how he interacts with everybody and how mature and how grown up he is, it's an inspiration, because he has so many eyes on him and so many people that he inspires just seeing how he handles it."
Hollins finished with 40 yards and one TD on 11 carries. After the Blue-White game, Elliott addressed the crowd, with Hollins at his side.
"I cannot even imagine what this young man has been through," Elliott said.
After the shooting, the team canceled its final two regular-season games and began the healing process amid an outpouring of support from the extended UVA family.
"You guys stood up, supported us, held us up at a time when we didn't know how to stand up, and I want to thank you," Elliott told the crowd. "And what I would say to you now moving forward is there's going to be times when you need to hold us up some more, and we need to hold you up.
"At the end of the day, we're all in this together. It wasn't just the football team that was impacted by the tragedy, it was our institution, our athletic department, our community, our fans, the communities of the three young people back in their hometowns that were impacted and changed forever."
Elliott teared up and had to pause before continuing.
"They were beautiful young men," he said. "They were much more than football players. My heart goes out to the families, to the Davis family, the Perry family, the Chandler family. They've been inspirational to us, just the strength, the courage, the vigor that they go forward with every day, I don't know how they do it, but because they do, I know that I have to and this program has to, to make sure that those numbers and those names and the lives of those young men were not lost in vain."
A moment of silence was observed before the national anthem was played. A spirited scrimmage followed. The quarterbacks were off-limits to tacklers, but otherwise it was a full-contact game for which the roster was split into two teams. The White squad won 34-19.
Muskett, a graduate transfer from Monmouth, and Anthony Coleandra, a true freshman, took most of the snaps, and both impressed. Each has picked up the offense quickly since enrolling at UVA in January.
In the Blue-White game, Muskett completed 11 of 14 passes for 149 yards and one TD, a 63-yarder to Wilson. Coleandra, playing for the Blue team, was 18 for 29 for 218 yards and one TD, a 5-yard to classmate Jaden Gibson, and threw one interception.
"This spring has been amazing for our offensive group," Muskett said. "You saw a glimpse of it today. Guys are flying around, we're having fun."
Among ACC teams, Virginia ranked last in scoring offense last season. The Hoos often looked out of sync when they had the ball, but such moments have been few and far between this spring.
The offense has steadily improved since spring ball began last month, Kitchings said, and the players are "starting to see the fruits of their labor. So it's been a good 15 practices, four-and-a-half weeks of spring. But we just raised the floor; we haven't reached the ceiling. We've got to keep working."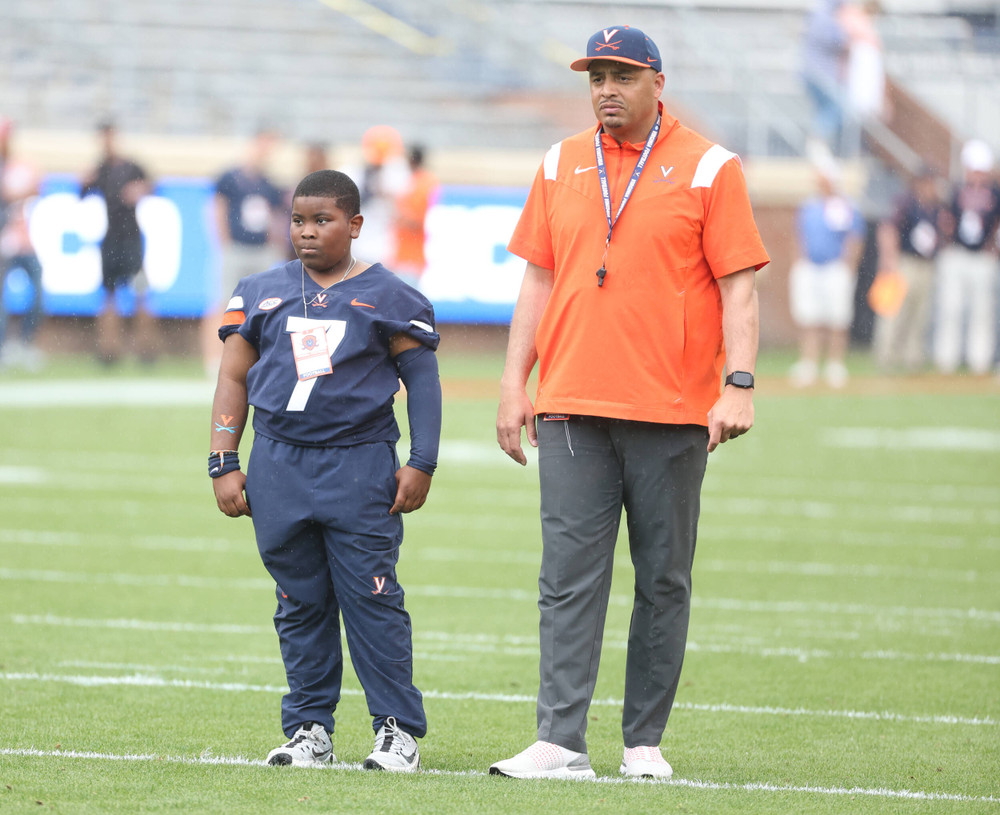 The crowd Saturday included a strong turnout of former UVA players, a group with which Elliott met Friday night.
"My message to them is: This is not my program. It's our program. It's their program," Elliott said. "They have blood, sweat and tears equity in Scott Stadium and over at McCue, and I want them back and involved, and I don't want anything other than them to have a relationship with the younger guys. Because all who have played the game know that it's a brotherhood, and we need to make sure that that brotherhood is thriving and it's alive. But it takes us making sure that we make Scott Stadium, make McCue, make our program accessible to them, and then they have to make the commitment to come back, because there's no better person to help these young people than somebody who's walked in their shoes, somebody who's walked Grounds and lived their experience, and then also [experienced life after college] … I want everybody who's a part of this program to understand what it means to represent the V-Sabre. And I want every player to know the responsibility that they have when they walk out on the field with the V-Sabre, and there's nobody greater than the former players to help them understand what it means."
Elliott liked what he saw on the field from his team this spring. He's been even more impressed with the spirit and resilience UVA's players have shown since Nov. 13.
"I think that initially kind of the responsibility was on the coaching staff to kind of lead them through that adversity," Elliott said. "And then once they got their feet back underneath them, they were able to clearly make a decision, and the decision that they made is, we're going to work every single day with purpose to make sure that that we turn the tragedy into a triumph."
To receive Jeff White's articles by email, click the appropriate box in this link to subscribe.