By Jeff White (jwhite@virginia.edu)
VirginiaSports.com
CHARLOTTESVILLE, Va. — The University of Virginia baseball team learned Sunday night that, as expected, it would host a regional at Disharoon Park on the opening weekend of the NCAA tournament.
Head coach Brian O'Connor and Co. received more good news Monday, when UVA was named the tournament's No. 7 seed. That assures the Cavaliers (45-12) of hosting a best-of-three super regional at Disharoon Park if they advance to the round of 16.
"It's a reward for our players," O'Connor said, "but it's just as much a reward for our fans that have come out and supported this team, and I'm excited to see the Dish packed this weekend for postseason baseball."
When he addressed his players after the selection show, O'Connor said, he stressed that being a top-eight national seed is "a great honor, but you don't reap the benefits of that until after this weekend. You have to win an NCAA regional for that really to kick in and allow you to then host a super regional.
"It's a great feather in our cap. It says what the NCAA committee thinks of our team, and we're proud of that. That said, the slate is wiped clean now. We've played the whole year to earn this host site and top-eight national seed. But the teams we're playing this weekend don't care about that."
Those teams are East Carolina (45-17), Oklahoma (31-26) and Army (38-16), and they're seeded Nos. 2, 3 and 4, respectively, in this double-elimination regional. All three programs have played NCAA tournament games in Charlottesville: ECU in 2011 and 2016, both regionals; Oklahoma in 2010 (super regional) and 2012 (regional); and Army in 2012 and 2013, both regionals.
This regional starts at noon Friday with a game between UVA and Army. ECU meets Oklahoma at 7 p.m.
This marks the 10th time in O'Connor's 20 seasons as head coach that the Wahoos are hosting an NCAA regional, and the fifth time they received a top-eight seed. For a stretch of five consecutive seasons, starting in 2010, the Hoos hosted regionals at what was then called Davenport Field, but this is the first time since 2016 that they'll open the NCAA tournament in Charlottesville.
"It was definitely something I wanted to be able to do in my time here at UVA. It's a special deal to have it here," junior third baseman Jake Gelof said.
"It's a testament to how hard we've worked every day and taking every game so seriously," sophomore shortstop Griff O'Ferrall said. "Obviously, [hosting is] not the end goal, but it's definitely something that we've been working for, and it's good to see."
In 2021, the Hoos won an NCAA regional and then a super regional in Columbia, S.C., to advance to the College World Series in Omaha, Neb., for the fifth time in program history. (Virginia won the CWS in 2015.)
In 2022, UVA was the No. 2 seed in the NCAA regional hosted by East Carolina in Greenville, N.C. After opening with a 7-2 win over Coastal Carolina, the Cavaliers lost two straight games, falling to 4-2 to ECU and 7-6 to Coastal.
"Not having to travel is huge," O'Ferrall said. "The fans are awesome here, and I'm super excited to see what the environment is like in a regional here, because I've never seen that [in person]. I've seen pictures, and it looks awesome."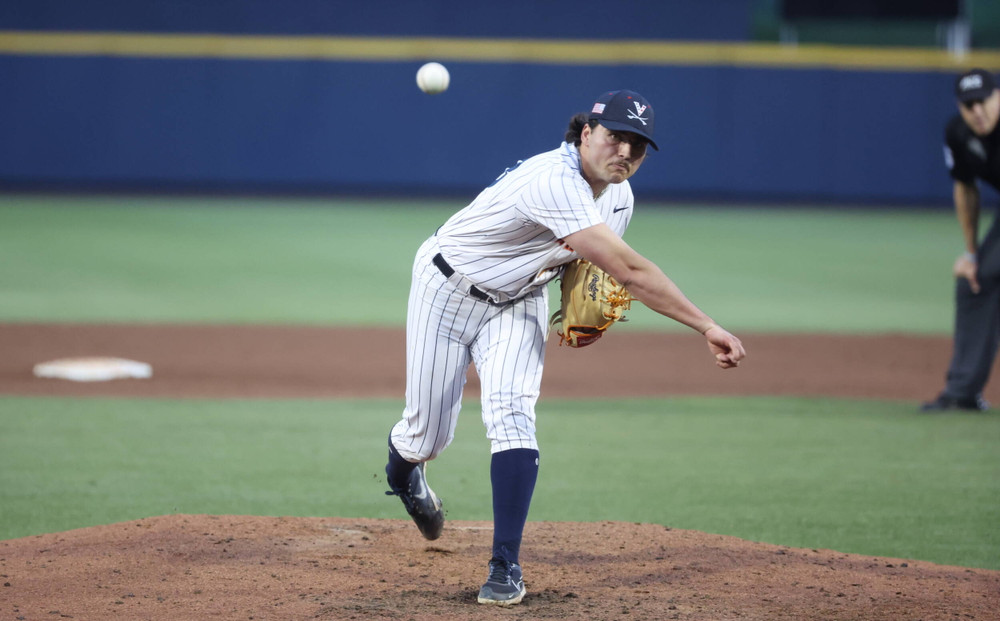 The roster of the Coastal Carolina team that eliminated Virginia in 2022 included pitcher Nick Parker, who entered the transfer portal after earning a bachelor's degree in business management from the Conway, S.C., school last spring.
Parker, of course, is now a Cavalier, and he's established himself as the team's No. 1 starter. He's 7-0 with a 4.06 earned-run average.
At Coastal Carolina, he played in two NCAA regionals: the first, in 2019, in Atlanta, and the second, last year, in Greenville.
"I think it'll definitely be cool to play at home with fans that are cheering for you and not against you this time," said Parker, who received a master's degree this month from UVA's School of Education and Human Development. "The experience of playing at home [in the NCAA tournament] will be one that not many people ever get to experience, so that's something I'll be really grateful for."
The All-ACC selections were announced last week, and Virginia placed four players on the first team: Gelof, O'Ferrall, junior center-fielder Ethan O'Donnell and junior catcher Kyle Teel. Three Cavaliers made the All-ACC third team: sophomore first baseman Ethan Anderson; junior pitcher Connelly Early, a transfer from Army; and graduate student pitcher Brian Edgington, a transfer from Elon.
Teel, the ACC Player of the Year, leads a dynamic offense. He's hitting .414 with 12 home runs and 60 RBI. Three other UVA starters are hitting .365 or better—O'Ferrall (.393), Anderson (.377) and O'Donnell (.369)—and Gelof has 22 homers and 84 RBI.
"We've had some certainly really talented offensive ball clubs here, but this has got to be right up there with them," O'Connor said.
The Cavaliers are hitting .334 as a team, tops in all of college baseball, and they're averaging 9.1 runs per game.
The key to UVA's offensive success, O'Connor said, has been "the depth of the lineup. We have an ability to score certainly at the top, through the first half of our lineup, but the bottom of the lineup gets hits and can turn the lineup over, and when you have guys like O'Donnell and Gelof and then Teel and Anderson and [Casey] Saucke right after that, that's a tough combination to have to pitch through, and knowing that they're going to get up at least four times in a game is great. What Ethan Anderson has done lately, hitting behind Gelof and Teel, has been impressive. And so it's the depth of it. It's athletic. We can steal a base when we need to, we can get a bunt down when we need to, but we can also hit the ball out of the ballpark."
The Cavaliers are 32-4 at Disharoon Park this season. Still, O'Connor knows, there's no guarantee a regional host, however solid its résumé, will advance to the NCAA tournament's round of 16.
"We have a tremendous challenge in front of us," he said, "but a great opportunity and one that we're excited about and looking forward to."
Parker said: "It'll be fun. It's always exciting playoff time, and everyone's good. Everyone's earned a spot here, so it's going to be tough, and we know it's going to be tough, but we're prepared for it, and we'll be ready to go."
With the spring semester over and final exams completed, this time of year is special for UVA's players.
"Especially being at a great school like Virginia, it's definitely awesome to be able to put that aside," Gelof said. "You put in your work all fall, all spring, and now it's just focusing on baseball."
Parker agreed. "Best time of the year. You feel like a pro baller a little bit."
To receive Jeff White's articles by email, click the appropriate box in this link to subscribe.