By Jeff White (jwhite@virginia.edu)
VirginiaSports.com
CHARLOTTESVILLE, Va. — It's a football axiom that's older than Tony Elliott, the 43-year-old University of Virginia head coach who repeated the time-honored phrase last week in Charlotte, N.C.
"What I've learned in my experience in the college game is that the game is won in the trenches," Elliott said at the ACC Football Kickoff.
The Wahoos are in their second year under Elliott, who spent 11 seasons on head coach Dabo Swinney's staff at Clemson. As they head into training camp, which starts Wednesday, the Hoos have reason to be confident about their ability to shine on one side of the line of scrimmage. On the other side, there's less certainty.
UVA's returning defensive linemen include ends Chico Bennett Jr., Kam Butler, Ben Smiley III and Paul Akere and tackles Jahmeer Carter, Aaron Faumui, Olasunkonmi Agunloye, Michael Diatta and Terrell Jones.
"I'm excited about what we've got coming back," said Bennett, who recorded a team-high seven sacks during Virginia's abbreviated 2022 season.
The group is as seasoned as it is promising. Akere, Butler and Faumui are 23, for example, and Bennett and Smiley are 22.
"It's definitely unique," Virginia defensive coordinator John Rudzinski said of the line's collective experience. "At the same time, the challenge for us as a group, us coaches too, is making sure that we continue to thrive to be better and not resting on our laurels and thinking any past performance is any indication of future performance, but of having the humility just go back to work and be consistent with the way that we work."
Most of the Cavaliers' D-linemen are nearing the end of their college careers. Across the line of scrimmage, the situation is different. All of Virginia's scholarship offensive linemen will have eligibility remaining at the end of this season.
From its 2021 team, Virginia lost its top six offensive linemen, and more turnover occurred after last season. Of the O-linemen in the program, only center Ty Furnish was a full-time starter for UVA in 2022. But the Hoos have a new offensive line coach, Terry Heffernan, and his group includes three players who transferred in this year: Ugonna Nnanna (Houston), Brian Stevens (Dayton) and Jimmy Christ (Penn State).
Returning O-linemen include Furnish, McKale Boley, Jestus Johnson III, Noah Josey, Noah DeMeritt, Charlie Patterson, Noah Hartsoe, Snoop Leota-Amaama, Blake Steen and Jack Witmer, a converted tight end.
The Cavaliers struggled on offense last year, in no small part because of the line's inexperience. Offensive coordinator Des Kitchings expects Virginia to be stronger up front this fall.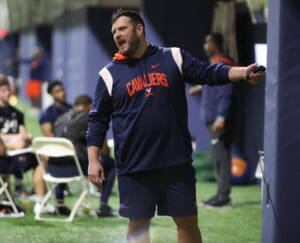 "From the guys that were here last year, I've seen big growth in them from the spring," Kitchings said. "I've seen growth in their bodies, seen growth in their work ethic throughout the summer. And then the guys that we added, first of all they're good guys, and their work ethic matches what we want in our players. And then Coach Heff has done a tremendous job of getting those guys to mesh and gel together.
"Bottom line, it doesn't matter what skill player you've got or what play call you've got, those five guys up front, they've got to get it going, and there's a lot more ownership in doing that this year."
Heffernan coached the offensive line at Stanford in 2021 and '22, and he brought a wealth of experience to UVA. He's been a graduate assistant at three schools, including Michigan and Louisville. He was an assistant coach at Division II Wayne State for six seasons. He's coached in the NFL, with the Lions and the Bills, and he was associate head coach and offensive line coach at Eastern Kentucky for three seasons.
The most effective offensive lines tend to be cohesive units, and Heffernan's charge is to build chemistry among players who rarely have lined up next to each other in games. Virginia opens the season Sept. 2 against Tennessee in Nashville, Tenn.
"That's a challenge," Heffernan said, "because I think there are two things that are really important that you're going to have a hard time getting at the same time, and that's cohesion and competition. So you can either give a bunch of guys opportunities in training camp, shift guys around to try and find your best five, or you can keep everybody at the same spot and really maximize the cohesion.
"Where we are going into this training camp, I think it's way more important for us to have competition. We've added some new pieces and we've got guys that we're going to play in different positions. I want to challenge them every day in finding our best five guys to put out there for the first play against Tennessee. So we're going to be shuffling the deck of cards, giving a lot of guys opportunities at different spots. Once we get towards the tail end of training camp, that's where you want to sink in and allow them to play next to each other."
Boley, Patterson, Christ, Witmer, Leota-Amaama, Curry and Steen will begin camp at tackle, Heffernan said, and Josey, Nnnana and DeMeritt at guard. Hartsoe and Stevens will rotate between guard and center. Jestus is primarily a guard but also can play center, and Furnish will focus on center, where he's coming off a strong spring practice.
"The big emphasis going into camp is going to be competing and earning everything," Heffernan said. "I think there's a bunch of guys who worked hard and have earned an opportunity to at least compete for a spot, and so we'll see who emerges from it. That's kind of the cauldron of competition."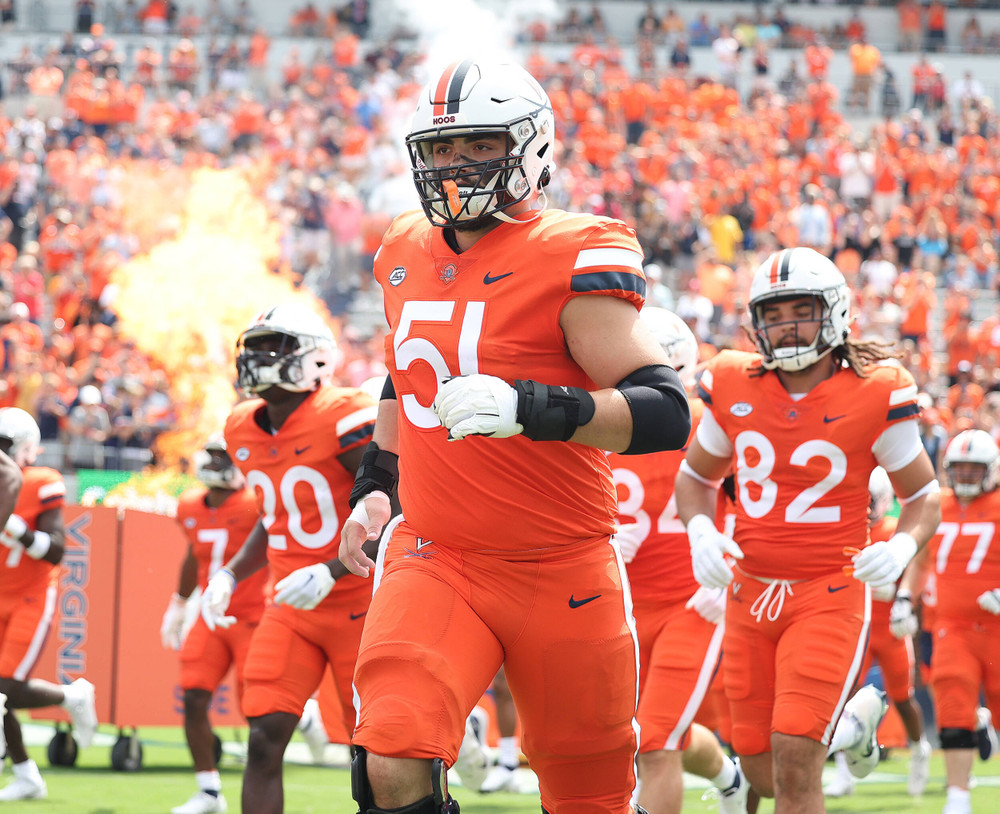 Practicing against the Cavaliers' defense only help his group, Heffernan said. "We're going to see a very good D-line every day, and so any deficiencies we have, and any technique issues we have, are going to get exploited, which is great from a teaching purpose. You'd rather know you're battle-tested when you come out of camp than kick the butt of the other side of the ball and feel great about yourself until you hit a real D-line. I think there's a lot of big physical guys over [on the defensive line] that have played a ton of football."
Heffernan laughed. "You look at our defensive ends, they might be 25 years old, on average. Which is great for our young [offensive] tackles, who are certainly not 25, to know that these guys have played a ton of football, they're experienced, they're powerful, they've lifted weights in a college weight program for a long time. So it'll be good for our guys to work against them."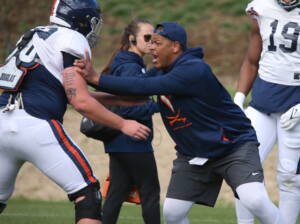 Kevin Downing coaches the Cavaliers' defensive tackles, and Chris Slade works with the ends. Carter, Faumui, Agunloye and Diatta are the most experienced tackles, but Jones, a redshirt freshman, is a candidate to break into the rotation. He shined in head strength and conditioning coach Adam Smotherman's offseason program.
"He's got really good movement skills," Downing said of Jones. "Tons of ability. Really good kid. Coach Smo and his staff did a great job with him this summer. He's put on some really good weight and he's gotten a lot stronger. So he's a really, really good prospect and I'm looking forward to seeing him develop."
For all of the line's experience, Downing said, the coaches have emphasized that "what happened last year doesn't carry over to this year."
Still, Downing acknowledged, his group starts from a good place. "They all had a really good spring and summer. Coach Smo and his staff have done a phenomenal job with them, so I'm excited to get on the grass with them. The big thing about them is they all love each other. And I think that's important on for a football team, especially for the D-line. You want to close-knit group, and the thing about defensive line, you like to play as many guys as you can. You like to rotate them, keep them fresh. So that's something that we're excited about."
Carter, a massive presence at 6-foot-2, 313 pounds, anchors the middle of the line. He's heading into his third season as a starter. Carter improved his footwork last season, and "his body is looking as good as it's ever looked right now," Downing said.
"But like I tell Jahmeer and I tell all the guys: Just do your job with championship effort. If you do that, we'll be fine. We all want them to be productive, because that's the No. 1 rule in our defense: finish on the ball. But Jahmeer was a guy that drew a lot double teams at times last year, so just do your job. Press on it so the guys behind you can be free. And he's so selfless. He's such a humble young man. He understands that. He doesn't get caught up in that. His No. 1 goal is he just wants to win football games. So I'm excited about Jahmeer. He's the guy that you want in your room. I love coaching him. He's the most intentional young man that I've ever coached in the 14 years that I've been coaching."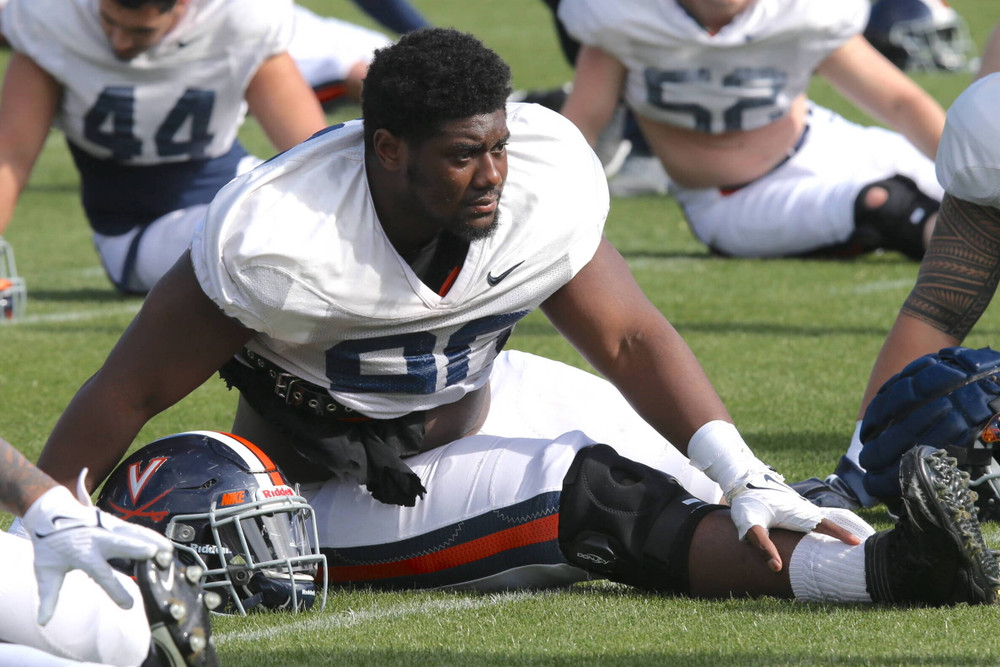 Downing works closely with Slade, a former All-America defensive end at UVA who still holds the ACC record for career sacks (40). Much has changed for Slade over the past year. He went into training camp last summer with a group that included three transfers who had yet to play for the Cavaliers: Bennett (Georgia Tech), Butler (Miami-Ohio) and Akere (Columbia).
Bennett, who missed the 2021 season while recovering from knee surgery, had played in 15 games as a Yellow Jacket, but neither Butler nor Akere had any FBS experience.  That's no longer the case.
"We got the same guys coming back, a lot of them, so I'm expecting big things out of our guys," said Slade, who's in his second year as a UVA assistant. "I think having that one year under the belt for everybody, including myself, that makes a big difference. We've gotten to know them and they've gotten to know me and what my expectations are and we've gelled."
Smiley, who also has lined up at tackle, is in his fifth year in the program. Since early in his tenure at UVA, Elliott has talked up Smiley's potential, and Slade is equally high on No. 10. But Smiley has yet to make a significant impact on the field.
"He's plenty explosive," Slade said. "He's strong. He has all the physical attributes. I think for him it's just understanding the game a little bit more, having more football savvy and awareness. But there's no one on our team as explosive as Ben Smiley up front."
In 2022, its first season under Rudzinski, who excelled as Air Force's defensive coordinator, UVA's defense showed dramatic improvement. Since the end of last season, the Cavaliers have lost standouts at cornerback and linebacker, but they expect to make more progress on defense this fall.
"It all starts up front," Downing said. "We accept that challenge. We don't run from that challenge. We understand that. But the thing we talk to them about is, we don't ever look at the end of the road. We just look where our feet are now, starting in practice. And we just take steps every day. And the goal is, we try to stack days and we try to be as good as we can fundamentally, and we understand that fundamentals are what win plays."
To receive Jeff White's articles by email, click the appropriate box in this link to subscribe.