By Jeff White (jwhite@virginia.edu)
VirginiaSports.com
CHARLOTTESVILLE, Va. — He came to the University of Virginia, his third college in three years, looking to put down roots. He also wanted to earn a football scholarship.
Daniel Sparks has accomplished both goals, and UVA's punter is looking to do more as he heads into his second year in Charlottesville.
"I don't think there's any place I'd rather be than here," Sparks said after practice Monday evening. "All the guys, I love them."
Sparks grew up in Gadsden, Ala., about 65 miles northeast of Birmingham, and he was home for the holidays last winter when UVA head coach Tony Elliott called with big news. Sparks would be on scholarship, starting with the spring semester, Elliott told him.
"My parents actually weren't home, so I gave my mom a call, and she starts screaming," Sparks said, smiling. "I called my dad, and he's like screaming in his office."
The 6-foot-6, 213-pound Sparks followed a winding road to the University. In the summer of 2020, he enrolled at Louisiana Monroe, where he won the starting job and averaged 44.6 yards per punt as a true freshman. The Warhawks finished 0-10 that season, however, after which the coaching staff was dismissed.
"I wasn't really sure if I wanted to stick around," Sparks recalled last year, and he transferred to Minnesota after one semester at ULM.
He never punted in a game for the Golden Gophers. He lost his battle with Mark Crawford for the starting job at Minnesota, and at the end of spring practice last year Sparks entered the transfer portal again. He landed at UVA as a preferred walk-on last summer and quickly won the starting job.
In a challenging season for the Wahoos, Sparks' punting was a highlight. He averaged 45.9 yards per kick and was named to the All-ACC second team. No. 38 earned those honors, Elliott noted Monday night, despite the fact that "we did not do a great job from a protection standpoint last year, nor did we do a great job consistently with the coverage."
When he arrived at UVA, Sparks hadn't punted in a game since Dec. 5, 2020, and he said he was "a little nervous" heading into last year's season opener at Scott Stadium. But he averaged 48.7 yards on his three punts in UVA's 34-17 win over Richmond, and "after that game, I sort of fell back into it."
Asked to assess his 2022 performance, Sparks said, "I thought it was decent. Obviously, there's a ton of ways I can get better. We had some punts blocked. I gotta work on that. Better direction, better hang time, better distance. You can always get better. So that's just what I'm looking to do."
Sparks had two punts blocked last season, and opponents averaged 13.1 yards per return. (The Hoos averaged 4.8 yards on their punt returns.)
"He's hitting the ball high and far right now in practice," Elliott said, "but I do feel better about the work that we put in from a coaching staff perspective and in the amount of time that we dedicated this offseason to just the fundamentals and the techniques associated with not just punt, but all of our special teams."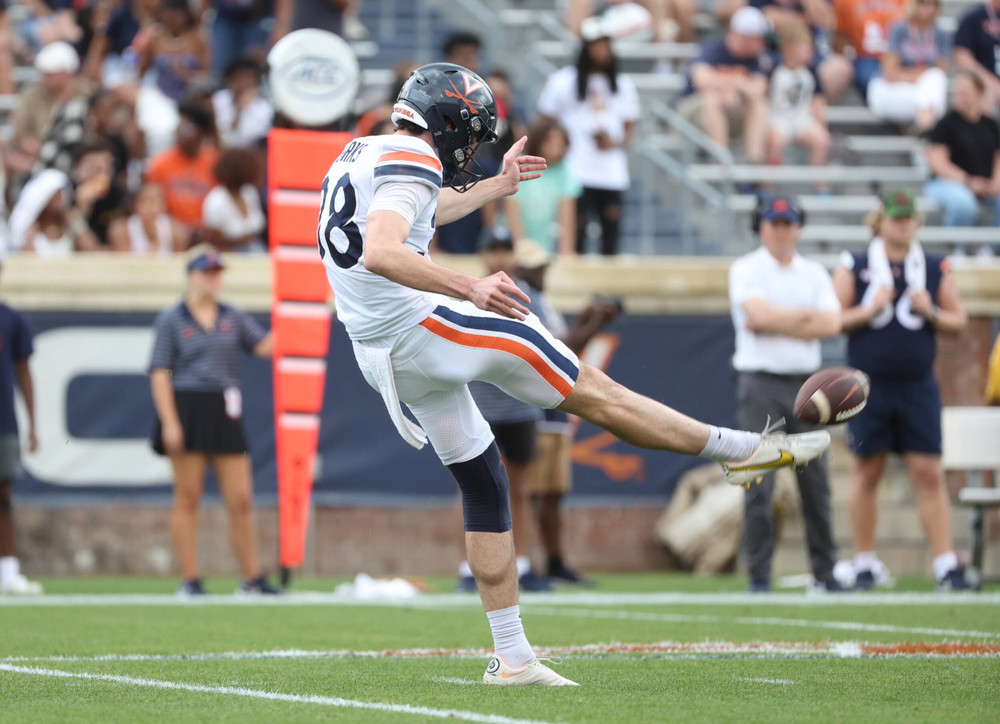 The Cavaliers opened training camp last week, and "so far I've seen an improvement in the protection," Elliott said.
So has Sparks. "I feel very safe back there right now," he said.
Elliott said the Hoos have yet to work on punt coverage in camp, "because we're still in our early phases of really just teaching the fundamentals of the protection. We'll get into the coverage over the next week or two from that standpoint, but I do feel better about where we are to support [Sparks], and he's picking up where he left off. His leg is strong, and he's hitting it high and he's hitting it far. He's had some really, really good numbers so far from a hangtime standpoint. He just has to be consistent as we get into the season."
Sparks, who'll have two more seasons of eligibility after this one, is majoring in biology. His father, Dan, is an orthopedic surgeon, but medical school isn't in Sparks' future.
"I'm thinking maybe physician assistant or nurse practitioner or something like that," he said.
For the second straight year, Sparks is rooming with long-snapper Aidan Livingston and running back Cody Brown. His adjustment to UVA has been more seamless, Sparks said, than was his transition to Minnesota.
"I think it was a lot easier moving here," Sparks said. "One, it's a shorter drive [to Alabama]. And two, the feel of Virginia is a lot like home. Lots of green trees and things like that. So it felt a lot like home driving through and when I moved in here."
When he's not punting in practice, Sparks occasionally lines up as a wide receiver when the Cavaliers are practicing inside runs. He's uncovered, but his presence allows the team's wideouts to drill elsewhere.
"I think I'm just sort of like a dummy there, but it's a body," Sparks said, laughing.
He grew up playing soccer and didn't start punting seriously until 2019, when he began working with Mike McCabe of One on One Kicking. Sparks still trains with that organization in Charlottesville, where his coach is former Boston College punter Alex Howell, whose brother, Jimmy, punted for UVA.
Sparks, who last month was named to the preseason All-ACC team, punted 46 times in 2022. He won't be crushed if that figure drops significantly this year, because it'll mean the Cavaliers' offense has been humming.
"A lot of people tell me that," Sparks said. "They're like, 'We love to watch you do it, but at the same time we don't want you to play.' I'm all for the team. If I don't see the field, I'm perfectly happy with that."
To receive Jeff White's articles by email, click the appropriate box in this link to subscribe.