CHARLOTTESVILLE, Va. – With the 2023 Virginia football season approaching, the Virginia athletics department has announced several gameday enhancements at Scott Stadium including a brand-new LED lighting system.
Season tickets, three-game mini packs and single-game tickets (with the exception of Virginia Tech on Nov. 25) are available for purchase at UVATix.com.
"Our goal as a department is to deliver the best game day experience for Cavalier fans every year, and we are thrilled with the progress we are making to enhance the experience at Scott Stadium this Fall," said Tyler Jones, deputy athletics director for external operations. "The new LED field lights and the technology associated with the lights will be a game changer for our night game atmosphere. We're also excited about the enhancements we have made to our concessions operations, the visual branding of the stadium, and plenty more for the 2023 season."
2023 Home Games/Promotions
Sept. 9 vs. JMU (Noon) – UVA Strong Day/T-Shirt Giveaway/500th Game in Scott Stadium
Sept. 22 vs. NC State (7:30 p.m.) – True Blue Game
Oct. 7 vs. William & Mary (TBA) – Homecomings/Breast Cancer Awareness Game/Cavman's Crew Day
Nov. 4 vs. Georgia Tech (TBA) – Family Weekend/Band Day
Nov. 18 vs. Duke (TBA) – Heroes Appreciation Day
Nov. 25 vs. Virginia Tech (TBA) – Senior Day/Commonwealth Clash
LED Lighting System
Virginia partnered with Musco to replace the Scott Stadium field lights with a new 230-light LED system. Like many major sporting venues, the new system enables the lights to flash coordinated colors during big moments, sync with audio tracks and turn on/off instantly. Inside the new Virginia Sports App, fans will be able to participate in coordinated light shows with their mobile devices. Fans should download the latest version of the app from the App Store or Google Play.
The new light capabilities will debut during UVA's first night game on Friday, Sept. 22 at 7:30 p.m. kickoff against NC State.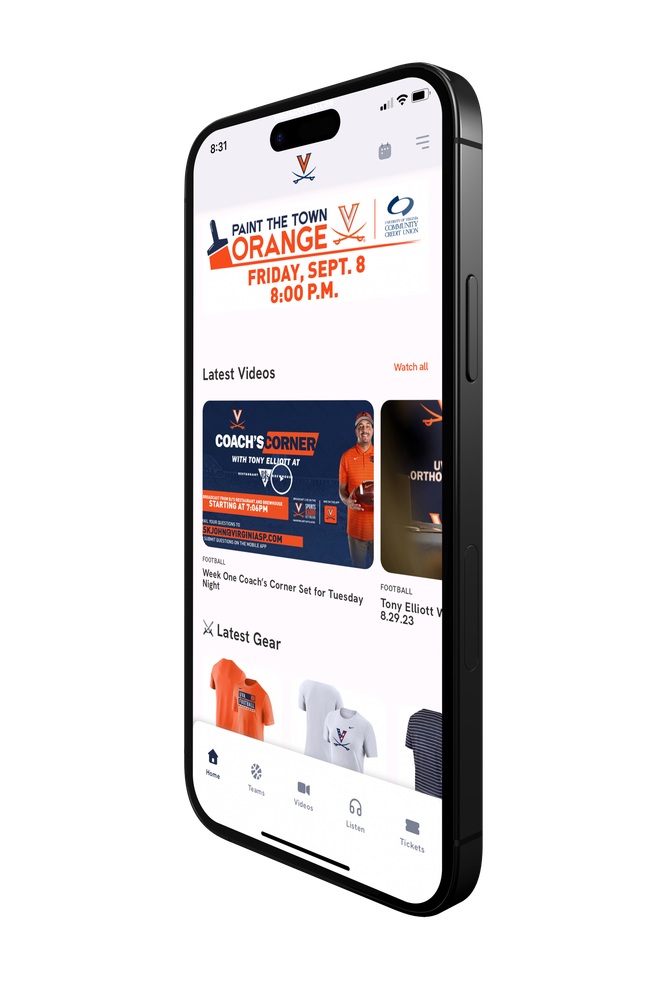 Alcohol Sales at Scott Stadium
It will no longer be required to obtain a wristband prior to the purchase of alcoholic beverages at Scott Stadium, a proactive measure to address wait times and to streamline operations. Fans 21 and over will need to show identification at the point of sale only and are limited to two drinks per transaction. All alcohol sales will conclude at the end of the third quarter.
Points of sale for alcohol include grab and go option in the lower concourse as well as the ability to purchase beer and designated concession stands. Portable alcohol vendors will also be strategically setup around the stadium to help decrease concession lines. Alcohol options will feature the Wahoowa Pale Ale, Sabre Lager, Hoo Rah Ray IPA, Granny Hoo green apple hats cider and Good Old Sangria hard cider.
NEW! Aramark Sports & Entertainment Group
Concession stands at Virginia athletics venues, including Scott Stadium, will be serviced by Aramark Sports & Entertainment Group for the 2023-24 academic year. A subsidiary of Aramark, the group specializes in athletics and major events and has a primary objective of increasing the quality products served and efficiency at the point of sale.
Scott Stadium is Going Cashless!
To further improve the efficiency and wait time concerns, Scott Stadium concession stands and Cavalier Team Shops will be cashless. Fans are strongly encouraged to utilized cashless options like credit/debit cards, apple wallet or gift cards. Certain portable vendors around the stadium will still accept cash but all vendors will be transitioning points of sale to be entirely cashless in 2023.
The UVA ticket office on game day will still have a cash option.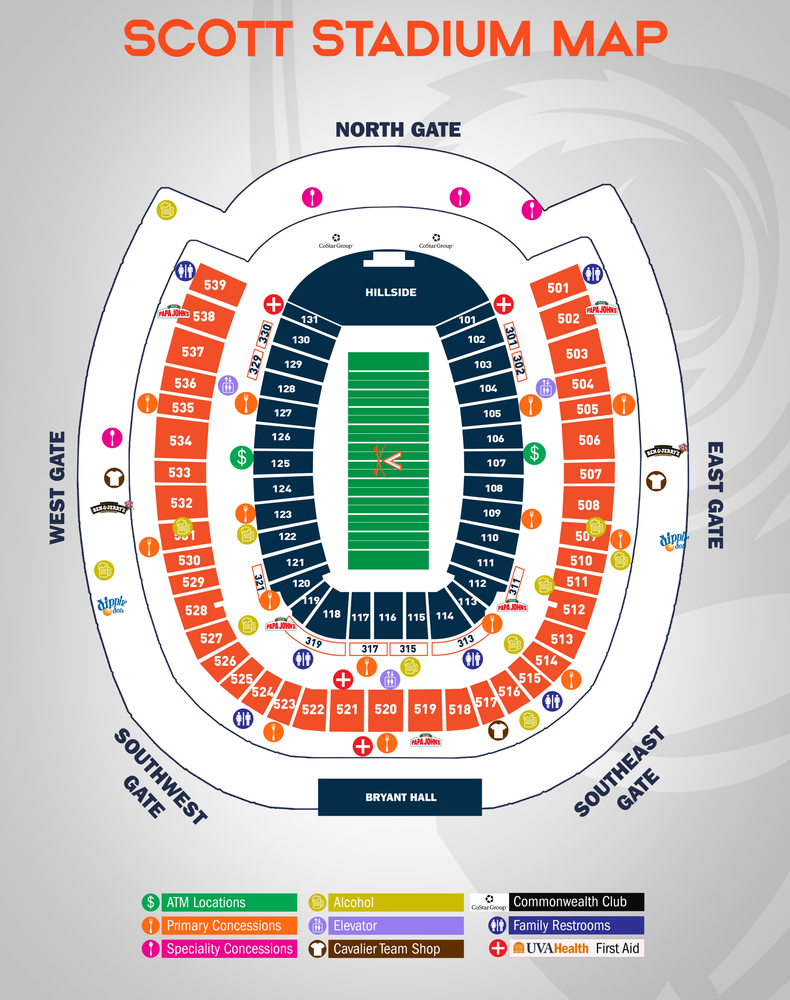 New Displays and Visuals
Fans will benefit from the new directional signage throughout the stadium. Every fan-facing sign in Scott Stadium has been replaced to help maximize the speed of ingress and egress on gameday.
Out of Town Scores/Hoovison
Keep an eye out for the out of town scoreboard during all timeouts this season as well as live look ins from games around the country periodically through the game.
Hoovision will have the ability show the line of scrimmage, first down line and the well as down/distance on all plays.
Composting Receptacles & Sustainability
In partnership with the UVA Office of Sustainability, over 100 UVA-branded units have been spread through Scott Stadium. UVA and the athletic department committed to the race to zero waste. To learn more about UVA Athletics implementation of the Zero Waste initiative visit: https://sustainability.virginia.edu/green-athletics
Food Truck Options
Outside the North End of the stadium, near the pergola, a variety of food truck options will alternate each game.
Gameday Guide Emails
Guide emails will go out each Friday and cover all information for the event. All fans are encouraged to read as some essential operations may change from week to week. If you have digital ticket you will automatically be included on the recipient list.
GAMEDAY REMINDERS
Wahoo Walk
The Wahoo Walk returns for the 2023 season. Approximately 2.5 hours before each home game, the UVA Football team will be dropped off at the southeast corner entrance of Scott Stadium off Whitehead Road. Fans are encouraged to attend and cheer on the Hoos as they enter Scott Stadium.
Fan Fest
The Cavalier Fan Fest returns to the Aquatics and Fitness Center this year. Open 2.5 hours before the game, and closing 40 minutes prior to kickoff, Fan Fest will feature balloon artists, a face painting station, a photo zone, a coloring zone, cornhole and more. Admission is free.
Arrive Early, Be Loud
As UVA Football continues to build The Model Program, the Cavalier faithful are a critical component of the program's success. All fans are encouraged to begin making their way to the stadium 40 minutes prior to kickoff each game to be in seats in time for the pregame spirit show and team runout. All fans are encouraged to be loud and supportive of our student-athletes throughout the duration of each contest as we aim to make Scott Stadium the best home-field advantage in the ACC.
Sing the Good Old Song Postgame
Head coach Tony Elliott and the team will gather in front of the student-section and sing the Good Old Song after every game. Fans are encouraged to stay and join the team in this game day tradition.
Cavman's Crew
Junior fans (eighth grade & under) of the Orange and Blue are encouraged to join Cavman's Crew. Membership is $25 annually and members will receive a Cavman's Crew gift pack and a Cavman-caped string backpack. As a benefit of membership, Crew members will receive free admission to select home events across the academic year, including two tickets to the William & Mary game on Saturday, Oct. 7. To sign up or learn more about the program, click here. 
Birthday/Anniversary Messages
Fans celebrating a special occasion at Scott Stadium can take it to the next level by making it onto HooVision. Fans can purchase time on the board to share with tens of thousands of the Cavalier faithful. More details: https://offer.fevo.com/birthday-anniversary-video-board-message-5143f07
Vet Tix
Virginia is proud to honor and welcome veterans of our armed forces and thank them for their service. Fans unable to attend games at Scott Stadium can donate their tickets to VetTix and treat a veteran to the game. Information on how to participate will be available in the near future.
CavCard
Season ticket members will receive special discounts and benefits at local Charlottesville businesses through partnerships created by Virginia Sports Properties. Season ticket members can access their CavCard benefits by logging into their UVATix.com account and downloading. Information on exclusive offers can be found here: https://virginiasports.com/cavcard/
TING High Speed Internet Access
When at Scott Stadium fans can enjoy Ting High Speed internet for FREE! An increased number of data points have been added at Scott Stadium gates but all fans are still encouraged to download their tickets prior to arriving.
In-Stadium Hosts Are Back
A couple of familiar faces will return as in-stadium hosts this season with plenty of new programming and features planned. Jamar Hicks will serve as the in-game host with Ahmad Hawkins returning as the in-game analyst.
Student-Athlete Video Board Content
More content will be featured on HooVision to show the value Virginia Athletics places on its commitment to student-athlete development and to spotlight the stories and interests of the Cavaliers.
Affordable Group Ticket Options
Groups of 20 can take advantage of special pricing options to attend UVA home games. Prices start from $12 to $24 depending on the opponent. For complete information, click here.
Cavalier Marching Band Shows
The Cavalier Marching Band has an innovative and entertaining selection of themed shows for the season:
James Madison: UVA Strong Day
NC State: Spies of Hooville
William & Mary: Latin Icons
Georgia Tech: V is for Villains
Duke: Armed Forces Show
Virginia Tech: Greatest Hits of the Cavalier Marching Band
Customer-Oriented Staffing to Increase
Through its partnerships with RMC and Aramark S&E, UVA has reviewed fan feedback from the 2022 season and identified areas of focus to improvement. These groups have spent the offseason developing a staffing plan to better serve patrons at Scott Stadium.