By Jeff White (jwhite@virginia.edu)
VirginiaSports.com
CHARLOTTESVILLE, Va. — It takes a lot to rattle Brian Stevens on the football field. Until last weekend., he hadn't played center in a game since 2018, when as a high school senior he was pressed into service late in the year because of a teammate's injury, but Stevens displayed remarkable poise in his first college start at that position.
This is his first season at the University of Virginia, but Stevens started 19 games on the offensive line at the University of Dayton, mostly at left tackle and left guard. At this stage of his career he's confident he can handle whatever assignment he's given.
Midway through UVA's game at Maryland last Friday night, Stevens recalled this week, it occurred to him that he should ask quarterback Anthony Colandrea if the snaps were good, and "AC said, 'Oh, yeah, no problem.' So it wasn't even the main priority in my mind, which was a good sign that snaps were going well."
Stevens started the Cavaliers' first two games at right guard, next to center Ty Furnish.  But Furnish struggled with his snaps, and after Virginia's 36-35 loss to James Madison on Sept. 9, offensive line coach Terry Heffernan shuffled his lineup, with Furnish and Stevens trading places.
The Wahoos didn't win in College Park, Md., but there were no issues with the snaps, and the line generally played well.
"I felt like the protection was a lot more solid than it had been in previous weeks," head coach Tony Elliott said. "We did get the quarterback hit a couple times, but I thought overall they played better with a lot more cohesion. That's where it starts. If you can protect the passer, then I believe we have some skill guys that eventually will be able to make some plays."
At Scott Stadium, Virginia (0-3) meets NC State (2-1) at 7:30 p.m. Friday in the ACC opener for both teams. Expect to see Furnish and Stevens line up at the positions they played last weekend.
For Furnish, the move reduced his responsibilities "and allowed him to play a little more free and a little more fast," Heffernan said. "He was transitioning to guard, and none of us played a perfect game, but Ty played really, really hard. And I think you were able to watch him grow and be able to play with that kind of effort, because there was a little less mentally that he had to worry about."
Stevens' inexperience at center notwithstanding, Heffernan felt certain No. 55 would acquit himself well there, because of "who Brian is as a person. Nothing's too big for him. He's got a calm demeanor, and in regards to the game, he asked great questions. He studies the heck out of it. There's a lot of responsibility at center, and I knew he knew those responsibilities. And then he did a great job handling the snaps and the transition. Last week was a big communication game for us. From the center position, he did a wonderful job."
Like Stevens, who's pursuing a master's degree in UVA's School of Education and Human Development, Heffernan played at Dayton. That connection helped the Wahoos land Stevens, who graduated from Dayton in the spring with a bachelor's degree in health science.
"Obviously having that shared experience [was a factor]," Stevens said. "I think he was in the Atlanta airport when he first called me, and it was basically just, 'What's going on, fellow Flyer?' "
Heffernan, who graduated from Dayton in 2003, still had numerous contacts at his alma mater when Stevens entered the transfer portal. "There was a ton of sources that said, 'This guy's a special person,' " said Heffernan, who's in his first year at UVA. "There were people that I trusted and believed, and that was a big part of our evaluation."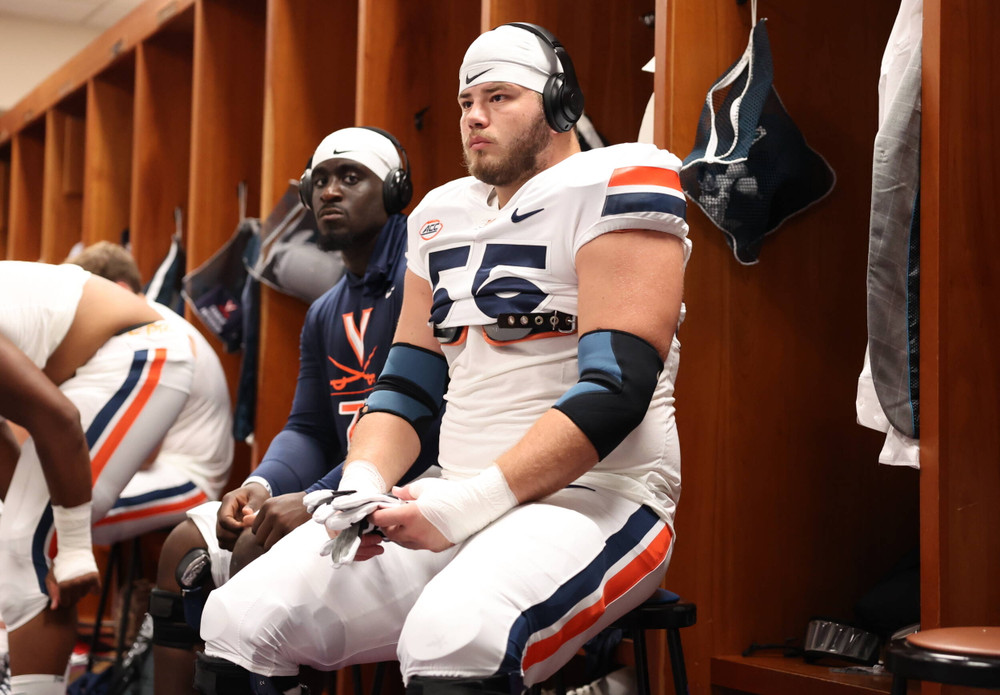 Stevens grew up in Milford, Ohio, a suburb of Cincinnati. He played multiple positions at Milford High School, moving from linebacker to the defensive line to the offensive line, and he also punted and backed up the starting tight end.
That versatility didn't win over recruiters from FBS programs. Stevens stands 6-foot-2, so he's undersized for a major-college offensive lineman, and he weighed about 240 pounds at the end of his senior season at Milford. He ended up at Dayton, a non-scholarship FCS program that competes in the Pioneer Football League.
Stevens named Dayton's top offensive lineman in both 2021 and '22. A first-team All-Pioneer selection last season, Stevens also was one of the Flyers' captains. Leaving Dayton "was not an easy decision, especially being a captain and doing all those things," he said. "I gave all that up to go try to live out the dream."
He entered the portal after the 2022 season. Stevens had two years of eligibility remaining and immediately heard from numerous FBS programs, including Louisiana-Monroe, where Maverick Morris was the offensive line coach. In January, Morris joined UVA's staff as a graduate assistant. Heffernan started work at Virginia that month too, and one of his first priorities was increasing the depth on the offensive line.
"I think Coach Heff was like, 'We may have to look in the portal for some guys,' and Coach Mav said, 'Yeah, I got this guy out of Dayton,' " Stevens said. "And Coach Heff was like, 'You're yanking my chain, because that's where I played.' "
Stevens now weighs around 295 pounds, and he's a committed weightlifter who's one of the strongest players in the Cavaliers' program. "The weight room has always kind of been my safe haven," he said.
At 6-foot-2, Stevens doesn't have the stature of a prototypical Power Five offensive lineman, but that didn't bother Heffernan. "I think you can get really stuck in paradigms and saying, 'We've got to recruit this,' " Heffernan said, "and you miss a great player like a Brian, a guy who, when you put on his tape, he's blocking the heck out of people."
Moreover, Heffernan, "center is very much a leverage position. So you can be 6-5 or 6-6 and play that position, but you better be able to bend your knees."
Stevens' athleticism helps him compensate for his lack of height. "Ultimately, low man wins. That's what I tell guys at camps: If you can play, you can play."
He didn't arrive on Grounds until May, but Stevens quickly bonded with his fellow offensive linemen, a group that includes two other transfers: Ugonna Nnanna (Houston) and Jimmy Christ (Penn State).
That he's now on full scholarship is gratifying for Stevens, whose parents are delighted too. Equally rewarding has been realization that he can compete at this level.
Many players dream of making the NFL, Stevens said, "but I think deep down my dream was to prove to everybody else that I could play in Power Five. I think that's kind of what my motivation was coming out of high school. At Dayton, with us being non-scholarship guys, we all believed that we should have been on scholarship. So I kind of wanted to prove myself that I belong and I could play."
His UVA debut came on Sept. 2 against a Southeastern Conference power, Tennessee, before a sellout crowd of 69,507 at Nissan Stadium in Nashville.
"Those are the dream games," Stevens said. "You want to play the big-time teams and be able to perform well. Obviously, the result wasn't there. But being able to say I belong in that kind of deal was just something."
Heffernan is eager to see Stevens' impact continue to grow on the O-line. "He's been a real shot in the arm for our group as a leader," Heffernan said, "as a guy who handles his business in the weight room, with nutrition, and then certainly on the field, and he's already played two roles for us. He's a guy that handled the transition with poise and really did a nice job against Maryland."
To receive Jeff White's articles by email, click the appropriate box in this link to subscribe.