By Jeff White (jwhite@virginia.edu)
VirginiaSports.com
CHARLOTTESVILLE, Va. — He stood apart from the throng whose impromptu celebration threatened to shake the walls of the home locker room at Scott Stadium. But University of Virginia head coach Tony Elliott took it all in, and the scene brought joy to his heart.
"There's no better feeling than to be standing back there and seeing you guys singing and dancing because of a victory," Elliott told his players a few minutes later. "It's been a long time coming."
After starting the season with five consecutive losses—three of them by a combined seven points—UVA finally broke through Saturday afternoon. Nothing has come easily for the Cavaliers this season, however, and there were some anxious moments in their final non-conference game.
Against William & Mary, which is ranked No. 9 in the FCS, Virginia found itself trailing 13-3 early in the second quarter. But the Wahoos steadied themselves and took a 20-13 lead into halftime. They added a touchdown in the second half and walked off with a 27-13 victory that raised the spirits of everyone associated with the program.
"It's huge," said Elliott, who's in his second year at UVA. "Trust me, nobody in that locker room, in this organization, is excited or feels good about where we are. You've got a group of folks that realize the opportunities we didn't take advantage of, and we want to make sure that we capitalize on the ones going forward. But really it's just confirmation for those guys in there, because they've worked extremely hard.
For the Hoos (1-5), the win was their first since Oct. 20, 2022, when they defeated Georgia Tech in Atlanta.
Quarterback Tony Muskett said Elliott delivered a timely message to the team early in the week. The Hoos had been playing like they "wanted to win," Muskett said, "but this week he told us that we need to win. I think there's a different level of commitment and passion when you truly need to win … and I think you saw that today. We strained a little harder and we pushed a little harder than the past five weeks."
Muskett suffered an injury to his non-throwing shoulder in the fourth quarter of the Sept. 2 season opener against Tennessee and missed Virginia's next three games. He returned last weekend against Boston College and played well in UVA's 27-24 loss, and he turned in another strong performance against W&M (4-2).
A transfer from Monmouth, Muskett completed 17 of 26 passes for 232 yards and two touchdowns, with one interception. He was sacked four times for 40 yards in losses, but he ran effectively too. He sprinted seven yards on a quarterback keeper for Virginia's first touchdown, and in the second half he scrambled for four yards on fourth-and-3.
Muskett re-injured his shoulder on that run and had to come out of the game. But the medical staff didn't think No. 11 would need much time on the sideline, and after third-team quarterback Grady Brosterhous handed off on the next play, Muskett returned. Moments later, he hit wide receiver Malik Washington on a 27-yard touchdown pass.
"He's a competitor, he's a warrior," Elliott said of Muskett. "He's a leader on the football team. He's a guy that's playing injured and probably is going to have to have surgery on that shoulder at the end of the season. He could easily—easily—have done the easy thing and said, Y'ou know what, Coach, I need to go ahead and fix my shoulder now and get a head start [on rehab].' But here's a guy that said, 'No, Coach, I'm playing.' And so he's practicing every single day with a hurt shoulder, and to be honest with you, it's probably gonna hurt him the rest of the season. It's not going to fix itself. So [that shows] his toughness, his passion, and his love for his teammates."
Muskett's backup, true freshman Anthony Colandrea, has played in four games, and a fifth appearance would cost him a season of eligibility. If Muskett stays healthy and plays healthy, the Hoos would like to redshirt Colandrea, Elliott said.
"You don't want to burn a year for one play," Elliott said. "You don't want to put a guy in for one play … That's why you saw Grady in there."
Muskett received plenty of help. Washington, a transfer from Northwestern, caught seven passes for 112 yards. Another wideout, Malachi Fields, had four receptions for 63 yards, including a 26-yard touchdown reception in the final seconds of the first half. Washington and Fields have excelled all season. Virginia's running backs have been much less productive, but they punished the Tribe.
Perris Jones rushed 12 times for a career-high 134 yards, and Kobe Pace carried 20 times for 83 yards. The Cavaliers finished with a season-high 221 yards on the ground.
Offensive coordinator Des Kitchings challenged Virginia's running backs to elevate their play, Jones said. "We knew from the start, we had a very talented group and we feel that we haven't been playing to our best capabilities. So today, that was a huge emphasis to go out and just be who we are. No pressure, no stress, don't try to overdo it, just be our group, and I think that showed today. We had some great plays, and credit to the O-line. Those guys have been working their tails off and made our job easy."
Elliott challenged the running backs, too. The Tribe came in averaging nearly 260 yards per game rushing. "That's what they do," he said. "They run the football, and I said, 'Hey, we got an opponent in here, let's come out with the better rushing attack. Let's do a great job defensively of stopping their run game and then let's get our run game going.' "
The Hoos weren't perfect, but "overall I thought the guys accepted the challenge to run the ball," Elliott said. "And that's what we want to do. That's where we want our identity to be offensively. It sets the tempo for everything else, and I'm just proud of the guys for being able to put it together against a team that is one of the top defenses in the country at their respective level."
Ugonna Nnanna, who'd been starting at right offensive tackle for Virginia, moved to his natural position of guard Saturday. He started at right guard, and Jimmy Christ, a transfer from Penn State, started at right tackle.
"I don't care who you're playing against, any time you rush for more than [200] yards, the big boys up front are doing something," Elliott said. "They're moving people around and giving you giving you running lanes. We've to see what the situations were with the sacks. We're still giving away too many sacks. It's not all on the OL. Some of it is the quarterback stepping up too early or flushing the pocket a little bit too early. But that's where we got to get better."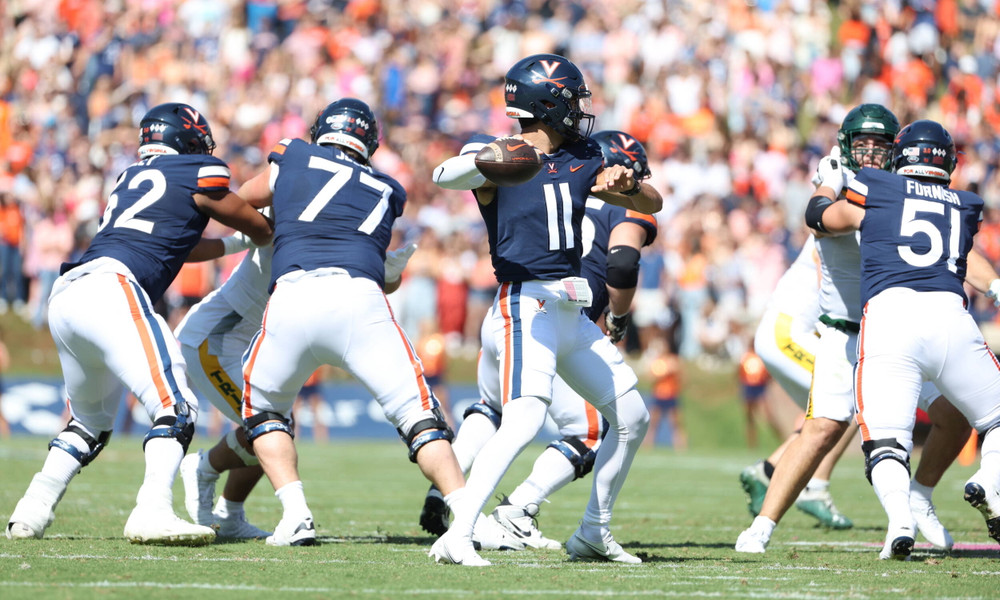 On defense, the Cavaliers continue to be short-handed. Among the players out with injuries Saturday were ends Kam Butler and Paul Akere, tackles Olasunkonmi Agunloye and Anthony Britton, cornerbacks Dre Walker and Malcolm Greene, and safeties Lex Long and Antonio Clary. Even so, Virginia held the Tribe to 219 yards of total offense and twice held on fourth down.
Quarterback Darius Wilson proved difficult for the Hoos to bring down, rushing 13 times for 74 yards. But UVA allowed only 72 yards passing.
Kam Robinson finished with a game-high 12 tackles, the most by a UVA true freshman linebacker since Ahmad Brooks in 2003.
"Twelve tackles, that's a productive day for a linebacker," defensive coordinator John Rudzinski said, "and that's the production, frankly, that we need from Kam. That's the type of talent he has, and he's going to play even better football down the stretch."
Virginia came into the game having been outscored 105-48 in second halves this season. Against W&M, the Hoos' intensity never waned.
"Really, if I'm being honest, I think a lot of that energy came from the coaching staff in the locker room at halftime," UVA safety Jonas Sanker said. "That was their big emphasis. Last week after the game Coach Elliott challenged the coaches. He said, 'As coaches we got to do a better job of picking up our players and bringing the energy in the second half.' I really saw that and felt that coming out of halftime from that coaching staff."
UP NEXT: The bye week has arrived for the Cavaliers (1-5 overall, 0-2 ACC). Virginia's next game is Saturday, Oct. 21, against No. 14 North Carolina (5-0, 2-0) at Kenan Stadium in Chapel Hill. The starting time for that game is likely to be announced Monday.
The Tar Heels routed visiting Syracuse on Saturday.
UNC has won two straight over UVA and leads the series 65-58-4.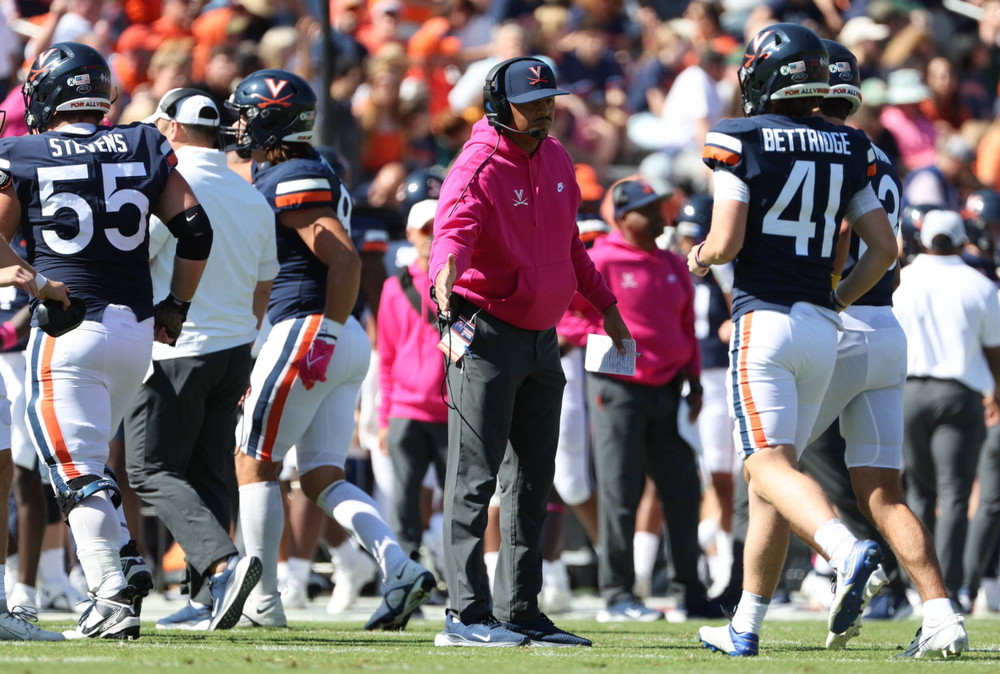 SOUND BITES: The victory was the Cavaliers' sixth straight over W&M, which is in its fifth season under former Virginia head coach Mike London. Among the postgame comments Saturday:
* Elliott: "There are a lot of things that obviously, when you look back at it, when you evaluate the film, we're going to critique and say we could have done better. But let me tell you something, a win's a win, and they're hard to come by. And that's a good [William & Mary] football team over there. They're very well-coached. They're a prideful bunch, and they came in here wanting to do everything they could to prevent us from victory."
* Muskett on playing with pain: "Anything I can do to be out there and put it on the line for my brothers and all the people that came through—it was alumni weekend, so all the people that built this program—I'm gonna do that, because I truly want us to succeed and I want this to be a great program. So I'm going to continue to do that as long as I can, till they tell me I can't."
* Jones on his career rushing day: "It's all on [the offensive line]. I'm thankful for those big guys up front. Whatever I could do to help the team is what I want to do. And I'm grateful that I was in a position to help in that capacity, but credit to the O-line, they did an amazing job today."
* Elliott, who wore a pink sweatshirt to highlight Breast Cancer Awareness Month, on that cause: "I know that we're talking about a football game, and that's what my profession is, that's what these young men are very passionate about. But at the end of the day, life is real … When we leave here in the next 30 minutes to an hour, we're going back to real life. And [cancer is] real life. And so it's really an honor and a privilege to be able to play for something bigger than yourself."
* London, who has several former UVA players on his staff, on being back in Scott Stadium: "You make relationships with people, and you move on, but you never forget. It was great just reconnecting with guys like Jake McGee, Mike Rocco and Quin Blanding, because you had experiences with them. They come up and they hug and say, 'Thanks, Coach.' That's why I'm a coach, and that's why you do it."
To receive Jeff White's articles by email, click the appropriate box in this link to subscribe.