By Jeff White (jwhite@virginia.edu)
VirginiaSports.com
CHARLOTTESVILLE, Va. — As impressive as Will Bettridge's statistics for the season are—he's 7-for-8 on field goals and 15-on-15 on extra points—they could easily look better.
With about 90 seconds left in Virginia's Oct. 7 game against William & Mary, Bettridge trotted onto the field at Scott Stadium to attempt a 37-yard field goal. He made the kick, stretching the Cavaliers' lead to 30-13. But W&M was penalized for roughing Bettridge, an automatic first down for Virginia, whose coaching staff chose to take the points off the board and extend a drive that used up the rest of the clock and left the final score 27-13.
His stats suffered as a result, but Bettridge didn't mind. "In that situation, I understand the call," he said.
A sophomore from Miami, Bettridge started the season on a shaky note, missing a 28-yard attempt on UVA's second possession in the opener against Tennessee. He later connected from 30 and 40 yards in that game, though, and he's 5-for-5 on field goals since then. Not every kick has been aesthetically pleasing, but they've all been worth three points.
"He's really stepped up in the right direction and really helped this team," said Drew Meyer, the Wahoos' analyst for special teams.
"He's made a commitment to improve. He's felt some pressure from the staff to make sure that he continues to improve with his ball height, operation time, things of that nature, things that make a kicker great and propel him to the next level, and he's taken on that challenge."
The win over W&M was the first of the season for UVA, which was off last weekend. Virginia (1-5 overall, 0-2 ACC) visits No. 10 North Carolina (6-0, 3-0) on Saturday night. The season has not unfolded as hoped for the Hoos, but it's "good to see everyone on the team still working hard, no matter the outcome of the games," Bettridge said.
"I think that pushes everyone on the team to just do our jobs. For me, personally, we're in a battle to win every game, no matter who we play, and points are points, so I just know I gotta do my job. When we're fighting for wins, every point matters."
Bettridge graduated from Gulliver Prep in Miami, where he played for head coach Earl Sims, a former UVA linebacker. Such Gulliver graduates as Mandy Alonso, D'Sean Perry and Sean Moore preceded Bettridge in the Cavaliers' football program, and Bettridge felt at home when he visited the University.
"I could see how the way Coach Sims ran our program at Gulliver was kind of aligned exactly with how the coaches here ran it," Bettridge said. "Academics come first, and at Gulliver there were consequences if you didn't go to class. That kind of [matched] what we do here at UVA. So, obviously, that was great to see. And then at the time, coming out of high school, I knew there was a great opportunity to potentially play early."
Bettridge had built a strong relationship with Meyer, a former All-Big Ten punter at Wisconsin, and that added to UVA's appeal. So did the presence in Northern Virginia of several relatives, including Bettridge's grandmother.
"It's kind of close by for them to come to a lot of games," Bettridge said, "which is cool, because I like it when my family's there. It gives me a good sense of being home still."
As a true freshman in 2022, Bettridge made his debut in the Cavaliers' fourth game and handled field goals and extra points for the rest of the year. He finished the season 7-for-10 on field goals and 12-for-14 on extra points.
He came into this year as Virginia's top kicker, but Bettridge's miss against the Volunteers raised concerns about his ability to handle the job. Those doubts fade with every make.
His miss against Tennessee was frustrating, Bettridge said, "but the big thing I've been trying to preach to myself is just no matter what happens, make or miss, you've got to prepare for the next kick. So if you have a make, don't get too high, stay level-headed. Make or miss, [react] for a second, but come the next drive you need to prepare the same way. And I think that was pretty good in my eyes, being able to bounce back after that one against Tennessee.
"There was a lot going on: first game of the year, first kick, a bunch of stuff going through my head. And I had to brush it all off. Next kick's a new kick. Just kind of like a next-kick mentality. Just always focus on the next one. The past is the past."
The first of the two field goals he made against William & Mary, a 45-yarder, was the second-longest of Bettridge's college career. But the biggest kick he's made this season came Sept. 30 in UVA's 27-24 loss to Boston College in Chestnut Hill, Mass.
With Virginia trailing 24-21 midway through the fourth quarter, quarterback Tony Muskett appeared to pick up eight yards on a third-and-10 scramble from the BC 26. A video review, however, showed that Muskett's knee had touched the ground at the 27, and what might have been a 35-yard field-goal attempt became a 44-yarder.
Bettridge didn't flinch. His kick sailed through the uprights and tied the game at 24-24.
"I was really proud of him for that," Meyer said. "Will went out there and executed at a high level, and I think that built confidence for himself too. He's obviously putting it through the pipes, but I think the more that he feels confident in his ability to hit his A ball or his B-plus ball 100% of the time, the more he's able to do that. It's all about consistency with kicking. It's hard to hit an A ball every time, and so you've got to hit that B-plus ball 95% of the time and really strive to hit that ball consistently."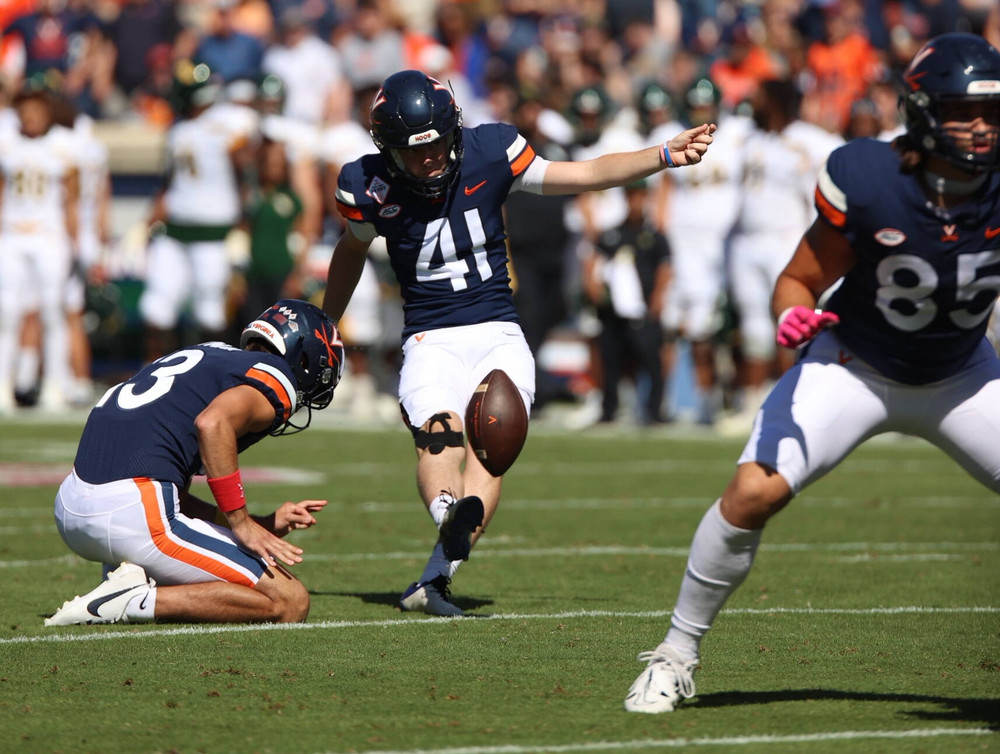 Having a reliable kicker is "huge," Meyer said, "because it affects play-calling, it affects decision-making. Will's definitely continuing to gain that trust and build that trust, and his range is continuing to grow. I know that that's obviously going to help our team feel like the plan is more set in stone going into each week and feel more confident in our ability to score points, because, again, the game is about scoring more points than the other team, and so if we get a chance to do it, we've got to be able to count on that and execute."
Bettridge said the chemistry he's developed with holder Jared Rayman and long-snappers Luke Byrne and Aidan Livingston in the group's second year together is paying dividends.
"This year we're doing a lot more work in practice with snap, hold and kick," Bettridge said. "So we're getting a lot more reps in, and I'm starting to tell that those reps have been paying off. We're hitting cleaner balls and the operation times are down."
In high school football, players don't have to kick field goals or extra points off the ground. Kicking blocks are allowed, and they help produce longer and higher kicks. Bettridge chose the more challenging option.
"I've been kicking off the ground since my sophomore year in high school," he said. "That's when I started to get recruited as a kicker, and that's when I started getting invited to camps. And I was like, 'Well, if you want to play at the next level, you have to kick off the ground.' "
Bettridge, who rooms with teammates Karson Gay and Trey McDonald, has one sibling: a sister, Catherine, who attends the University of Miami. Her loyalties will be tested on Oct. 28, when Cavaliers meet the Hurricanes at Hard Rock Stadium in Miami Gardens, Fla. Bettridge grew up going to games at the stadium, the home of the NFL's Dolphins, but he's never played there.
"So that will definitely be surreal and super exciting," Bettridge said. "I've got a lot of family and friends coming to that one."
At Scott Stadium last year, Miami edged UVA 14-12 in four overtimes. Bettridge connected from 27, 24, 41 and 41 yards that afternoon, becoming the first UVA kicker since 2015 to make four field goals in a game.
Bettridge was wearing jersey No. 17 when the Hoos played the Canes in 2022. He's wearing No. 41 this season, in honor of his close friend Perry, who was one of three UVA players shot and killed last November, along with Lavel Davis Jr. and Devin Chandler, after returning to Grounds from a class field trip. Davis, Chandler and Perry wore Nos. 1, 15 and 41, respectively.
Bettridge switched numbers with the blessing of Perry's parents, Happy and Sean, and he said he's "just grateful to be able to support D'Sean, and support Devin and Lavel as well, to the best that I can do."
The reality of wearing Perry's number hit him hardest on three occasions, Bettridge said: the first day of spring practice in March, the Blue-White spring game in April, and the Sept. 2 season opener in Nashville, Tenn.
Even now, though, memories of Perry inspire Bettridge, who was one of the speakers at the memorial service at John Paul Jones Arena for the slain players last year. The tributes to Davis, Chandler and Perry in the McCue Center locker room serve as daily reminders "that I've got to take advantage of this moment that I get every day," Bettridge said.
"Don't take it for granted. You never know when your last kick is, when your last practice is, when your last game is. It's just kind of my reminder to make the most of my opportunity, because God has a different plan for everybody. So I just want to make the most of it and do the most that I can to make D'Sean proud and make the family proud."
Happy Perry still texts him before every game, Bettridge said, "just saying she's looking over me and watching out, telling me to do my thing. Nothing different than what she did before the tragedy happened. She was the same way when D'Sean was here, just kind of checking in on me, always making sure I'm OK, making sure I'm good. She's just uplifted me so much. I saw Ms. Perry, so happy and so energetic and loving and caring about other people while the most tragic thing happened. That was just a huge uplifter to me, for me to keep pushing and keep working."
To receive Jeff White's articles by email, click the appropriate box in this link to subscribe.