By Jeff White (jwhite@virginia.edu)
VirginiaSports.com
CHARLOTTESVILLE, Va. — At Bishop McNamara High School in Forestville, Md., Yonta Vaughn wore maroon and gold on the basketball court, and she ended her senior season expecting to don new colors in 2022-23: the blue and gold of West Virginia University.
Then came an announcement that floored Vaughn, a 5-foot-8 point guard who'd signed with WVU in November 2021. After 21 years as the Mountaineers' head coach, Mike Carey was retiring. (He returned to coaching this fall as an assistant at Central Florida.)
"I was shocked," Vaughn recalled this week at John Paul Jones Arena. "Confused. A little worried. Because it was so late in the ball game. I didn't know if I wanted to re-open up my recruitment or should I just stay."
Unsure what the future would hold for her at West Virginia, Vaughn asked for and received a release from her letter of intent. Among those took note was CJ Jones, who'd recently joined head coach Amaka Agugua-Hamilton's staff at the University of Virginia as an assistant coach and recruiting coordinator.
Agugua-Hamilton, who came to UVA from Missouri State in March 2022, wasn't familiar with Vaughn, but Jones had recruited her when he was an assistant coach at Temple.
"He had a good relationship with her," Agugua-Hamilton said. "So he called her, and it just kind of took off from there. When I got on the phone with her we connected, we got her on Grounds, and it just went from there."
Vaughn narrowed the list of schools she was considering to three: Virginia, Mississippi and Penn State. UVA won that battle, partly because of its academic reputation and its proximity to Vaughn's family in Prince George's County, Md., but also because she felt comfortable with Jones.
"We already had a relationship," Vaughn said, "and that's what I'm big on in recruiting."
She didn't know much about UVA women's basketball, but she bonded quickly with Agugua-Hamilton.
"When I first talked to Coach Mox, she talked about culture, and she talked about life after basketball," Vaughn said, "and that's really important to me. We have meetings about it. We talk about it. She's actually invested in her players and their future."
Vaughn, who grew up in District Heights, Md., near Washington, D.C., arrived at UVA planning to earn a bachelor's degree in engineering, "but it was a lot with basketball," she said, and she's now focused on economics.
She hopes to one day own a construction company that builds affordable housing. She and her two siblings—a younger sister and an older brother—grew up in a single-parent home, and Vaughn knows how tough it's been for their mother.
"We live in an apartment," Vaughn said. "It's hard for a single parent to get in a house. That's been our dream and she's working towards it. But it's hard as one parent, raising three children. So that's how I became aware of it."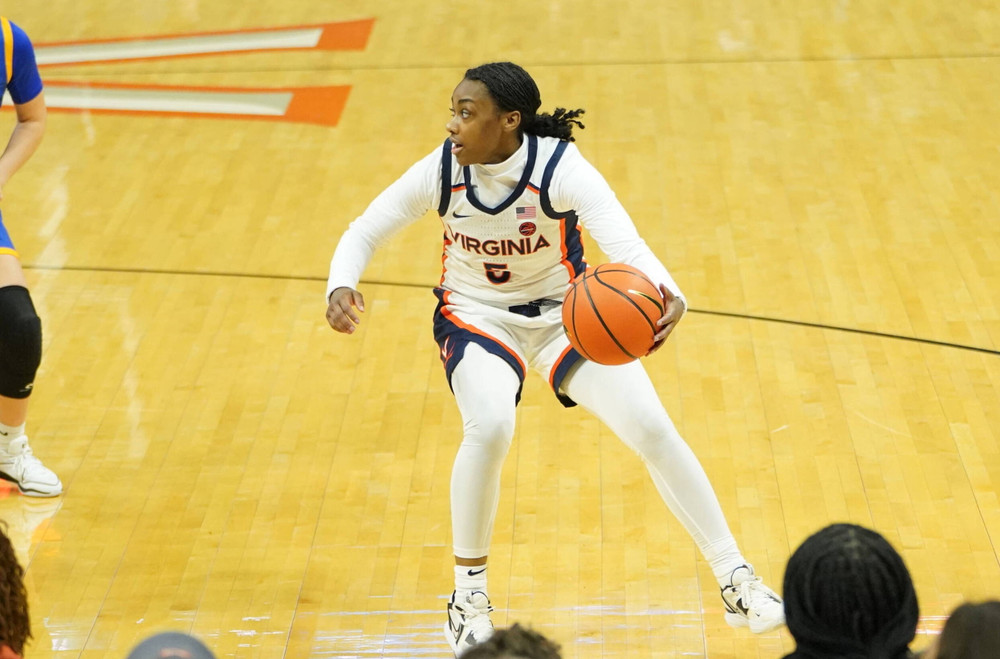 Vaughn started seven games for the Cavaliers in 2022-23 and finished second on the team in assists. She averaged 3.4 points, 2.3 rebounds and 2.8 assists in about 19 minutes per game.
"We needed her," Agugua-Hamilton said. "We needed her last year, and we need her this year. I love how much she's grown, too."
With a small roster, Agugua-Hamilton didn't have the luxury of bringing Vaughn along slowly, and No. 5, not surprisingly, had some uneven stretches. Vaughn shot only 26.5 percent from the floor last season.
"Being a point guard, period, is hard," Agugua-Hamilton, "and then being a first-year point guard and getting thrown in the fire is even harder. I thought she handled it pretty well. There were some things that she might have been able to learn playing behind somebody, but it just happened that it was a situation where she just had to kind of get out there and learn on the fly. I think that's helped her, though, with her confidence and her poise this year. She's a lot more vocal this year, and she also got herself in great shape and worked on her game, so she's definitely going to help us."
Vaughn said her first year in the program was challenging. "Coach Mox was on me every day," she said, smiling.
Off the court, she was taking engineering courses. On the court, in ACC play, "I was going against competition that's much faster and stronger [than in high school] and trying to run the team and make sure we're all organized and things like that," Vaughn said. "It was pretty tough, but it was a great experience, I would say, and it helped me get ready for this year."
Virginia, which finished 15-15 in 2022-23, opens the new season Wednesday at 7 p.m. against Maryland Eastern Shore at JPJ. "I'm ready," Vaughn said "It's exciting. This one counts. Basketball season is here."
The Wahoos warmed up for their opener with an exhibition game at JPJ last week, and Vaughn shined in a 102-51 win over Division II Pitt-Johnstown.
"I feel like I got a little more experience under my feet," Vaughn said. "I've been working really hard over the summer, and it was good to see that it paid off. It's always more work to be done, but I have been working hard."
The Cavaliers' roster has been transformed since the end of last season. Six newcomers—freshmen Olivia McGhee, Kymora Johnson and Edessa Noyan, and transfers Jillian Brown (Northwestern), Taylor Lauterbach (Kansas State) and Paris Clark (Arizona)—have joined the eight returning players: Vaughn, Camryn Taylor, Sam Brunelle, London Clarkson, Mir McLean, Kaydan Lawson, Alexia Smith and Cady Pauley.
Virginia has more size and depth this season, "and we're all versatile," said Vaughn, who lives with Lawson and Smith. "We all can score. It's just great, honestly."
At least one thing, though, hasn't changed: the standard to which Agugua-Hamilton holds Vaughn.
"Absolutely not," Vaughn said, smiling. "She's still on me every day, every single day, but it's OK. It's good for me. I love it."
To receive Jeff White's articles by email, click the appropriate box in this link to subscribe.