By Jeff White (jwhite@virginia.edu)
VirginiaSports.com
CHARLOTTESVILLE, Va. — Speak with Lilly and Meghen Hengerer for a few minutes, and it becomes apparent that each is comfortable finishing the other's sentences. So it often goes with twins, and for 21 years these sisters have been partners on a journey that started in Maine, with subsequent stops in New Jersey, Ireland and this college town.
The Hengerers are in their fourth year at the University of Virginia, where they've distinguished themselves as student-athletes. They're midfielders on the UVA field hockey team, which meets Saint Joseph's in the NCAA tournament's first round Friday at 2:30 p.m. in College Park, Md.
Lilly, who wears jersey No. 11, has started all 18 games for the Cavaliers. Meghen, who's in her second year as one of the team's captains, wears No. 12. She's started eight of the 12 games in which she's played this fall.
Their sisterly bond notwithstanding, tempers occasionally flare when they go against each other in practice.
"We definitely argue," Lilly said.
"We're mean to each other and physical with each other," Meghen said.
When that happens, Ole Keusgen, who took over as UVA's acting head coach late last month, smiles. "Ole's like, 'I love that side of you guys,' but I'm like, 'I hate it,' " Meghen said.
"I hate it," Lilly said.
Each had another roommate as UVA first-years in 2020-21, but the twins have lived together ever since. Lilly is the older one. "Nineteen minutes," she said. "Our poor mom."
"To this day, she's like, 'You made me wait too long,' " Meghen said.
"She was suffering," Lilly said.
The twins, who have one sibling—older sister Kelsey—were born in Portland, Maine. They were 3 years old when the family moved to Bedminster, N.J. When they were 10, they were sitting at a Giordanos restaurant in Chicago, about to dig into some deep dish pizza, when they received some life-changing news: Their father, Mark, who worked for a medical diagnostic firm, was being transferred to Galway, a city on the west coast of Ireland, and the rest of the family was going with him.
"I immediately just started bawling my eyes out," Lilly said, "and I don't think I stopped crying the whole entire dinner."
Meghen said: "No one touched the pizza. We were like, 'Dad, what about our friends? What about our soccer team?' "
Lilly said: "I was so against change. I was like, 'Why are you doing this to me?' "
Kelsey was more enthusiastic about the move. "She was like, 'That's so cool, to go to Ireland,' " Meghen recalled, "because they told us it was just going to be for two years. She was like, 'We'll go over there, he'll work there for two years, we'll live there for two years and then we'll come back, and nothing's really gonna change.' And so we were like, 'OK, we can handle that.' "
Their father's work in Galway was extended, and the Hengerers ended up living in Ireland for more than five years. The twins, who were fourth-graders when they left the United States, soon embraced their new surroundings and the Irish culture, and they began learning the Irish language.
"Oh, I loved it," Meghen said of her experience in Ireland. "They had to drag us back here."
When the twins started school in Galway, they were sources of fascination for their classmates.
"I remember the first day, they were like, 'Can you talk? We want to hear your accent,' " Lilly said.
In New Jersey, they'd played soccer. In Ireland, the twins picked up field hockey, which Kelsey was already playing.
In Ireland, the sport is "more skilled-based" than in the U.S., Meghen said. "It's tactical too, but there's much more emphasis on individual skills and composure, I would almost say."
Lilly said: "I agree. It's not so much who runs fastest or who has the hardest hit."
They also tried Gaelic football and played around with Kelsey's camogie stick, which is used in hurling. They focused, though, on field hockey and became accomplished enough to play for Ireland's U15 and U16 national teams.
Had the family decided to stay in Ireland, the twins would not have objected. But after Kelsey committed to play field hockey at the University of Richmond, the Hengerers decided to return to Bedminster.
"That's why we moved back, because she was moving back," Lilly said, "and also we wanted to get recruited [by colleges in the U.S.], and it's easier to over here."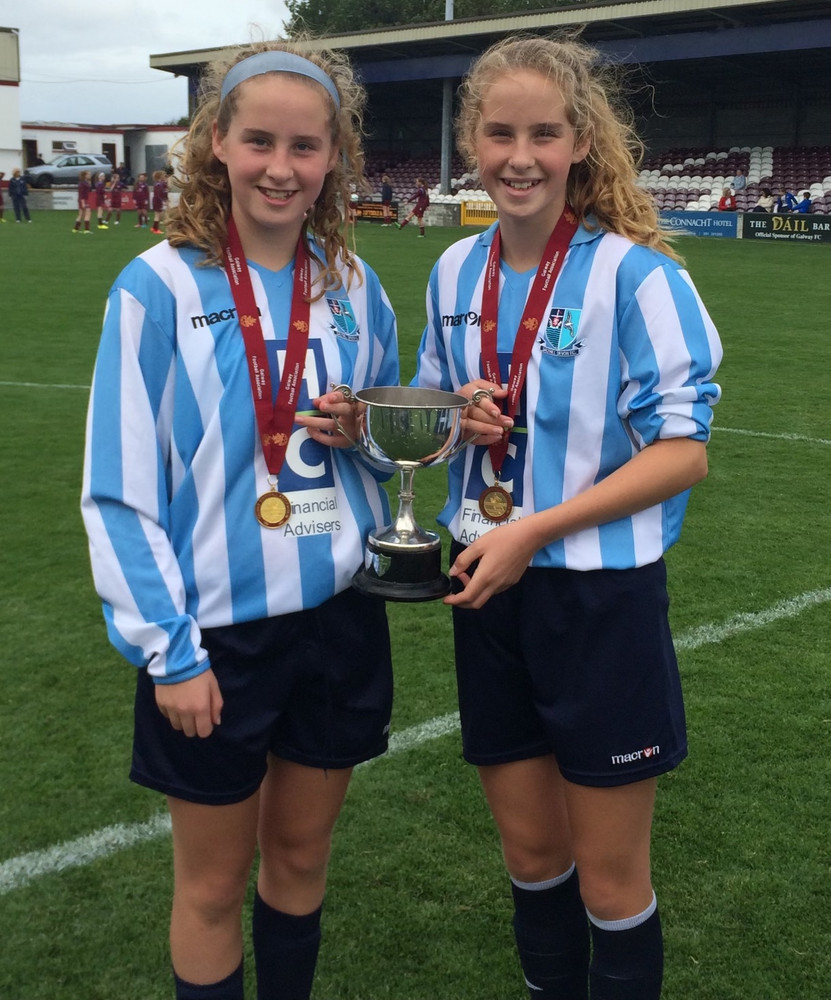 They enrolled in 2017 as sophomores at Bernards High School. Their transition back to the U.S. was not seamless.
"That was much, much harder," Meghen said.
"I would say it probably took me like a year and a half," Lilly said. "I feel like we grew up in Ireland, and it's so different there."
Meghen said: "The lifestyle, education. In school in Ireland, they didn't allow computers. You weren't allowed on your phones. There was very limited technology, even used by the teachers. Then we come home and it's like you need a laptop to do all your work. And I'm like, 'How do I even get to a Google Doc, or what is PowerSchool or all this stuff?" And then even field hockey. We didn't do strength training in Ireland. It's so much more competitive here, and that was a lot to just get adjusted to."
In addition to starring for Bernards, the twins played for the Total Dutch club, and they attracted the attention of Division I schools, including UVA. They committed to Virginia in the spring of 2018, though they hadn't been intent on attending the same school.
"Going into it," Meghen said, "we were like, 'You can pick where you want to go and I'll pick where I want to go. And if it's the same, then it's the same.' But we tried not to influence each other."
Lilly said: "I don't think we actually ever talked about it with each other."
They arrived on Grounds in the summer of 2020 amid the COVID-19 pandemic, and so each has another year of eligibility. Both plan to return to the University in 2024-25 after graduating in May. They're the 11th set of sisters in program history.
Lilly, who's majoring in psychology, said she wasn't ready to enter "the real world, and after this, there's really nowhere for us to play hockey still. And I didn't want to have to stop playing competitively."
She'll start a master's program in the School of Education and Human Development. Meghen, whose major is speech communication disorders, will do graduate work in 2024-25, too, though she hasn't decided which area to pursue. She's considering a career as a speech therapist, and teaching is another possibility.
"I'm still trying to figure it out," Meghen said. "I've got another couple months, at least."
They have yet to return to Galway, but they're hoping that will change next summer. "We're trying to get our parents to do it as our graduation present," Meghen said.
In the meantime, they stay in constant communication with the friends they made in Ireland.
"Every day," Lilly said. "Six-and-a-half years, going strong."
To receive Jeff White's articles by email, click the appropriate box in this link to subscribe.