Virginia Cavaliers Official Athletic Site
Andrew Abbott
Republican Grove, Va.
Hometown
Halifax County
High School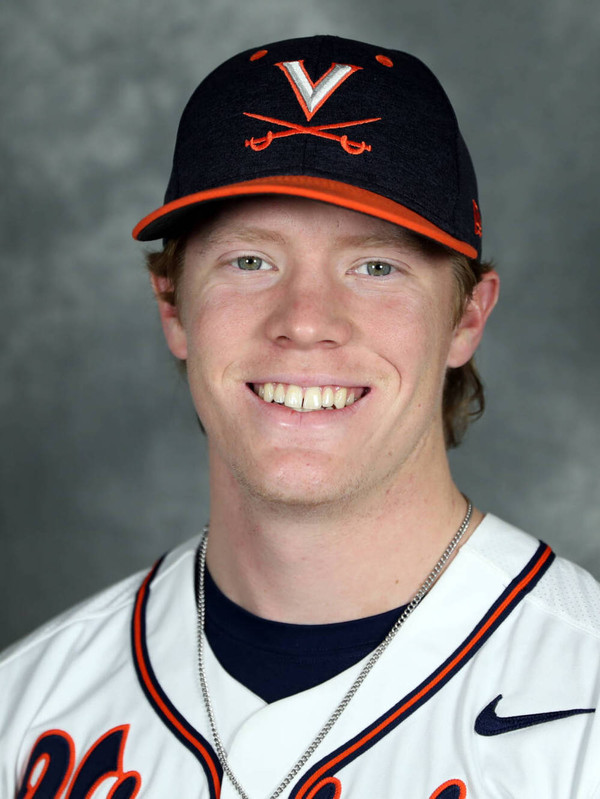 Andrew Abbott Pronunciation
2021
• Collegiate Baseball Newspaper Third Team Preseason All-American (Relief Pitcher)
• Perfect Game Second Team Preseason All-American (Relief Pitcher)
2020
• Ranked No. 7 in D1Baseball.com's Top 50 relief pitchers in college baseball
• Appeared in nine games, all out of the bullpen, the second most on the staff
• His 1.35 ERA was the lowest among UVA relievers and fifth lowest among ACC relievers with 10 or more innings pitched
• Struck out 28 batters (the most among any ACC reliever) in 13.1 innings pitched
• Recorded team-high three wins against VMI (2/19), William & Mary (2/25) and Dartmouth (3/1)
• Pitched a season-high 3.1 innings pitched and struck out a career-high eight batters in win over William & Mary (2/25)
• Did not allow an earned run in his first 10 innings pitched allowed only two in 13.1 innings pitched on the year
• Credited with a team-best three bullpen holds – vs. Oklahoma (2/14), Dartmouth (2/29) and NC State (3/6)
2019
• One of five Cavaliers named to the Named to the ACC All-Academic Team, also listed on the ACC Academic Honor Roll
• Tied for second on the staff with 24 appearances as a sophomore
• Struck out 59 batters in 44 innings while pitching to a 3.89 ERA
• Two of his three saves on the year came against Atlantic Coast Conference opponents.
• Made two starts, including a six-strikeout effort in four innings against Liberty on April 23
• Selected to participate on the USA Collegiate National Team, the ninth Virginia player ever
• Led the Team USA pitching staff with seven appearances, combined for two shutouts and was credited with one save. Went 2-1 with a 2.25 ERA and 12 strikeouts in 12 innings pitched.
2018
• Baseball America & Collegiate Baseball Newspaper Freshman All-American (first UVA Freshman All-American since 2015)
• Named to ACC All-Freshman Team
• Listed on the ACC All-Academic Team and on the ACC Academic Honor Roll
• Tied a team-high with six saves (T-7th most in ACC). Of his six saves, three came in appearances of three innings or more
• Appeared in 24 games, 23 in relief. His one start came against VMI on Feb. 27
• His 74 strikeouts as a reliever were the third most in the ACC, sixth-most in NCAA
• He struck out five or more batters in nine of his 24 appearances on the mound
• Pitched to a 3.18 ERA while striking out 71 batters in 51 innings pitched.
• Fanned a season-high, six batters twice (Apr. 27 vs. Clemson & May 18 at Wake Forest)
• Against Clemson on Apr. 27, he struck out six of the seven batters he faced.
• On the mound for four of the team's seven shutouts
• In his final eight appearances, allowed two runs in 15.1 innings pitched (1.17 ERA) with 25 strikeouts and two saves
HALIFAX COUNTY HIGH SCHOOL
• Selected by New York Yankees in 36th round of 2017 MLB Draft
• 2017 Gatorade Virginia Player of Year and PBR Player of Year
• Was 9-0 with 0.28 ERA in 72 2/3 innings his senior year (158 strikeouts, four walks)
• Named First-Team All-State, Piedmont District Player of the Year and Conference 16 Player of Year in 2016 and 2017
• Three-time All-Piedmont District First Team, All-5A North Region First Team and All-Conference 16 honoree
• Named 2017 5A State and North Region Player of Year
• Coached by Kenneth Day at Halifax County HS
• Also was four-year member of swimming team
• Four-time All-Piedmont Academic Team honoree in both baseball and swimming
• Two-time team captain in both baseball and swimming
• Took seventh place in state in 50 freestyle his junior year and sixth his senior year
• Was two-time All-State and four-time All-Piedmont District honoree in swimming
• Four-time All-Piedmont District First Team selection and two-time All-Conference 16 First Team and All-5A North Region honoree in swimming
• Member of National Honor Society
PERSONAL
• Graduated in three years with a degree in Biology, currently pursuing his master's degree in Psychology
• Son of David and Jeanette Abbott
• Has two sisters, Brittany and Jessie
• Jessie swam at Edinboro from 2011-14