Virginia Cavaliers Official Athletic Site
Tony Muskett
Springfield, Va.
Hometown
West Springfield
High School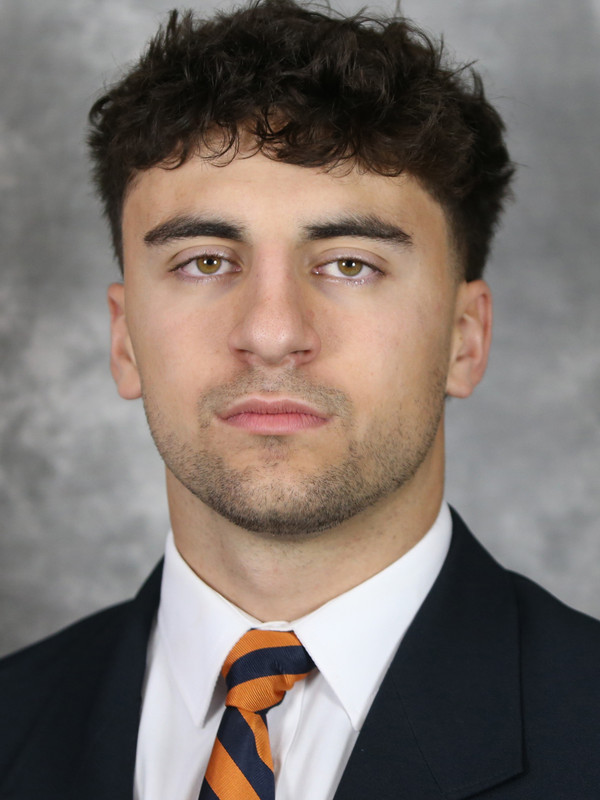 Tony Muskett Audio Pronunciation
AT VIRGINIA
2023 – Served as game captain vs. Tennessee…
PRIOR TO VIRGINIA (MONMOUTH UNIVERSITY)
Career Highlights: 2020-21 Big South Offensive Freshman of the Year … 2021 HERO Sports Sophomore All-America … fifth in voting for 2020-21 Jerry Rice Award … two-time First Team All-Big South Conference … Monmouth's all-time leader in pass efficiency at 150.14 … fourth in team history with 51 passing touchdowns … second in team history with 64.2 completion percentage … fifth in team history in passing yards with 5,687. 2022 (Junior): Started the first eight games at quarterback and missed final three contests due to knee injury … went 143-for-223 for 1,997 yards with 17 touchdowns and eight interceptions … ran for 203 yards and one touchdown … threw for a season-high 323 yards with two touchdowns against Fordham (9/10) … went 11-for-17 for 161 yards and three touchdowns and 78 rushing yards in the win at #10/9 Villanova (9/24) … had 261 yards passing with three touchdowns on 20-for-27 at Lehigh (10/1) … also ran for a touchdown and had 56 yards on the ground against the Mountain Hawks … threw three touchdowns with 292 yards passing at Maine (10/15) … totaled 249 yards through the air and 69 on the ground with three passing touchdowns against Rhode Island (10/22) … CAA Preseason All-Conference selection. 2021 (Sophomore): Started all 11 games at quarterback for Monmouth … first-team All-Big South selection at QB … sophomore All-American selection by HERO Sports … threw for 2,651 yards while completing 65.1 percent of his passes … finished with 25 touchdown passes and six interceptions … his 25 touchdown passes was the second most in school history … threw four touchdown passes in three different games … led the top scoring offense in the conference at 30.8 points per game … threw for a career-high 337 yards on 28-of-42 passing with a touchdown against KSU (11/20) … had four touchdowns and 289 yards passing against Gardner-Webb … threw for four touchdowns and 294 yards against North Alabama (11/6) … had four touchdowns on 17-of-25 passing in a win over Robert Morris (11/13) … his 65.1 completion percentage was 13th in the NCAA … averaged 21.73 completions per game which was 15th nationally … ranked 14th in passing touchdowns and points responsible for  … led the Big South in four passing categories. Spring 2021 (Freshman): Started all four games as a true freshman … 2020-21 Big South Offensive Freshman of the Year … finished fifth in the voting for the Jerry Rice Award (Nation's Top FCS Freshman) … first-team All-Big South selection … HERO Sports Freshman All-America honoree … two-time Big South Freshman of the Week … threw for 1,039 yards and nine touchdowns with just two interceptions … didn't throw an interception until the FCS Playoffs … his 150,9 pass efficiency ranked 10th in the NCAA … ranked 19th and 20th in completions and completion percentage nationally … ranked first in the Big South in six different passing categories … averaged 259.8 passing yards per game which is 12th in the NCAA  … completed 18-of-26 passes for 297 yards and two touchdowns in first career start against Charleston Southern (3/27) … tied his career-high with 297 yards in NCAA Playoff game against Sam Houston (4/24) … was 19-of-23 with four touchdowns and 290 yards in win over Kennesaw State (4/10).
HIGH SCHOOL AND PERSONAL
Played quarterback under Coach Anthony Parker at West Springfield … first-team All-Conference and All-Region selection … threw for over 7,000 career yards and 69 touchdowns … Son of Tania and Michael Muskett … majored is business administration Monmouth … played high school football with current UVA wide receiver Ethan Davies … hometown is Springfield, Va…major is undecided in UVA's College of Arts and Sciences.