By Jeff White (jwhite@virginia.edu)
VirginiaSports.com
CHARLOTTE, N.C. — With the breakfast dishes cleared away and their work day about to begin Wednesday morning, University of Virginia head coach Tony Elliott issued a simple directive to the players who'd accompanied him to ACC Football Kickoff at the Westin hotel.
"Have fun," Elliott told quarterback Tony Muskett, tailback Perris Jones and defensive end Chico Bennett Jr.
Some five hours later, the Cavaliers were pretty much talked out, but the players had indeed enjoyed themselves at the ACC's annual media gathering for football.
"It's long," Bennett said, "but overall it's a wonderful opportunity to be able to represent the University here with these other schools, and the other side to it is being able to meet other athletes, other good people, so it's fun."
"It was awesome," Muskett said. "I think the ACC does a great job of putting on an event like this and doing it at a high level. I've met a lot of great people today, a lot of people that I was able to see on TV and finally meet in person, which was pretty cool, and then just talk about the upcoming season."
Fielding questions for hours on end was tougher than a workout back in Charlottesville, Jones said with a smile, but it's "a blessing to be able to represent the University and our team. It's truly an honor to be able to do so. Even though it is a lot of talking, it's fun, and it's something I'll never forget."
Elliott is in his second year at UVA, and he attended ACC Football Kickoff last summer, too. For Bennett, Muskett and Jones, this was the first time they'd experienced the talkfest, which included interviews with ACC Network, ESPN.com, ESPN GameDay, CBS, Raycom/CW, ACC Network and Sirius XM, as well as multiple radio stations. They also joined Elliott at a press conference in one of the hotel's ballrooms and ended the day with breakout sessions with media members.
"They're great ambassadors for the University of Virginia," Elliott said. "I've only been here a year, but I'm starting to really understand what the Virginia experience is about and why it's so special. Because it holistically develops the student, and you're seeing that representation here in front of the crowd."
Elliott received numerous compliments in Charlotte about his players and the way they carried themselves in interviews, he said, and it's gratifying "to hear that confirmation from other people, that our guys are great ambassadors for our university and our program."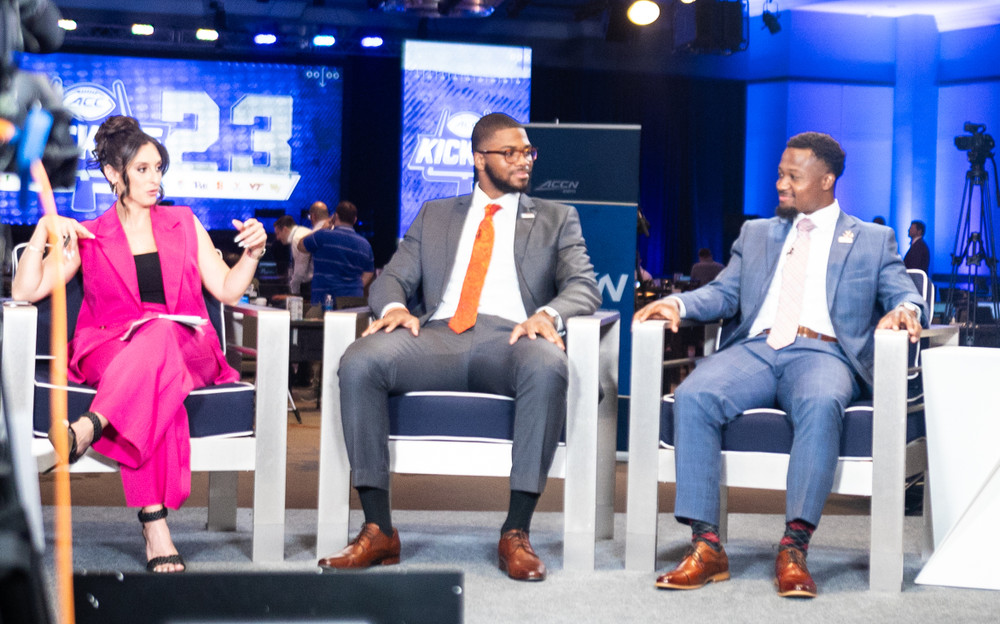 Bennett, who began his college career at Georgia Tech, is heading into his third year at UVA. He led the Wahoos with seven sacks last season.
Jones is one of three players left, along with tight end Grant Misch and defensive Coen King, from the recruiting class that enrolled at UVA in the summer of 2018.
Muskett is the newcomer in the group. He enrolled at UVA in January after graduating from Monmouth University, but he quickly won over his new teammates and coaches.
To be chosen by Elliott as one of Virginia's representatives in Charlotte "means a ton," Muskett said, "and it speaks to the respect I have for him. For him to trust me in that capacity at an event like this where you are representing the University nationwide, it means the world, and I can't thank him enough for it."
The Cavaliers posed with props, including a saber, and answered more than a few light-hearted questions. If he weren't a football player, Bennett said, he might be a NASCAR driver. On the Sirius XM radio show hosted by Roddy Jones and Danny Kanell, Perris Jones discussed his off-field interests, which include writing poetry and playing guitar and piano.
"You're a Renaissance man," said Roddy Jones, who played football and baseball at Georgia Tech.
"I like that term," Perris Jones said, laughing.
Asked in another interview room to name the best dancer on the team, Muskett chose wide receiver JR Wilson, and Bennett went with cornerback Elijah Gaines. But the Hoos also spoke at length on a more sobering topic: the tragedy that ended their 2022 season after 10 games. In a November shooting on Grounds, defensive end D'Sean Perry and wideouts Lavel Davis Jr. and Devin Chandler were killed and a fourth player, tailback Mike Hollins, was wounded.
"It's never about moving on from it," Bennett said. "It's about moving forward and learning to manage the pain."
Bennett was close with all three of the players killed in the shooting, and he welcomed the opportunity to talk about what good people they were. "It's a shame that it has to happen in this way," he said, "but now that we're given a platform, we're going to make the most of it. I look forward to being able to do that and honoring them through our play and doing that to the best of our ability."
Muskett arrived at UVA after the shooting and never met Perry, Davis or Jones, "but I can feel their spirit still in the locker room," he said. "It lives on through the team."
Jones, like Bennett, said he chose to return to Virginia for one final season of college football partly because he wanted to honor the memories of his slain teammates.
"I have a debt to pay to those guys, and I plan to pay it," Jones said.
Jones lives with Hollins, who joined the team for spring practice and is expected to play a leading role in the Cavaliers' offense this season.
"He is a superhero," Jones said. "That's the best way that I can describe it. Experiencing what he experienced and carrying himself with as much grace and perseverance as he does is inspirational to see day in and day out. His spirit is truly unbroken, and he embodies that every day. The passion he has for his teammates and for the coaches and for the program, I mean, it's second to none.
"I love him. I tell him every morning that I'm grateful for him because he inspires me. When you see somebody go through something like that and still get up in the morning and find a way to put one foot in front of the other, it really lets you know that things aren't as bad in your life as you think they are."
During his press conference, Elliott thanked the college football community for its outpouring of support in the wake of the shooting.
"We felt it in Charlottesville," Elliott said. "The same thing with the community of Charlottesville, the University of Virginia, our student body. Everybody came to our side immediately. While we were in shock trying to regain our footing from what just happened, they held us up in the interim until we could kind of get ourselves grounded and figure out how we're going to navigate forward."
Elliott has marveled at his players' resilience and determination. "They understood that they have a responsibility to Lavel, Devin, and D'Sean to move forward in the right way, not moving on. There's a difference. That was a big message within the program is we're not moving on. We're never going to forget this. We're not going to put this to the side and act like it didn't happen. Unfortunately for us, it's our new normal. It's a part of our lives and will be a part of our lives forever, and we'll constantly be reminded of it.
"There will be tough days, and they have to learn that they have to lean on each other in tough days. They also learned the importance of football, the structure that it provides, the safe haven that it provides, the community that it provides. The guys that came back in January made a decision to embrace the hard and live it every single day. These guys have done it beyond any expectations that I had of them, and it started with just having an attitude of gratitude and appreciation."
The Cavaliers finished their abbreviated 2022 season with a 3-7 record. As they prepare for their second season under Elliott, there's "a different energy around our program, a different level of commitment, a different level of belief," Jones said. "We've come together in a way I couldn't possibly have imagined. It's driving us, you can see that."
Bennett agreed. "We've got a lot more buy-in," he said.
The Hoos also have a new quarterback. Brennan Armstrong, a three-year starter at that position for Virginia, is now at NC State. His successor at UVA is Muskett, who shined in his three seasons at Monmouth, an FCS program.
Muskett grew up in Northern Virginia, and to play for an FBS program in his home state is "a dream come true," he said. "I'm so excited to get out there and play for something that truly means so much to me."
He was lightly recruited coming out of West Springfield High School, but Muskett, who at Monmouth twice was named to the All-Big South first team, "earned an opportunity to play at a higher level," Elliott said.
The Cavaliers' coaching staff liked what they saw from Muskett when they evaluated videotape of his three years at Monmouth. They liked him even more once they saw him running UVA's offense during spring practice.
"Then from there he just continued to be who he is," Elliott said, "and he is a guy that's got a lot of confidence, but he knows how to manage it. He is a team-first guy. He is always going to promote his team, and he just has that 'it' factor.
"It's hard to describe. When you talk about quarterbacks, you can't coach it, but you know it when you see it, and he just has that presence about him."
Training camp starts Wednesday for the Cavaliers, who open the season Sept. 2 against Tennessee in Nashville, Tenn., where most of the crowd will be pulling for the Volunteers. The rest of Virginia's September schedule is also challenging: home games against James Madison and NC State and road games against Maryland and Boston College.
"It's what you want," Elliott said. "If you're a competitor, that's what you want. It's a great opportunity for us as a program."
To receive Jeff White's articles by email, click the appropriate box in this link to subscribe.