Virginia Cavaliers Official Athletic Site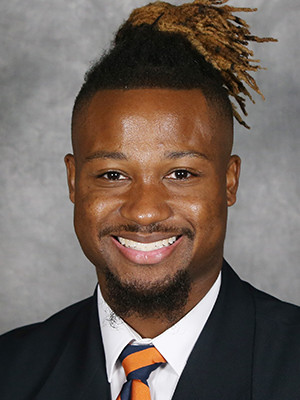 Perris Jones Audio Pronunciation
AT VIRGINIA
2021 – Appeared in 10 of UVA's games… returned a kick for eight yards against Louisville. 2020 – Appeared in all 10 of UVA's games … rushed two times for 11 yards against Duke … named to 2021 ACC Academic Honor Roll. 2019 – Appeared in 10 of UVA's 14 games … missed the Louisville, UNC and Georgia Tech games with an injury … in the season opener at Pitt he was one of the kick returners … made one special teams tackle on a kickoff in the win over Old Dominion. 2018– Appeared in four of UVA's 13 games … made collegiate debut against North Carolina as one of UVA's kick returners … one of 13 UVA true freshmen to see action in 2018 … retained redshirt under new NCAA rules.
HIGH SCHOOL AND PERSONAL
Played running back at Episcopal for head coach Panos Voulgaris … first-team all-state running back three years in a row … first-team All-IAC two years in a row … IAC Offensive Player of the Year in 2017 … spent first two years of high school at Bishop Ireton where he the school single-season all-purpose yards record with over 2,500 yards … All-Metro honorable mention three years in a row … DC Touchdown Club Player of the Week once … finished high school with over 5,000 career rushing yards … also participated in wrestling and track in high school … first-team All-IAC in the 4×100 in track … state champion and conference champion in the 4×100 … son of Joanna and Stevie Jones, Jr. … has four younger sisters, Kendra, Psalmn, Reign and Clancey … has one younger brother, Stevie … family tradition every Christmas morning is whole family serves food to the homeless … volunteers with Royal Athletes where he mentors kids … loves playing the guitar and writing poems … received bachelors' degrees in both African-American studies and English in 2022…pursuing a master's degree in Educational Psychology.