UVA Game Notes | Duke Game Notes | UVA Football on Twitter | Jeff White on Twitter | Subscribe to Jeff White's Articles | 4TheHoos Initiative | Fans First Ticket Program
By Jeff White (jwhite@virginia.edu)
VirginiaSports.com
CHARLOTTESVILLE –– As a first-year student at the University of Virginia, Perris Jones wrote a short piece of fiction titled "Will It End?" Its protagonist is an African-American mother who learns to her horror that policemen have shot and killed her son after mistaking him for a suspect.
Jones drew inspiration for the story from class discussions in courses taught by Jennifer LaFleur. He and his fellow students talked "about police brutality and how there is typically a prejudice against African-Americans in which we are perceived as dangerous," Jones recalled. "So I tried to my best to articulate the viewpoint of an African-American mother much like my own and how she would handle the situation."
LaFleur, who's now the acting assistant director of UVA's College Transition Program, taught Jones in two courses during the 2018-19 school year: LASE 3110 (Academic Analysis and Research) and LASE 3111 (Skills of Scholarship).
"One of the things that I really loved about having Perris in class is that he has a lot of energy and he has a lot of joy and a kind of optimism, in a way, and he always would bring that to class," LaFleur said.
Social issues weren't the focus of the coursework, but many of her students were African-American, LaFleur said, and "especially when something related to racial trauma would come up, I wouldn't shy away from acknowledging that and making it OK to discuss in a class context."
Racial inequality, sadly, remains as relevant today as when Jones addressed it as a UVA first-year. His short story, which was part of a longer paper Jones wrote, was included in a book published early this year: Equality and Justice: An Engaged Generation, A Troubled World.
"It is extremely humbling to open a book and see my story featured," Jones said. "It's a true honor. I take pride in my writing, and for someone else to deem it worthy to be read around the world is truly an exhilarating feeling."
A graduate of Episcopal High, a prestigious boarding school in Alexandria, Jones is now in his third year at UVA. He has a double major: African-American and African Studies, and English. Education isn't his only passion. He's a gifted athlete who plays running back for the Virginia football team, which opens the season Saturday at 4 p.m. against ACC rival Duke at Scott Stadium.
There's been considerable turnover among the Cavaliers' running backs since the end of last season, and Jones, a redshirt sophomore, is No. 3 on the depth chart behind junior Wayne Taulapapa and senior Shane Simpson, a graduate transfer from Towson University.
Mark Atuaia, the Cavaliers' running backs coach, says he has full confidence in the 5-8, 175-pound Jones, who joined the program with no fanfare in 2018.
"As far as his running style goes, he reminds me a lot of [former UVA standout] Jordan Ellis," Atuaia said. "He's not as compact, not as big, but the style is very similar. A lot of things that Perris does very well are with the ball in his hands, and what he's been learning to do is play without the ball, and that's always the most difficult part for running backs, especially at the college level. But he's getting better and better each day."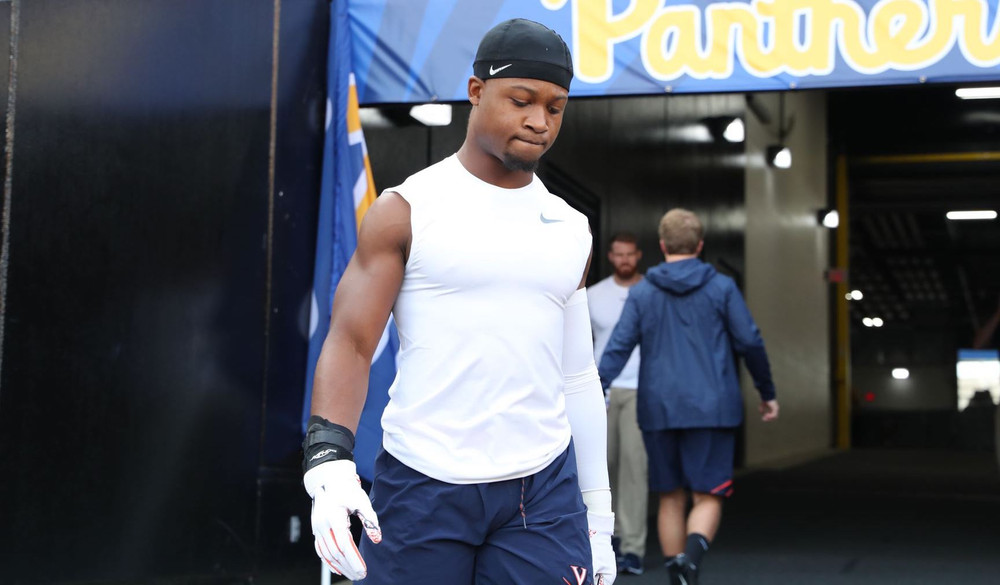 Jones, whose family lives in Manassas, spent two years at Bishop Ireton, another private school in Northern Virginia, before transferring to Episcopal, where he was twice named to the All-Interstate Athletic Conference first team.
As a senior, despite playing the entire season with a cast on his broken right wrist, Jones was named the IAC's offensive player of the year. Even so, "I didn't really have a ton of scholarship offers, due to everybody thinking that I was undersized," Jones said. "Most of my interest came from Ivy League schools and lower-level D-I schools."
A conversation with UVA defensive coordinator Nick Howell gave Jones another option. Howell encouraged Jones to apply to the University and, if accepted, to join head coach Bronco Mendenhall's football program as a walk-on.
"Coach Howell sat me down," Jones recalled, "and he said, 'I think you can play for us and make a difference. You're going to get a chance. If you work hard, you could be out there on the field, and I think you can do it.' Through his belief, I believed as well."
As a true freshman in 2018, Jones appeared in four games but, under NCAA rules, was able to retain that year of eligibility. He played in 10 games as a redshirt freshman last season, lining up at times, as he had in 2018, alongside Joe Reed on kickoff returns.
Jones' most significant contributions came in practice every week. The Cavaliers' scout team is known as the Victory Team, whose running backs are expected to help prepare the defense for the upcoming opponent.
"Perris honed his skills and his toughness on the Victory Team," Atuaia said, "and all of the things that everybody's seeing now are a credit to his hard work and the way our defense prepared him. The guys on the defensive side are cheering for him, because they feel some ownership is helping Perris get to where he's at. It's pretty cool."
Those players include senior linebacker Charles Snowden.
"Perris gave us a great look week in week out," Snowden said. "You have to be tough to be scout running back against a Coach Howell defense, and [Jones] never complained once. He simply worked his tail off and made us better every week."
Snowden and Jones go way back. The 6-foot-7 Snowden graduated from another IAC school, St. Albans, where he played wide receiver on offense.
"They would just throw it up to him, and he would catch it," Jones said, laughing. "That was their only play. But he was a great player. It was fun playing against him, and I didn't know I'd have the opportunity to play with him again. We rehash those memories every now and then in the locker room."
Nothing was guaranteed for Jones at UVA, but he knew Mendenhall and his staff rewarded hard work, whether a player was a walk-on or on scholarship.
"They really stand behind earned not given," Jones said. "Coach Mendenhall preached that if you worked hard, you would get what you worked for, and I've always been a work-hard guy. I just put my head down and grind. I just thought [UVA] would be the best fit, and I had always dreamed of playing D-I, so I kind of wanted to prove to myself that I could do it."
Throughout his football career, Jones said, he's been told he's too small.
"I hear it all the time," he said. "I like to pride myself on flipping the stereotype. That's why I kind of idolize people like [the Bears'] Tarik Cohen in the NFL, who are smaller backs but are still getting the job done and making a name for themselves."
At UVA, Jones said, he has "the mindset that I have something to prove every single day. Being a walk-on, I like to make the analogy that scholarship guys are kind of like zoo animals, where they get their meals fed to them, because that's where the money is. Not saying they didn't earn it, but that's where the school's money is going, so they get the more reps, they get the most opportunities.
"A walk-on is kind of like a wild animal. You have to go get your food, and some days you're not going to get anything. Some days you're going to get a lot. So every day you've got to prove yourself, and I have the mindset that every day I haven't done anything and I need to re-prove myself again and again and again. I think I'll carry that mindset with me throughout the rest of my playing days."
"The guy is unbelievable! Great young man that works very hard each day and does it consistently. He is a true earned-not-given player in the program." -- Director of development and performance Shawn Griswold on Perris Jones.
Jones, who wore jersey No. 92 in 2018, switched to No. 37 last season. He was among the first group of players to select numbers in training camp this summer, and he went with No. 10.
"It was a huge honor to have my teammates think so highly of me and my work ethic," Jones said. "it meant a lot, but it also was a motivator to keep working hard."
Jones was an All-IAC sprinter in track & field at Episcopal, where his football teammates included Elijah Gaines, now a freshman cornerback at Virginia. One of the fastest Cavaliers, Jones needed less than two years to reach the second-highest level, blue, in Shawn Griswold's strength and conditioning program.
"The guy is unbelievable!" said Griswold, UVA's director of football development and performance. "Great young man that works very hard each day and does it consistently. He is a true earned-not-given player in the program."
About a week ago, Griswold said, the strength and conditioning staff outfitted Jones with a Catapult GPS tracker, which measures a player's workload, speed and explosive movements.
"He is top of the charts most days," Griswold said. "It will be fun to see him compete on the gridiron this fall."
Against Duke (0-2 overall, 0-2 ACC), Taulapapa is expected to start at running back. "Then, based on Wayne's production and effectiveness, the results will determine how much Shane and Perris play," Mendenhall said Monday. "There isn't much difference between the three. They've all had their days, they've all had their moments and they've all had their productivity."
Taulapapa, who had a team-high 12 rushing touchdowns last season, brings consistency and "slashing and positive yards," Mendenhall said. "With Shane, what you get is vision and experience and a unique knack to find the hole, wherever it is, with more patience, so I really like his vision.
"With Perris, you get escapability and the ability to create, where he can make things out of space where it doesn't appear they've either been blocked effectively or there isn't much space, and all of a sudden there's positive yards. So a little bit more ability to make you miss in the open field."
Jones, who lives with teammates Jalen Harrison and Josh Clifford, said he came into the year unsure of what his role would be. His goal was to help the team any way he could.
"That was my mindset, whether that be on offense or on special teams again," Jones said. "I always prided myself on working hard, so I just continued to do that day in and day out. I didn't say, 'Hey, I want to be the starter,' or 'Hey, I want the majority of the carries.' It was more, 'How can I best benefit the team?' Now, being in a position to be able to get a couple carries, of course I'm honored to do so, to represent UVA in that way."
Jones, whose father was in the military, was born in Arcadia, Florida. When he was 8 years old, the family moved to Olympia, Washington. The Joneses moved to Northern Virginia before Perris began high school.
Family traditions include serving at a local homeless shelter every Christmas morning.
"A lot of people wake up and go straight into opening their presents," Jones said. "My dad kind of wanted to turn it more into servicing others first and then servicing ourselves last. So we would go and feed the homeless breakfast, and we would buy them gifts to contribute to the shelters. We were really just trying to bring a smile to other people as the day started, to give before we take, I guess.
"It's a good lesson to learn. I pride myself on giving to others, wanting to give, give, give, give, and believing that God will bless me as a result of that."
To receive Jeff White's articles by email, click here and subscribe.