Story Links
May 17, 2014
Photo Gallery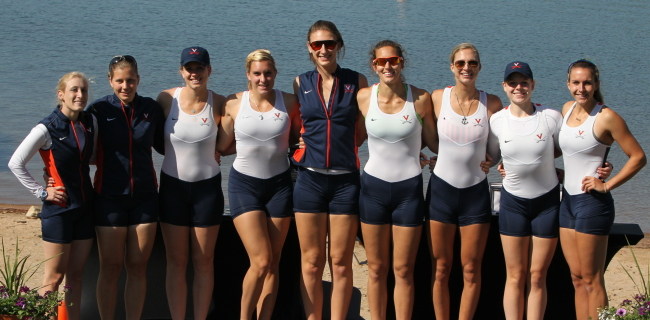 Championship Central | Facebook | Twitter | Instagram
CLEMSON, S.C.-The No. 5 Virginia rowing team swept all four races on the way to winning its fifth consecutive ACC Championship Saturday (May 17) on Lake Hartwell. The Cavaliers have won 14 of the 15 ACC regattas.
Virginia finished with 80 points, ahead of Notre Dame (67), Syracuse (61), Clemson (48), Duke (41), Miami (28), Boston College (23) and North Carolina (11). With the team title, UVa automatically qualifies for the NCAA Championships, to be held in Indianapolis, May 30-June 1.
"Today was a great day for Virginia rowing and I am very proud of our student-athletes and how they performed today," UVa head coach Kevin Sauer said. "We have had a great team attitude all year and we are excited to represent the ACC and the University of Virginia at the NCAA Championships. Thanks to Clemson and Robbie Tennebaum for hosting an outstanding regatta."
In addition to capturing the team title, Virginia's Varsity Eight was named ACC Crew of the Year, Georgia Ratcliff (Falls Church, Va.) was named Freshman of the Year and Sauer was named Coach of the Year for the 10th time overall and fifth consecutive year.
"I am very honored and humbled to be recognized amongst a conference full of amazing athletes that are just as or more deserving than myself," Ratcliff said.
Seniors Sarah Jordan (Flourtown, Pa.), Brandy Herald (Portland, Ore.), Elle Murray (Tampa, Fla.) and Fiona Schlesinger (Surrey, United Kingdom) were named to the All-ACC First Team, while fellow senior Constanze Duell (Oberschleissheim, Germany) was recognized on the second team.
The Cavaliers won the Varsity Eight race in a time of 6:22.7, ahead of Notre Dame (6:28.8), while the Second Varsity Eight finished first in a time of 6:34.8, followed by Syracuse (6:43.4). The Varsity Four placed first in 7:21.3 ahead of Notre Dame (7:30.0), while the Third Varsity Eight started the day off with a win in 6:38.2 over the second-place Irish (6:56.4).
With the four event wins, Virginia has now won 54 of the 60 total events at the 15 ACC regattas.
Virginia Lineups
Varsity Eight: Coxswain: Sarah Jordan, Stroke: Constanze Duell, 7: Chandler Lally, 6: Georgia Ratcliff, 5: Brandy Herald, 4: Fiona Schlesinger, 3: Lizzy Youngling, 2: Hemingway Benton, Bow: Elle Murray
Second Varsity Eight: Coxswain: Sarah McGovern, Stroke: Ellen Pate, 7: Janey Brennan, 6: Erin Briggs, 5: Hannah Osborne, 4: Catherine Multari, 3: Sam Casto, 2: Mackenzi Sherman, Bow: Jo Gurman
Varsity Four: Coxswain: Julia Roithmayr, Stroke: Hannah Yoest, 3: Ella van der Haar, 2: Maddie Keating, Bow: Kaity McCullough
Third Varsity Eight: Coxswain: Colette Lucas-Conwell, Stroke: Karen Schulte, 7: Kaitlin Fanikos, 6: Hannah Solis-Cohen, 5: Maggie Bowman-Jones, 4: Kathryn Cook, 3: Allie Nicholson, 2: Jennifer Reid, Bow: Tessa Dikkers