Virginia Wins Princeton Chase
Story Links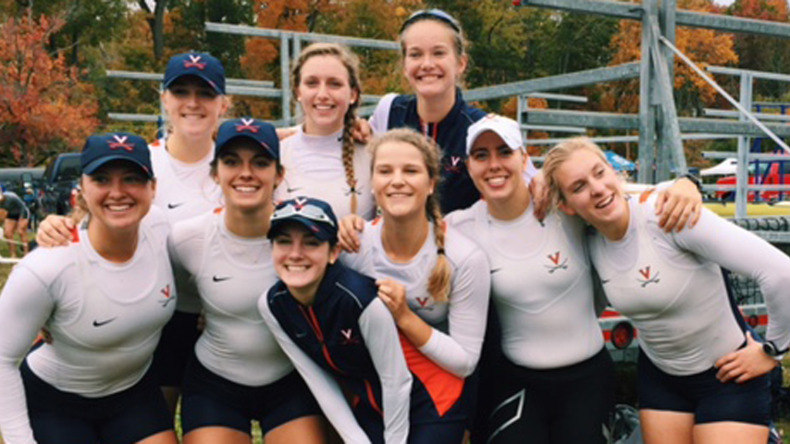 Results | Twitter | Facebook | Instagram
Nov. 1, 2015
PRINCETON, N.J. – The Virginia rowing team captured the Princeton Chase on Sunday (Nov. 1) on Lake Carnegie.
The Cavaliers won the Varsity Eight race with a winning time of 14:39.256 to edge second place Brown who came in at 14:39.825. Yale finished third (14:51.930), Princeton was fourth (14:54.281) and UVA's Second Varsity Eight placed fifth (15:02.531).
Virginia's Third Varsity Eight (15:16.435) and Fourth Varsity Eight (15:21.260) placed 10th and 12th, respectively, as Virginia had four of the top 12 boats.
The Cavaliers' Fifth Varsity Eight placed 28th overall in 15:56.233. A total of 65 boats raced in the event.
"We had great, aggressive racing by all five of our boats today," Virginia head coach Kevin Sauer said.
Virginia concludes the 2015 fall season by hosting the Rivanna Romp on Sunday, Nov. 15. Race time on the Rivanna Reservoir in Earlysville, Va., is set for 9 a.m.
Virginia Lineups
Varsity Eight: Coxswain Izzi Weiss, Stroke: Georgia Ratcliff, 7: Mackenzi Sherman, 6: Tessa Dikkers, 5: Eliza Spilsbury, 4: Erin Briggs, 3: Heidi Long, 2: Ali Zwicker, Bow: Sam Casto
Second Varsity Eight: Coxswain Colette Lucas-Conwell, Stroke: Alexandra Natale, 7: Chelsea Adams, 6: Marijane Brennan, 5: Mackenzie Springer, 4: Jennifer Reid, 3: Alice Darry, 2: Jo Gurman, Bow: Ellen Pate
Third Varsity Eight: Coxswain Rachel Dick, Stroke: Karen Schulte, 7: Alex Slabbert, 6: Jane Hudson, 5: Allie Nicholson, 4: Grace Tuttle, 3: Ellie Stewart, 2: Kendall Mueller, Bow: Taylor Leonard
Fourth Varsity Eight: Coxswain Adi Hendlin, Stroke: Georgia Gray, 7: Mackenzie King, 6: Emmy Bateman, 5: Anna Fairs, 4: Morgan Rosts, 3: Eliza Daniels, 2: Mary Beth Greer, Bow: Lyndsay Martini
Fifth Varsity Eight: Coxswain Melody Gordon, Stroke: Marissa Patrick, 7: Haley Swanson, 6: Madelyn Clark, 5: Dana Lueker, 4: Ellie Biddle, 3: Kameryn Corcoran, 2: Margaret Manley, Bow: Julia Volpenhein