Jeff White's Twitter | Subscribe to UVA Insider Articles | UVA Football Schedule | Meet the Football Team Night and Movie Night at Scott Stadium | Fact Book
CHARLOTTESVILLE – Malcolm Cook celebrated his 24th birthday in March. Tim Harris turned 23 this week. Each, naturally, has been called "old man," or some variation thereof, by teammates at the University of Virginia.
 
"I get it a lot from Elliott [Brown] and Charles [Snowden]," Cook said, referring to two of the Cavaliers' sophomore linebackers. "They're my guys, though."
 
"It's all love," said Harris, seated next to Cook in a McCue Center meeting room.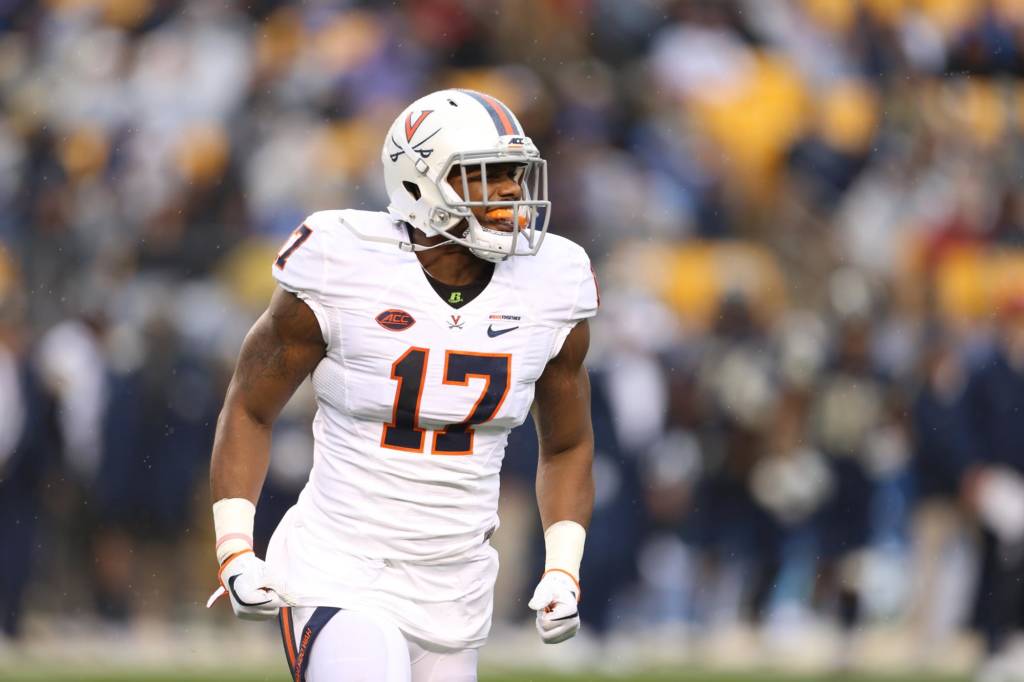 When they graduated from high school in 2013 – Cook from Fork Union Military Academy and Harris from Varina – neither expected to still be playing college football in 2018. But each has experienced medical issues since enrolling at UVA, and now Cook and Harris are heading into the coming season as part of a rare breed: the sixth-year senior.
 
Friday night will mark the final first practice of a UVA training camp for the longtime friends from the Richmond area.
 
"I've been thinking that for two years now," Harris said, "but this it."
 
"This is it," Cook said.
 
Training camp is "something you can look forward to," Cook said, "but it's not something you enjoy a lot, because it's long and grueling. But your last one is probably going to be kind of bittersweet."
 
Some of the Wahoos' freshmen are only 18. Do Cook and Harris, who will compete as graduate students this season, sense a generation gap with some of their younger teammates?
 
"Yeah, we do," said Harris, a 6-2, 205-pound cornerback, "but we've got to realize we're all on the same team. We've got to keep the younger dudes up and try to get them acclimated to everything we've got going on here at the University. Yeah, it's a big gap in age, but we've matured, so we can probably teach them more."
 
When he takes the field Friday night, said Cook, a 6-1, 230-pound linebacker, "there's going to be a lot of things running through my mind. Staying healthy is one of them. And it's going to dawn on me that it's my last first practice of [a training camp]."
 
Two years ago, Harris figured that training camp would be his last as a Cavalier. Through his first three years at Virginia, he'd appeared in 31 games, starting 21 of them, and he expected to be out of eligibility at the end of the 2016 season. But Harris suffered a season-ending shoulder injury in UVA's second game, a 44-26 loss at Oregon, and was granted a hardship waiver that gave him another year of eligibility.
 
After having an operation on his shoulder, Harris was healthy again by the start of the 2017 season. But in the opener, a 28-10 win over William & Mary, Harris hurt his left wrist, a setback that required season-ending surgery and earned him a sixth year.
 
"It was just a freak injury," Harris said. "I fell wrong."
 
Cook has encountered even more obstacles than Harris. In 2013, Cook had to redshirt after hurting his right knee. An injury to his left knee limited him to three games in 2014.  Then, in 2015, Cook suffered a season-ending shoulder injury in the Cavaliers' third game.
 
He had reason to believe 2016 – the program's first season under head coach Bronco Mendenhall, who also oversees the Cavaliers' defense — would be different.
 
In training camp that summer, Cook won a starting job at outside linebacker. Late that August, however, Cook experienced severe pain in his chest. Testing revealed that he had myocarditis, a disease marked by inflammation of and damage to the heart muscle.
 
"Similar to what you see in a heart attack," Kelli Pugh, UVA's associate athletic trainer for football, told VirginiaSports.com.
 
A long period of rest followed. He missed the 2016 season, and doctors were unsure if he would ever play football again. To stay connected to the team, Cook assisted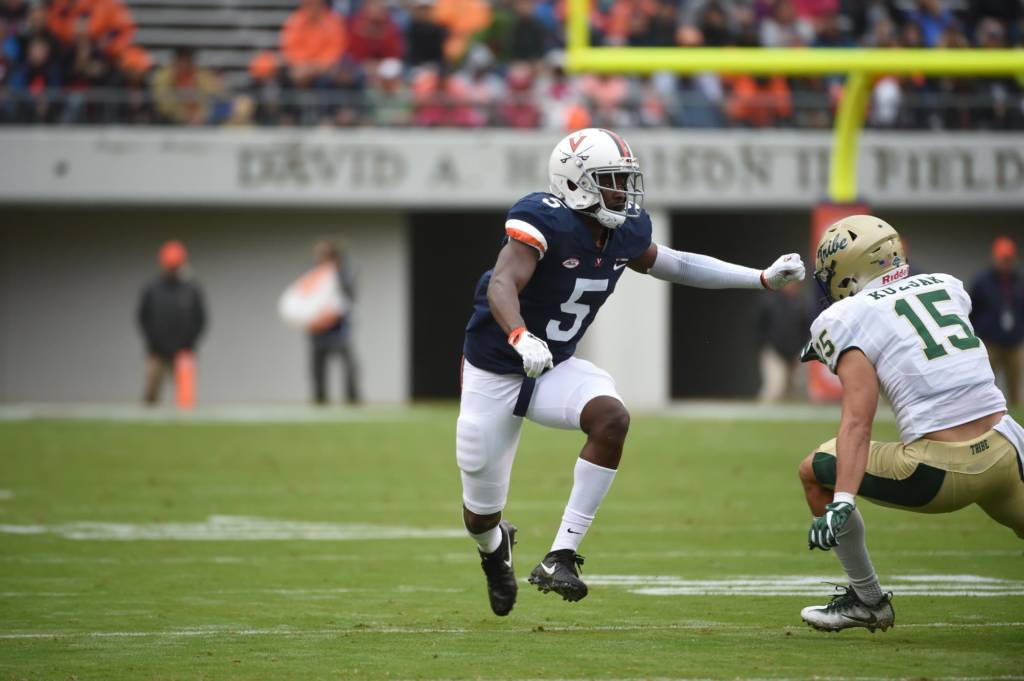 Mendenhall during practices and games, helping to signal in plays to the defense. Finally, in December 2016, doctors determined Cook's heart was healthy again, and he was cleared to play.
 
Cook appeared in nine games in 2017, with six starts at outside linebacker in UVA's 3-4 defense. But a foot injury sidelined him for Virginia's games against Boise State, Duke, North Carolina and Boston College, and he wasn't as productive when he returned.
 
"It kind of dropped my confidence a little bit, after the injury and everything," Cook said. "When I came back, I wasn't my normal self as far as making a lot of the players that I normally made. This year it's just about staying healthy and making more plays than I did last year before I got hurt."
 
Cook moved to inside linebacker in the spring and is competing for the starting job there alongside junior Jordan Mack. Harris participated on a limited basis in spring ball, but like Cook he's healthy heading into training camp.
 
They're doing all they can to stay that way.
 
"That's the main goal, I feel like: getting through the season healthy," Harris said. "Taking care of your body is the main thing, so that's what I'm trying to work on now."
 
Cook said: "It just stinks when you start off well and then poof – something happens. I'm just trying to find a way to prevent that."
 
Like Harris, Cook has a bachelor's degree in anthropology and is now enrolled in the Curry School of Education. On the field, they're fast and athletic and have the potential to significantly bolster UVA's defense. But their injury histories make it difficult, Mendenhall acknowledged last month at ACC Football Kickoff, for the coaching staff to count on them.
 
"One of the things that I believe in as an organizational principle," Mendenhall said, "is the best predictor of future performance is past performance, when it replicates."
 
For Cook and Harris, "what their history has shown is that they're currently not durable and not consistent," Mendenhall said. "And that could be just simple bad luck, or it could be other things. So we're hopeful and optimistic, but to not account for the past would be a mistake."
 
Five years have passed since the first training camp at UVA for Cook and Harris. Mike London was Virginia's head coach then, and the veterans on defense included Anthony Harris, Henry Coley, Daquan Romero and Brandon Phelps.
 
"I remember just trying to learn everything I could," Harris said. "I was a young dude out there, just turned 18, so everything was moving pretty fast for me."
 
Cook attended Armstrong High in Richmond before transferring to FUMA for his senior year. He and Harris played each other three times in high school, and they've been roommates for most of their time at UVA.
 
Once he was ruled out for the 2017 season, Harris said, he decided he'd return for a sixth year at UVA. Cook wrestled with the decision.
 
"It took me a little while to convince myself to come back and do it," he said.
 
A conversation he had with Harris after the Military Bowl, in which UVA lost to Navy, swayed Cook.
 
"We were just talking about dreams and goals that we've had since we were little kids, and that was to make it [to the NFL]," Cook said. "That's been the goal since day one. Having that talk just put that mindset back on for me. No matter if it's a year left or whatever, you could still reach your goal."
 
Cook also loves being part of what he called "the brotherhood" in the program. And so here he is at the start of another training camp, ready for one last journey with Harris at Virginia.
 
"I just want to leave the program better than how we found it," Cook said.
 
That would include posting a victory over Virginia Tech, a feat UVA hasn't achieved since 2003.
 
"It's just something that has to happen," Harris said. "It's just weighing on the whole city, and a lot of people want us to do it, so that's something that I want to finish out with."