Subscribe to UVA Insider Articles | Jeff White's Twitter
By Jeff White (jwhite@virginia.edu)
VirginiaSports.com
 
CHARLOTTESVILLE – We all know Kyle Guy can shoot a basketball, but can he throw a football? 
 
Nash Griffin, who like Guy is a third-year student at the University of Virginia, can answer that question. At Lawrence Central High School in Indianapolis – from which Kevin Sauer, UVA's head rowing coach, also graduated– Griffin and Guy played alongside each other on the varsity basketball team for four years. They could have been teammates in another sport, too.
 
"We almost got Kyle to play football," Griffin said Tuesday at the McCue Center. "Our quarterback had graduated, and going into our senior year, Kyle thought about playing quarterback, because he had done it growing up and has the athleticism to do so. But at the end of the day, he had a bigger future ahead of him in basketball."
 
Griffin smiled. "I don't think Tony would have been very happy about [football]."
 
Guy, of course, is now an All-America guard at UVA, where he plays for head coach Tony Bennett. In head coach Bronco Mendenhall's football program, Griffin has been the holder on extra points and field goals for the past two seasons. He's competing this spring to succeed Lester Coleman, who exhausted his eligibility in 2018, as the Cavaliers' starting punter.
 
"That'd be huge," Guy said Tuesday at John Paul Jones Arena. "It's already been fun seeing Nash on the field holding, just because he works hard. To see his work pay off and see him do what he came here to do would be pretty awesome."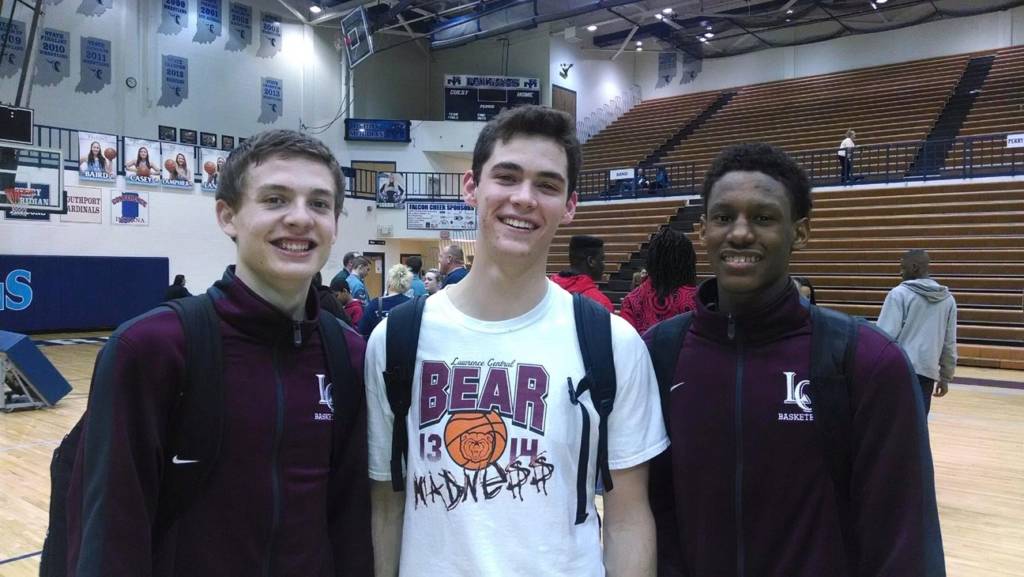 Kyle Guy, Nash Griffin and teammate Mekhi Biffle in high school
Griffin and Guy have been friends since the fourth grade, when they played together on a travel basketball team. They attended different elementary schools — Amy Beverland E.S. for Griffin, Indian Creek E.S. for Guy – before becoming classmates at Belzer Middle School.
 
Sixth-graders weren't allowed to play for Belzer's basketball team, but Griffin and Guy managed to contribute anyway.
 
"Me, Kyle and two of our other friends were all basketball managers as sixth-graders for the seventh- and eighth-grade team," Griffin said, "just because we wanted to be around basketball."
 
Almost a decade later, the bond that links Griffin and Guy is even stronger. In Charlottesville, they share an apartment with Grant Kersey, a full-time student-manager and part-time guard for the UVA men's basketball team. This marks the second year Griffin and Guy have lived together.
 
"It's been great," Guy said. "People get homesick at first when they go away [to college], but Nash took a lot of that away. My mom gave me an air mattress, because she knew that I was going to be sleeping in his room a lot, and he was going to sleep in my room in the [first-year] dorms. So that made the transition a lot easier."
 
During an interview Tuesday, Griffin scrolled through old photos on his phone. "The way we used to look, wow!" he said, laughing. "Here's Kyle's buzz cut."
 
Guy committed to UVA in October 2014, early in his junior year at Lawrence Central. Griffin didn't hear from the Cavaliers' football staff until early in his 12th-grade year.
 
Griffin also played soccer for his first three years at Lawrence Central. As a senior, "I wanted to focus on football a little bit more and try to get recruited, and I was lucky enough to find my way here," he said.
 
Credit Guy with an assist. Griffin knew little about UVA before his buddy started talking up the school and Charlottesville.
 
"I thought I was going to Northwestern until I took my first visit here," Griffin said.
 
Griffin had scholarship offers from smaller programs, but he wanted to play for a Power 5 football team at an elite academic institution. And so he accepted an offer to enroll at UVA as a recruited walk-on.
 
"Did I come here because of Kyle? No," said Griffin, who's in the prestigious McIntire School of Commerce. "But I don't think I would have come here if he hadn't committed, because then I would have never explored it, and I would be at Northwestern right now. I'm glad it worked out, because I am not a big-city guy. I don't think I would have liked that vibe as much."
 
At Lawrence Central, Guy became a McDonald's All-American in basketball. Griffin's role? "I did everything I could to be the glue guy," he said.
 
On defense, that often meant guarding the opponent's best player. On offense, Griffin said, that meaning doing whatever he could "to get Kyle the ball."
 
When told Tuesday how Griffin described his role at Lawrence Central, Guy nodded. "That's 100 percent what he was," he  said. 
But there's more. "He also was a liability," Guy said, smiling. "He got like 14 techs in those four years. He liked to slam the ball, walk through other teams' timeouts. But he was a glue guy. He rebounded and he hit open shots and he guarded the best player most of the time. He was pretty good, actually."
 
In December 2015, UVA hired Mendenhall as Mike London's successor. Griffin joined the football team in the summer of 2016 and redshirted that fall. At first he practiced as both a punter and a place-kicker, but he eventually decided to focus on punting. That led to another opportunity for him.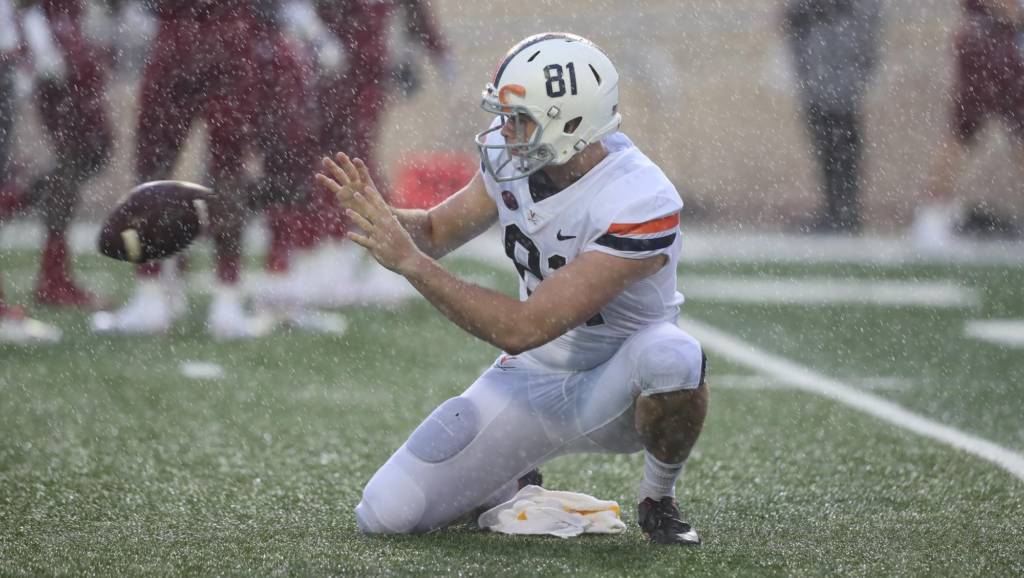 In the spring of 2017, Griffin began practicing as a holder.
 
"I was just looking for a way to get on the field, and I was athletic and had good hands," he recalled. "The coaches knew that I had played basketball, so I had the ability. And so I just started working at it, once I realized that I wouldn't be a kicker. Opportunity met preparation, and I didn't mess up, so Coach Mendenhall let me keep the job."
 
In 2016, Nick Conte handled the punting for the Wahoos. Coleman followed him and held the job for the next two seasons. Coleman's successor will be Griffin or Brian Delaney, a rising junior who handled kickoffs in 2017 and added field goals and extra points to his job description last season.
 
"Both of them are working really hard, and they're both doing a really good job," graduate assistant Andrew Meyer said Monday after the Cavaliers' first practice of the spring.
 
It's possible for one player to handle both the punting and kicking duties, Meyer said, but "it's really hard. It's different swing patterns. It's almost like a pitcher throwing overhand and sidearm and underhand. And so it's really different, and you don't see guys that are able to do that too often. Brian's got a unique ability where I think he could potentially do it, but at the same time it's nice for guys to be able to really lock in in one area."
 
Meyer, a former All-Big Ten punter at Wisconsin, has been a tremendous resource for the 6-2, 225-pound Griffin, a left-footed kicker.
 
"Before Drew got here, our [other] coaches did a good job," Griffin said, "but being able to bounce ideas off of someone with his experience is just a totally different game. 
 
"We have very different punting swings, but he understands what works and what doesn't and at least can give recommendations. There's no disrespect to any other coach, but there's no way they could say your steps are too big or know that shuffling your feet at the beginning can get you out of rhythm. Those are just things that he can pick up on immediately, and so it helps us stay away from bad habits and lock in on good ones."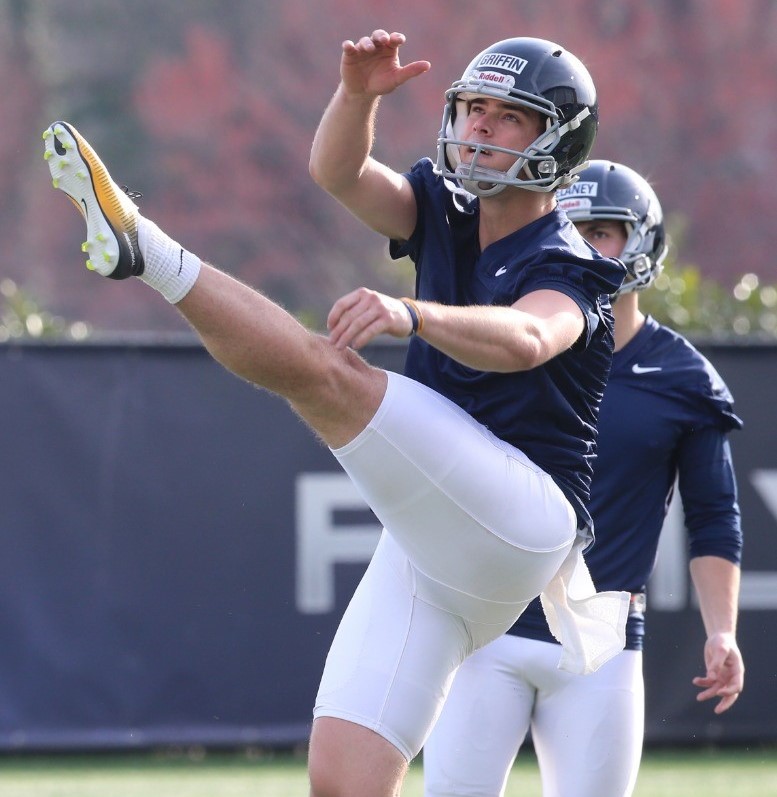 Griffin has excellent leg strength. The key for him, Meyer said, is consistency.
 
"Over the course of the last two seasons and my opportunity to work with him," Meyer said, "he has been able to identify what his cues are and what he needs to do to be successful on each punt. And so he's been able to really narrow his focus, narrow it to making sure his drop and his swing pattern are right, just the little things that keep him where he needs to be and to be the best punter he can be."
 
Nash recently moved up a level – from gray to orange – in director of football performance and development Shawn Griswold's offseason program. That's an achievement of which Griffin is especially proud, because the kicking specialists must meet the same standards as skill-position players in order to advance.
 
"That seemed absurd when [Griswold arrived at UVA in 2018] and I was so far away from them," Griffin said. "I feel like I've beat my own expectations, so now I'm just trying to somehow keep moving up the chart."
 
Griffin is a regular at men's basketball games at JPJ, and like most members of the UVA community, he's following the NCAA tournament intently. Virginia, the No. 1 seed in the South Region, plays 12th-seeded Oregon in the Sweet Sixteen at approximately 10 p.m. Thursday in Louisville, Ky.
 
Spring practice for UVA football started this week, and the teams convenes at the McCue Center early on Mondays and Wednesdays. On Fridays, however, the Cavaliers practice in the evenings, which means Griffin and his teammates can watch the basketball game Thursday night without having to sacrifice precious hours of sleep.
 
"Everybody's already acknowledged how lucky we got," Griffin said.