Box Score | Photo Gallery | Postgame Notes | Ticket Information for ACC Title Game | Video Highlights | UVA Football on Twitter | Jeff White on Twitter
By Jeff White (jwhite@virginia.edu)
VirginiaSports.com
CHARLOTTESVILLE –– In the postgame celebration that sprawled over much of the field at Scott Stadium, the trophy made its way from player to player Friday as jubilant fans surrounded the winning team on a picturesque fall afternoon. Eventually, the Commonwealth Cup ended up inside the home locker room, where it was handed to University of Virginia head football coach Bronco Mendenhall.
Mendenhall raised the water-filled vessel to his mouth and drank deeply, quenching the thirst of long-suffering Virginia fans everywhere.
UVA 39, Virginia Tech 30.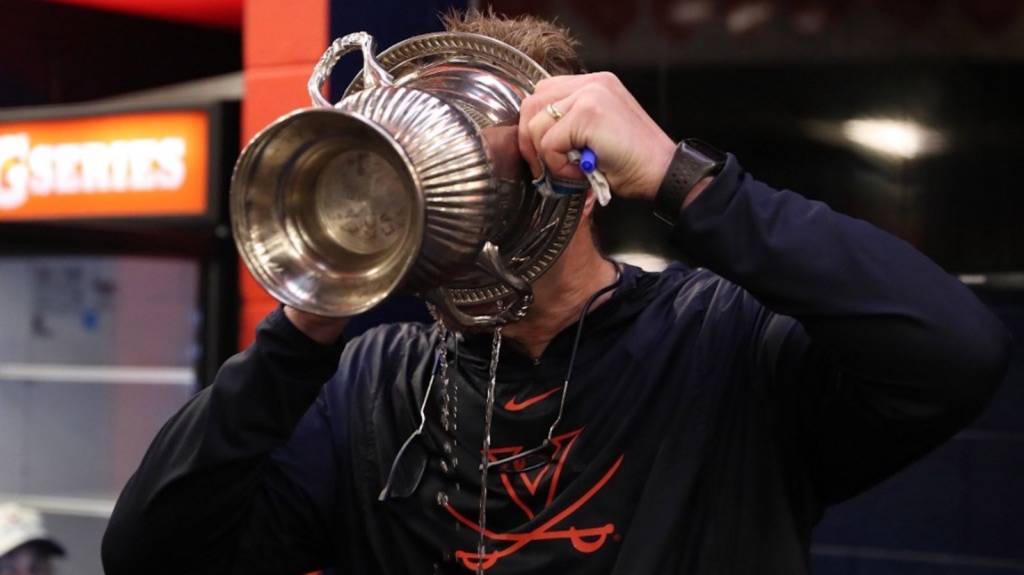 "It's like a burden taken off of us," junior defensive lineman Mandy Alonso said after the Cavaliers ended a 15-game losing streak in the series.
With the victory, the Wahoos  (9-3 overall, 6-2 ACC) not only reclaimed the Commonwealth Cup from the No. 23 Hokies (8-4, 5-3), they clinched their first Coastal Division title.
"It was a good day for Virginia football," Mendenhall said.
"I couldn't write a better story if I had to," senior quarterback Bryce Perkins said. "It meant the world, and I'm excited for this group of guys, and excited to represent the Coastal."
Sophomore outside linebacker Noah Taylor's second interception of the game gave UVA possession with 4:47 left and the score 30-30. A holding call marred the drive that followed, but the Hoos went up 33-30 on junior Brian Delaney's 48-yard field goal with 1:23 to play.
The Hokies have a history of pulling off improbable comebacks against their biggest rivals, but the Cavaliers made sure this time would be different. On the next drive, they sacked quarterback Hendon Hooker three times. On the third sack, in the end zone, Alonso separated Hooker from the ball, and fellow lineman Eli Hanback pounced on the fumble for his second career touchdown.
"How about Eli Hanback [scoring] the final touchdown after four years?" Mendenhall said, smiling. "There's never been a moment where he's faltered or wavered. He hasn't been anything other than resolute.
"That can't be scripted any better. There's a movie that ought to happen about that. I don't know who would play Eli, but they'd be pretty lucky."
UVA will meet Atlantic Division winner Clemson (11-0, 8-0) in the ACC championship game Dec. 7 in Charlotte, N.C. The Cavaliers' preparation for that game will begin Saturday. Once the final second ticked off the scoreboard clock, Friday was a time was for UVA and its fans to savor a breakthrough victory.
"This is huge," Virginia athletics director Carla Williams said. "It's transformational. It's exactly what we needed to happen. I'm so happy for Bronco, for the coaches, for the players. This is what they worked for."
A year ago in Blacksburg, UVA led 31-24 late in the fourth quarter, only to see Virginia Tech rally to win 34-31 in overtime.
"The way things ended last year was heartbreaking," Hanback recalled Friday.
That game ended with a botched exchange between Perkins and running back Jordan Ellis, which resulted in a fumble that the Hokies recovered.
"I had to sit with that all year, and it hurt," Perkins said Friday, "so this year I really wanted to go out there and be aggressive and give everything I had to this team and not let them down again and do my part and trust everybody else to do their part and come together as a team to pull this victory off."
Perkins, who transferred to UVA in January 2018, dazzled in his final appearance at Scott Stadium. He rushed 19 times for a career-high 164 yards and two touchdowns and completed 20 of 33 passes for 311 yards and another TD. His TD runs covered 39 and 67 yards.
"He certainly has been the catalyst for their offensive success," Virginia Tech head coach Justin Fuente said.
Perkins' performance came at the end of a week that started for him with an overnight stay at the UVA Medical Center. He was treated for tonsillitis after playing against Liberty at Scott Stadium on Saturday afternoon.
With 3,636 yards of total offense this year, Perkins has broken the single-season school record of 3,603 that he set in 2018.
"I don't think there's anything he can't do," Mendenhall said. "There's not a play he can't make. I think Bryce Perkins changes the face of UVA football. This era certainly doesn't happen without Bryce at quarterback."
This is Mendenhall's fourth season at Virginia, where his first team finished 2-10. In 2017, the Cavaliers advanced to a bowl game for the first time in six years.
In 2018, they blanked South Carolina 28-0 in the Belk Bowl to close with a victory for the first time in 13 years. And now, after vanquishing the Hokies, the Hoos have won nine regular-season games for the first time since 2007.
"I think we bought in that first season," said Hanback, a four-year starter who redshirted in 2015. "We only won two games, but we believed. We had to rip up the old and put in the new, and each year since then we've gotten better."
On hand for the locker room celebration after the game were, among others, UVA president Jim Ryan and such former players as Olamide Zaccheaus, Andre Levrone,  Evan Butts and Chris Long.
His current players paid Mendenhall what he called the "ultimate compliment," choosing him to break the rock, a postgame honor usually reserved for a player after a UVA victory.
"We know how much he cares and how much work he puts in to try to put us in the best situation to win," Perkins said.
Hanback and Perkins were among the UVA players recognized in a Senior Day ceremony before the game. Others included linebacker Jordan Mack, wide receivers Joe Reed and Hasise Dubois, tight end Tanner Cowley, and cornerback Bryce Hall, an All-American who suffered a season-ending injury against Miami on Oct. 11.
"Man, I love this team," Hall, one of the Cavaliers' captains, told defensive coordinator Nick Howell in the locker room afterward.
The Cavaliers led 13-6 at the break, but three times in the second half the Hokies surged ahead: first at 20-13, then at 27-20 and finally at 30-27.
Each time the Hoos rallied. They sweated through innumerable offseason workouts to prepare for moments like that, and their resilience was the story of this game.
"Our mindset was just to believe," Dubois said. "That's our motto this year: believe, believe, believe. Regardless of the score, we believed the whole game that we were going to win that game, and it [worked] out."
Early in the second quarter, Perkins teamed with Reed on a 32-yard completion. The Cavaliers didn't pick up another first down until late in the third quarter, when Perkins passed to Reed for a 42-yard gain.
"It took us a while to adjust," Perkins said. "It took me a while to adjust, and kind of get settled and just slow it down. [The Hokies] started adjusting really well and taking away those draw lanes and QB runs. Hats off to them, they're an aggressive defense, and they're a really well-structured and disciplined defense. So we had to find ways and different schemes that we could do to get guys open and get guys the ball and have them make plays."
Even with a noon start, the game drew a crowd of 52,619, and UVA fans were in full voice, especially in the second half. The Cavaliers finished 7-0 at home for the first time since 1991.
"For all those who attended today, I am grateful for their attendance, their support, and for what it looked like in Scott Stadium," Mendenhall said. "I had a vision or a thought of what that could be four years ago, and today was as close as I've seen to what is possible at Scott Stadium."
GAME BALLS: At the head of the list for the Cavaliers, once again, was Perkins. But UVA had plenty of other heroes Friday. They included:
• Taylor, who finished with six tackles, including a sack, two interceptions and one pass breakup.
"It's a great feeling to be a part of this," he said. "Obviously, I don't know what it's like to lose to them for 15 years, but last year was very devastating so it was nice to come out with a win."
• Alonso, who forced a fumble, recovered a fumble (forced by Mack) and made four tackles, including the sack that set up Hanback's TD.
• Reed, who had a game-high five receptions for 66 yards in his final game at Scott Stadium.
• Dubois, who finished with 139 yards –– four shy of his career high –– on only four receptions. "One of my best performances here at Scott Stadium," he said.
• Delaney, whose first kick Friday was a missed extra point. He was 3 for 3 on extra points and 2 for 2 on field goals the rest of the way. His 48-yarder was the second-longest of his UVA career.
"How fitting after a missed extra point early?" Mendenhall said. "I thought that was going to haunt us. I guess you'd have to think when was the last time, at least in my tenure, that we kicked the ball through the uprights in that kind of pressure-filled moment to win a football game? It's just another breakthrough. I'm really proud and happy for Brian because he's done a really nice job all year."
• Sophomore wideout Billy Kemp IV, who scored his first TD as a Cavalier. His 25-yard receptions gave Virginia much-needed momentum late in the third quarter and ended Tech's run of 17 unanswered points.
• Sophomore defensive lineman Aaron Faumui, who recorded a career-high seven tackles, including 2.5 for loss.
• Junior safety Joey Blount and sophomore cornerback Heskin Smith, who tied for the team lead with eight tackles each.
• Hanback, a stalwart up front who finished with five tackles, including one for loss, and scored the touchdown that effectively sealed the victory for Virginia.
"This means the world to me," said Hanback, who's from the Richmond area and grew up rooting for the Hoos. "The last time we beat Virginia Tech I was 7 years old and I'm 23 now. So to be on the team that broke the streak is the best feeling in the world."
SOUND BITES: Virginia became the seventh different team to win the Coastal in the past seven seasons. Among the postgame comments:
• Mendenhall: "First of all, to Coach Fuente and Virginia Tech, it's not an accident that their program has had the kind of success they've had. They're well-coached, they have a great vision, they have amazing support, and their players play really hard, as they did again today.
"I respect their program and I respect them as a rival. The quality of their program has helped us improve our program. They've set a standard that has been helpful for us to measure against and to grow against in the short time I've been here, and I think that's happened."
• Mendenhall: "Our team, especially our quarterback, played really well today. The stage was not too big for them. The moment was not too big for them. What was at stake was not too big for them. They believed that they were capable and prepared to perform in this setting, and they did. That started from our quarterback position, and I think that started from a year ago in this game."
• Mendenhall on the ACC championship game: "It's not an accident that we're going. We don't intend just to take a trip to see what it looks like. We're going to go try to win the game. That's what our players want and that's what we're going to work to do."
• Hanback on the Cavaliers' defensive coordinator: "Coach Howell is an awesome coach, and he just turned this defense around. We've kind of faltered a little bit here at the end [of the regular season], but we've made critical stops when we needed to make critical stops.  Coach Howell is not passive. He's going to go, and we love that. It paid off [against the Hokies]. We attacked, we hunted and we got after it."
• Virginia Tech's Bud Foster, one of the nation's most highly regarded defensive coordinators, who's retiring after this season: "Disappointed for our guys. It was a hard-fought game on both sides. It was great football game, I'm sure, from the fans' perspective. From a coach's standpoint, it was not that much fun, especially at the end there. If we were on that other side, it would be a lot of fun."
• UVA special teams coordinator Ricky Brumfield on his kicker: "I didn't even tell Delaney anything [before the 48-yard field-goal attempt]. I just had trust in him. Delaney's that type of person. One bad play, that's not the end for him. It's not how you start, it's how you finish, and he finished strong."