Subscribe to UVA Insider Articles | Jeff White's Twitter | 2020 Schedule | Ticket Information
By Jeff White (jwhite@virginia.edu)
VirginiaSports.com
 
CHARLOTTESVILLE –– For Virginia, the 2019 football season ended with a 36-28 loss to Florida in the Orange Bowl, after which Bryce Perkins conferred with his understudy. It's your time to shine, Perkins told Brennan Armstrong. Lift the team to new heights.
 
"That was kind of my torch-passed message," Perkins said in a text this week.
 
Like Perkins, Armstrong enrolled at UVA in January 2018. Perkins was a transfer from a junior college, Arizona Western. Armstrong was a freshman who'd graduated early from high school in his hometown of Shelby, Ohio. 
 
In only two seasons, Perkins established himself as one of the greatest quarterbacks in UVA history. As a senior in 2019, he led the Cavaliers to their first Coastal Division title, their first ACC championship game, and their first Orange Bowl. And now, as Perkins pursues a professional career, Armstrong, 20, is preparing to succeed him at the helm of Virginia's offense.
 
"Those are some giant shoes that he's stepping into," UVA quarterbacks coach Jason Beck said. "He's stepping into the shoes of a really successful quarterback who really raised the bar and expectations and standards. But Brennan has this really good confidence about himself, so he's not shying away from it."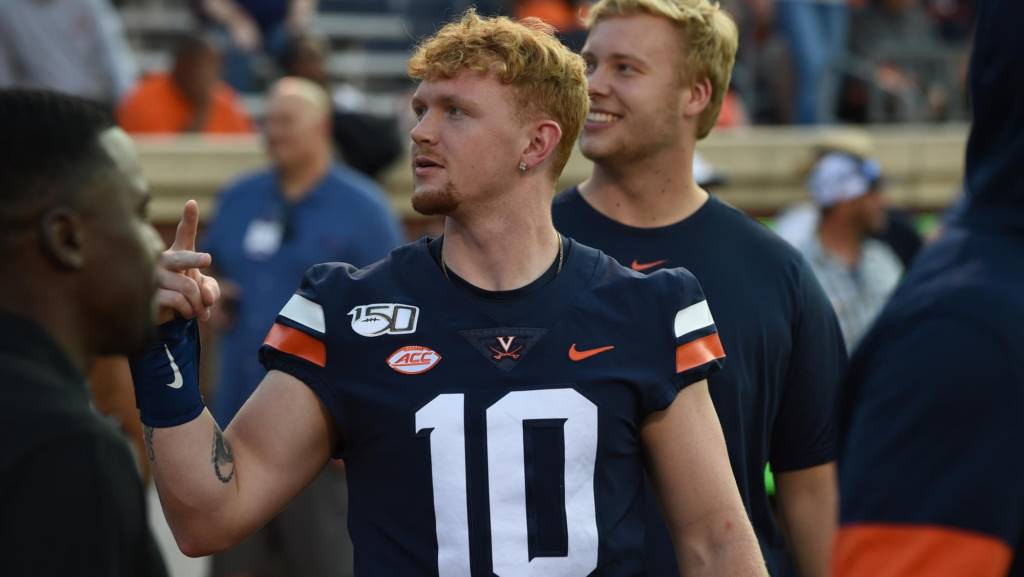 At Shelby High School, Armstrong excelled not only in football, but in basketball and baseball. With Perkins gone, Armstrong knows he'll be subject to considerable scrutiny this year. That doesn't faze the 6-2, 220-pound redhead, who has three seasons of eligibility remaining.
 
When he pitched in baseball, the left-handed Armstrong said, "I always loved being on the mound, in the spotlight. I always had the confidence to do it. It's not overwhelming to me, because you just go out there and play your sport."
 
Shawn Griswold is UVA's director of football development and performance. Athletically, Perkins has few peers, but "Brennan is exceptional in what he does, the way he attacks the weight room," Griswold said. "He likes to lift. He likes to train. I think he runs very really well. I think he throws the ball well."
 
Offensive line coach Garett Tujague, who recruits Ohio for the Wahoos, is also eager to see Armstrong perform in a leading role. "I'm excited for the Red Rocket," Tujague said, smiling.
 
In 2018, Armstrong appeared in fewer than five games––he played against Richmond, Lousville, Georgia Tech and, in the Belk Bowl, South Carolina––and so retained that year of eligibility. He finished the season 2-for-5 passing for 62 yards and one touchdown, and he carried nine times for 74 yards, with a long run of 34 yards (against Louisville).
 
The Cavaliers' coaching staff went into training camp last summer planning to use Perkins and Armstrong together at times, with Armstrong lining up at positions other than quarterback. But Perkins hurt his knee in early August, an injury that limited his availability in practice for much of training camp. Armstrong then suffered turf toe in the Wahoos' second game, a 52-17 win over William & Mary in which he completed 9 for 10 passes for 103 yards.
 
The injury was one Armstrong knew only from the Madden NFL video game.
 
"I always tell people, when I played Madden and someone would get hurt and it said, Turf toe, [out] six weeks, I'd be like, 'What is this?' I'd get upset about it," Armstrong recalled, shaking his head. 
 
He quickly learned how severe turf toe could be. "The first four weeks I couldn't run. Not a chance. There was no way. And so that was a struggle. But I rehabbed. Everything was smooth, and we got to the point where I didn't need surgery."
 
With Armstrong injured, not only did UVA's coaches scrap their plans to use the two quarterbacks together at times, they didn't call as many running plays for Perkins. Keeping Perkins healthy while Armstrong was out became paramount. Fortunately for the Hoos, Armstrong returned in October after missing four games.
 
"For a long time we assumed Brennan would have to have surgery, but he really pushed through that thing," Beck said. "He really worked and healed and was able to come back, and that allowed us to play Bryce the way we wanted down the stretch."
 
Armstrong appeared in seven games last season, in various roles. He played on the punt team in the season-opening win against Pitt. Against North Carolina, he completed a 5-yard pass to tight end Tannery Cowley for a first down on a fake field goal. 
 
On another fake field goal, against Liberty, Armstrong passed to Charles Snowden, whose primary position is linebacker, for a 24-yard gain. Armstrong also had a 44-yard touchdown pass to wide receiver Dontayvion Wicks in UVA's 55-27 win over Liberty.
 
For the season, Armstrong finished 15-of-20 passing for 196 yards and one TD, with two interceptions. He netted 19 yards on seven carries.
 
Had Armstrong stayed healthy all season, his role would have been greater. Even so, Beck pointed out, Armstrong "still had some moments where we really counted on him, especially on special teams. He had some big moments in big games.
 
"The biggest thing is, when he's gotten thrown in there he's made good plays in critical times in the games. And just to be able to handle the stage and handle the pressure when you get thrown in there, that says a lot about somebody. A lot of times guys get in there and it's really fast and it's too much for them. Brennan has that confidence, and he expects himself to go in there and make plays."
 
Like Perkins, Armstrong is a dual-threat quarterback, but their running styles aren't identical. UVA head coach Bronco Mendenhall said Armstrong runs more like Taysom Hill did when Mendenhall coached Hill at BYU. Armstrong is not one to linger too long in the pocket.
 
"One of my favorite things about him is he's really decisive," Beck said.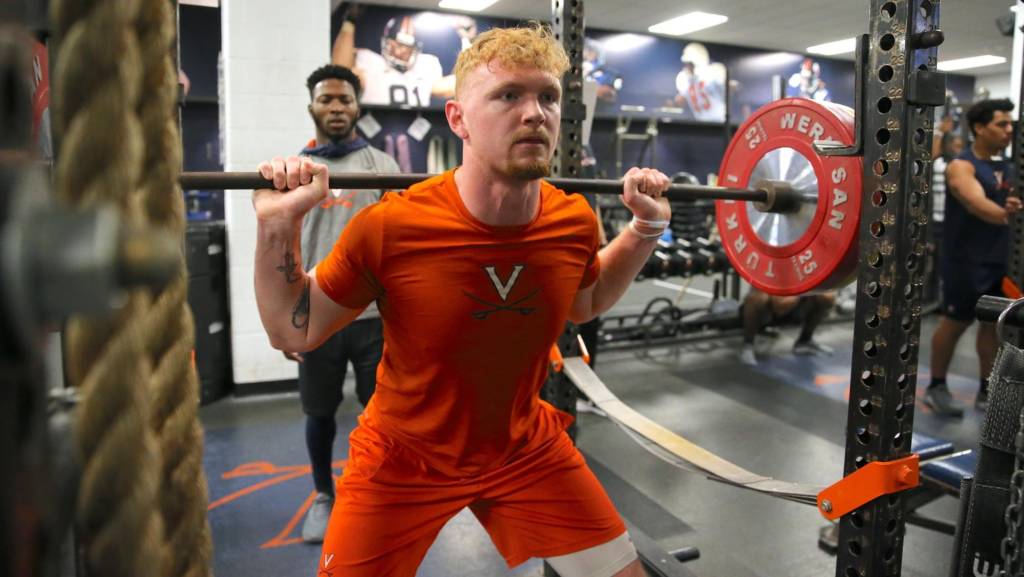 As a passer, Armstrong has a strong arm, quick release and good accuracy, Beck said, "and he's a really good runner, just in terms of reading blocks and reacting. He has really good quickness, so he'll make the first guy miss. So he some really good strengths."
 
The Cavaliers don't start spring practice until late next month. In the meantime, the players train several days each week under the supervision of Griswold and his staff. They also work with their position coaches for a couple of hours each week.
 
UVA's quarterbacks throw to the team's receivers at least one day a week, and they also study film together.
 
"I think it helps me stay sharp in a sense, mentally and physically, just throwing the ball," said Armstrong, an American studies major who's minoring in entrepreneurship. "The main thing for me right now is getting in the wide receivers' heads and seeing what they're thinking, so when we go into spring ball we can be clicking at a faster pace than maybe we'd be if we were starting off fresh."
 
Of the players who started on defense for UVA in the Orange Bowl, only lineman Eli Hanback was in his final year of eligibility. The Cavaliers' offense has more holes to fill. In addition to Perkins, who set a school record with 4,307 yards of total offense in 2019, Virginia must replace Cowley (28 receptions, 311 yards, one TD) and wideouts Joe Reed (77 catches, 679 yards, seven TDs) and Hasise Dubois (75 catches, 1,062 yards, six TDs).
 
"Those are huge production guys," said Armstrong, but he's high on the team's returning receivers, including Wicks, Terrell Jana, Billy Kemp IV, Tavares Kelly Jr. and Dorien Goddard. Moreover, UVA's offensive line included no seniors in 2019.
 
"Those guys worked their tails off and they became a good offensive line," Armstrong said, "and they're all back."
 
Beck said: "On the front, we have some guys that have played a lot of reps, and that's going to be a huge positive for the quarterback and for the offense."
 
Even so, Armstrong understands that UVA's offense must prove it can produce without Perkins, Reed, Dubois and Cowley.
 
"It makes it more exciting," said Armstrong, who rooms with offensive tackle Bobby Haskins. "We get to show people what we're about."
 
Of Virginia's quarterbacks, only Armstrong and Lindell Stone have college experience. To add depth and increase competition at this critical position, UVA expects to add a graduate transfer after this semester ends.
 
"Coach Beck and I talked about that," Armstrong said. "It just wakes me up more, when there are more bodies to compete with. So that's good for me. It gives me a sense of urgency."
 
Armstrong already works hard, Beck said, "but I think for anybody, the more you have somebody competing and pushing you, the better you'll be."
 
For now, Armstrong, like the rest of the team, is adjusting to life without Perkins.
 
"It's strange, for sure," Armstrong said. "That's all I've known. When I came in here, everything was new, and Perk was the guy with me, and we were here together the whole time. But after being here for two years and just watching everything and learning, I think I'm ready. I honestly believe I'm ready."