2020 Football Schedule | Fact Book | 4TheHoos Initiative | Fans First Ticket Program | Jeff White on Twitter | UVA Football on Twitter  | Subscribe to Jeff White's Articles
By Jeff White (jwhite@virginia.edu)
VirginiaSports.com
CHARLOTTESVILLE –– It's easy to forget, given Noah Taylor's rise to prominence later in the year, that Matt Gahm came out of training camp last summer as a starting linebacker for the University of Virginia football team.
"Matt was so consistent, he just couldn't be beat out," co-defensive coordinator Kelly Poppinga said this week.
In the season opener against ACC foe Pittsburgh, classmates Gahm and Charles Snowden started at outside linebacker in the Cavaliers' 3-4 defense, and both played well at Heinz Field. Snowden recorded 1.5 tackles for loss in UVA's 30-14 win over Pitt, and Gahm made three stops and picked off a pass.
Alas, Gahm did not emerge unscathed from his first college start. Late in the fourth quarter, with the outcome decided, he hyperextended his right knee, partially tearing his medial collateral ligament, in an awkward encounter with teammate Bryce Hall.
"That was frustrating to have to deal with," Gahm said. "Very painful."
The injury did not deter Gahm, who carries a double major (economics and religious studies) at UVA. He made three more starts in 2019 (against Florida State, Old Dominion and Notre Dame) and appeared in all 14 games. But he played most of the season with a bulky brace on his right knee that hindered his mobility.
"I really felt like that injury slowed me down a lot last year," said Gahm, now a 6-3, 235-pound senior. "I felt like I was not running and cutting nearly as fast as I was able to in the preseason or am able to right now, so that was frustrating, feeling like I was hampered a lot in my playmaking ability. So it's a relief this year to be relatively healthy going into the season. I feel like I can run at full speed."
The pain persisted throughout the season, and it "was pretty terrible to have to play through," Gahm said. "It kind of took a toll on you mentally as well, knowing that you might not have the ability to do stuff that you feel like you could.
"I thought it was also good for me personally, though. It helped me develop my toughness, just knowing that there's nothing I can do, these are the cards I've been dealt. I kind of just had to man up and play with it and not complain."
Born and raised in Dallas, Gahm graduated from Highland Park High School, a football power in the Lone Star State. As a senior in 2016, he helped Highland Park win the Class 5A Division I state title in front of more than 35,000 fans at AT&T Stadium, home of the NFL's Cowboys. (His teammates included Cade Saustad, now a standout defenseman on the UVA men's lacrosse team.)
In the summer of 2017, Gahm enrolled at Virginia as part of a recruiting class that has helped transform head coach Bronco Mendenhall's program. Gahm was one of 17 true freshmen to play for UVA that fall. The Hoos, 2-10 in 2016, improved to 6-7 in 2017, to 8-5 in 2018, and to 9-5 last season, when they won the ACC's Coastal Division for the first time and made their first appearance in the Orange Bowl.
"It's been awesome," Gahm said. "It's been incredibly gratifying to see the direction the program has taken and direction that Coach Mendenhall has steered it in."
He played in seven games as a true freshman, exclusively on special teams. In 2018, he worked his way into the rotation at outside linebacker, and his role grew again in 2019. Even at less than full speed, Gahm had an impact.
In the regular-season finale, UVA rallied to defeat Virginia Tech 39-30 at Scott Stadium, ending a 15-game losing streak in the series. In the fourth quarter, Gahm stopped quarterback Hendon Hooker, on a third-down draw, for no gain at the UVA 29, and the Hokies had to settle for a field goal.
Gahm wasn't through. With the Cavaliers leading 33-30, he recorded the second of three consecutive sacks. Blitzing from the right side, Gahm dropped Hooker for a 9-yard loss at the Tech 7. On the next play, Mandy Alonso sacked Hooker in the end zone, forcing a fumble that another defensive lineman, Eli Hanback, recovered for a touchdown with 1:01 remaining.
"It was a lot of fun playing in that game personally, making some plays, and feeling a little bit better than I did at the beginning of the season," Gahm said. "I didn't feel like I was nearly close to 100 percent still, but mainly it was just fun being part of that as a team. At the end of the day, it's all about being a part of something bigger than yourself."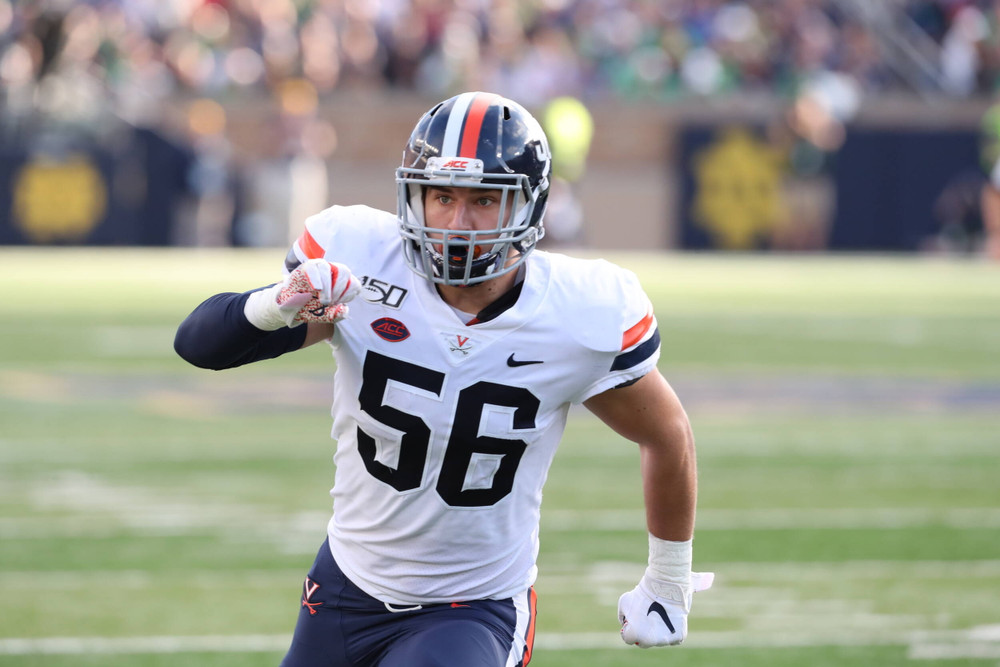 As the season went on, the playmaking ability of Snowden and Taylor, towering bookends at 6-7 and 6-5, respectively, became a major storyline for the Cavaliers. No. 56, if not always as noticeable on the field, played a key role, too.
"They're more the flashy guys, where Gahm is the guy that's going to go in there, down in and down out, and physically just want to go up against any challenge," said Poppinga, who coaches UVA's outside linebackers. "He's not the finesse guy. He's not the run-around guy. He's the guy that wants to go through it, and we've needed that to balance out that group.
"He's the guy that kind of goes in there and does all the dirty work at times. He plays the run really well, but he has his opportunities to get after the quarterback and do some good stuff there as well. He can also drop into coverage. It's not going to look the prettiest, but he does some good stuff … He's just as capable as those guys; he just does it in a different way. I can trust him in any scenario, and really I feel like I don't lose a beat with him in there."
This fall, Poppinga said, "I think Matt's role will increase as well, because there are some things we want to do where we can have Charles and Noah and Gahm all on the field at the same time."
Gahm backed up Chris Peace in 2018, and they have much in common, Poppinga said. "Chris was a little more polished in the pass rush. I'd say Matt's better in coverage than Chris was. But Chris' pass rush is a little farther ahead than Matt's, and that's really what we've been working a lot in this offseason, getting Matt to win one-on-ones in the pass-rush game. But they're very, very similar type of players, with a very similar type of mindset: high effort, high motor, very reliable."
Three of the other upperclassmen in Poppinga's position group––Snowden, Taylor and Elliott Brown––are from Maryland, not far from Washington, D.C. Gahm adds a different flavor to the room.
"He's the stereotypical Texas kid," Poppinga said, laughing. "He loves Texas. He loves his hunting, he loves his outdoors. He brings a great personality and balances out our room a little bit with a little different culture than most of the group."
Gahm said: "I drive a truck, and I love to hunt and fish, and I love the outdoors. But I enjoy meeting people from different parts of the country. It's been great broadening my world view, being able to meet people from different background and make great friends."
He could see himself working in the D.C. area for a while after graduating, Gahm said, "but long-term, yeah, I'd definitely like to move back to Texas. I love it there."
Teammates who share his passion for the outdoors include offensive lineman Joe Bissinger, who's from Houston, and tight end Tony Poljan, who's from Lansing, Michigan.
"It's been kind of cool connecting with him over that," Gahm said of Poljan, a graduate transfer from Central Michigan.
"I can trust him in any scenario, and really I feel like I don't lose a beat with him in there." -- UVA outside linebackers coach Kelly Poppinga on Matt Gahm
For the Cavaliers, the 2019 season ended on Dec. 30 with a 36-28 loss to Florida in the Orange Bowl. Not until the offseason did Gahm's knee feel completely healthy again. In March, he moved up to blue, the second-highest level in the team's strength and conditioning program.
"It felt like a lot of hard work paid off," Gahm said.
"Matt is awesome," said Shawn Griswold, Virginia's director of football development and performance. "Extremely hard working, tough and full of grit. He is an amazing young man to be around."
Since leaving Dallas for Charlottesville in 2017, Gahm said, he's "encountered a lot of difficult situations that have grown me into the person I am today. I'm a lot mentally tougher than I was coming into this program, which is something I'm really grateful for. I think our coaching staff does an awesome job of [preparing young players] to handle anything that life throws at them, not just on the football field, but off."
UVA was scheduled to open the season Saturday in Blacksburg, only to have the game postponed because of COVID-19 issues at Virginia Tech. The Cavaliers' new opening date: Sept. 26 against Duke at Scott Stadium.
Duke, which opened last weekend against Notre Dame, plays Boston College on Saturday. After this weekend, UVA and Virginia Tech will be the only ACC teams not to have played at least one game.
When the Blue Devils start preparing for their trip to Charlottesville, "they'll have extra games under their belt, extra experience, extra film to watch," Gahm said. "That's going to be a little bit of a hurdle to overcome, but overall I think we're going to be really ready.
"The Tech situation obviously was out of our control. We were ready to play them. That's the hand we've been dealt, and that's what we've got to deal with, and I think we'll be ready to go. Everybody's excited to get back on the field."