UVA Game Notes | Duke Game Notes | UVA Football on Twitter | Jeff White on Twitter | Subscribe to Jeff White's Articles | 4TheHoos Initiative | Fans First Ticket Program
By Jeff White (jwhite@virginia.edu)
VirginiaSports.com
CHARLOTTESVILLE –– Senior safety Joey Blount has played in 38 games for the University of Virginia football team. His parents, Tony and Marie Blount, have attended every one of them, and they'll be at Scott Stadium on Saturday for the Cavaliers' season opener.
The Blounts, who live in the Atlanta area, won't have much company in the stands. In a game to air on ACC Network, Virginia meets Duke at 4 p.m., and with the COVID-19 pandemic ongoing, attendance at 61,500-seat Scott Stadium is restricted to players' families and guests.
UVA's regular-season finale in 2019, a 39-30 win over Virginia Tech, drew a crowd of 52,619 to Scott Stadium. Blount, whose father was an All-ACC safety for the Cavaliers, would love to play in a similar environment Saturday. "But at the end of the day, even though I would want all the fans there and I appreciate all they do for us, my mom and my dad and my family always come first," he said.
"One of the pillars we have here is Family First, Last, Always, and that pays tribute back to my own family. I would rather have my parents here than anyone else. If I can look up to the stands and see my mom and dad there, that makes me happy, no matter if there's thousands of people or just those two."
Football fans are familiar with what are considered the three phases of the game: offense, defense and special teams. Under head coach Bronco Mendenhall, the Wahoos have also emphasized the importance of another group. Known as The 4th Side, it consists of the fans in the stands and the players on the sideline, who combine to provide loud and energetic support to the Cavaliers on the field.
With attendance dramatically reduced this season, UVA players who aren't in the game will be asked to be even more demonstrative.
"We have trained for it, it is emphasized, but it is a new team and there are new players on that side," said Mendenhall, who's in his fifth season at UVA. "It's a culture that's unique to the program, meaning that it's been in place, but this year's team has a new version and a new challenge to take on.
"So, I would expect us to be coaching The 4th Side after this game, just like we're coaching every other spot, and [learning] what we can do better to help our team win and to provide the support that really would make a difference to everyone on our team."
Before the pandemic struck, the Hoos expected to open the season against Georgia in the Chick-fil-A Kickoff Game, Sept. 7 in Atlanta. That game was canceled, after which Virginia was scheduled to open the season Sept. 11 against Virginia Military Institute at Scott Stadium.
That game was scrapped as well. Then came schedule 3.0 for the Hoos. UVA was supposed to open Sept. 19 against Virginia Tech in Blacksburg, but a COVID-19 outbreak in the Hokies' program forced that game to be postponed. (It has since been rescheduled for Dec. 12).
For a UVA team that reconvened on Grounds in early July after more than three months apart, the wait has seemed interminable at times.
"We're just hungry to play," Blount said after practice Thursday. "It's hard watching other ACC teams play and have two games under their belt, and we're still at home practicing against each other. We work hard every day, but I think the guys are tired of practicing against each other. We want new competition, we want to see new faces, we want to see where we're at."
Blount's closest friends include classmate Mandy Alonso, one of the Cavaliers' starters on the defensive line.
"We're super ready to hit another team and hit someone else other than our own teammates," Alonso said on a Zoom call Wednesday. "It's definitely felt strange being here for so long and practicing for so long and not having a game. It's felt like we've been in a constant loop of practice, but the last week and a half, we've been locked in for Duke, and it's been feeling really good, each and every day."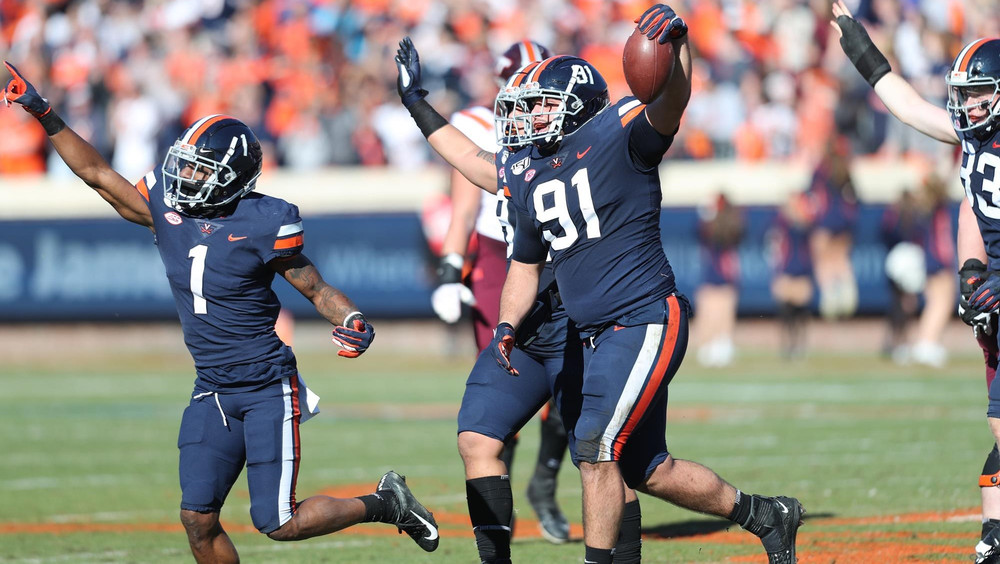 The Blue Devils opened Sept. 12 with a 27-13 loss to Notre Dame, which is competing as an ACC team this season and also was playing its first game. Last weekend at Wallace Wade Stadium, Duke lost 26-6 to another ACC team playing its opener, Boston College.
Asked Tuesday about his team's schedule, Duke head coach David Cutcliffe called it "the craziest thing I've ever been through. I doubt this has ever happened in college football, where a team had three openers [for opponents], three games you play where you have no film to study. We know a lot about Virginia, but you're still not looking at the 2020 version of Virginia. Any changes that they've made, we don't know exactly what they're going to be. It's been challenging. Our players are a little irritable about it, to be real honest with you. It's a unique setting. It's what we've been given. We have to deal with it and just move forward."
The pandemic has resulted in some scheduling quirks for ACC teams. This marks the second consecutive season in which UVA and Duke will meet in Charlottesville. In 2019, en route to winning the ACC's Coastal Division for the first time, the Hoos hammered the Devils 48-14 at Scott Stadium.
The stars of that Virginia team included quarterback Bryce Perkins, who's now pursuing an NFL career. His successor, redshirt sophomore Brennan Armstrong, will be the subject of considerable scrutiny Saturday as he takes over an offense that also lost talented wide receivers Joe Reed and Hasise Dubois.
If the Cavaliers' offense has something to prove this fall, so does a defense that faded last season after losing numerous key players, many of them in the secondary, to injuries.
"At the beginning of the year, we were as a defense really showing our true colors," Blount said. "Our potential was coming to the surface level, and we were playing to a level of intensity that we expected. But in football, injuries come. Every team has to go through it, and you have to work around that."
Eli Hanback, Jordan Mack and Bryce Hall were seniors last year, and Aaron Faumui, an emerging force up front, has opted out this season. Even so, the Cavaliers' defense is stocked with veterans, including Blount, Alonso, Richard Burney, Jowon Briggs, Zane Zandier, Charles Snowden, Noah Taylor, Matt Gahm, Elliott Brown, Nick Jackson, Nick Grant, Darrius Bratton, De'Vante Cross and Brenton Nelson.
Moreover, Virginia's defense added two graduate transfers from FCS power James Madison University this summer: linemen Adeeb Atariwa and safety De'Angelo Amos.
"Just as a whole, we want to be better than we were last year," said Blount, who was second on the team in tackles last season. "If you're not better than yesterday, you've gotten worse. So we look at it from that perspective. We have all the guys back, we've got pieces for the puzzle. Now it's just time to put them together and do what we've got to do."
The Cavaliers are seeking their sixth straight victory in a series that started in 1890. The ACC's original 2020 schedule, released on Jan. 22, called for Virginia to play Duke on Nov. 13 at Wallace Wade Stadium. Instead, thanks to the pandemic, the teams will meet Saturday in a nearly empty stadium––in Charlottesville, not in Durham.
So be it, said UVA wideout Terrell Jana.
"I'm just ready to attack, ready to try and make plays, but also I don't have too many high highs or low lows," Jana, who's from British Columbia, said on a Zoom call Monday.  "I'm a pretty even-keeled guy. Hopefully for the younger guys the excitement won't be too much. There's no fans there, so that aspect won't be a hurdle for them. I grew up playing football in Canada, so I'm used to having no fans at my games."
To receive Jeff White's articles by email, click here and subscribe.