Box Score | Photo Album | Postgame Notes | UVA Football on Twitter | Jeff White on Twitter | 4TheHoos Initiative
By Jeff White (jwhite@virginia.edu)
VirginiaSports.com
CHARLOTTESVILLE –– The University of Virginia football team enters every game with specific goals. Among other objectives, Virginia wants to score at least 24 points and allow no more than 24 points. If that happens, head coach Bronco Mendenhall's analysis has shown, the Cavaliers will usually win.
On a wet Saturday night in South Florida, UVA faced No. 11 Miami, which came in averaging 35.6 points per game. The Wahoos held the Hurricanes to 19 points, but still left Hard Rock Stadium with a four-game losing streak.
"It's hard to imagine that 19 points would win the game for Miami," Mendenhall said on a Zoom call after his team's 19-14 loss, but that was the case.
UVA scored a touchdown on its first drive, thanks to senior tight end Tony Poljan's brilliant footwork in the back of the end. Nearly 50 minutes came off the clock before the Cavaliers (1-4 overall, 1-4 ACC) scored again, on a 35-yard pass from sophomore quarterback Brennan Armstrong to senior wide receiver Ra'Shaun Henry with 5:27 left.
"The defense did their part," Armstrong said on a Zoom call. "We didn't do our part, and it [stinks]. Knowing that we left touchdowns out there tears at us, but we know that we moved the ball well … I felt tonight was a step in the right direction, even though the points weren't there. We've just got to take that next step. Those points gotta be made, and we gotta communicate, be on the same level."
A communication breakdown late in the first half resulted in a penalty that negated a 24-yard touchdown pass from Armstrong to Henry, a graduate transfer who had yet to make a catch as a Cavalier. The game was tied 7-7 at the time.
"We just can't have those [mistakes]," Armstrong said. "That's all on me. We got to make sure everybody's situated, I got to make sure everyone's situated on those things. We need those touchdowns to win those games."
After Henry's fourth-quarter touchdown, the Hurricanes (5-1, 5-1) nearly ran out the clock. The Cavaliers had no timeouts left, and Miami twice extended its drive with third-down conversions. The second one came on a late penalty against senior cornerback Nick Grant for pass interference.
That the Hoos had used their third and final timeout of the half with 12:04 to play, before a two-point conversion attempt by Miami, proved costly. UVA called its first two second-half timeouts to rest its tired defense.
"The third one was totally a mistake on our part and my part," Mendenhall said. "The defense wasn't ready for a two-point play, had the wrong personnel out on the field, [with] miscommunication, and had to use it."
Virginia foiled the Canes' conversion attempt, keeping the score 19-7, but could only watch helplessly late in the game as the seconds ticked off the clock. When the Hoos finally got the ball back, only 23 seconds remained, and they were 80 yards from a game-winning touchdown.
"That was not by design nor was it good time management, nor was it good communication by my staff," Mendenhall said.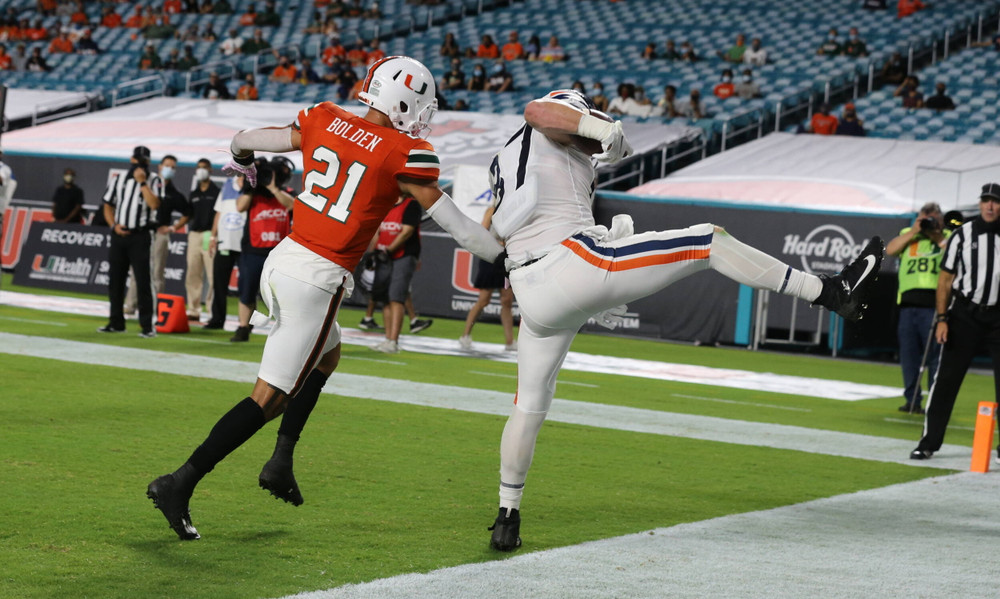 Among the Cavaliers unavailable Saturday night were wideout Lavel Davis Jr., the team's best deep threat, and starting safeties Joey Blount and Brenton Nelson. But Armstrong, who hadn't played since suffering a concussion against NC State on Oct. 10, was cleared to return early last week and looked sharp for much of the game Saturday night.
Armstrong finished 16-of-30 passing for 181 yards and two touchdowns and rushed 15 times for a career-high 91 yards. He wasn't intercepted. The Cavaliers totaled 366 yards, 25 more than their average entering the game, but breakdowns in key situations doomed the offense.
"We just shot ourselves in the foot," Armstrong said.
On defense, the Cavaliers settled down after Miami opened the game with a two-play touchdown drive that covered 75 yards. UVA finished with five sacks and recorded 11 tackles for loss.
Senior outside linebacker Charles Snowden tied his career high with 3.5 tackles for loss in what was far and away his best performance of the season. Sophomore inside linebacker Nick Jackson made a career-best 16 tackles. The Cavaliers' secondary struggled to keep up with wideout Michael Harley, who had 10 catches for 170 yards and one touchdown, but the Canes averaged only 2.5 yards per carry.
"I think this defense tried its heart out, left everything on the field," Snowden said. "Every guy was flying around hitting stuff, making plays. There were [breakdowns] obviously, one or two plays here and there, but from an effort [standpoint], from a heart standpoint, this whole defense can walk out with their head held high."
Virginia's defense will be tested again next weekend. For the second straight Saturday, UVA will be featured in ACC Network's 8 p.m. slot, this time against No. 14 North Carolina (4-1, 4-1) at Scott Stadium.
UNC, which hasn't defeated UVA since 2016, is coming off a 48-21 rout of No. 23 NC State in Chapel Hill.
"It's one week at a time," Snowden said of the Cavaliers' mindset. "We're just focused on football. Not looking too much to the outcomes. Just focusing on the next play and the next opponent."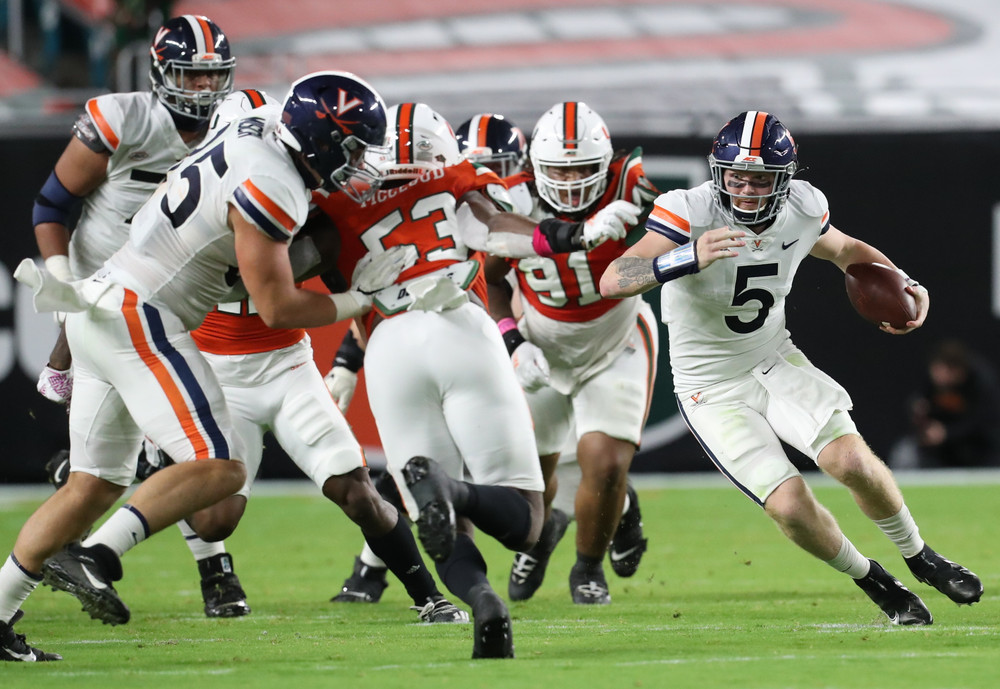 SOUND BITES: The loss to Miami was UVA's fifth in the teams' past six meetings.  Among the comments afterward:
• Mendenhall: "Our team tried hard, and they're tough and they're physical and they're resilient, and I thought they played well. I thought they played a really hard game, and they played with a lot of heart and great mindset and supported each other, and [it was] probably the most physical and the most intense they played the entire year. So I celebrate that."
• Snowden on his breakthrough performance: "I got off to a slow start [this season], obviously. Honestly, there was a point where I just kind of looked at myself in the mirror and [realized] I could keep pouting about how this is not how I want my senior year to look. But I talked to a lot of my teammates, a lot of my closest friends, and they really helped me through it. At the end of the day we're playing football, and I've got to start playing like myself."
• Armstrong: "It just [stinks] to lose. That's the toughest part. But I think we get put in a lot of tough situations in life, and whatever anybody says about it doesn't matter. We're just going to keep plucking along and keep trying to win a game."
• Armstrong on the concussion that sidelined him for six-plus quarters: "That was something that I've never experienced, having to watch the game [from the sideline]. That was tough on me. As I said earlier, reflecting on that concussion just makes me not want to take anything for granted."
• Armstrong on Henry, who caught 90 passes last season for St. Francis, an FCS program in Pennsylvania: "We've slowly worked on chemistry, and he took a huge role [in practice] this week coming into this game, and I think we connected well … I'm really excited to see how [we] continue to grow."
• Mendenhall on Henry: "We needed him and we need him. We need extra players and more players to emerge at receiver. That was a bright spot, that he was able to do that tonight."
• Miami head coach Manny Diaz: "You got to give Virginia credit. We know that they've got a prideful defensive football team. They're hard to run the ball against."
To receive Jeff White's articles by email, click here and subscribe.