UVA Game Notes | UNC Game Notes | ACC Weekly Release | UVA Football on Twitter | Jeff White on Twitter | 4TheHoos Initiative | Fans First Ticket Program
By Jeff White (jwhite@virginia.edu)
VirginiaSports.com
CHARLOTTESVILLE –– Another game, another 8 o'clock kickoff for the University of Virginia football team, which hosts North Carolina in that time slot Saturday night.
For the Cavaliers (1-4, 1-4), this will be their third 8 p.m. appearance on ACC Network this season, and a fourth is coming on Nov. 7, when Louisville visits Scott Stadium.
In years past, large, rowdy crowds have been the norm at night games in Charlottesville. With the COVID-19 pandemic ongoing this season, attendance at Scott Stadium is restricted to the players' family members and guests.
That's less than ideal for creating a decided home-field advantage, but the Wahoos try not to worry about things out of their control.
"Truthfully, I just love to play football," junior running back Wayne Taulapapa said on a Zoom call Monday. "It could be at 8 in the morning. At the end of the day, as long as we get to play, that's the most exciting part. Obviously, not having fans there, if it's a late game, it's a little different, but we have our brothers on the sideline acting as the Fourth Side, and our family members, which is the most important part. We just gotta play football, no matter what time of day it is."
In head coach Bronco Mendenhall's program, the Fourth Side consists of the UVA players on the sideline and, at Scott Stadium, the fans in the stands.
With so few spectators allowed in, Mendenhall said on a Zoom call Monday, it "doesn't feel like Scott Stadium normally does … We love being at home. We love being in our own stadium. But to say it's the same, I don't think that's fair, because it's really not. We miss the support, and so we're really focusing on the Fourth Side, which is our own players, because we know there's another Fourth Side supporting from afar, but we're really trying to help that become our advantage as well."
Since opening the season with a 38-20 win over Duke, Virginia has lost four straight: to No. 1 Clemson, NC State, Wake Forest and No. 12 Miami. Those four teams have a combined overall record of 18-5, and the Hoos' schedule gets no easier this weekend.
The Tar Heels returned most of the key players, including quarterback Sam Howell, running back Michael Carter and wide receiver Dyami Brown, from a team that finished 7-6 in 2019. UNC, which has stumbled only once this season, in an Oct. 17 loss at Florida State, is coming off a 48-21 rout of then-No. 23 NC State in Chapel Hill.
Among ACC teams, only top-ranked Clemson (48.2) averages more points per game than North Carolina (37.8). The Heels rank first in total offense (531.2 yards per game), second in rushing offense (249.0 yards per game), and second in pass offense (282.2).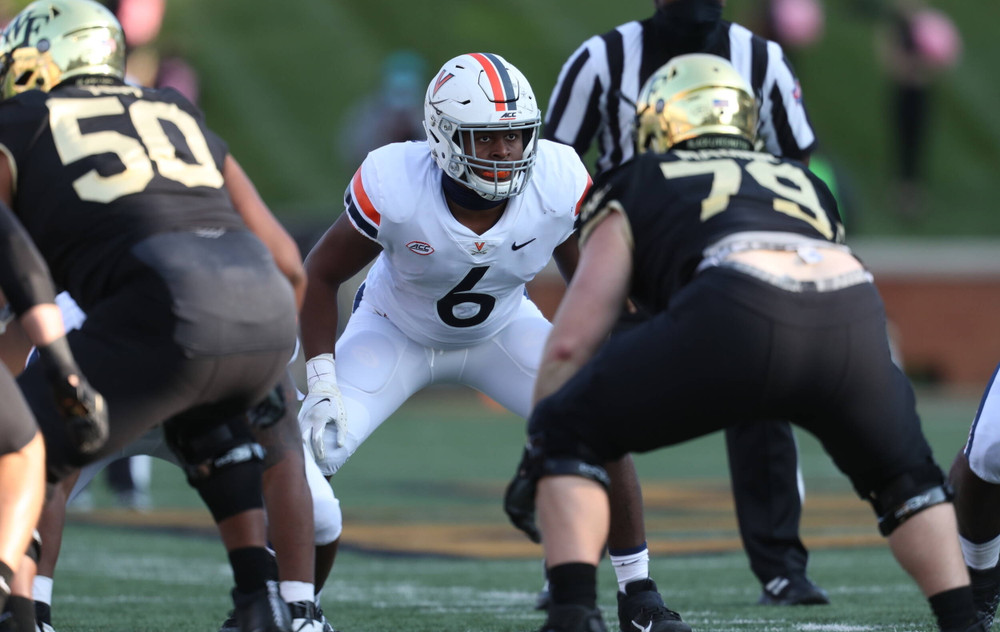 In its most recent game, a 19-14 loss at Miami, Virginia played without its starting safeties, seniors Joey Blount and Brenton Nelson. The Cavaliers gave up only 122 rushing yards and sacked D'Eriq King five times, but they allowed 322 passing yards. For the season, UVA is allowing an average of 286 passing yards per game, the most of any ACC team.
"Our secondary over the past couple of weeks hasn't been as consistent in their execution or communication, and so big plays have been more than what we would have liked," Mendenhall said. "Execution, execution, execution in the back end will lead to consistency. We just need that to happen sooner rather than later. There are some new pieces [in the secondary], but that's just the way college football works. And so we need to get them caught up to speed and executing at a high level as fast as possible."
Untimely penalties and mistakes hurt the Hoos against Miami, but Mendenhall applauded his team's competitive spirit and resilience. Coming off a season in which they won the ACC's Coastal Division, the Cavaliers are unaccustomed to long losing streaks. But they remain united.
"I told the team this morning, this is one of the toughest teams I've ever coached," Mendenhall said. "They are so physically tough, but also mentally tough."
The Cavaliers' "emotional energy" was uncharacteristically low against NC State, Mendenhall said, but "I saw an intentional increase versus Wake and another intentional increase versus Miami. And so they're motivated, and they believe they're a good football team, which is really important."
Virginia is seeking its fourth straight victory over UNC. His players realize their mistakes must be corrected "to have the outcome they want," Mendenhall, "but we're really not focusing on the outcome, [and] that's hard for grown-ups sometimes too, myself included, in an outcome-driven business."
Instead, Mendenhall said, the Hoos are focusing on the process, "focusing on what you can give every single play, knowing that the outcome will manifest [itself]. At some point, it always does and always has in our program."
Sophomore inside linebacker Nick Jackson, who leads UVA with 53 tackles, said the "challenge is to just to keep on bringing the effort every week. Every week we're going to continue to bring the effort, because I think that what's Virginia football is and I think that's what our coaches have instilled into us, and that's the standard. Total effort is what we're about … I think effort drives outcome. With a lot of effort, you're going to probably get the outcome you want most of the time."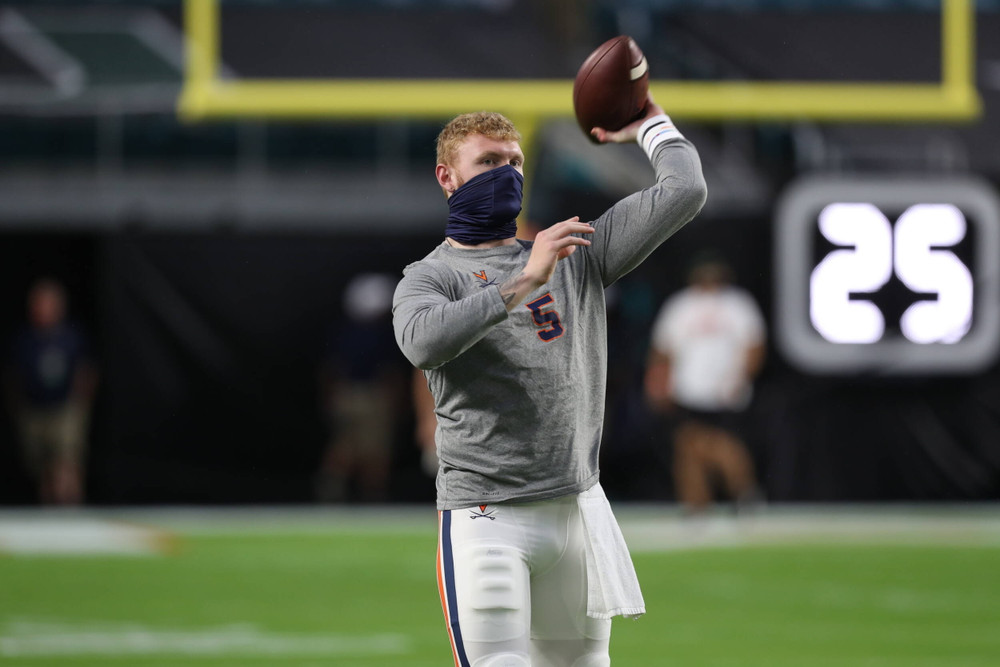 UVA quarterback Brennan Armstrong's effort is never in question. The redshirt sophomore returned for the Miami game after missing the previous six-plus quarters with a concussion. Armstrong passed for 181 yards and two touchdowns, with no interceptions, and rushed for a career-best 91 yards against the Canes.
"We're a different team with Brennan, the throws he can make, how tough he is when he scrambles, just his leadership style," Mendenhall said. "I watched from the sideline against Miami and this team, this year, went to Miami, as well as going to Clemson [on Oct. 3], and played with more resolve and more consistent spirit than [UVA showed against] Clemson and Miami a year ago, even though we didn't have the outcomes that we wanted. I liked this year's team's effort and mindset better, and I think Brennan has a lot to do with that. So he makes a difference for us, even though it hasn't shown on the outcome yet."
Taulapapa, the team's leading rusher (60.2 yards per game), said the Hoos must draw motivation from this challenging stretch.
"We don't want to be 1-4," Taulapapa said. "Obviously, there are better situations that we'd like to be in, but that's the situation we're in now, and we've got to work with it and move on and work for the outcome that we want."
Jackson said: "We're all capable of more. We all know that there's more in us. We gotta keep pushing and try to get out of this losing streak."
Three of UVA's past four games have been on the road. Now comes a three-game homestand (UNC, Louisville and, on Nov. 21, Abilene Christian) for the Cavaliers, who won't play on the road again until Nov. 28.
"Scott Stadium is just home for us," Jackson said. "We're always treating Scott like it's a special place, because it is a special place for us, and we bring the Fourth Side wherever we go. It's always nice to be at home."
To receive Jeff White's articles by email, click here and subscribe.