UVA Game Notes | UNC Game Notes | ACC Weekly Release | UVA Football on Twitter | Jeff White on Twitter | 4TheHoos Initiative | Fans First Ticket Program
By Jeff White (jwhite@virginia.edu)
VirginiaSports.com
CHARLOTTESVILLE –– For University of Virginia wide receiver Ra'Shaun Henry, his long-awaited first catch for his new team was a moment to treasure last weekend at Hard Rock Stadium. Then he saw the flag.
A penalty on another Cavalier wiped out quarterback Brennan Armstrong's apparent 24-yard touchdown pass to Henry, which would have broken a 7-7 tie with then-No. 11 Miami late in the second quarter.
At that point, Henry would have forgiven for wondering if he'd ever record a reception for Virginia, but "I try not to think about stuff like that," he said after a practice this week.
"My teammates were encouraging me," said Henry, a 6-3, 190-pound graduate student in the UVA School of Education and Human Development. "They saw me down a little bit about how the touchdown got called back. My teammates and coaches just lifted me up, and they kept telling me, 'It's going to come again. Keep running and keep doing what you're doing.' "
Armstrong went back to Henry in the fourth quarter, and this time nothing spoiled the celebration. Henry's 35-yard touchdown reception cut the Hurricanes' lead to 19-13, and Brian Delaney's PAT made it a five-point game.
"I was like, 'Shoot, we should have been throwing him the ball the whole time. Every catch is a touchdown,' " UVA wide receivers coach Marques Hagans said, laughing.
His breakthrough brought him joy, Henry said, as well as relief. "I haven't really had any production yet, so that was big for me, but I try not to get too excited. I try to focus on getting to that next play and doing it again."
The Cavaliers ended up losing 19-14 to Miami, but another opportunity for them to upset a ranked opponent comes Saturday night. At 8 o'clock, in a game to air on ACC Network, Virginia (1-4, 1-4) meets No. 15 North Carolina (4-1, 4-1) at Scott Stadium.
The Wahoos are likely to be without 6-7 wideout Lavel Davis Jr. for the second straight game. "That's a huge target that we don't have," Henry said, "so somebody has to step in and take that role, whether it's me or somebody else."
Henry, 22, enrolled at UVA in July after graduating from Saint Francis University with a bachelor's degree in business management. He spent four years at Saint Francis, a Catholic school in Loretto, Pennsylvania, a small town about 80 miles east of Pittsburgh.
An injury forced Henry to redshirt in 2016, and he posted modest statistics the next two seasons, totaling 241 yards (and one touchdown) on 19 receptions. As a redshirt junior in 2019, however, he had 90 catches for 1,118 yards and nine TDs and made the All-Northeast Conference first team.
In his final game for the Red Flash, Henry caught 12 passes for 193 yards and three touchdowns in a Nov. 23 win over Delaware State.
Coming off a season in which its two most productive wideouts, Hasise Dubois and Joe Reed, were seniors, UVA wanted to add experience and talent at that position, and Henry had both. He hasn't had the immediate impact in head coach Bronco Mendenhall's program that many expected, but Hagans believes Henry, who sat out Virginia's Oct. 17 game at Wake Forest for medical reasons, will find his niche in the offense.
"I think the one thing he does appreciate is that from day one he wasn't lied to about what would be in front of him," Hagans said. "He understands that he's growing, and maybe the stats don't reflect that, but he's becoming a better player. And so that's one of the things that I see and appreciate. I see growth in him as a player, and he has gotten better since he arrived. I think once he really maximizes his ability, he'll make us a very viable threat offensively in the passing game, so we're hoping that continues."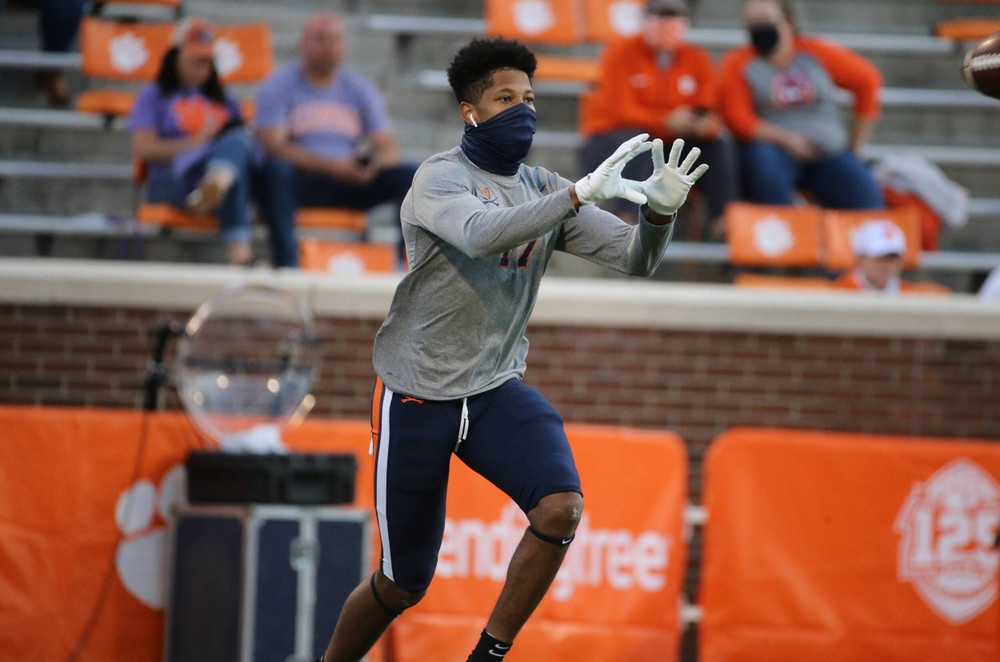 Henry, whose mother, Kim, served in the U.S. Army, was born in Fayetteville, North Carolina. When he was young, the family moved to Killeen, Texas, about 70 miles north of Austin. Henry attended Copperas Cove High School, from which Robert Griffin III graduated in 2008. Griffin won the Heisman Trophy as Baylor's quarterback in 2011.
"It's crazy, because I was running AAU track with him," Henry said. "I've known him since I was about 7. I was racing against him. I was starting at the 50-meter mark, and he was starting on the 110 hurdles, and he would be beat me every time. That's how that went."
Henry, who's still close with Griffin's family, was an unheralded recruit on whom the Lone Star State's many Division I programs passed.
"I had zero stars coming out of high school," Henry told reporters in August. He had plenty of Division II scholarship offers, he said this week, "but I didn't want to go D-II." And so he ended up at Saint Francis, which competes in the NCAA's Football Championship Subdivision.
Henry experienced serious culture shock at Saint Francis, whose enrollment is about 2,300.
Loretto is "very little town, and it snows there," Henry said, smiling. "I was not used to practicing in the snow. So the weather and the environment were different, but I honed in and built relationships with my teammates and coaches, and I met some great people there. That's what got me through that four years."
He grew about two inches and added some 20 pounds at Saint Francis, which made him an attractive target when he entered the transfer portal this year. Initially, Henry was interested in transferring to a program closer to his hometown, "but that didn't really work out," he said. "UVA found me, and now I'm here."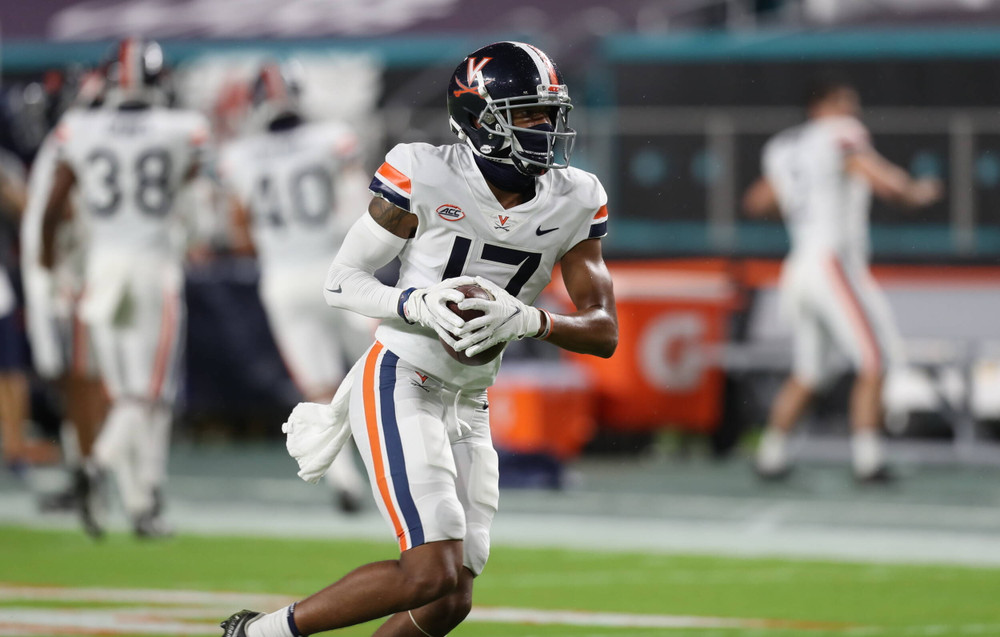 He lives with running back Ronnie Walker Jr., a transfer from Indiana University. With the COVID-19 pandemic ongoing, all of Henry's classes this semester are online, and he's still not especially familiar with Grounds.
"They took us on a little mini-tour, but I still haven't really seen the whole campus," Henry said. "I usually just go from [the McCue Center and the Cavaliers' practice facilities] back to my apartment."
In a demanding program whose foundation is its earned-not-given culture, Henry has fit in well. The team's leaders placed him in the second group of players to select jersey numbers in August. He chose No. 17.
"It's actually been a great experience," Henry said. "I've never been through something like this before, where the coaches are so detailed and hone in on your practice habits and things like that. The coaches here, they're very encouraging, and they try to put you in the best situations as possible for you to succeed, and that's on the field and off the field."
Newcomers to the program learn quickly that Mendenhall's coaching philosophy is not the norm everywhere.
"Our job as players is to kind of voice that to them, that this is a program [like] no other," junior running back Wayne Taulapapa said. "We earn everything that we have here. There's a lot of hard work to be done. It's nice to see come in and buy into that."
His new teammates were welcoming, Henry said. "I was comfortable as soon as I got here."
Hagans, who starred at quarterback and wideout at UVA, has been a source of support, too.
"I think he's just scratching the surface of what he can become," Hagans said. "He's really bought in. The question was not so much how his talent would be, but how he would be as far the culture in the [position] room, because receiver is a very delicate position."
Hagans laughed. "Everybody is cordial [to each other], but when the ball starts going up in the air, everybody wants it. There's not enough to go around. But I think he's added to our culture, he's learning our ways, and so far he's really been a pleasure to coach and have a part of our room. I'm thankful he's a part of our team.
"I'm hoping that he finds his stride. You root for good people, and he's really worked. He wasn't where we wanted him to be when he first came in. He could have gone the opposite way, but he decided to embrace it and work hard and work through it, and I'm appreciative of that. Not everyone can do that."
To receive Jeff White's articles by email, click here and subscribe.