UVA Game Notes | Louisville Game Notes | ACC Weekly Release | UVA Football on Twitter | Jeff White on Twitter | 4TheHoos Initiative | Fans First Ticket Program
By Jeff White (jwhite@virginia.edu)
VirginiaSports.com
CHARLOTTESVILLE –– At 8 p.m. Saturday, when Virginia meets Louisville in an ACC game at Scott Stadium, neither team will be at full strength.
UVA head coach Bronco Mendenhall said Tuesday that defensive lineman Richard Burney (medical issues) and quarterback Ira Armstead (injury) will miss the rest of the season, and he's not counting on injured defensive backs Joey Blount, Brenton Nelson and Darrius Bratton to be available against Louisville (2-5 overall, 1-5 ACC). All five of those players missed the Cavaliers' 44-41 win over then-No. 15 North Carolina last weekend.
Louisville, meanwhile, is likely to be without nine players for the second straight game because of issues related to COVID-19 testing. The Cardinals are coming off a 42-35 loss to Virginia Tech.
"I would anticipate that all those guys who missed last week will miss this week as well," Louisville head coach Scott Satterfield told reporters Monday.
Armstead, a true freshman, is a versatile athlete who'd been working at wide receiver as well as quarterback. Burney, one of the team's captains, is a sixth-year senior who started the Cavaliers' first five games this season.
A medical condition forced Burney to miss the 2018 season, but he played in every game last year, with six starts, and helped the Wahoos win the ACC's Coastal Division for the first time.
Nose tackle Jowon Briggs, who started seven games as a true freshman in 2019, spoke Monday about Burney's impact on him.
"Growing up, I had four older sisters, so I never really had, besides my dad, a real older brother-type figure," Briggs said, "and it's no stretch to say as soon as I met Burney on my official visit, he kind of clicked as that older brother-type figure. He's someone you can learn from, you can sort of model yourself after … He's always been that sort of person to look up to, person to look toward for advice, football- or non football-related."
In August, the team's leadership council selected Burney to be the first player to choose his jersey number. He's also distinguished himself in the strength and conditioning program, rising to black, the highest level.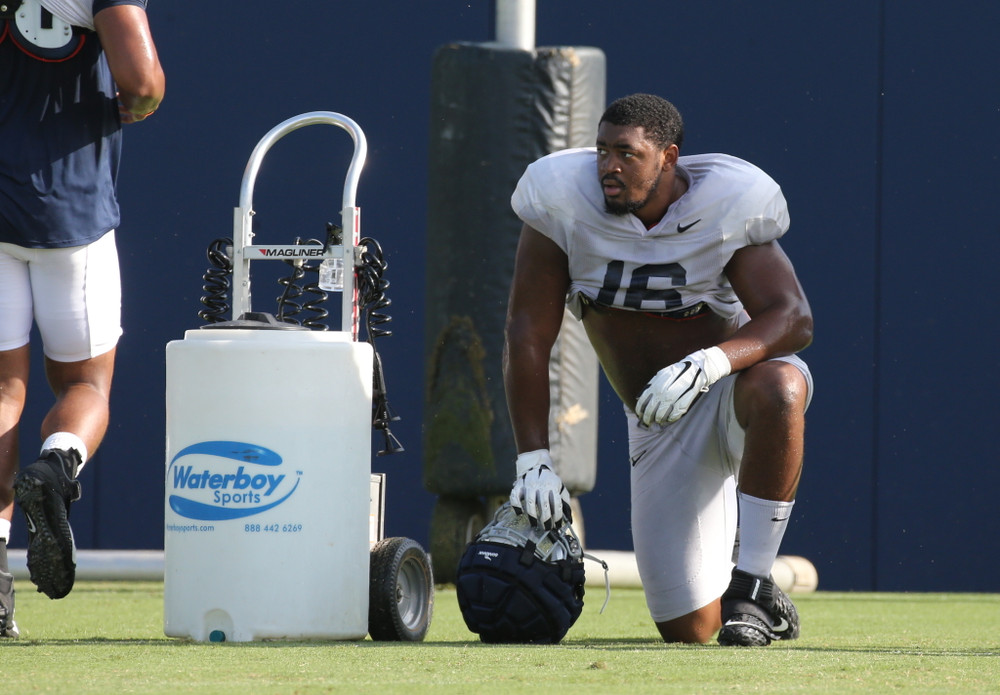 Before the season, another talented defensive lineman, Aaron Faumui, opted out because of the COVID-19 pandemic, and the loss of Burney leaves the Cavaliers with little margin for error up front. Redshirt freshman Ben Smiley remains sidelined with an injury, which means Virginia expects to have only five healthy defensive linemen for the second straight game. Two of those five—Jahmeer Carter and Nusi Malani––are true freshmen.
"So, we are thin," Mendenhall said. "However, many teams have issues at different positions, either COVID- or health-related … We don't have many [defensive linemen], but we have enough."
UVA's defense allowed 536 yards against UNC. But the Cavaliers (2-4, 2-4) held the Tar Heels, who have two of the ACC's premier running backs, to a season-low 93 yards rushing.
The Hoos enter each game looking to hold their opponent to fewer than 3.5 yards per carry, and that will be challenging against Louisville. A year ago, tailback Javian Hawkins rushed for 136 yards and two touchdowns in the Cards' 28-21 win over the Hoos in Louisville, and quarterback Malik Cunningham ran for 97 yards and one TD. Both are back this season, and Hawkins (117.4 yards per game) is the ACC's second-leading rusher.
"He's definitely a talented guy," Briggs said of Hawkins, who had a 90-yard touchdown run against Virginia Tech. "We really just have to emphasize playing good run defense. We hold our run defense to a high standard."
Pass defense has been Virginia's biggest issue this season, in part because of injuries in the secondary. UVA is allowing an average of 312.2 passing yards per game, by far the most of any ACC team. (Florida State is next at 281.8).
Bratton, a redshirt junior cornerback, got hurt Oct. 24 versus Miami and didn't play against UNC. Blount and Nelson, seniors who are Virginia's top two safeties, haven't played since Oct. 17.
After hosting Louisville, Virginia won't play again until Nov. 21, when Abilene Christian comes to town. Mendenhall said he'd love for his injured defensive backs to be available Saturday night, "but the reality is, I really don't know."
He tries not to obsess over when players might return from injuries, Mendenhall said, because "that's not so good for my mental health. So it's easier for me to plan on [having them back] after the bye than to have them for this game. And if they are [back] for this game, everybody celebrates."
In a typical game week, the teams meet on Monday and then returns to practice Tuesday morning. The NCAA mandated this year that student-athletes have Election Day off, however, and so there was "no lifting, no position meetings, no practice" for his team Tuesday, Mendenhall said.
The Cavaliers practiced Monday night, and they'll resume their normal practice routine Wednesday morning. Mendenhall wasn't displeased with the changes, and not only because they allowed players who hadn't done so already to vote. "The players are also getting just a little reprieve from their normal schedule, which I think is a great thing."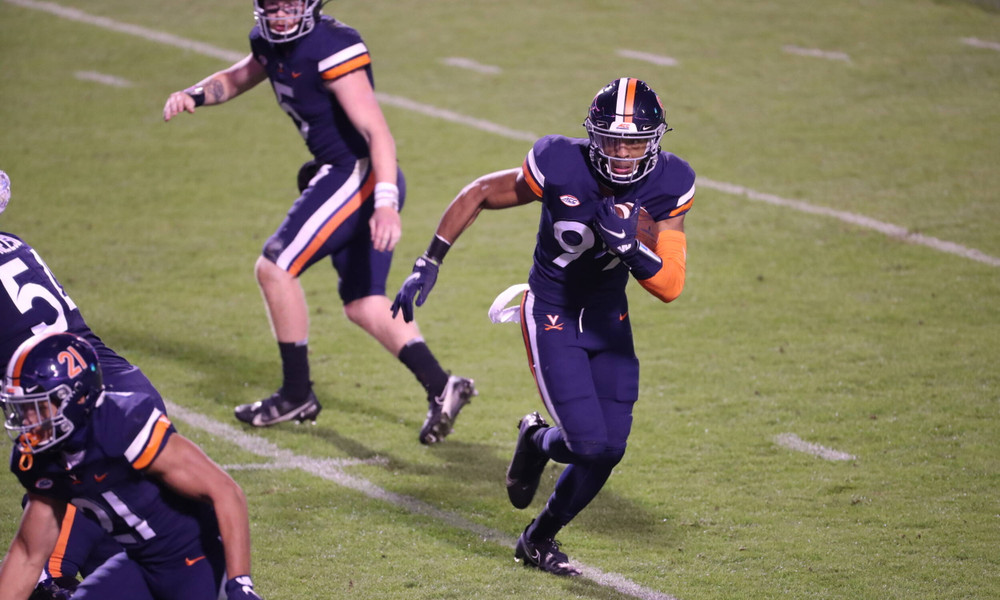 UVA ended the UNC game with only two scholarship quarterbacks, one of whom, redshirt junior Keytaon Thompson, has been hindered by a shoulder injury. The Cavaliers' starting quarterback, redshirt sophomore Brennan Armstrong, left the game with an injury late in the fourth quarter.
Armstrong is "returning to health," Mendenhall said Tuesday. With Armstead out, Thompson and redshirt junior Lindell Stone are the Cavaliers' other options at quarterback.
The 6-4, 215-pound Thompson kept the Tar Heels off-balance at Scott Stadium, lining up on some plays at quarterback, some at running back, and some at wideout.
The coaching staff's creative use of Thompson "just shows the trust I've built and the trust that they have in me," he said. "I appreciate that and just want to make the best of it, go as hard as I can and just give total effort to the program."
A graduate transfer from Mississippi State, Thompson carried 10 times for 43 yards and one TD against UNC. The final five yards, on a fake punt, gave the Cavaliers one final first down and allowed them to run out the clock.
"I was just happy to have a chance to seal the game and put it away," said Thompson, who took a direct snap and started running to his right before reversing field. "I wanted the win really bad. I feel like the team had fun all night. It was a close game. North Carolina did a good job fighting back into the game. I feel like I was just happy with the end results. Coach trusted in me, and I was able to make a play for us."
The Heels saw the fake coming, Thompson said, "and the play played out slightly different than it usually would in practice. I kind of felt an opening to my left, and my playmaking ability just kind of kicked in, and I was able to cut back and pick up the first down."
The Cavaliers rushed for 210 yards and three touchdowns against UNC, and they should be deeper at running back Saturday night. Ronnie Walker Jr., a transfer from Indiana who has yet to play this season, practiced Monday night and is available this weekend, Mendenhall said.
UVA has dropped four of its past five games with Louisville and trails 5-3 in a series that dates back to 1988.
This will be Thompson's first encounter with Louisville as a Cavalier, but it's an ACC program with which he's familiar. As a true freshman in 2017, Thompson started against the Cardinals, whose quarterback then was Lamar Jackson, in the TaxSlayer Bowl.
Thompson completed 11 of 20 passes for 127 yards and rushed 27 times for 147 yards and three touchdowns to lead Mississippi State to a 31-27 win. (He didn't play when the teams met in last year's Music City Bowl, which Louisville won 38-28.)
At the end of the 2017 regular season, head coach Dan Mullen had left Mississippi State for Florida, leaving a skeleton staff to prepare for the bowl game. That didn't deter Thompson and his teammates.
'We were really just having fun all that week and really enjoying the bowl experience," Thompson recalled Monday. "And then when it came to the game, playing against Lamar Jackson it was really exciting, and we got in there and got a chance to pull out the victory."
To receive Jeff White's articles by email, click here and subscribe.