By Jeff White (jwhite@virginia.edu)
VirginiaSports.com
CHARLOTTESVILLE – For the record, they are not related, though they share a last name. But even with three decades separating them in the University of Virginia football program, Tyrone Davis and Lavel Davis Jr. have much in common.
"To be honest, when I see him play, I see almost a mirror image of myself," Tyrone Davis said, "the way he runs, the way he carries himself on the field, even with this long play he had last week. I had a similar play, and he looked just like me running down the field."
Tyrone Davis had an eight-year career in the NFL, during most of which he played tight end. But he starred at wide receiver at UVA, where he still holds the program record with 28 career touchdown catches. On the play to which Tyrone Davis was referring, however, a 91-yard reception against NC State in 1991, he failed to score.
On a rain-soaked field, he fell at the 1-yard line. "My most embarrassing moment ever," Tyrone Davis said. "No one was near me."
Lavel Davis, a true freshman from Dorchester, South Carolina, had no such problems against Abilene Christian on Nov. 21. On the final play of the first quarter, he caught a Brennan Armstrong pass near midfield and then outran a defensive back to the end zone to complete a 90-yard scoring play at Scott Stadium.
Among those who marveled at Lavel Davis' play was former UVA great Billy McMullen. "I was looking at him run away from that DB the other day on the 90-yard pass, and I was like, 'This guy, he's going to be good, man,' " McMullen said.
Tall, talented receivers are nothing new at UVA. A glance at the program's top-10 list for career receiving yards shows McMullen at No. 1, Herman Moore at No. 3, Tyrone Davis at No. 6, Germane Crowell at No. 7, Hasise Dubois at No. 8, and Patrick Jeffers at No. 9. Each of those players stands at least 6-3. None, however, is taller than 6-4.
Lavel Davis is 6-7.
"He's in a category by himself," Virginia wide receivers coach Marques Hagans said, "and he's not an awkward 6-7. He moves athletically like he's 6-2. He's got great balance. He runs well. He can write his own ticket. If he stays humble and he works hard, which he's done so far, he's got a really, really bright future."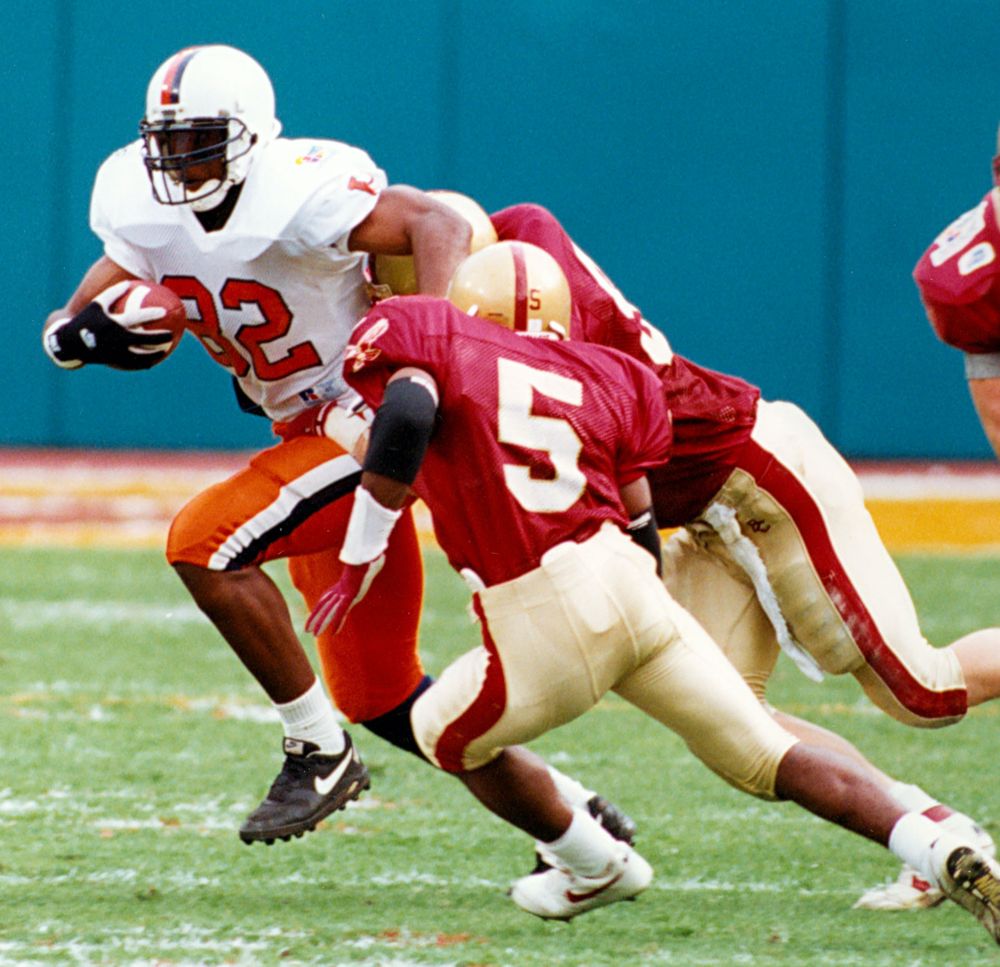 The 210-pound Davis, who caught two touchdown passes against Duke in his UVA debut, has twice been named ACC Rookie of the Week.
"He has all the tools––height, speed, everything––to be a great player," Virginia cornerback Nick Grant said.
Davis' "trajectory is going straight up, and I'm excited to see where he ends up," said fellow wideout Terrell Jana, a senior.
In head coach Bronco Mendenhall's system, true freshmen are not available for interviews, but Davis has spoken volumes with his play this season. Despite missing two games, he's tied with tight end Tony Poljan for the team lead in touchdowns (five), and his average of 26.7 yards per reception is the highest of any Cavalier with more than three catches.
In six games, Davis has 14 catches for 374 yards and five TDs for Virginia (4-4, 3-4), which hosts Boston College (6-4, 5-4) at 3:30 p.m. Saturday. The game will be televised on Regional Sports Networks, including MASN in the Mid-Atlantic region.
"I think the sky's the limit for him," said McMullen, who like Tyrone Davis played in the NFL and now lives in the Richmond area. "I'm glued to the TV to see what happens in his development. A 6-7 freshman like that, it's really intriguing."
On signing day in February, though, there was little fanfare about Lavel Davis, who had committed to UVA near the end of his junior year at Woodland High School. He arrived on Grounds in July as an unheralded recruit.
"That's another reason why I say we're so similar," said Tyrone Davis, who spent a year in Fork Union Military Academy's postgraduate program before enrolling at UVA, "because coming out of high school, he was maybe a two- or three-star recruit. I was probably a zero-star recruit. I don't think I was even ranked, because I only played that one year [at Halifax County High School]."
When Lavel Davis committed, the coaching staff "thought it would be a year or so before he would emerge to the capability that he has now," Mendenhall said. "But then seeing the summer workouts, my perception changed immediately … It maybe took less than two weeks from the time he arrived, even before we started practicing."
Hagans said: "From day one, Lavel worked hard. You can ask [director of football development and performance Shawn Griswold] and his staff. He's always been a hard worker. That's one thing that I've appreciated about him the most."
Jana, one of the Cavaliers' captains, echoed Hagans' comments.
"Lavel, more than almost anyone on the team, he just wants to get better," Jana said. "Above everything else, that's probably the best trait you can have as a player: a joy for the game, a love for the game, and just an eagerness to try to be the best player you can be. If you have that, no matter what your skill set is, you're going to be good."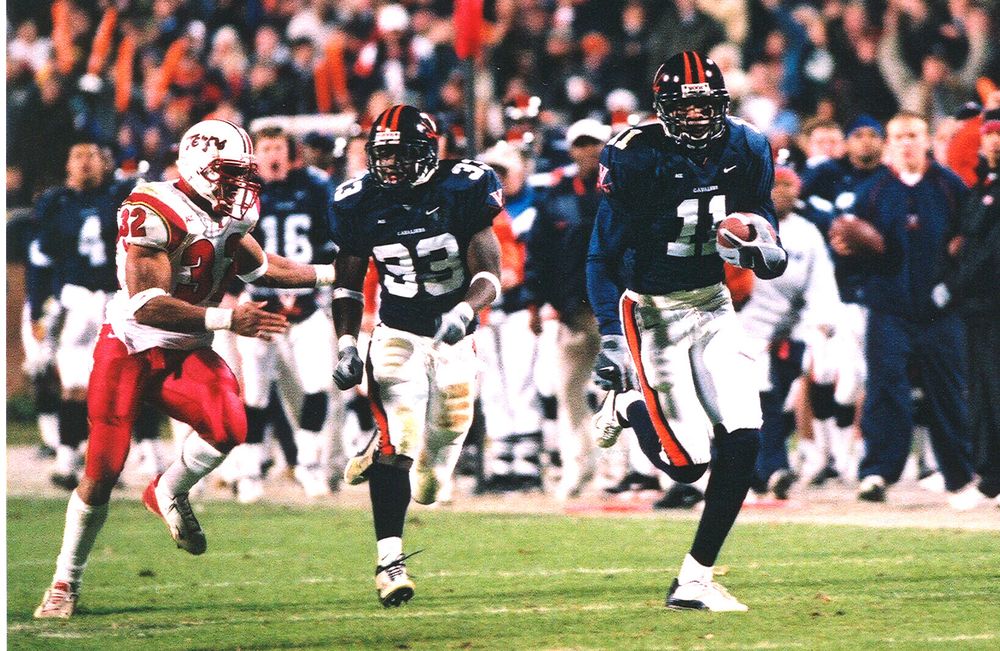 The Cavaliers' top two receivers in 2019, Dubois and Joe Reed, were seniors, and promising young wideout Dontayvion Wicks suffered a season-ending foot injury in August. That gave Davis an opportunity to earn immediate playing time this season, Hagans said, "and he's made the most of it."
Hagans has a unique perspective on the passing game, having distinguished himself at both quarterback and wideout during his UVA career. He later played receiver in the NFL.
A wideout as tall as Davis gives his quarterback "more room to miss," Hagans said. "You can aim a little higher. There's a lot of 6-1, 6-2 corners, but there aren't any 6-6, 6-7 corners, so he's already got that advantage. If you can just get him in position and get it up to a certain point where he can get it off the rim, he is always open, and so he's only going to get stronger, he's going to get faster, he's going to get better. I'm very thankful that he's in our program."
So is Mendenhall, who's in his fifth year in Charlottesville. At BYU, he coached several receivers of similar stature to Davis.
"We just liked that they're always open," Mendenhall said. "You can throw it high, and they're open. When you can run like Lavel, that is an additional bonus."
If there were questions about Davis' speed, he answered them on his 90-yard touchdown against Abilene Christian.
"You don't have to be a blazer at that size," McMullen said, "but it looks like he can run a little bit, too, which is scary."
Hagans said Davis "ran track in high school, so he knows how to stride, and then he just has a stride that you can't coach. He's long, so once he gets rolling, if he's unabated, no matter how fast you are, it's tough to catch him."
For tall receivers, Tyrone Davis said, the biggest challenge is "coming in and out of your cuts, because you're taking long strides. And especially if you're tall and you're fast, it makes it a little harder getting in and out of your breaks. So what I would tell [Lavel Davis] is to stay in control of your body, and what I used to do to kind of minimize the sharp cuts is just use double moves. It makes it a whole lot easier getting in and out of your cuts, and it fools the defender, so it gets you more open."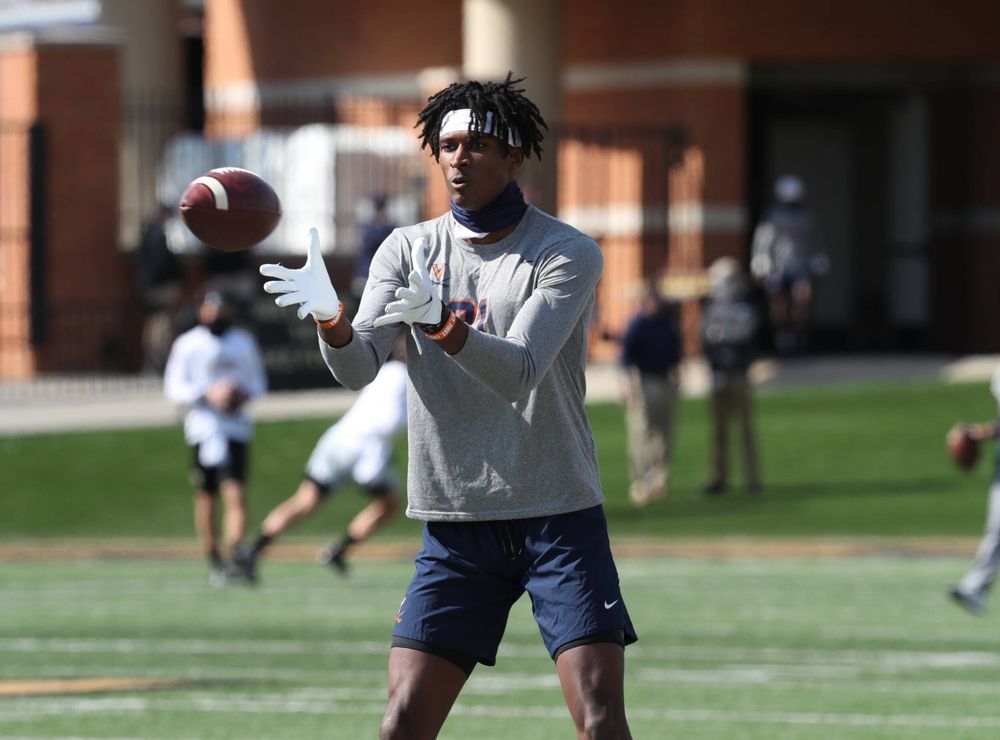 Lavel Davis was unavailable for UVA's games against ACC rivals Miami (Oct. 24) and North Carolina (Oct. 31), and he couldn't practice those weeks, either. But he made sure to stay connected to the team.
"He's a different kid for his age," Hagans said. "Very mature. He didn't sulk. He didn't pout about it. He just found ways to get better, and at the end of the day, we watched film, he asked questions, he stayed locked in. To have football taken away from him, where he kind of felt like he was just getting started, it's re-energized him to continue to work harder and keep going."
Davis returned Nov. 14 against Louisville and had four receptions for 74 yards and a TD in Virginia's 31-17 victory at Scott Stadium. Against Abilene Christian a week later, he showed off his speed in the open field.
"If he just remains humble, continues to work hard and continues to get better each day, he's got a bright future for us," Hagans said.
When Hagans played for the St. Louis Rams, his teammates included cornerback Tye Hill, a former Clemson star who, like Lavel Davis, graduated from Woodland High School. Hill and Hagans have stayed in touch over the years, and Hill recommended Davis to his friend.
Hill questioned his decision, however, after seeing Davis catch two passes for 58 yards in Virginia's 41-23 loss to then-No. 1 Clemson on Oct. 3. "He texted me after the Clemson game and said, 'Man, I can't believe we didn't take him,' " Hagans recalled, laughing.
The Tigers' loss was the Cavaliers' gain.
"We just developed a relationship where he felt like this would be the best place for him, and I'm very thankful he chose here," Hagans said.
To receive Jeff White's articles by email, click here and subscribe.