By Jeff White (jwhite@virginia.edu)
VirginiaSports.com
CHARLOTTESVILLE –– After several months at home in Baton Rouge, La., Mike Hollins returned to the University of Virginia early last July to resume, with his teammates, preparations for the coming football season.
He came back to an different environment. The COVID-19 pandemic, which had caused the University to switch to online classes in March, was not abating, and strict protocols were in place for the football team. Running backs coach Mark Atuaia sensed almost immediately that Hollins was not at peace.
"I could tell it was something that was weighing heavily on his mind," Atuaia said this week. "The advice I gave him was: 'You can't have a split mind in this. You have to be either all-in or make the decision to opt out. Because you'll be sad if you're not doing what your heart wants you to do.' I just told him to follow his heart, and he did."
Hollins, who'd played in 13 games as a true freshman in 2019, was one of about a half-dozen UVA players who chose, for reasons related to the pandemic, to opt out of the 2020 season. He returned home to Baton Rouge to be with his 8-year-old brother and their mother, and he did so with the blessing of head coach Bronco Mendenhall.
As the date for players to reconvene on Grounds approached last summer, Mendenhall had assured them they would remain on scholarship and not be penalized if they decided to opt out.
Hollins initially planned on playing in 2020. Once he returned to UVA last summer, however, he became torn. He wasn't necessarily worried about contracting COVID-19 in Charlottesville, "because I feel like you can be touched by [the virus], obviously, anywhere," Hollins said recently. "The uncertainty was the biggest part."
He questioned the wisdom of playing football while a pandemic raged and social unrest roiled the United States. Moreover, COVID-19 was hitting Louisiana hard, and he was concerned about his relatives. "Playing football just didn't sit right with me," Hollins said, "being 13 hours away with all that going on."
And so Hollins headed home, where he took online classes at UVA in the fall. "I didn't miss a beat at all," he said. "I just wasn't there on Grounds in person."
He's back now. Hollins made the long drive from Baton Rouge to Virginia on Thursday. The University's spring semester starts Monday, and the football team will meet that day as well.
"I'm ready to get going," Hollins said.
Atuaia said: "We are just elated to have him back. This was the plan all along when he went home. I told him, 'OK, opt out,' but what we concentrated on were his academic endeavors, all the things that he was expected to do. I told him to do that and then when spring rolls around, that's when we'll strap his helmet back on and go to work."
Virtually all of the other Cavaliers who opted out in 2020 are expected back this semester, too. Throughout the fall, Hollins stayed in contact with Atuaia and checked in regularly with Shawn Griswold, UVA's director of football development and performance. Hollins also took part in team Zoom meetings whenever possible.
"We stayed in touch the entire time, because I didn't want to lose Mike," Atuaia said. "Mike is a phenomenal talent, but an even better person."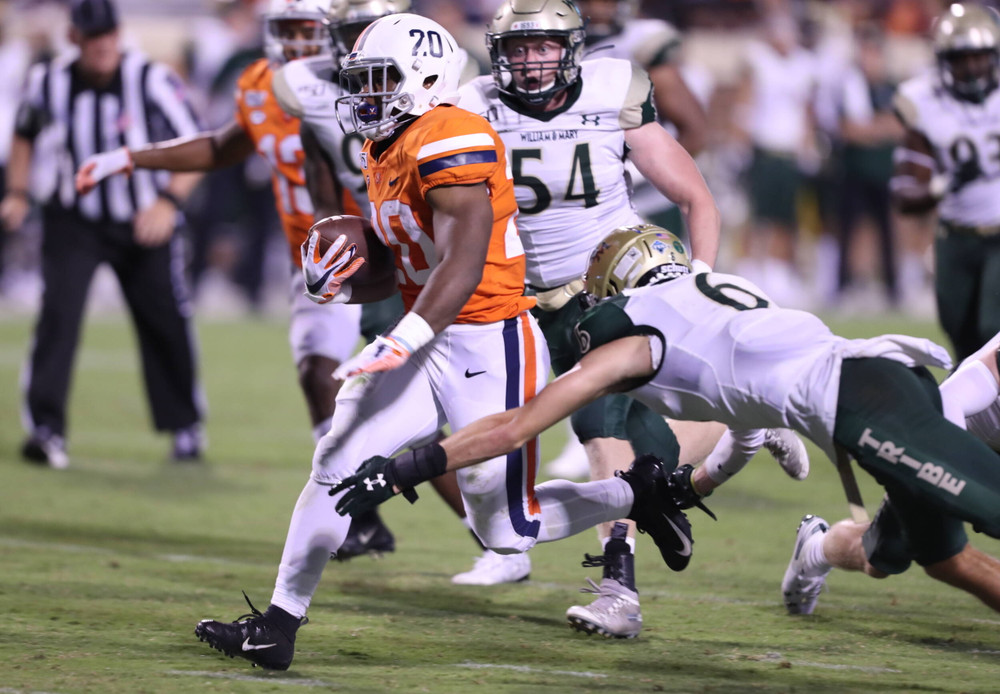 Opting out became a viable option for him, Hollins said, when he learned he wouldn't lose a year of athletic eligibility and wouldn't fall behind academically at UVA.
"If I wasn't going to be able to take classes from home, I wouldn't have made the decision, period," he said. "But I found out that I wouldn't miss a beat in the classroom. The only thing I'd be missing out on, which I hated, was being there for workouts and meetings and games. But I'm looking forward to all that, being back on Grounds, being back around my teammates and friends."
He appreciated the support he received from the coaching staff while back in Baton Rouge. "With Coach Atuaia specifically, it's always been bigger than football with him," Hollins said. "I can honestly say that."
That's one of the reasons he chose UVA, Hollins said. He had a spectacular career at University Lab High School, which won 3A state titles in 2017 and '18, and drew interest from numerous big-time college programs.
"But when I went on those visits I didn't really feel the connection with the coaches that I felt with Coach Atuaia and Coach Bronco," Hollins said. "With them, football wasn't the main thing we had in common. It was always: 'How's your little brother? How's your mom doing? How's school? What are your grades looking like?' Stuff like that. And nothing's changed with Coach Atuaia. I still see the glint in his eyes when we get on Zoom.
"Coach Bronco, he has a busy schedule. But when I do talk to him, there are no hard feelings. I know that. I think we all know that last year was a tough year for everyone, and who are you to judge someone for making a decision during those times? So I think they understand that and I understand that, and as long as I'm comfortable with my decision, which I am, and I'm comfortable with coming back, they're comfortable with letting me back. The only thing Coach Bronco said was that I would have to earn everything back.
Hollins laughed. "Earned not given, they told me that on my first day there, so I'm used to that."
Even though the pandemic is ongoing, Hollins said, he's seen how effective UVA's protocols have been and feels comfortable being back on Grounds. "We're learning how to live with the virus," he said.
He played at about 210 pounds in 2019, when the Cavaliers won the ACC's Coastal Division for the first time. He's closer to 205 now, Hollins said, but he's confident that once he resumes workouts under Griswold's direction "my body is going to start getting back to where I was. I'm not nervous or hesitant at all, I'm just anxious, because I know how much my body can improve. Right before [the pandemic] got here, I was the strongest I've ever been, the fastest I've ever been, the most in shape I've ever been, and I'm looking forward to getting back to that."
For the returning players who opted out in 2020, how quickly they get back in football shape will hinge on "what they did on their own while they were away from campus," Griswold said. "I know Mike worked out, because I've seen Mike multiple times and we've talked quite a bit.
"It just kind of depends on what they've done. If they've done what they've been asked to do, they'll be OK. If not, it'll take a little bit, but they're young and resilient. It all bounces back pretty quickly."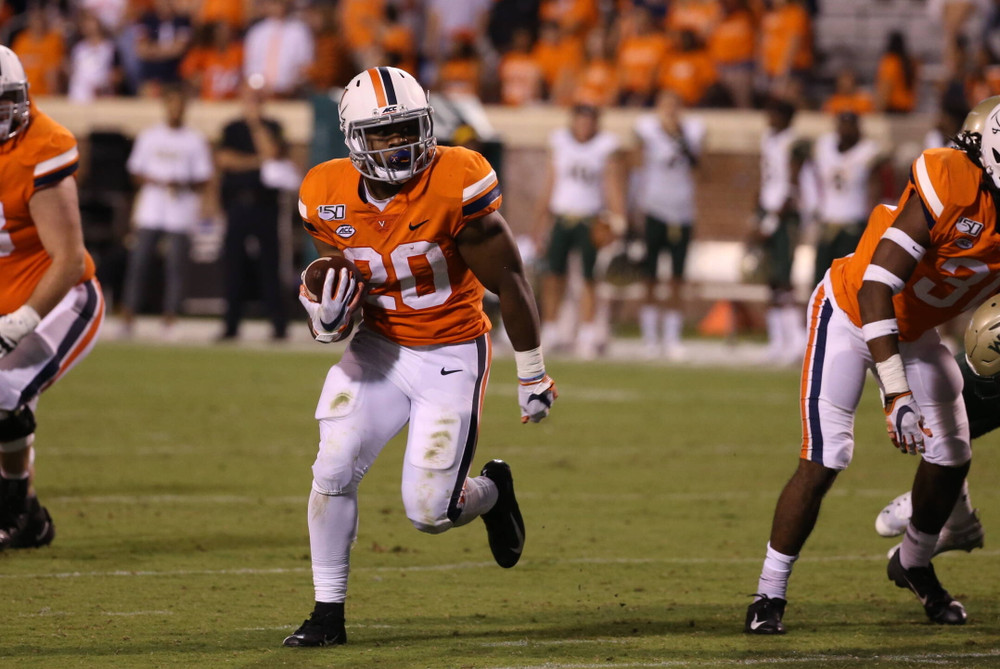 With Hollins back in Baton Rouge, graduate transfer Shane Simpson coming off an injury, and Ronnie Walker Jr. unavailable, UVA had few options at running back early last season. "It was tough sledding in the beginning," Atuaia said.
The Hoos should have a full complement of running backs this spring, with Hollins, Walker, Wayne Taulapapa, Perris Jones, Chris Barfield and freshman Amaad Foston.
"I'm very excited, to say the least," Atuaia said.
The Cavaliers finished 5-5 in 2020. "It was tough watching the games," Hollins said, "and I wish I could have been there to help out, but it just made me more eager and hungry to get back."
As a true freshman, in a 52-17 win over William & Maryland at Scott Stadium, the 5-9 Hollins scored a touchdown the first time he carried the ball as a Cavalier. He finished that game with 11 carries for 78 yards and two TDs.
What Hollins remembers most about his first college season, however, is a play five weeks later against ACC rival Miami at Hard Rock Stadium. On a first-down run in the third quarter, with open field in front of him, Hollins fumbled after gaining three yards. Miami recovered at its 20-yard line and went on to win 17-9.
"That moment right there, it sticks with me, because it was my make-or-break play," Hollins said, "and I knew it as soon as I got the ball and saw the hole. I just wanted to score. But that was my inexperience. I definitely needed that year of growth, even though I wanted to [run the ball] and show what I had. I knew I had the ability. It was just the experience factor."
Hollins played primarily on special teams in 2019, but still showed flashes of his potential at running back. He finished the season with 21 carries for 112 yards and three touchdowns, and he knows he's capable of much more.
"I'm just looking forward to getting back and getting comfortable and enjoying it," Hollins said. "I was always so stiff as a freshman and didn't want to mess up and wanted to do everything right. But I can remember back in high school when I played loose. And when I played loose, that's when I was at my best."
As a high school senior, Hollins rushed 27 times for 237 yards and four touchdowns in the 3A state championship game. He's as physically gifted as any running back in the Cavaliers' program, and he'll have a chance to prove it this year.
"I don't want to put the cart before the horse, but I'm very optimistic," Atuaia said.
To receive Jeff White's articles by email, click here and subscribe.