By Jeff White (jwhite@virginia.edu)
VirginiaSports.com
CHARLOTTESVILLE –– When the Virginia football team reconvened for the first time in 2021, it hit Lavel Davis Jr. that his status in the program had changed. He looked around and realized that the players who'd moved on after the 2020 season included fellow wide receiver Terrell Jana.
During the meeting, head coach Bronco Mendenhall stressed how important it is for veteran players to mentor their younger teammates, with "the big brother kind of helping the little brother come along," Davis said, "and Jana played such a huge role in helping me build my confidence and keep me working. But since he left, I'm like, 'It's on me now.' So that's really the next step, trying to become a leader. I'm not a little newbie anymore."
If Davis was technically a newbie as a true freshman in 2020, he didn't play like one. At 6-foot-7, he's a towering target, and Davis finished with 20 catches for 515 yards and five touchdowns. He did so in eight games. COVID-19 contact tracing kept him out of Virginia's games against ACC foes Miami and North Carolina.
To miss those games "was real tough, but we've got a motto: less drama, more work," Davis said. "So I just took it in. Everybody's going through challenges with this COVID thing."
In his first game back, he caught four passes for 74 yards and a touchdown in Virginia's 31-17 win over Louisville. A week later, Davis had a 90-yard touchdown reception in a 55-15 victory over Abilene Christian.
Among FBS players who averaged at least two receptions per game last season, Davis ranked second nationally in yards per catch (25.8). He's only one of five FBS players in the past decade to have totaled at least 500 yards on 20 or fewer receptions.
"As a first-year," UVA wide receivers coach Marques Hagans said, "he was just learning how to play the game of college football and learning his assignments. Now he knows how to play as a college football player. He knows his assignments. Now he's got to get better at them and the small techniques that will allow him to get open more effectively for the type of catches he'll have to make more consistently. It's just getting better at all the things he was exposed to last year."
Asked to assess his 2020 play, Davis said: "Looking back, I think I did OK. I'm kind of hard on myself. I'm one of my biggest critics, and Coach Hagans, he's on me, too. Looking at the film, I'm noticing so many of my weaknesses that I can get better at. So I really didn't see it as a great season or a good season. I just looked at it as a learning experience. I'm seeing how much better I can get, just getting more control of my body, catching the ball with my hands away from my body a lot, running cleaner routes.
"Everything is about perspective. I've got so much work to do to get to the point that I want to get at. However that season went, that's all behind me now. It's time to keep it going."
Spring practice starts Tuesday for the Wahoos, who are heading into their sixth season under Mendenhall. Davis has attacked the offseason strength and conditioning program with characteristic zeal.
"He likes to work," said Shawn Griswold, UVA's director of football development and performance. "There's no doubt about that. He's not afraid of work. Last year during fall camp, he was in here with me on the off days doing extra work."
Davis formed a strong connection last year with quarterback Brennan Armstrong, and they've been working on routes in extra sessions this semester.
"Lavel is driven," Hagans said. "I like coaching him because he wants to get better every day. There's always questions at the end of the day. There's always thoughts at the beginning of the day, in the morning. And he's got a plan every Sunday.
"He's one of the first guys to send me his goals and schedules every Sunday. Everyone in the [receiving] group does it, but some guys do it a lot earlier than others, and he's one of the first ones every Sunday."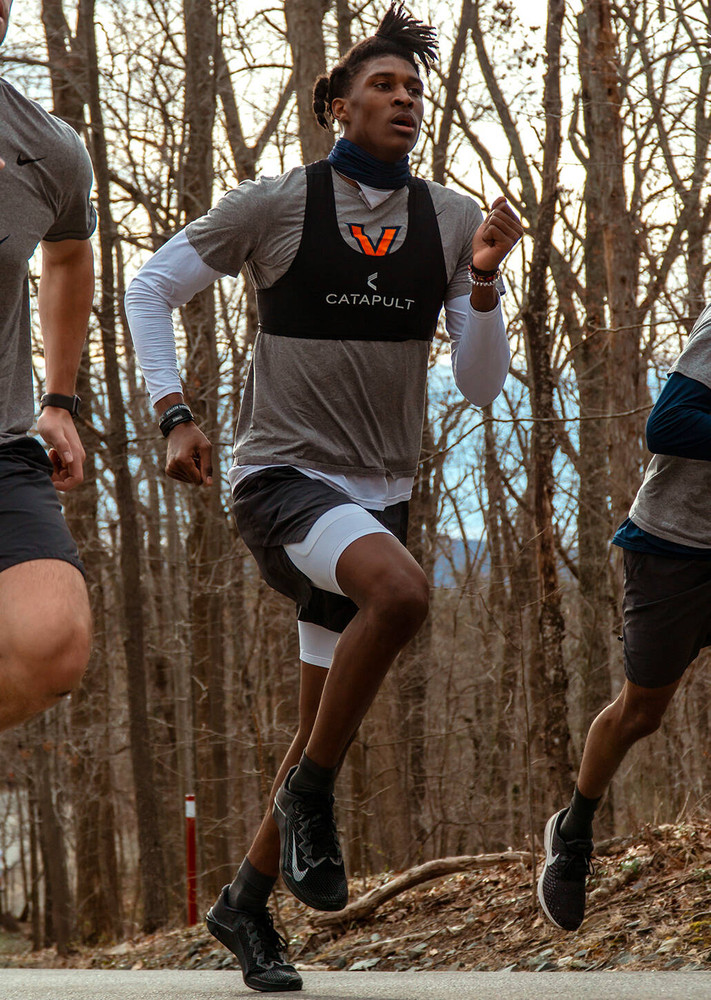 None of that surprises Jana, who was a senior in 2020 and is now pursuing a career in professional football.
"Besides him being the 6-7 freak athlete he is, I think the thing that sticks with me is just his willingness and his eagerness to get better," Jana said Wednesday after the Cavaliers' Pro Day. "For a first-year, especially in the fall, to seek out help and to seek out extra work, and to do it on his own, even when I'm not around, is pretty rare.
"That wasn't what I like at first. I had to learn that … So for him to have that now, for him to sink his teeth into the process, is something that, regardless of his height and regardless of his special attributes, that's what setting him apart, that's what's going to make him special down the line."
Davis, who rooms with classmate Demick Starling, another wideout, is from Ridgeville, S.C., a small town at 40 miles northwest of Charleston. Growing up, he played football and basketball and ran track. "I never actually took the time to just focus on one sport," Davis said.
As a result, he was considering a promising but unpolished prospect in football. "Track time, I'm running track. Basketball, I'm in basketball. Football, I'm in football," Davis said. "So you don't really get to sit down and really focus on getting better. That's what I felt like probably held me back a little back."
In the final game of his junior football season at Woodland High School, Davis tore the ACL in his right knee. In retrospect, he said, "I think that was one of the biggest blessings for me, because it really locked me in with football. I was preparing for basketball, to be honest, but after I tore my ACL, I was like, 'I'm going to lock in on football and really take it seriously. This is the thing I want to go to college for and try to go the NFL for.' "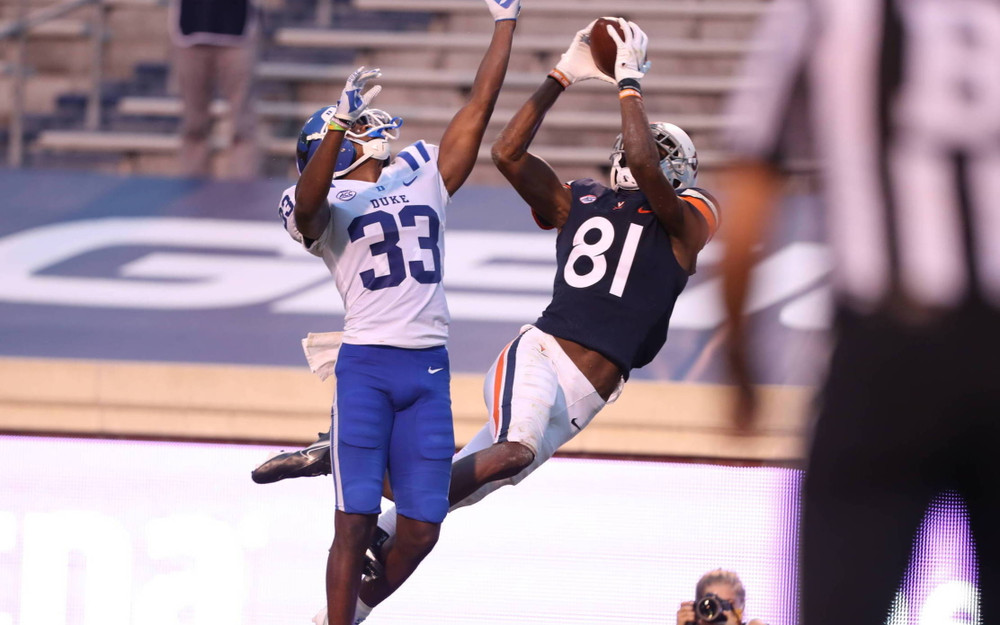 His injury didn't scare off the Cavaliers, to whom Davis committed in June 2019. After missing his 11th-grade basketball and track seasons while rehabbing his knee, he returned to play football as a senior at Woodland High. He skipped basketball as a 12th-grader to concentrate on preparing himself for football.
"I think he was talented in basketball, but I think his meal ticket is football," Hagans said. "I'm glad he decided to stick with football, and I'm glad he's here. I think he's going to be, when it's said and done, one of the best to play here if he remains humble and continues to work hard."
This offseason, the Cavaliers' strength and conditioning staff has focused on improving Davis' mobility.
"For him to be great and really take the next step," Griswold said, "he's going to have to really dive into that and spend the extra time that we're asking these guys to do.
"To be an All-ACC guy and then play at the next level, you've got to be able to change directions well and do other things, too. So we're trying to help him with that, with ankle mobility, hip mobility and that kind of stuff. Part of it is, he's just young. And [improving] work capacity for him is just huge, so as he gets tired, he can still maintain form and still run routes at the same speed."
Davis is up to 225 pounds, and that's a good weight for him, Griswold said. "Maybe he's 230 by his senior year, but he doesn't want to get too big, because then he kind of eliminates who he is. He's still a receiver."
Back home in South Carolina, Davis used to field questions about why he was at Virginia and not Clemson. Not so much anymore.
"People close to me, they don't care about that type of stuff," Davis said. "They're on the UVA train with me. Wahoowa! I love UVA, and my mom, she loves it here. She loves how they're serious on the academic side. They care about the future, and I love Coach Mendenhall."
Davis laughed. "Coach reminds me of my family members, my grandfather and my great-grandfather, just how hard he works. It's about getting up early and working late."
To receive Jeff White's articles by email, click here and subscribe.