By Jeff White (jwhite@virginia.edu)
VirginiaSports.com
CHARLOTTESVILLE –– In each of Bronco Mendenhall's first 15 years as a head coach, spring practice helped his football team prepare for the coming season. He wasn't so fortunate in 2020, when the COVID-19 pandemic upended day-to-day life in the United States, and he has no desire to go through that again.
The spring is when "you really forge the identity and develop your culture," Mendenhall said on a Zoom call with media members Monday.
In 2020, Virginia finished 5-5 after losing 33-15 to Virginia Tech in Blacksburg. Looking back on his fifth season with the Cavaliers, Mendenhall said, it "just never felt like––and it was my fault––they were developed like a normal team that I'd coached, and quite frankly without spring practice I underestimated that value and I underestimated the summer value of training together. Those things really led to some deficiencies, just in terms of will development and grit, that normally are our strength."
All of which has Mendenhall looking forward to Tuesday, when the Wahoos will hold the first of their 15 spring practices.
"Spring ball is my favorite time of year," Mendenhall said, "because it's just the purest form of football, with guys developing, learning, straining, becoming and competing, and that's where so many jobs are earned."
During training camp in August and then in the fall, a coaching staff can be concerned that grueling practices might hurt the team in its next game. Not so in the spring.
Mendenhall said his passion "is the development of a team and a development of an individual, so I think the offseason and spring to me is when I really come to life, and it just is my favorite. I wake up every day just so thankful I get to do that, because I'm watching young people [compete] in a setting where we're asking so much even before the games hit. For our style of play, for what I believe as a coach, spring and summer, as well as the offseason, that's where I think teams are made."
That the Hoos were breaking in a new quarterback in 2020 didn't help, Mendenhall acknowledged. Brennan Armstrong, who took over as the starter last season, had backed up Bryce Perkins' understudy in 2018 and '19.
Armstrong missed a game and a half after a suffering a concussion Oct. 10 in the second quarter against NC State. Even so, he finished the season as UVA's leading rusher (552 yards and five touchdowns on 126 carries) and impressed as a passer, too. In nine games, he completed 157 of 268 attempts (58.6 percent) for 2,117 yards and 18 touchdowns, with 11 interceptions.
With Armstrong back this year, the Cavaliers' offense is well ahead of where it would have been in 2020, even if the pandemic hadn't forced the cancellation of spring practice.
"It's pivotal," Mendenhall said. "It's a determinant in terms of how fast you can go and the confidence of our team. The [ACC's] Coastal Division this year, if you look at the number of returning quarterbacks, it sets up for a lot of parity and just a ferocious season … I love our chances, which are as good as anyone's, with Brennan back."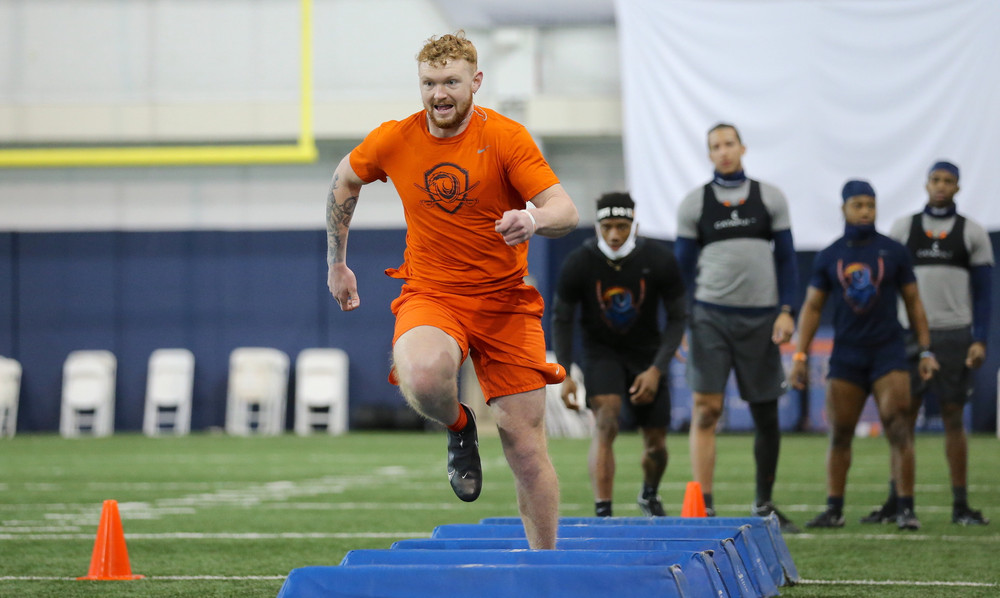 In retrospect, Mendenhall said, he believes "three forces kind of all came together that I didn't plan for appropriately enough [last year]."
The first was the pandemic, which was uncharted territory for everyone associated with UVA's program. The Cavaliers adhered to strict protocols and stayed healthier than many of their counterparts around the country.
"I felt really good about that," Mendenhall said. "But what we didn't do is drive the culture and the will development and kind of how we normally build teams. And I'm not going to say I missed on the side of safety, but we certainly erred on the side of safety to make sure our players were safe."
Moreover, the Hoos had a new No. 1 quarterback while playing what Mendenhall called "the most difficult schedule we've ever taken on" in his tenure.
"Having Brennan go through all that, what I just described, that might almost be two seasons' worth of experience," Mendenhall said, "because of the depth of different things and different leadership opportunities and different self-discovery and understanding. In terms of his progression, that might have been a blessing in disguise, now looking back on it. So I'm so glad he's back, and it absolutely puts our team in a different place."
That's not only reason this spring feels different to Mendenhall. More than a year into the pandemic, the situation has improved markedly in the U.S., and there's more certainty about how to prevent the spread of COVID-19.
"That doesn't mean we've arrived," Mendenhall said, "but it feels a little bit different than it did in the fall. There's so many more knowns, even though there's still routines and protocols [that are] so well-established. We've been through it now for a significant amount of time. I would just say that in and of itself is a stabilizing factor. We've had what I think is a very successful offseason and have worked really diligently and really hard in regards to that, and so that was normal in terms of the offseason component.
"Even though there are masks and COVID protocols, the expectations, the standards, the work ethic and the intent was the same as if it was normal circumstances, and our intent will be to carry that through in the spring. That doesn't mean at the expense of player safety. It doesn't mean at the expense of COVID protocols. But those things we're learning to coexist with at a different level after kind of the exploratory and learning phase of what we saw as we took it on early in the fall."
In response to the pandemic, the NCAA granted an extra season of eligibility to players, and numerous Cavaliers who were listed as seniors in 2020 are back this year, including defensive tackle Mandy Alonso, defensive backs Nick Grant, De'Vante Cross and Joey Blount, linebacker Elliott Brown, offensive lineman Chris Glaser and wide receiver Ra'Shaun Henry.
"When I presented that option for those players, it was a blunt conversation," Mendenhall said. "They weren't to come back unless they were passionate about becoming more than they already were and helping the team become more than it already was. Otherwise, it wasn't OK for them to come back."
Those veterans have impressed this offseason. "When I watch Mandy Alonso, it's the best I've ever seen him train and work and be," Mendenhall said. "De'Vante Cross would be another in that same category. He's just fierce in how hard he's trying. This was Joey Blount's first offseason being healthy, and his numbers have gone just through the roof in terms of his strength and his size and his speed. But every player that has chosen to come back under those circumstances, they are driving this team, and to their credit that's what they said they would do."
Virginia is scheduled to open the season Sept. 4 against William & Mary at Scott Stadium.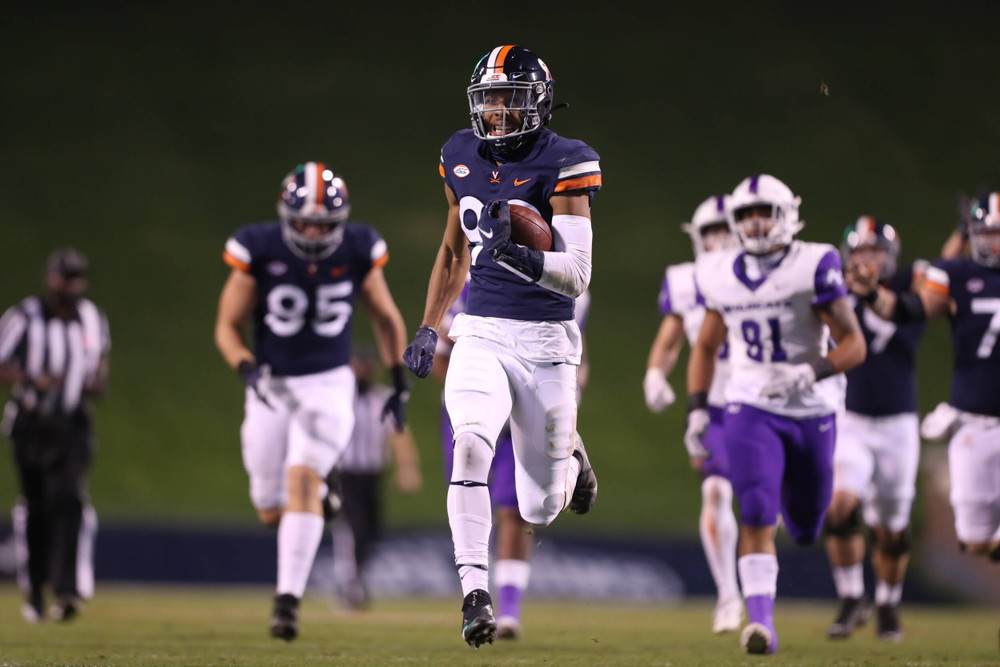 MULTI-FACETED: The Cavaliers used Keytaon Thompson, a graduate transfer from Mississippi State, in a variety of roles last season, and his profile in the offense might increase this year.
"Will he play quarterback? Yes," Mendenhall said. "Will he play tight end? Yes. Will he play running back? Yes. Will he play slot receiver? Yes. Will he play X-receiver? Yes. Will he play Z-receiver? Yes. Will he be on the punt team? Certainly. Will he be on punt team? Yes. We're on a mission to have as many boxes checked for positions ever played, and he's so smart and so capable."
Mississippi State primarily used Thompson at quarterback. An injury to his throwing shoulder limited him as a passer last year, though, so UVA offensive coordinator Robert Anae and his staff got creative.
The 6-4, 215-pound Thompson attempted only three passes in 2020, but he rushed 39 times for 234 yards and three touchdowns, with most of those carries coming out of the Wildcat formation. Thompson caught seven passes for 98 yards and three more TDs, and he ran for a pivotal first down on a fake punt late in UVA's upset of North Carolina at Scott Stadium.
With dual-threat quarterbacks leading the Cavaliers' offense for the past three seasons, running backs have rarely been featured in the running game. That might change this year, Mendenhall said.
"I'd like to get more traditional," he said ."Without losing the creativity [of quarterback runs], I'd like more impact and more production from traditional kind of runs."
ON THE MEND: Thirteen players, most of whom are recovering from offseason operations, will miss or be limited during spring practice, Mendenhall said.
Here's the list: linebacker Josh Ahern; quarterback Ira Armstead; defensive backs Elijah Gaines, Nick Grant and Donovan Johnson; offensive linemen Chris Glaser and Zachary Teter; defensive linemen Nusi Malani and Samson Reed; tight end Josh Rawlings; wide receiver Ugo Obasi; and long-snappers Lee Dudley and Tucker Finkelston.
To receive Jeff White's articles by email, click here and subscribe.