By Jeff White (jwhite@virginia.edu)
VirginiaSports.com
CHARLOTTESVILLE –– He's a dedicated and accomplished weightlifter, which should come as no surprise. His father, Ferron Carter, is a well-regarded strength and conditioning coach and personal trainer in the Baltimore area. But University of Virginia defensive lineman Jahmeer Carter's passions extend far beyond the weight room and the football field.
"I like investing in stocks and learning about the economy a lot," said Carter, who plans to apply next year to UVA's prestigious McIntire School of Commerce. "That's a big interest of mine."
As a student at Archbishop Spalding High School in Severn, Md., Carter often heard references to Warren Buffett. He knew little about Buffett at first, Carter said, so he started researching the legendary investor, "and that motivated me to have my own portfolio."
He's done well so far. "I have a good amount of money in there," Carter said, smiling.
The ability to successfully apply lessons he's learned is one of Carter's many qualities, say his teammates and coaches.
"That's exactly who he is," defensive line coach Clint Sintim said. "As a freshman, he approaches practice, he approaches everything as if he's an upperclassman. Intentional, deliberate, all those things describe Jahmeer perfectly."
As a true freshman last fall, Carter appeared in nine of the Wahoos' 10 games, and his role grew after fellow defensive lineman Jowon Briggs unexpectedly left the program in November.
Interior linemen in Virginia's 3-4 defense rarely post impressive statistics, but Carter finished the season with 14 tackles, including a sack. "He was a pleasant surprise, for sure," Sintim said.
Carter said: "Coming in, I wanted to contribute right away, any way I could. I feel like I've done well. I know things I still have to improve on and keep getting better, but starting off my college career, I think I did pretty solid."
A mammoth presence at 6-foot-2, 310 pounds, Carter attacked the offseason. Back home in Anne Arundel County, he trained with his father, and he returned to Grounds in superb condition early this year.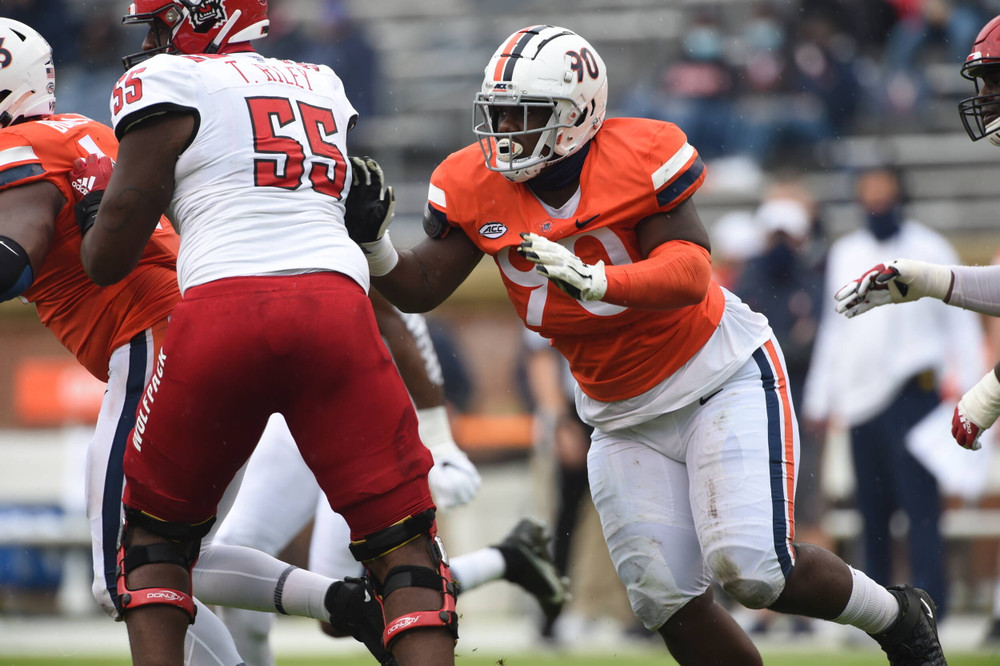 By the start of spring practice last month, Carter had reached a position in the strength and conditioning program rarely attained by underclassmen. He moved from gray, the second-lowest level in director of football development and performance Shawn Griswold's program, to blue, the second-highest level. Carter skipped orange, the third-highest level, entirely.
"In the offseason, when we all went home, I continued to work on the things I needed to improve on, like my agility and my strength some more," Carter said. "So when I jumped to blue, I was grateful for it, but I knew the work I put in, so it wasn't really too surprising to me."
Defensive lineman Mandy Alonso and cornerback Nick Grant are the only Cavaliers in black, the highest level, this spring. Of the freshmen who enrolled at Virginia in 2020, only Carter is in blue. Of his classmates, only Olasunkonmi Agunloye is in orange.
"That dude will work, now," Griswold said of Carter.
Dwayne Chandler, UVA's associate coach for football development and performance, calls Carter "The Finisher," Griswold said, "because that dude finishes every rep of everything he does, whether it's running or lifting. He's very deliberate with his work."
Carter said he draws inspiration from his family. "Seeing the people around me work motivates me to work harder, because I want to be in a position one day where I can give back to the people I love and care about. So that's something that motivates me every day to come out and work."
His father grew up in Baltimore and played football, basketball and lacrosse at Woodlawn High School. (Woodlawn's current head football coach, coincidentally, is former UVA standout Tavon Mason.) Ferron Carter played basketball and football at Bowie State University and now runs Dynamic Sports Performance.
Jahmeer Carter said he started lifting weights late in his elementary school years. "Nothing heavy, small dumbbell weights, but as time continued I kept improving."
When the COVID-19 pandemic hit in March 2020 and the University switched to online classes, many players struggled to get access to weights. Carter, still in high school, was able to work out at his father's gym.
"I had access to everything I needed," he said.
And so when Carter enrolled at UVA last summer, he was "already one step ahead of the game," Griswold said. "His dad did an incredible job with his training throughout his high school career. Jahmeer comes in already very proficient at stuff, where a lot of guys, just based on where they're from, don't have a whole lot, or don't do it, or play multiple sports."
It's one thing, of course, to shine in the weight room. It's another to put that strength to good use on the field. Carter has shown the ability to do both. His attention to detail impresses Alonso, who's heading into his fifth year at UVA.
"He makes sure to get all his assignments right," Alonso said. "What Coach talks about in meetings, he makes sure to work on those things, and you see it through his technique."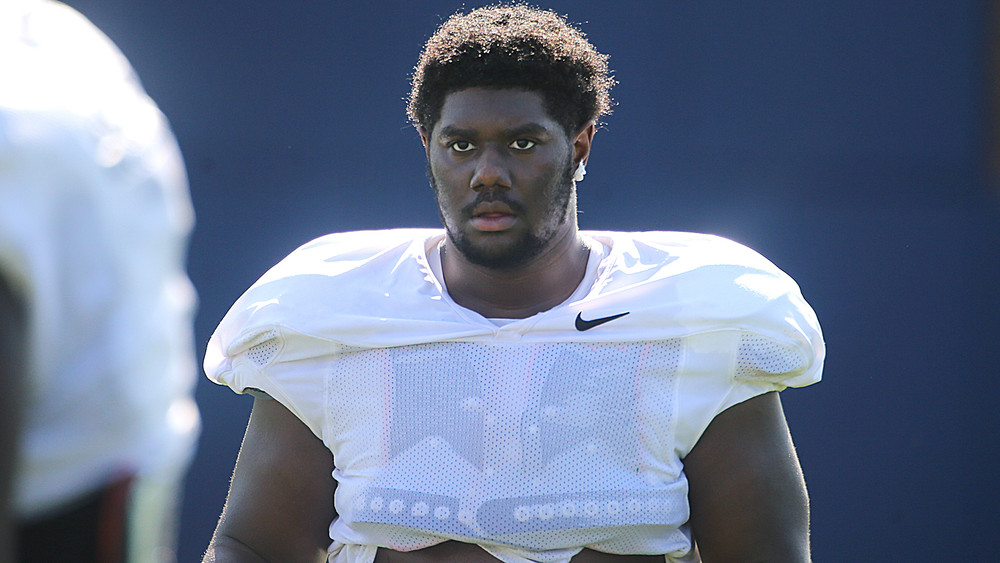 Carter committed to UVA in July 2018. "I loved the family aspect and how close everyone is," he said this week. "That's a big part for me. I feel like here it's more than football, and that's something I enjoy."
Sintim, a former All-America linebacker for the Hoos, returned to his alma mater and joined head coach Bronco Mendenhall's staff in February 2020. He had few expectations for what Carter might be able to contribute as a true freshman.
"I think as a college coach, when you talk about guys who you're counting on for the following year, you usually don't count freshmen, because you never know what the growth is or the maturity is or the development is," Sintim said. "But Jahmeer from the start, in everything that he's done, he's approached it the right way.
"He's been deliberate, he's been intentional, and he already had a foundation of knowledge and ability and a lot of good things to build off of, and I think part of that is because of his father and how diligent his father was with him. I think he's just continued to get better every opportunity he was."
The Cavaliers' true freshmen last season included three defensive linemen: Carter, Agunloye (6-foot-6, 270 pounds) and Nusi Malani (6-foot-6, 250).
Not only are the classmates impressive athletically, "but character-wise, as far as what they're bringing to the table, all three of those guys are in the same mold," Sintim said. "They're hard-working, they're good students, and they've all exemplified so far what you want a UVA football player to be. I've been spoiled by these guys, I really have."
Carter said he's focused this spring is on honing his skills. "Just work hard," he said. "Same mindset as my freshman year. Keep improving as best I can and try to contribute to this team's defense."
That Carter is exceptionally strong is apparent during drills at practice, but there's much more to his game.
"You see guys like that who can't really move," Sintim aid. "Jahmeer has short-area quickness. He moves really well laterally for a guy his size, and there's power behind it. There's so much more room for him to develop and grow, but he's been spot on thus far this spring."
To receive Jeff White's articles by email, click here and subscribe.