By Jeff White (jwhite@virginia.edu)
VirginiaSports.com
CHARLOTTESVILLE –– Leaning on a crutch, his right knee wrapped, University of Virginia wide receiver Lavel Davis Jr. offered a steady stream of commentary from the sideline during an 11-on-11 period at practice Tuesday morning.
"Good job, boy!" Davis shouted after a catch by fellow wideout Ra'Shaun Henry
"You gotta get that one!" Davis exhorted Henry after a pass glanced off Henry's fingers in the end zone.
"Go, go, go!" Davis yelled as running back Mike Hollins burst through the secondary and raced toward the end zone.
Coming off a breakout season as a true freshman in 2020, the 6-foot-7 Davis was expected to do big things for the Wahoos this fall. But he'll be a spectator for the foreseeable future. Davis is likely to miss at least the first two months of the season after tearing the anterior cruciate ligament in his right knee during the Cavaliers' first practice this spring.
That's the same injury Davis suffered late in his junior season at Woodland High School in South Carolina. UVA head coach Bronco Mendenhall revealed Monday, during a Zoom call with media members, that outside linebacker Chico Bennett, a transfer from Georgia Tech, also is out with a torn ACL.
"Both are possible [to return] in November, from what I understand," Mendenhall said.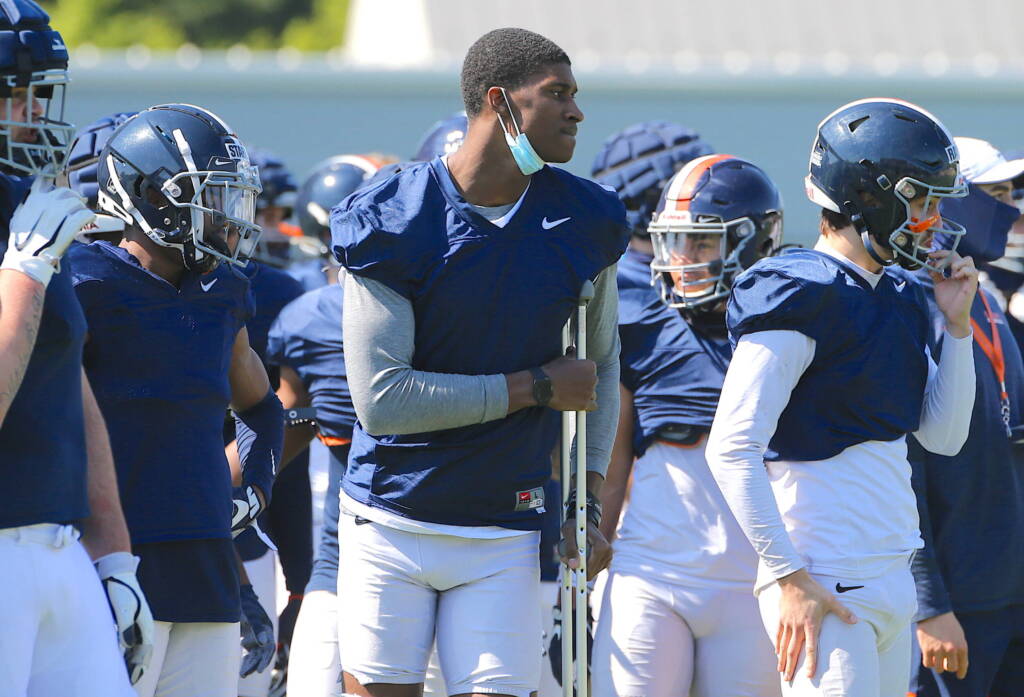 Such injuries are not uncommon in football, and "the only way to really avoid that is not practice in the spring," Mendenhall said. But that doesn't make them easier to accept. Every serious injury "makes you question what to do, what to do different, how to do it better or just not do it at all," he said.
A torn ACL means "a hard rehab and hard recovery," Mendenhall said. "In Lavel's case, he's already done it once in high school, so he knows how to do it, and he's optimistic and he's hard-working. Both are in good spirits and anxious to return as soon as possible."
In eight games last season, Davis caught 20 passes for 515 yards and five touchdowns. Among FBS players who averaged at least two receptions per game, Davis ranked second nationally in yards per catch (25.8). He's only one of five FBS players in the past decade to have totaled at least 500 yards on 20 or fewer receptions.
"He's a really good player," Mendenhall said. "We expected and knew that he was capable of even more than he did a year ago."
With Davis sidelined, wideouts Billy Kemp IV, Keytaon Thompson, Dontayvion Wicks and Henry figure to play larger roles in the offense.
Henry joined the program last summer as a graduate transfer from St. Francis (Pa.), an FCS program for which he caught 90 passes in 2019. In his first season as a Cavalier, he had seven receptions for 206 yards and four touchdowns.
As he prepares for his second season at Virginia, the 6-3, 190-pound Henry is in great shape and "has had an amazing spring," Mendenhall said. Henry has reached the second-highest level, blue, in the Hoos' strength and conditioning program. His position coach, Marques Hagans, encouraged him to return for another season at UVA, and Henry's decision to do so could pay significant dividends for him and the team.
"He could have easily walked away, but he accepted the challenge," Hagans said. "He definitely makes our group better, and I'm excited to see what he can do as he learns what he can do with a new body and a new work ethic."
Kemp had 67 receptions for 644 yards, both team highs, last season. Thompson caught seven passes for 98 yards and three TDs and also lined up at quarterback and running backs. Wicks missed the season with a foot injury but impressed as a true freshman in 2019, catching three passes for 61 yards and a TD.
Wicks is "doing a really nice job also," Mendenhall said. "And so unfortunately we're kind of trading Lavel for Dontayvion, one for one. Our hope was to have both. And so [it's] frustrating for all of us."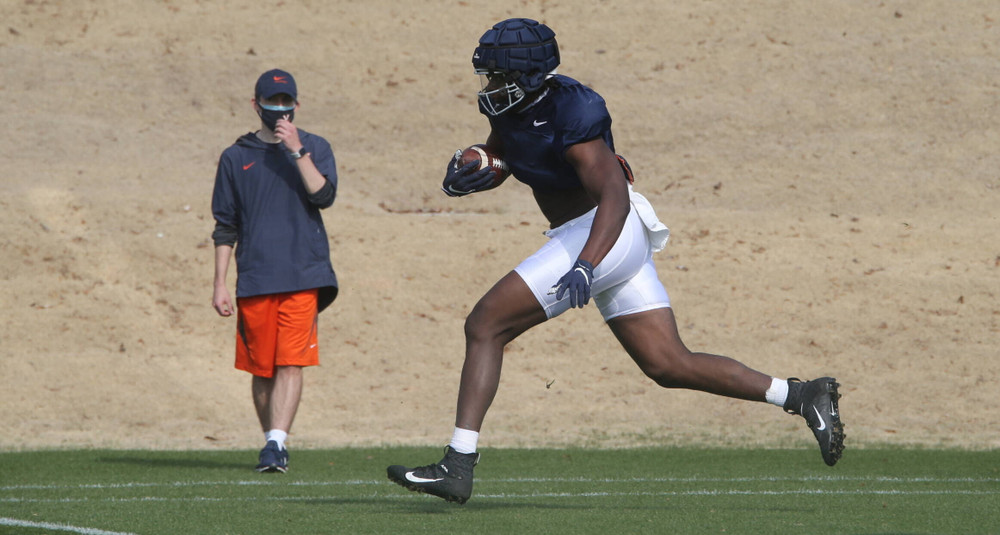 BIG MAN ON GROUNDS: When the Cavaliers' offense takes the field, Jelani Woods is impossible to miss. He's a 6-7, 265-pound tight end who joined the program early this year after graduating from Oklahoma State.
Woods, who has two seasons of eligibility left, is "probably the brightest spot that I've seen in our program this spring," Mendenhall said. "He is big and he's fast and he's physical and he catches the ball well and he's a great blocker, and man, is he thankful to be here. So he is a welcome addition to our program at a position of need coming off Tony's performance."
In 2020, his only season at UVA, tight end Tony Poljan, a graduate transfer from Central Michigan, caught 38 passes for 411 yards and six TDs.
Woods "will be the next Tony, except with two years [of eligibility], with similar, if not increased, capability," Mendenhall said. "I'm so thankful he's here, and what a great young man. It is a perfect fit for us and him, and did I mention he's really big?"
In 34 games for Oklahoma State, Woods caught 31 passes for 361 yards and four TDs.
LAST LINE OF DEFENSE: Virginia's safeties have played well this spring, Mendenhall said, led by fifth-year senior Joey Blount and sixth-year senior De'Vante Cross, a starting cornerback last season.
Blount, who's made 22 career starts at safety, has dealt with injuries in his previous springs at UVA. "Even though he's been here quite a while it's his first time he's been through an offseason and been healthy," Mendenhall said. "He's strong and he's fast and he's physical and he's making lots and lots and lots of plays. So I really like what he's doing."
Antonio Clary has been the No. 3 safety thus far, Mendenhall said, with Coen King behind him. "I really like what I've seen from those four," said Mendenhall, who also singled out Chayce Chalmers.
Another safety, Donovan Johnson, is recovering from an injury and not participating fully this spring.
ONGOING BATTLE: The Cavaliers' options at running back include Wayne Taulapapa, Mike Hollins and Ronnie Walker Jr., and "they're all running more violently, more productively and more urgently because of the competition," Mendenhall said.
Taulapapa has started 19 games at Virginia, so he has an edge in experience and productivity on the other two, Mendenhall said, but "it is literally dead even right now with all three of them."
Another option is Amaad Foston, a freshman who joined the program this semester and is "already showing a lot of promise," Mendenhall said.
Hollins, who rushed for three touchdowns as a true freshman in 2019, opted out last season because of COVID-19 concerns. Walker, a transfer from Indiana, appeared in four games last season, carrying 23 times for 66 yards.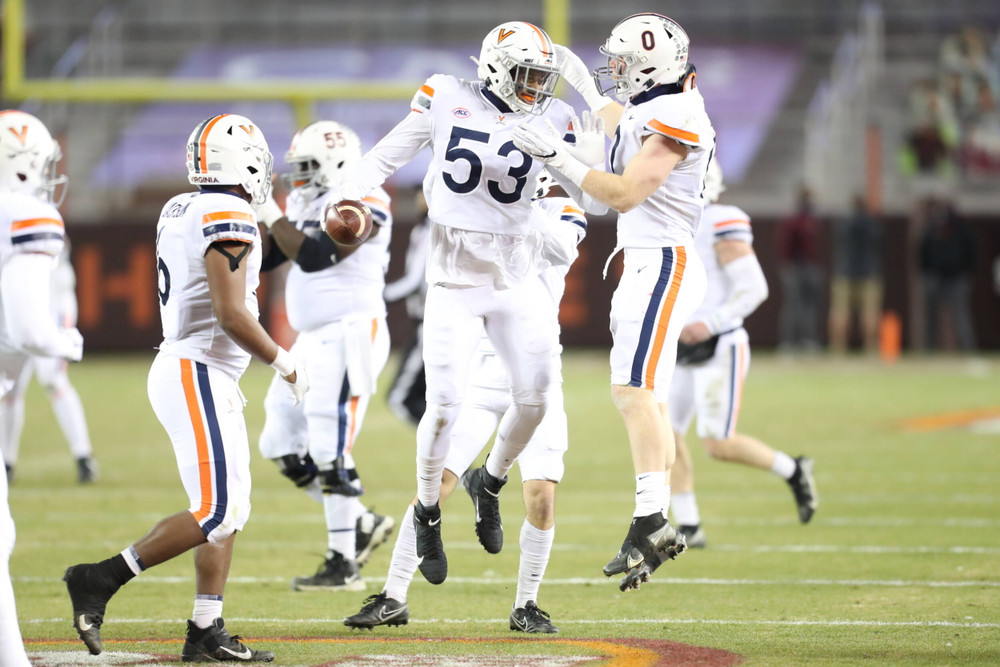 FULL SPEED AHEAD: More than a year into the pandemic, the Cavaliers continue to follow COVID-19 protocols, but spring practice is proceeding smoothly. There's much more certainty than in 2020, when spring practice was canceled.
"We're out on grass playing football, and it feels normal, even though we have masks on in between," Mendenhall said. "In relation to what the season was like, this is nothing. We know what to expect. We know what's normal. We know what's safe, what's not safe. We've been through players testing positive. We've been through contact tracing … It literally is requiring no extra energy to just play football, much like it's normal, and, man, is that welcome for all of us.
"Our program is advancing, we're moving forward, we're gaining ground, and I love our mindset where the guys are working really hard and we're making a lot of progress daily. It's just so refreshing just to have a sense of normalcy. Even though it's not truly normal yet, it certainly just feels like it."
The Hoos will conclude spring practice on May 1.
ON THE RISE: After joining the Cavaliers' program as a freshman in the summer of 2019, Hunter Stewart played in no games that fall. He appeared in every game last season, when he made four tackles and recovered a fumble, and he's taken another step forward this spring.
A graduate of Gonzaga College High School in Washington, D.C., the 6-2, 240-pound Stewart has been working with the first-team defense at outside linebacker.
"He had a great offseason," Mendenhall said. "He's leaner, he's faster, he's stronger [and] quite frankly just more committed, and normally commitment is not only viewed in work ethic, it's viewed in body composition. And those commitments are hard when you have to consider whatever you're drinking, when you have to consider what you put into your body. Every one of those choices matters and then it manifests to what you look like, and Hunter has really done a nice job. So he's faster, he's leaner, he's more physical, he's stronger, and he's just playing harder. And so I've really been impressed so far."
ROLE MODELS: The Cavaliers' assistant coaches include two of the program's all-time greats, Marques Hagans (wide receivers) and Clint Sintim (defensive line), and Mendenhall lauded them Monday.
After taking the UVA job in December 2015, Mendenhall retained Hagans from the previous coaching staff. Sintim is in his second year as a Virginia assistant, and he's "growing, becoming, and developing into an outstanding coach," Mendenhall said.
"He already is an astounding person. He and Marques Hagans, they are UVA football. I couldn't think of two better ambassadors, two better representatives, and two better people to develop young men. They are exceptional."
To receive Jeff White's articles by email, click here and subscribe.