By Jeff White (jwhite@virginia.edu)
VirginiaSports.com
CHARLOTTESVILLE –– He's always enjoyed working with his hands, and Hunter Stewart remembers finding Bob the Builder sets under the Christmas tree when he was a young boy. Later, when he was about 15, Stewart received a table saw as a present, and he likes tackling home improvement projects at his family's residence in Alexandria.
"I fix stuff all the time around the house," said Stewart, who replaced the drywall in a bathroom and a bedroom last year.
After the 2020 season, his second in the University of Virginia football program, Stewart went to work on his body, with the help of his brother, Sean, who runs gyms in the D.C. area. In late January, Stewart returned to Grounds in terrific shape, and he's been battling Elliott Brown this spring for a starting job at outside linebacker.
During practice Tuesday, the 6-foot-2 Stewart picked off a pass by quarterback Brennan Armstrong, and his fellow defenders swarmed around him to celebrate the takeaway.
"Right now there's a good little battle going on with Elliott and Hunter," linebackers coach Kelly Poppinga said, "and I'd say right now honestly it's neck and neck."
The Cavaliers, who finished 5-5 last season, will hold their 15th and final practice of the spring Saturday afternoon at Scott Stadium. Stewart expects his parents and his brother to attend, "so I'm excited about that," he said.
A graduate of Gonzaga College High School in Washington, D.C., Stewart enrolled at UVA in the summer of 2019. Slotted initially at outside linebacker, he redshirted that fall.
In 2020, he was moved to inside linebacker to provide depth at that position. He appeared in all 10 games last season, primarily on special teams, and recovered a fumble in the finale against Virginia Tech in Blacksburg.
Stewart, who wore jersey No. 53 in 2020, headed into the offseason knowing he'd reached a critical point in his college career. If he was going to move up the depth chart, he needed to stand out in 2021.
"I've been it in a couple years, so I know both inside and outside [linebacker] now," Stewart said after practice Tuesday. "I know the playbook a lot better. I physically know what it takes to get ready for a game now, so I feel like this is the year to put it all together and really step into a role where I'm playing."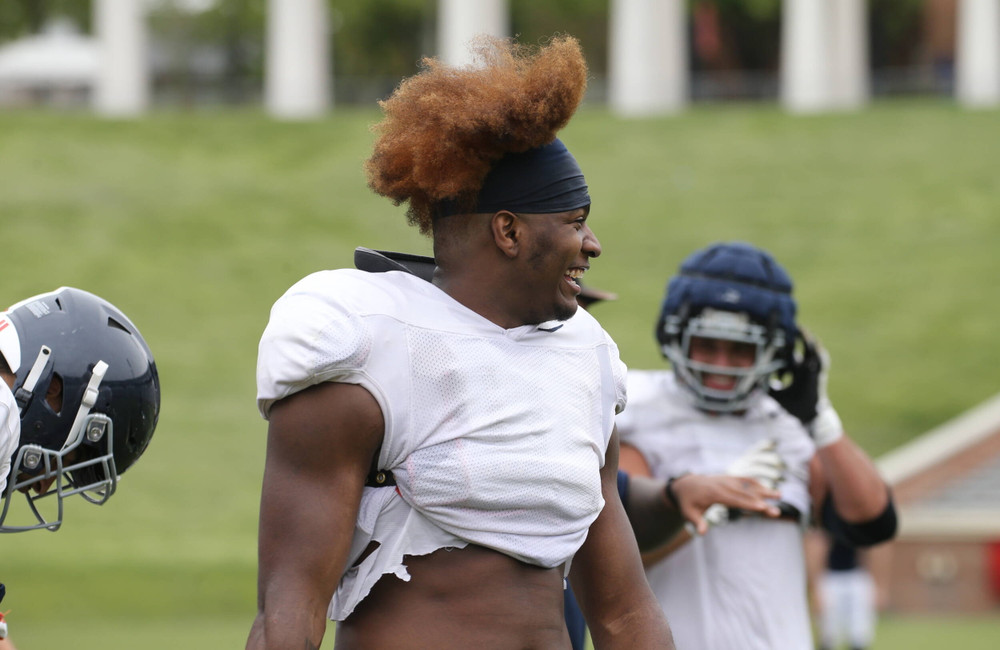 After the COVID-19 pandemic hit and the University switched to online classes in March 2020, Stewart returned home to Alexandria. By the time he returned to UVA in July to start workouts with the team, he'd bulked up to 255 pounds.
Stewart didn't move as well at that weight, and he shed pounds as the year went on, finally dropping to about 225.
"He ended up losing too much weight," Poppinga said, "which actually in the long term ended up helping him, because he was able to build a lot more muscle mass in the offseason. We tore him down and then we were able to build a lot more muscle on him. He's put on about 15 pounds of muscle mass, so he's now around 240, and he's moving around really well."
Bronco Mendenhall has noticed. Stewart has "really done a nice job," UVA's head coach said recently. "He's faster, he's leaner, he's more physical, he's stronger, and he's just playing harder."
Stewart is technically an outside linebacker again, but his versatility gives the coaching staff multiple options.
"There's plays where he's lined up at inside backer," Poppinga said, "and there's times when he's an outside backer, so he's doing some really good stuff right now."
Virginia's top three outside linebackers in 2019 and '20 were Charles Snowden, Noah Taylor and Matt Gahm. Of that group, only Taylor is still on the roster. Brown has more experience than Stewart but missed a sizable part of spring practice with an injury. That's created an opportunity for Stewart on which he's capitalized.
"He's gotten a lot of reps with the [first-team defense]," Poppinga said. "He's doing a lot of good stuff. He just needs to be more consistent day in and day out. There's some days where he flashes a lot more than other days, but I think he's going to become more consistent as he gets more experience. He really cares a lot. He studies a ton of film, he knows the defense really well, so I'm really pleased with where he's at up to this point."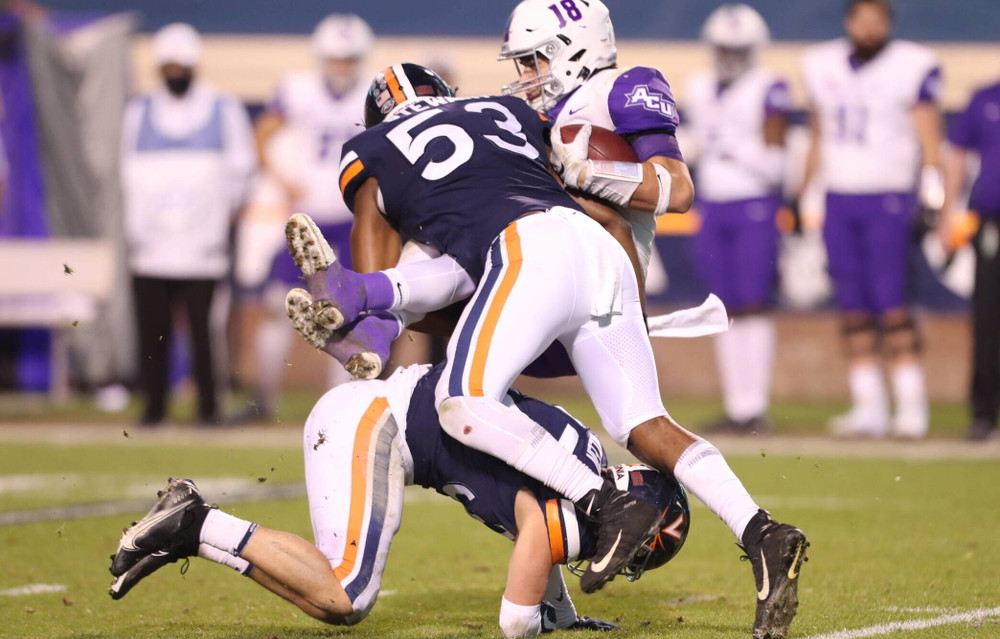 Coming off a stellar career at Gonzaga, which competes in the rugged Washington Catholic Athletic Conference with such schools as DeMatha, St. John's College and Good Counsel, Stewart expected his transition to Division I football to go seamlessly.
"As a first-year, you think about what you're coming into a little differently," he said. "I was a starter for three years in high school, so I thought I would come in, learn the plays, and it would be a cakewalk."
He learned otherwise when he joined the Cavaliers' program. Playing time had to be earned, and so Stewart began putting in more work. He spent a couple of weeks last year in Georgia with Chuck Smith, who specializes in teaching pass-rushing techniques, and spent countless hours training with Sean Stewart.
"That's who really helped me get my body back," Hunter Stewart said of his older brother, who served in the Marine Corps. "He's a certified nutritionist and strength and conditioning coach, so he really helped me get my nutrition dialed in, plus my weight training style. For him to do all that, that was a real blessing to help me get to where I am right now."
Two of Stewart's UVA teammates––offensive linemen Jestus Johnson III and Jack Keenan––played with him at Gonzaga, too. Stewart, who also had offers from such schools as West Virginia, Kentucky and Illinois, said he chose Virginia because it offered "that perfect balance between academics and good football."
Stewart, who lives with wide receiver Luke Wentz, is studying architecture at UVA and one day would like to run his own firm.
"In high school I did several independent art studio classes," Stewart said, "and I've always been a fan of art, and I've always like to build, so I combined the two."
To receive Jeff White's articles by email, click here and subscribe.