By Jeff White (jwhite@virginia.edu)
VirginiaSports.com
CHARLOTTESVILLE –– The first baseman's mitt that covers Jake Gelof's left hand when the University of Virginia baseball team is in the field? It's not his.
"Alex Tappen had an extra one," Gelof said, "and he's letting me use it."
A 6-1, 195-pound freshman, Gelof arrived at UVA last summer unprepared to play first base, and for good reason. There were no plans to use him at a position he played only a handful of times in high school.
Plans change, though, and after an injury to starter Devin Ortiz late last month, the Cavaliers' coaches decided to try Gelof, who had started three games at second base and two in right field, at first base. There was no time for Gelof to break in a new mitt, but Tappen, who's in his fourth year on the team, came through with the assist.
Gelof has been "learning on the fly," as head coach Brian O'Connor put it. In his debut at first base, Gelof went 3-for-6 with two doubles and two RBI in UVA's 18-1 rout of Virginia Tech in Blacksburg. Three weeks later, No. 22 is still at first.
"He's done a good job over there," said his brother, Zack Gelof, the Wahoos' third baseman.
Two days before the start of three-game series in Blacksburg, UVA's coaches asked Jake if he could report to Disharoon Park early for some extra work. "I didn't even know I was going to first," he recalled.
O'Connor gave him a "big, broad overview" of what would required at his new position, said Jake, who's been tutored primarily by assistant coach Matt Kirby since then.
"It's definitely been very helpful," Jake said, "and I'm always improving and getting more comfortable over there. My mindset over there is just to be athletic and help the infielders and all my teammates out."
Virginia (25-21 overall, 16-17 ACC) closes the regular season with a three-game series against Boston College (20-26, 9-21), starting Thursday night in Brighton, Mass. The Cavaliers are coming off a series sweep of Wake Forest. Jake went 5-for-11 against the Demon Deacons, with two doubles, a triple, four runs, four walks and five RBI, and clinched the series for UVA with a walk-off single in the ninth inning of the second game.
"It was super cool to be able to come up in the clutch for the team," Jake said.
For Zack, a three-year starter who was a second-team All-American in 2020, playing with his kid brother has "been awesome. To be on the same field with him and competing for one goal of getting to the postseason and then making a run, that's what it's all about."
Jake is batting .264, with six doubles and 14 RBI. The Hoos have won five of their past six ACC series, and he's contributed to their resurgence.
"It's definitely fun getting in the lineup and being able to produce for my teammates," Jake said, "and winning makes it even better. It's a lot more fun winning, and that's the goal,."
Associate head coach Kevin McMullan said Jake's progress has been steady. "I think obviously when you play more on a regular basis, there's a little better consistency, and you can see him getting more comfortable each game he's gotten in the back third of the year here."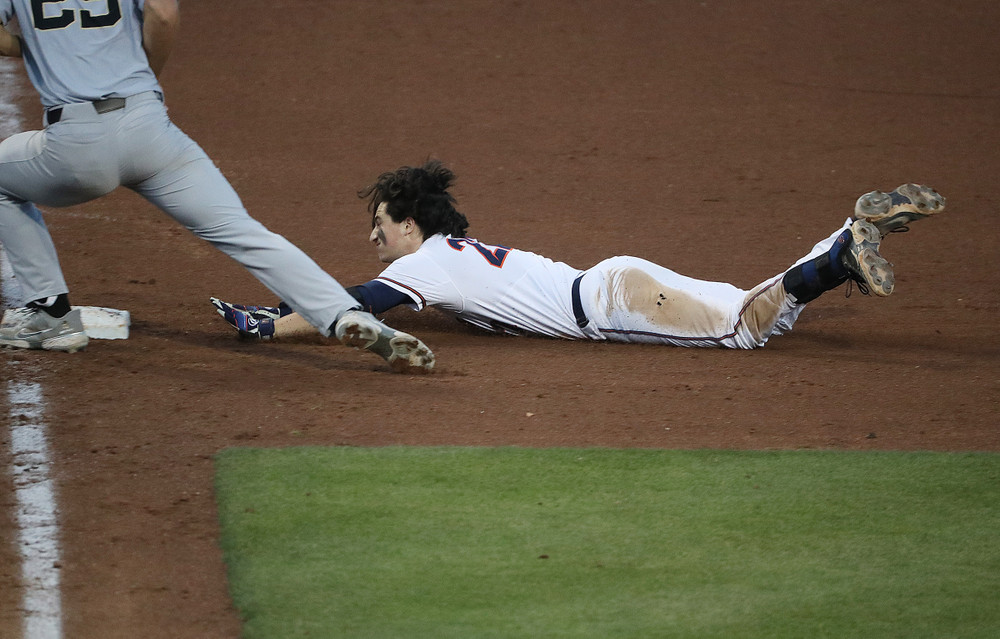 In O'Connor's 18 seasons at UVA, he's coached six sets of brothers: Kyle and Keith Werman, Tyler and Riley Wilson, Jacob and Justin Thompson, Joe and Jake McCarthy, Will and Jack Roberts, and the Gelofs. Until this year, however, two brothers had never overlapped in O'Connor's program.
This is not the first time the Gelof brothers have been teammates. They played together at various times in the Bagel Bombers travel club, in Lewes (Del.) Little League, at Beacon Middle School, and for two seasons at Cape Henlopen High.
In 2018, when Zack was a senior and Jake a sophomore, they helped Cape Henlopen win the first state championship in school history.
Zack is hitting .287 this season, with six home runs and a team-high 30 RBI. For all the similarities between the Gelofs, there are differences, too, McMullen said. "Zack has a more polished experience to him, and Jake is a little bit more aggressive, not as shined up yet, but productive."
Another difference: Jake is often demonstrative on the field, especially during pivotal moments, while Zack stays on more of an even keel.
"His thing has always been showing a lot of confidence in himself," Zack said, "and I think that's part of the reason why he's been so successful at each level, including in the ACC for us."
McMullan said: "I think this is a group that plays off that emotion and that energy, so I think Jake's been a good shot in the arm for our group."
Jake rooms with classmate Kyle Teel, who leads the Hoos in hitting (.305) and home runs (seven). They've provided a welcome jolt of energy to a team that struggled early in the season.
"Having a personality on the baseball field, it's becoming more a part of the game," Jake said. "Kyle plays with a lot of emotion, too. He's very animated behind the plate, his helmet's always falling off, and he's taking big, hard swings.
"It always been a part of my game. I've limited it a little bit, but overall I think the team does feed off of good at-bats, and showing some emotion gets the team going and it's been pretty fun."
Jake said he and Teel are "always feeding off of each other. We're very close teammates and friends. We've been able to reflect on games and talk to each other about what we're going through and talk about hitting and just about every part of the game. It's been fun to learn from him, and I'm sure he's learned some things from me that will definitely carry through. It's been a fun relationship."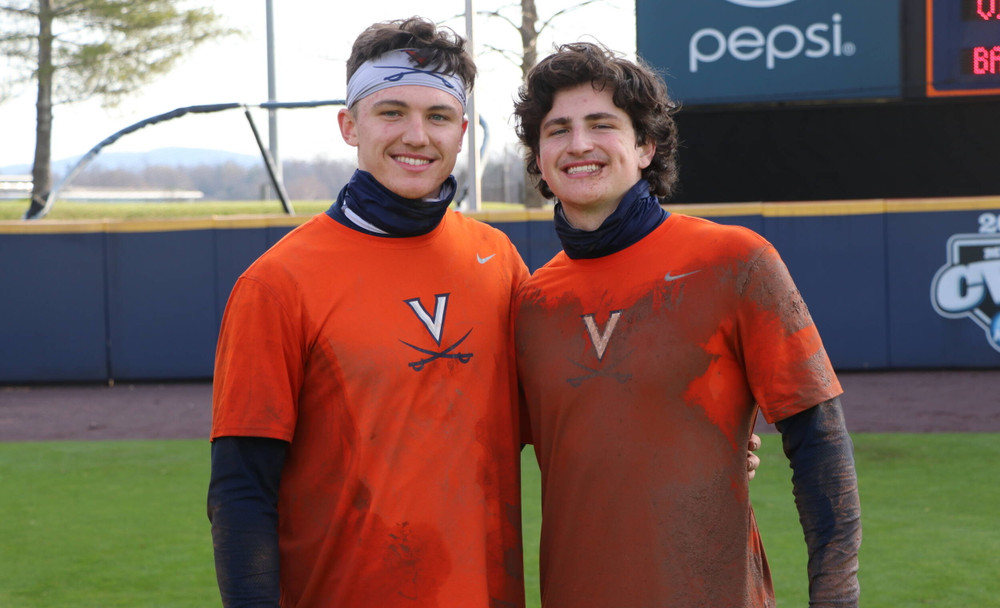 Jake spent his final two years of high school at IMG Academy in Bradenton, Fla. A one-time William & Mary recruit, he had a change of heart the next summer. After re-opening his recruitment, he committed to UVA in 2019.
In high school, he played several infield positions and also pitched, and that versatility has served him well at Virginia. With players like Jake, McMullen said, "you get some flexibility with them. Sometimes they've just got to be taught the nuances of the position."
In seasons to come, Jake is likely to end up at third base if he doesn't stay at first, McMullan said. "It just depends on the makeup of our roster."
Jake likes third and played extensively there in high school, "but obviously whatever the team needs to be the best that it can be, I'm willing to do," he said.
For now, he's thrilled to be starting alongside his brother. Their parents are enjoying it too.
"Whenever we talk to them after the game, it's just constant smiles," Zack said. "They're just super happy, because they get to watch us together and the team's doing well. Everything's good."
To receive Jeff White's articles by email, click here and subscribe.