By Jeff White (jwhite@virginia.edu)
VirginiaSports.com
CHARLOTTESVILLE –– When his father finally allowed him to play organized football, eighth-grader Justin Duenkel signed up for the Vienna youth league in Northern Virginia. At that level, a kicked PAT is worth two points, and a conversion scored with a run or a pass is worth one.
At practice one day, his coach asked the players if any of them could kick. Duenkel had played soccer, so he volunteered.
"On the first one I hit it pretty well, and he was like, 'Whoa, do it again,' " Duenkel recalled. "And I did it over and over and over until we really got the hang of it, and it kind of went from there. I was like, 'I like doing this, it's not too bad.' "
His kicking career flourished. Duenkel also started at safety on the varsity team at Flint Hill School, but it was clear his future in the sport lay at another position. As a kicker, he was twice named all-state and as a senior in 2018 made The Washington Post's All-Metro first team.
His powerful right leg caught the notice of the University of Virginia coaching staff, which invited Duenkel to join the program as a recruited walk-on. It was not a difficult decision for him. His father, Doug, played football at UVA, from which he graduated in 1992, and Duenkel had grown up attending games at Scott Stadium.
"I've had Virginia on my mind since I was a very little kid," said Duenkel, whose coach at Flint Hall was Tom Verbanic, a former football and baseball player at UVA. "I remember going to games when I was a kid. My dad would be like, 'You're gonna want to do this one day,' and I'd be like, 'That would be so cool.' And then all of a sudden, one thing led to another and here I am."
As a true freshman in 2019, Duenkel appeared in only one game, converting an extra point against Duke. In 2020, his role grew. He handled kickoff duties for the Wahoos' final seven games.
"It was a big learning experience," said Duenkel, who had 26 touchbacks (out of 43 kicks). "I was learning mental toughness, physical toughness. I had a few slip-ups to start, and then once I started to figure out what I was doing, I think it kind of took off from there."
His responsibilities could expand again this season. Brian Delaney, who kicked field goals and extra points for the Hoos for most of the past three seasons, graduated and is working in sales in Northern Virginia. As UVA's Sept. 4 opener against William & Mary approaches, Duenkel and Hunter Pearson are battling for that job.
"It's still ongoing," special teams coordinator Ricky Brumfield said. "We're just going to keep on going to the week of the game, and then once we get there we'll solidify it so those guys can focus on making kicks and not competing."
Jacob Finn, a graduate transfer from the University of Florida, is expected to be Virginia's starting punter. Duenkel's goal is to handle of all the kicking.
"I want to do that," he said, "but, again, the kickoff job's open, the field goal job's open. It's all competition, so I've got to earn it every day."
He knows a short memory is essential in kicking.
"If you miss one, you gotta let it go," Duenkel said. "If it gets blocked, let it go. If something doesn't go your way, you gotta just flush it. I think a learning experience from last year is to not get too wrapped up in your own head. Each kick is individualized, so you gotta take one at a time."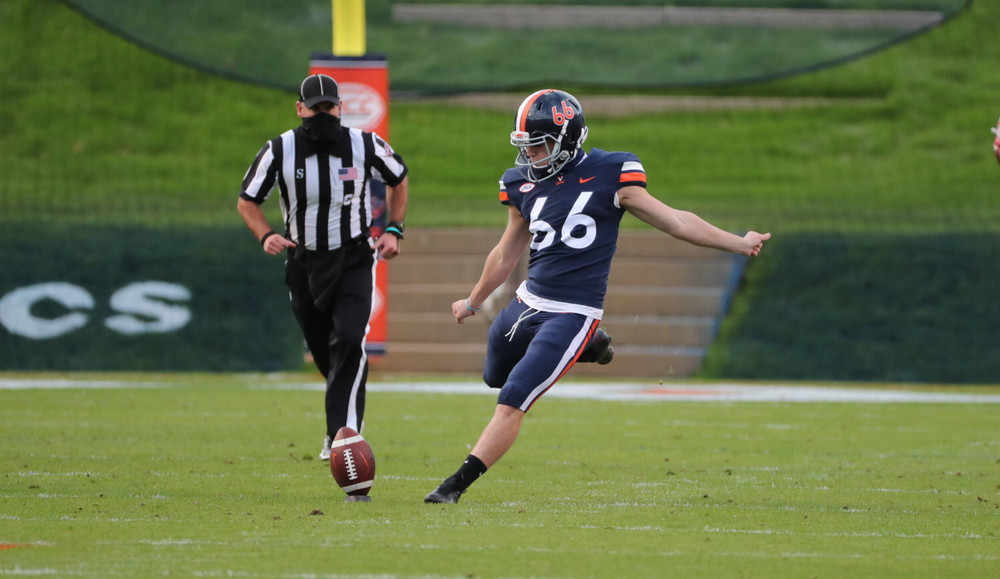 Like Duenkel, Delaney grew up in Northern Virginia. Delaney remembers meeting Duenkel, then in high school, at a camp for kicking specialists. "He introduced himself and we talked a little bit," said Delaney, a graduate of Westfield High School.
Once they became teammates at UVA, Delaney gained a better appreciation for Duenkel's skill set.
"The first thing everyone will notice with him is he has a massive leg," Delaney said. "He has an NFL-caliber-strength leg. He can hit kickoffs as far as anybody in the ACC and can probably have the field-goal range for anybody in the ACC as well."
UVA's punters, kickers and long-snappers call themselves Team Kick. They're friends, and they're rivals.
"We're competing, we're going head to head all the time, but as soon as one of us experiences any success, we're going to be the first ones there to congratulate each other," Delaney said. "And as soon as one of us experiences any hardship, we're going to be the first one there to really coach each other up, make sure that rep is in the past."
For the Cavaliers' first three games last season, Delaney was responsible for kickoffs as well as field goals and extra points. He wasn't thrilled about relinquishing kickoffs to Duenkel, Delaney said, but "as soon as he took that role, I definitely became supportive. I told him it was his job to keep from here on out.  His first kickoff in a game, I remember, was a touchback, and I think I was probably the first person that came up to him once he got off the field. I went up and gave him a chest bump."
Delaney remains a mentor to Duenkel.
"He's been nothing but nice to me," Duenkel said. "He took me under his wing when I got here. He's definitely a role model."
When Duenkel has questions, Delaney said, "he'll hit me up, and we'll discuss kicking and things like that, any concerns he might have. We've all been through similar situations, so he knows that he can talk with me and ask questions about anything."
Exceptional athletes abound in Duenkel's family tree. His aunt Virginia Duenkel was an Olympic swimmer who won a gold medal at the 1964 Summer Games in Tokyo. His uncle Bob Duenkel was an All-American swimmer at Kansas State.
Duenkel's grandfathers played football and baseball in college, respectively, and his mother played soccer at James Madison University. His sister, Halle, played lacrosse at JMU and was on the team that won the NCAA title in 2018. His brother, Ryan, is a standout lacrosse player and place-kicker at St. John's College High School in Washington, D.C.
"My siblings took most of the athletic genes," Duenkel said.
Growing up, he said, loved to wrestle and loved to play lacrosse and street hockey. He never swam competitively. "I liked more physical sports," Duenkel said.
As a ninth-grader, he stood about 5-foot-1 and weighed around 110 pounds. By his senior year, though, Duenkel had sprouted to his current height, a shade over 5-foot-11, and weighed about 190. He's now at 205 pounds, and he's reached the third-highest level, orange, in the Cavaliers' strength and conditioning program.
He may never attain black, the highest level, "but I'll be in blue next year," Duenkel said. "I know that for a fact."
He's majoring in sociology and enjoys studying human behavior. "I want to be a sales rep, so I think that's a good route for it," Duenkel said. "I love talking to people. I think it's fun. I love meeting new people."
He laughed. "My girlfriend even tells me I've got to stop talking to random people, because I do it so often in public."
The COVID-19 pandemic made 2020-21 academic year challenging for everyone at the University. Even so, Duenkel raves about his UVA experience, both as a student and a member of head coach Bronco Mendenhall's football program.
"I love the concept of earning everything you get," Duenkel said. "Not everything in this world is free, and every day you have to do something to get there. So I love that concept. Football's awesome. I love the strength staff, I love the coaching staff. It's a lot of fun."
To receive Jeff White's articles by email, click here and subscribe.