By Jeff White (jwhite@virginia.edu)
VirginiaSports.com
CHARLOTTESVILLE –– In the University of Virginia football team's first five seasons under head coach Bronco Mendenhall, its base defense was a 3-4. The Cavaliers still employ that scheme, as well as a 2-4-5, but they came out in a 3-3-5 in the season opener Saturday night against William & Mary.
That defense is often associated with Rocky Long, one of Mendenhall's mentors in the coaching profession. Mendenhall worked with Long at Oregon State and New Mexico.
On his weekly Zoom, Mendenhall said Monday that one of the things he learned early in his coaching career "is you put the best 11 players out on the field that match up best against any given opponent. And so the more and more years that I coach, the more schemes and knowledge and options become available to then deploy or to use the existing best players that we have in our program against any given opponent. That was what you saw on Saturday."
Virginia opened with a 43-0 win over William & Mary at Scott Stadium. The Wahoos are back home Saturday for an 11 a.m. game against Illinois (1-1). The depth chart UVA released Monday lists 13 positions on defense: three linemen, five linebackers (including one that's in the nickel package) and five backs (one of which is in the nickel  package).
"We love flexibility and we love adaptability," Mendenhall said, "so we try to put the best 11 football players out there, really in any configuration we can on any given week. It kind of just reflects some of the flexibility there."
Sixth-year senior Nick Grant is one of the team's most versatile players. Grant was a starter last season at cornerback, which has been his primary position as a Cavalier, but he moved to safety during fall camp last month, and that's where he played against the Tribe.
"My mentality is that I'm a defensive back," Grant said Monday. "I can play anywhere in the secondary. Whatever Coach needs me to do I can do, and based on my skill set, I can play any spot that we need me to play."
Grant's grasp of both positions "provides us more depth," Mendenhall said, "and what we've learned [in recent years is that] depth in the secondary is really important, so players cross-training and being available at multiple positions and training there and playing there, that helps with our depth."
As a redshirt sophomore in 2018, Grant played some safety in Virginia's loss to Pittsburgh. "I didn't know what I was doing and I got embarrassed," he recalled Monday. "So I've had that learning experience, and it just comes full circle."
To accelerate his learning curve, he's been studying videotape of such UVA free safeties as Quin Blanding and Joey Blount. Blanding, the Cavaliers' all-time leading tackler, now works in the program's recruiting department. Blount, a fifth-year senior, started alongside Grant and De'Vante Cross at safety Saturday night.
"Joey's playing right next to me, and he helps me on the field a lot, so it hasn't been too difficult," Grant said of the position change.
Even so, Grant said, the season opener was "still pretty nerve-wracking. I'm still trying to get comfortable seeing things a certain way and dropping in and being the high player [in the secondary], but it felt good, it felt natural, it felt fun. I was just glad to be back out playing football with my guys."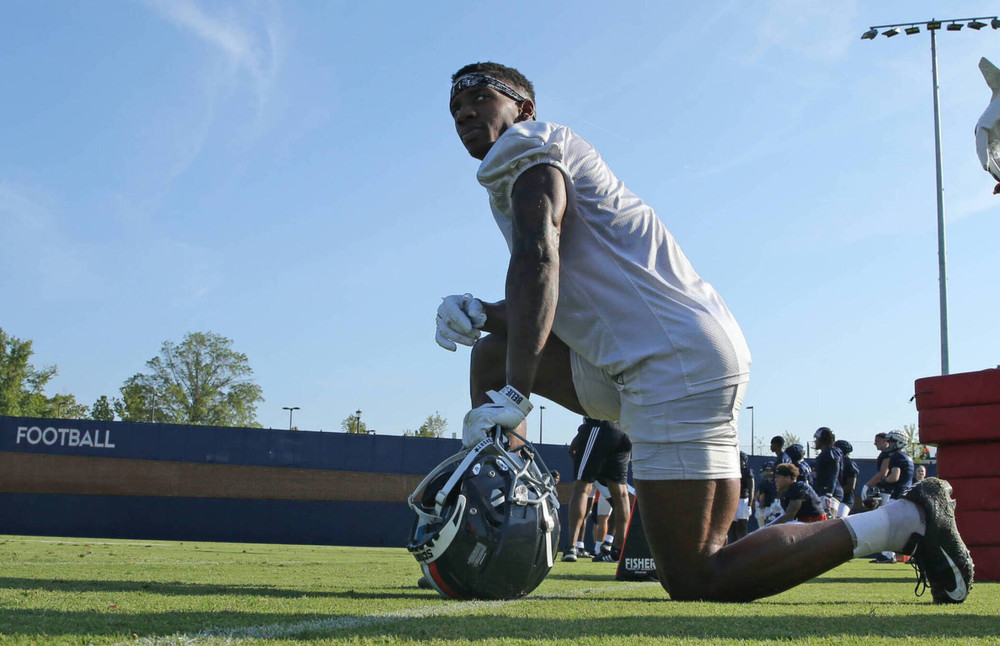 MILESTONE: Brennan Armstrong's 339 yards passing against W&M were the most ever by a UVA quarterback in a season opener. Michael Rocco passed for 311 yards against Richmond in 2012, and Aaron Brooks threw for 305 against Auburn in 1997.
Armstrong started slowly Saturday night, but "the game continued to slow down, and he continued to speed up," Mendenhall said. "So his decision-making, his rhythm, his certainty, his confidence, his execution, it just got better and better and better."
RISE AND SHINE: Noon starts for college football games are common. Not so 11 a.m. kickoffs. But that's the slot UVA and Illinois have on ACC Network.
Mendenhall doesn't consider it a negative. The Hoos practice on weekday mornings, Mendenhall said, "and so really this fits our normal routine."
Grant said the players are fine with the unusual starting time, too. "It's never hard to get up for game day," he said. "Everybody's always ready for game day."
The fans at Scott Stadium form a key part of what's known as the 4th Side, and UVA students turned out in force for the season opener. That game, though, started at 7:30 p.m.
"I hope the 4th Side is there [Saturday]," Grant said. "We're going to be there."
WELCOME NEWS: Tight end Jelani Woods' much-anticipated UVA debut didn't turn out to be memorable, but not because he played poorly. A 6-foot-7, 265-pound graduate transfer from Oklahoma State, Woods had one catch for 5 yards against William & Mary, but later cramped up and spent much of the game in the locker room.
Expect to see more of No. 0 on Saturday.
"He's good to go," Mendenhall said. "No ill effects and 100 percent."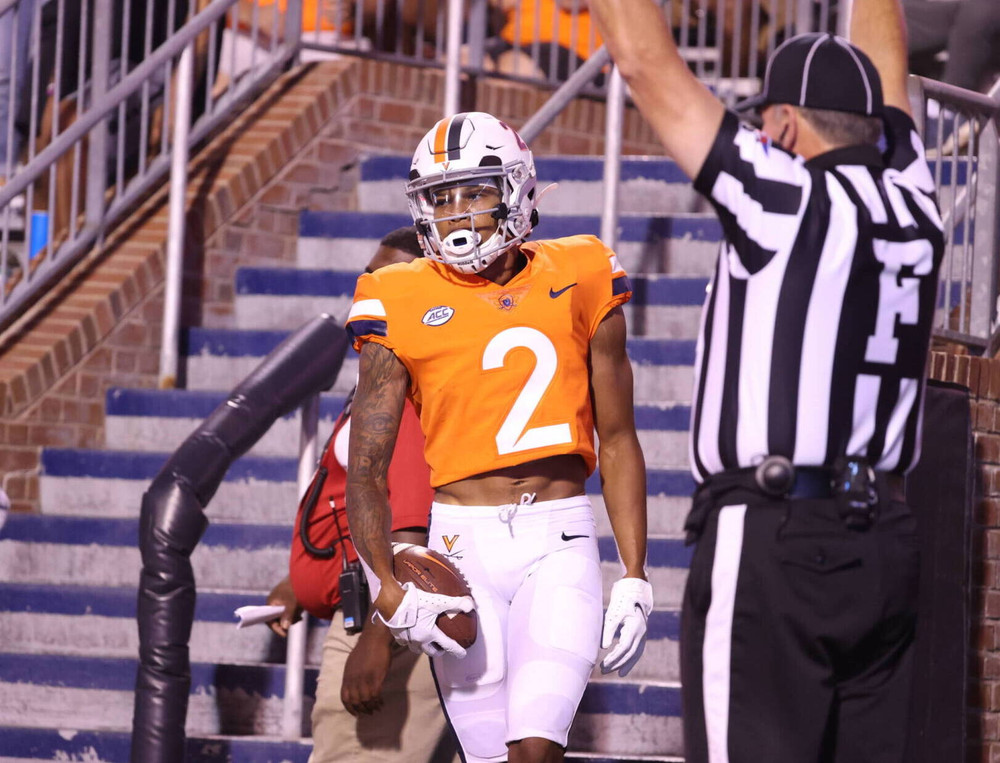 PLAYMAKER: In nine games last season, his first at UVA, wide receiver Ra'Shaun Henry had only seven receptions, but four went for touchdowns.
He's back at it this season. Henry caught two passes from Armstrong against William & Mary, one of which went for a 5-yard TD.
"It sounds like we need to throw it to him more," Mendenhall said, smiling.
Henry joined the Cavaliers last summer as a graduate transfer from St. Francis (Pa.), an FCS program. On a team that also had Billy Kemp, Lavel Davis Jr., Terrell Jana and Keytaon Thompson at receiver, plus Tony Poljan at tight end, Henry played a supporting role in the passing game.
This season, though, he's "emerging not as the complement but as a primary threat, so it'll be fun to see where the statistics go," Mendenhall said. "He's capable, and I would consider him the most improved player [on the offense], and I thought he was becoming a strong player through the year last year and toward the end. He's starting at a much higher level than that, so I have a lot of confidence in Ra'Shaun and am really excited for him."
Henry said: "I feel like when the ball's in the air, it's my job to attack the ball and not let anybody else get it."
With a full offseason to train with Shawn Griswold, UVA's director of football development and performance, the 6-foot-3, 190-pound Henry transformed his body, adding muscle and losing fat. He's long since earned the respect of the Cavaliers' defensive backs.
"Ra'Shaun's really polished, he runs really good routes, he has really good hands and he's kind of deceptively fast," Grant said. "He knows how to use his speed, so I think he's a really good receiver."
UVA's receiving corps is still without the 6-foot-7 Davis, who tore the anterior cruciate ligament in his right knee during the team's first practice in the spring. Henry said Davis' injury helped him "focus more on what's really important and what's really right in front of me and what I had to do to help this team win and help this offense keep going."
Davis, who had 20 catches for 515 yards and five touchdowns as a true freshman in 2020, is ahead of schedule in his rehabilitation and could be cleared to play this fall.
JACKS OF ALL TRADES: In Thompson, Ira Armstead and true freshman Jacob Rodriguez, UVA has players who can be used at quarterback, running back or wide receiver.
Against W&M, Thompson carried four times for 43 yards, with a long of 40 yards, and caught five passes for 66 yards. Armstead rushed four times for 54 yards, with a long of 20 yards, and was 0-for-1 passing. Rodriguez carried four times for 31 yards, with a long of 24 yards.
"Hopefully it adds some value to our offense, but also some of those kids are really good carrying the football," Mendenhall said. "They're good throwing it. They're good football players. When they've played [quarterback], the game … seems to be slower for them right from the beginning with their training, and so they're more ready to play and play early."
Thompson is listed on the depth chart as the Cavaliers' No. 1 FBP –– football player. Armstead is listed as the No. 2 quarterback, behind Armstrong. Rodriguez is the No. 2 FBP and the No. 4 quarterback. (Another true freshman, Jay Woolfolk, is listed third at QB.)
Mendenhall said the coaching staff still considers Rodriguez a quarterback. "It's just while he's battling in the quarterback world, there's no reason he can't help us and play football. We have a saying here that playing is more fun than watching, so he's still a quarterback, but that doesn't mean he can't carry the ball and he can't do other things while he's becoming our quarterback."
ROLLER-COASTER RIDE: Illinois, which finished 2-6 in 2020, is in its first season under Bret Bielema, who previously was head coach at Wisconsin and Arkansas.
The Fighting Illini won their first game under Bielema, knocking off Nebraska 30-22 on Aug. 28 in Champaign, Ill.
"I think our players, our coaches, I think all of college football paid attention," Mendenhall said. "What a great start for a coach taking over a program, and to have that kind of exposure and that kind of win, you really couldn't have scripted it any better, so I think everyone paid attention and saw the capability there."
A week later, however, Illinois lost 37-30 to the University of Texas at San Antonio, also in Champaign.
To receive Jeff White's articles by email, click here and subscribe.