By Jeff White (jwhite@virginia.edu)
VirginiaSports.com
CHARLOTTESVILLE –– As soon as players started entering the home locker room at Scott Stadium after Virginia's 42-14 win over Illinois, the lobbying began Saturday afternoon.
Some called for the honor of breaking the rock, a tradition after every UVA victory, to go to wide receiver Dontayvion Wicks. Others nominated quarterback Brennan Armstrong. But the shouts of support for tight end Jelani Woods grew steadily louder, and that's the way head coach Bronco Mendenhall, who has final say, voted.
Wicks was the runner-up and a worthy candidate, but after seeing Woods' impact on the game, "I just went intuitively," Mendenhall said. "It seems like that influence was a little bit bigger, but arguably either way, I had two great choices at least.'
A graduate transfer from Oklahoma State, Woods made his Scott Stadium debut last weekend in UVA's 43-0 win over William & Mary, but cramps sidelined him for much of the season opener. Against the Fighting Illini, Woods had no such issues, and on the first play from scrimmage he caught a pass from Armstrong for a 31-yard gain. Woods capped the drive with a 32-yard touchdown reception.
He finished with 122 yards and one touchdown on five catches, then added an exclamation point in the Wahoos' jubilant locker room.
"That was just pretty much the best moment of my life right there, being able to have an outstanding performance and be recognized for that," Woods said, "just [with] the history of the guys that previously before me broke the rock. I just feel honored to be able to hold the hammer and break the rock."
At 6-foot-7, 265 pounds, with speed to complement that size, Woods poses immense problems for opposing defenses. His 122 yards receiving were the most by a UVA tight end since Tom Santi finished with 128 in the 2005 Music City Bowl. Woods' single-game high at Oklahoma State was 54 yards.
"He's devastating for other teams to guard," said UVA safety Joey Blount, who sees Woods at every practice. "Do you put a linebacker on him? No. A safety? No."
Mendenhall, a former defensive coordinator, had a similar response when asked about defending Woods.
"There really isn't a good matchup, if you're thinking about man-to-man anyway," Mendenhall said.
On a day when Virginia totaled 556 yards against Illinois (1-2), numerous players distinguished themselves on offense.
The line allowed no sacks as the Cavaliers won their 10th consecutive non-conference game at Scott Stadium. Wicks had three receptions for 69 yards and two TDs, and he completed a pass to Armstrong for an 18-yard gain on a third-quarter trick play. Wideout Billy Kemp had a game-high six receptions for 55 yards and one TD, and Keytaon Thompson, whose position is listed simply as "football player," had a touchdown run and caught five passes for 68 yards. And let's not overlook wideout Ra'Shaun Henry, who had three receptions for 74 yards.
"It's been great," Thompson said, "because having playmakers around you, it gives you confidence, being out there with Billy Kemp, Ra'Shaun, Dontayvion Wicks. When you have a lot of guys that can go, it just gives you more confidence to do your job, because you know they're gonna take care of what they're supposed to take care of. I think we just feed off of each other, and Jelani, he's been a great addition. He had some big plays today that got us started, and I'm just excited to see what this offense can become."
So is Woods. "I love it," he said, "just the Scott Stadium atmosphere, and with the design of the offense, it just brings out electricity in everybody. With the different options we have on offense, even though I might not get the ball, I'm just so happy that somebody else gets it."
In all, 10 Cavaliers had at least one reception Saturday. Directing the attack was Armstrong, who completed 27 of 36 passes for 405 yards and five TDs, with one interception. The completions and passing yards were career highs for Armstrong, who's in his second year as the Hoos' starter.
Especially encouraging to Mendenhall is that Armstrong and Co. are regularly producing big plays. Through two games, Armstrong is 48-for-67 passing (71.6 percent) for 744 yards and seven touchdowns, with one pick.
"So when you see Jelani downfield, when you see Ra'Shaun Henry downfield, when you see Dontayvion Wicks downfield, and then Billy always in there, it's hard [for a defense] to narrow down on four different or five different threats," Mendenhall said. "And with a quarterback that's making good decisions and fast decisions, throwing accurately, then that's leading to points."
Virginia, which finished 5-5 in 2020, is 2-0 for the second time in its six seasons under Mendenhall. The first was in 2019, when the Hoos went on to win the ACC's Coastal Division.
This was only the third meeting between UVA and Big Ten member Illinois and their first since the 1999 Micronpc.com Bowl. The Illini, who are in their first season under Bret Bielema, came to Charlottesville leading the series 2-0.
"Obviously, we did not hold them defensively," said Bielema, who previously was head coach at Wisconsin and Arkansas.
Mendenhall noted that the Cavaliers' margin of victory could have been greater. Justin Duenkel, who was 6 for 6 on extra points, missed both of his field-goal attempts, and Virginia turned the ball over on the Illinois 1-yard line in the fourth quarter.
Still, Mendenhall said, there are "lots and lots of positive things happening."
The game, which aired on ACC Network, started at 11 a.m. That hurt attendance, but the crowd of 36,036 was in full voice, and the early kickoff didn't faze the Cavaliers. Armstrong passed for 171 yards and two touchdowns in the first quarter as UVA bolted to a 14-0 lead. By halftime, he'd thrown for 251 yards and three TDs, and the Hoos led 21-7.
Against William & Mary, Virginia's offense had sputtered early, and in practices leading up to the Illinois game the coaching staff emphasized the importance of starting fast.
"Our team responded because it was such a focus," Mendenhall said. "So when the team heard it over and over again and then saw it, there's an immediate confidence boost."
The game was played on the 20th anniversary of the 9/11 terrorist attacks, and it was Heroes Day at Scott Stadium. Highlights included a pregame flyover by two F-22s, each flown by a UVA alumnus, and the University Singers' stirring rendition of the national anthem.
The ball went to the Illini to start the second half, and they sliced through UVA's defense. Illinois needed only five plays to move 75 yards, the final 21 coming on Chase Brown's touchdown run.
That made it 21-14, but Virginia's defense reverted to form on the Illini possessions that followed.
"We made a few adjustments at halftime," Blount said, "and they came out and did something that we weren't anticipating, I would say. But once we saw what they wanted to do, we just kind of buckled ourselves back in and just reflected back in the first half that whatever they throw in front of us we can throw right back at them."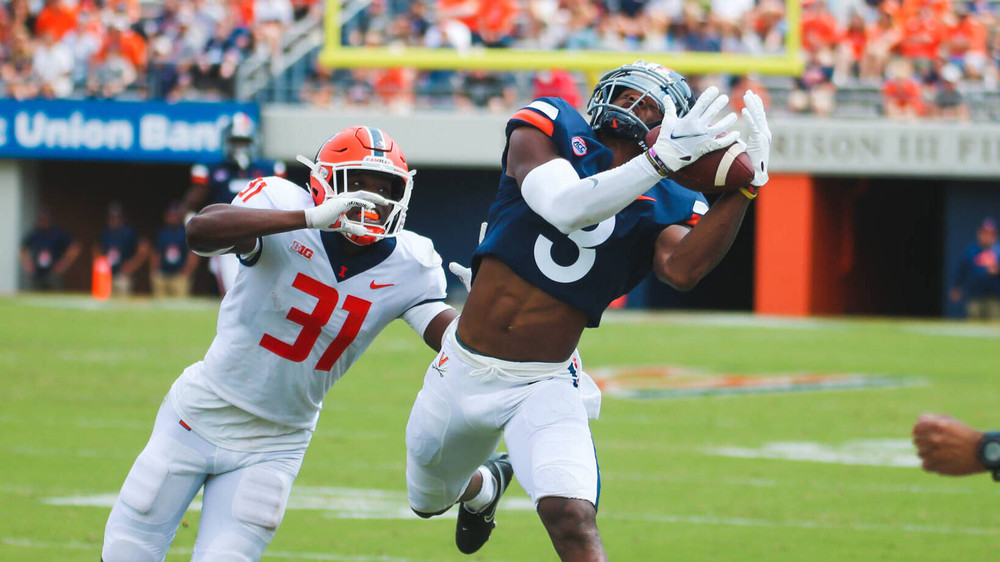 STOUT EFFORT: Not since 1952, when they shut out each of their first two opponents, have the Cavaliers allowed fewer points through their first two games.
"Really, really impressed," Mendenhall said of the defense's performance. "We played consistent for the majority of the game. There were very few breakdowns and very few things that didn't fit exactly right. When we didn't, Illinois exploited those on both [of its TD] drives, but 14 points in two games is a really nice start to the season defensively, [as is] the number of players making plays. So far, it's a football team with a lot of contributors, and I really like that in terms of just our identity."
With defensive end Adeeb Atariwa sidelined with an injury, Nusi Malani made his first career start Saturday, and Ben Smiley also played extensively.
"I think they held up really well," Mendenhall said. "The run game, when it was effective for Illinois, it wasn't because of the defensive front."
Four players had seven tackles apiece for Virginia: Blount, safety Antonio Clary, outside linebacker Noah Taylor and middle linebacker Nick Jackson. Taylor recorded a career-high two sacks, and cornerback Anthony Johnson and safety Nick Grant each broke up two passes.
Moreover, Grant forced a fumble that true freshman linebacker West Weeks recovered in the fourth quarter, and Johnson, a graduate transfer from Louisville, had his first interception as a Cavalier.
Mendenhall also singled out the progress of outside linebackers Hunter Stewart and Elliott Brown, who had five tackles between them Saturday.
"I think everyone on the defense definitely plays with a little bit of edge," Taylor said. "You're not really in that circle we have if you don't play with a little bit of edge."
UP NEXT: In Chapel Hill, N.C., Virginia will try to secure a fifth straight win over North Carolina, No. 24 in the latest Associated Press rankings. In a game to air on ACC Network, the longtime rivals will meet Saturday at 7:30 p.m. at Kenan Stadium.
"The biggest game of the season," Thompson said, "because it's the next game of the season. First away game, we want to make sure our games travel and come out and start fast and finish strong."
At Scott Stadium last season, Thompson ran for a first down on a fake punt in the final minute to seal the Hoos' 44-41 upset of the 15th-ranked Tar Heels.
In Sam Howell, Carolina has one of the nation's premier quarterbacks, and he passed for 443 yards and four touchdowns against Virginia in 2020.
"Sam Howell had a great game against us last year," Blount said, "but I really believe, and I've been saying this and hitting this point, we're a different team than we've been. Last year to this year is night and day."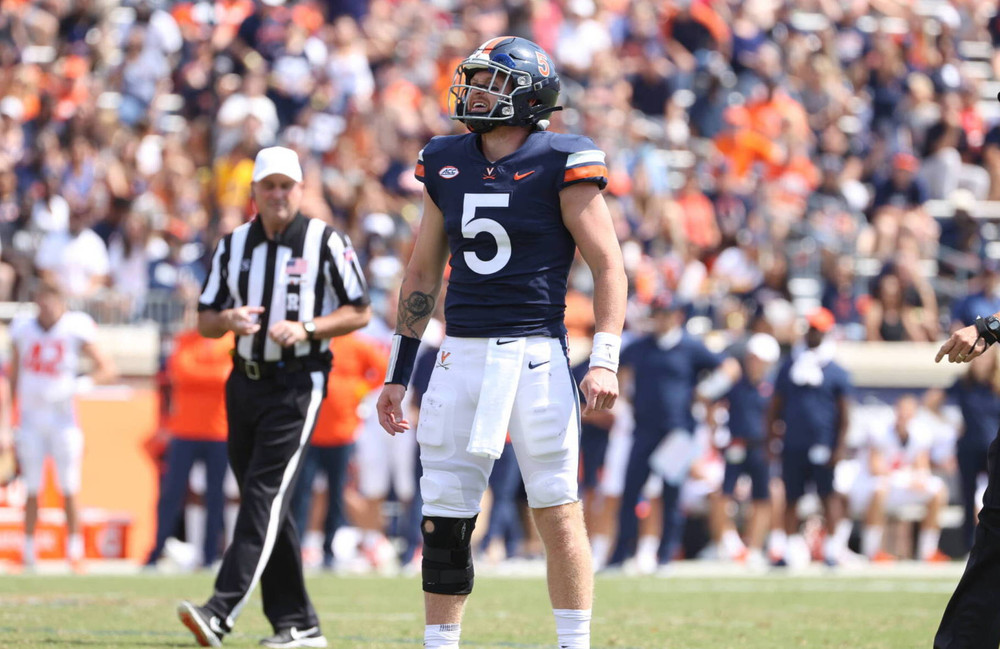 SOUND BITES: The win was the Hoos' fifth in their past seven games against Big Ten opponents. Among the postgame comments Saturday:
* Mendenhall on Anthony Johnson: "He is a dynamic personality to say the least, and just vibrant and alive and smiling and loud. You hear him before you see him every morning, and he just loves football, and he prepares wildly. And as a transfer for another team in our league, he just is so grateful, and he just celebrates every day, and it's contagious."
* Armstrong on Woods: "He doesn't get tackled by the first guy. That's another big thing for him. We didn't see much of him in the first game, but the fans and everyone got to finally see how he should perform."
* UVA punter Jacob Finn, who was summoned only once in the first three quarters: "That's fine by me. Just win, baby."
* Mendenhall on Thompson: "He runs the ball really well, and in an elusive kind of interesting way, and so you could call him a running back. But he [also] catches passes really well, and then he can throw it, and then he's doing all the special teams. And so it just seems like there might not be a player on our team that is more vital right now than him, because of the diversity and what he can do. He adds a lot of value."
To receive Jeff White's articles by email, click here and subscribe.