By Jeff White (jwhite@virginia.edu)
VirginiaSports.com
CHAPEL HILL, N.C. –– On a night when quarterback Brennan Armstrong turned in a record-setting performance, UVA's offense needed some help from the defense. It never arrived.
In its ACC opener, Virginia gave up 699 yards in a 59-39 loss to Coastal Division rival North Carolina at Kenan Stadium. Against the 21st-ranked Tar Heels (2-1, 1-1), who ended a four-game losing streak in the series, the Wahoos (2-1, 0-1) did not force a single punt Saturday night.
Not since the 2019 ACC championship game, a 62-17 loss to Clemson, had the Hoos allowed so many yards.
"Defensively, we really didn't have any answers that were effective, whether it was first half or second half," UVA head coach Bronco Mendenhall said late Saturday. "Nor did we make enough plays. Offensively, if we had had the ball more in the second half, I think there would have been more points."
Cornerback Fentrell Cypress II had a 66-yard interception return in the first half, and outside linebacker Noah Taylor recorded 12 tackles for Virginia. Overall, though, Mendenhall said, "I didn't see really anything [defensively] that was positive today, from run fits to execution to tackling to mindset. So really just poor execution from beginning to end."
When these longtime foes meet next year at Scott Stadium, quarterback Sam Howell presumably will be in the NFL. The Cavaliers won't miss him. Virginia defeated UNC in each of Howell's first two college seasons, but Howell completed 38 of 57 passes for 796 yards and eight touchdowns, with no interceptions, in those games.
In his third try against UVA, Howell threw five touchdown passes and rushed 15 times for a career-high 112 yards. He averaged 21.9 yards per completion, and he wasn't the only Tar Heel who shined. Running back Ty Chandler rushed for 198 yards and two touchdowns, and wide receiver Josh Downs caught eight passes for 131 yards and two TDs.
"The difference was UNC's offense," Mendenhall said. "They were dominant physically running the ball, breaking tackles, throwing and catching. Really their execution from beginning to end was superior and took over the game."
Led by Armstrong, who's in his second year as a starter, the Hoos put up video-game numbers, too. The 6-foot-2, 215-pound left-hander completed 39 of 54 passes for a school-record 554 yards. Armstrong, who was intercepted once, threw four TD passes: two to wideout Billy Kemp IV, one to wideout Dontayvion Wicks, and one to tight end Jelani Woods.
"He's an amazing, amazing leader, player, person," Mendenhall said of Armstrong, "and we're just so lucky he's at UVA. We needed to give him more support defensively. He certainly did his part. I was really impressed with him."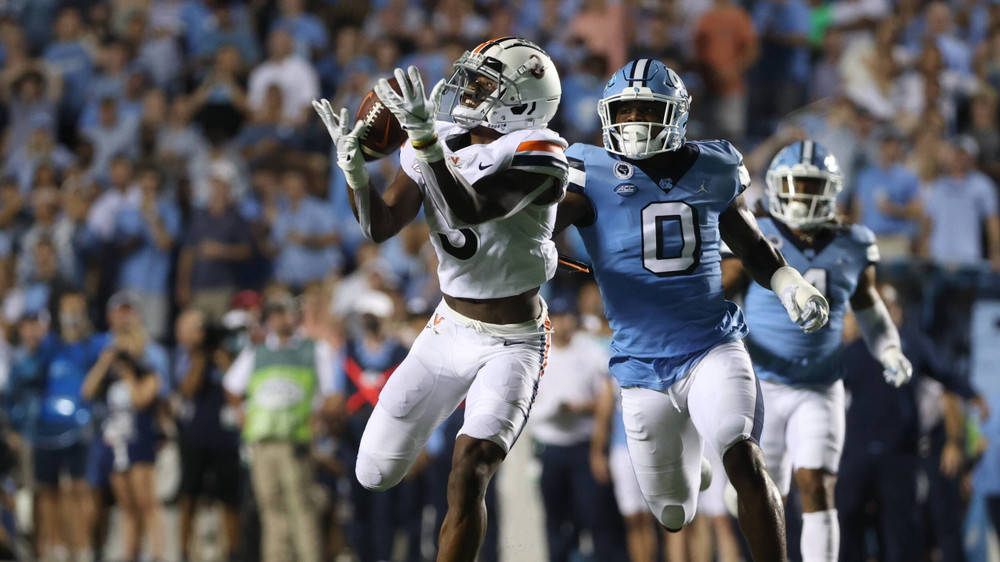 The 554 passing yards are the most UNC has ever surrendered to an opposing quarterback.
The Cavaliers fell behind 14-0 and played catch-up for most of the night, relying almost exclusively on their passing game. Seven UVA players had at least three receptions apiece, including Wicks, who posted career highs in catches (seven) and receiving yards (183). His TD came on a 40-yard pass for which he laid out in the end zone.
"He's just growing and growing and growing each week," Armstrong said. "I'm excited for him. He's a great player … He's dangerous, and every week people have been seeing it. [It doesn't matter] whose defense we're going up against. If you play man coverage you're gonna get beat by him. He has that confidence, he has that speed, he's that strong guy that can go up and make those plays, and I'm just a lucky guy, and we're a lucky offense to have that guy."
Among other milestones Saturday night, Armstrong became the first quarterback in program history to pass for at least 300 yards in three consecutive games. The Hoos opened with a 43-0 win over William & Mary and then routed Illinois 42-14.
Both of those games were at Scott Stadium, where the Hoos are 24-10 in six seasons under Mendenhall, and the defense shined in those victories. But it quickly became apparent Saturday night neither W&M nor Illinois had prepared the Cavaliers for what they had to face at Kenan Stadium.
"Certainly there was a over-valuation on our part based on Week 1 and Week 2, and an under-evaluation possibly of the matchups and what UNC might challenge us with," Mendenhall said.
Breakdowns in the secondary have been an issue for the Cavaliers in recent years, but their run defense has almost always been stout. Not Saturday night. UNC rushed for 392 yards, averaging 8.3 yards per carry.
"Definitely surprised," said middle linebacker Nick Jackson, who finished with 10 tackles. "We usually play the run really well. We were off on our fits, we were off on our mindset, and I think that's why they were able to run ball on us today."
Virginia's offense kept this one competitive. After falling behind 24-7, the Hoos rallied furiously and closed the half with Kemp's spectacular 21-yard TD catch. That gave UVA a 28-24 lead at the break, and the mood was optimistic in the visitors' locker room at intermission.
On the first series of the third quarter, however, the Heels needed only five plays to move 74 yards for a touchdown, and they never trailed again.
"Our offense, I was really proud of," Mendenhall said, "I thought they battled really, really hard, but the difference today was UNC offense: the physical play, the execution, the big plays, really from beginning to end, and our defense's inability to stop them."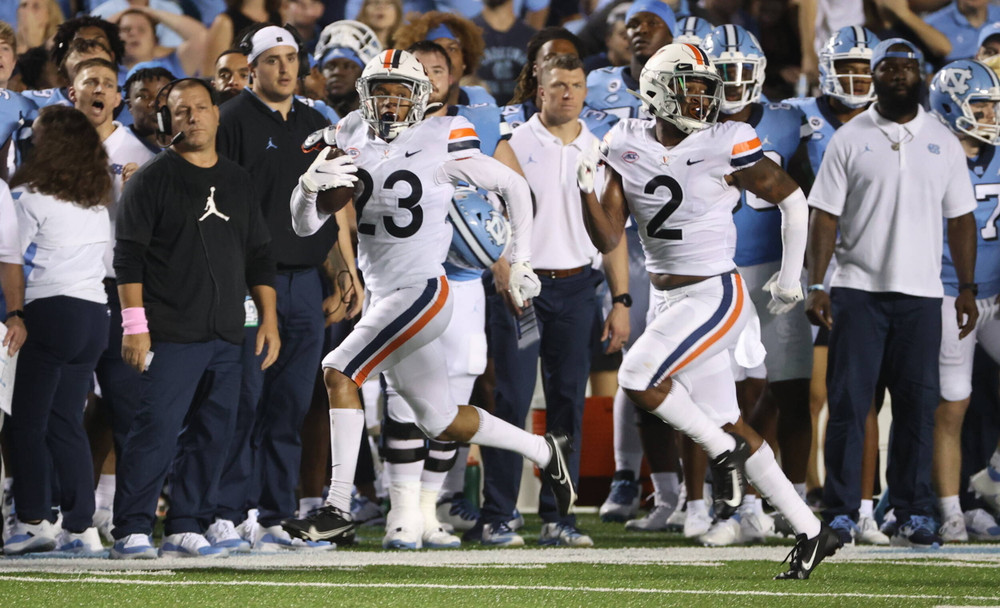 The Cavaliers fell to 8-23 in games away from Scott Stadium under Mendenhall. They haven't defeated a ranked opponent on the road since 2011, and they'll look back on the UNC game as a squandered opportunity.
"It would have been a great win for our team, going 3-0 and heading back to home, beating a ranked team," Armstrong said. "There's a lot of momentum that could have been gained. It's not gonna stop us. You can't dwell on it. It can't ruin your season. It's only the third game. There's a long, long way to go."
Mendenhall said: "The first two games were a sliver of a piece. This gives us much more clarity. We have a lot of work to do."
Running back Wayne Taulapapa, who scored Virginia's first touchdown, missed much of the game with a concussion, Mendenhall said. On defense, the Cavaliers came to Chapel Hill down two starters (end Adeeb Atariwa and safety Nick Grant), and lost another one, safety Joey Blount, to a collarbone injury late in the game.
Another UVA safety, Coen King, was ejected in the second half for targeting.
FRIDAY NIGHT LIGHTS: In a game to air on ESPN2, UVA (2-1, 0-1) hosts ACC rival Wake Forest (3-0, 1-0) at 7 p.m. Friday at Scott Stadium.
His team faces a major challenge, Mendenhall said, but "that's what life is about. There's no time to feel sorry or do anything other than reflect, learn, recommit and play better. And we play Friday night and then we play [Sept. 30 at Miami] on a Thursday night. So, yeah, the clock's ticking. It's a fast turnaround."
Jackson said: "This one hurts, but we got to fix it and we're going to attack next week. That's the mindset right now. Put it behind us and we got to attack this week. It starts in practice, we just gotta get it going and get everybody's heads up."
The Cavaliers lead the series 34-16, but the Demon Deacons have won the teams' past four meetings.
In Winston-Salem last season, Wake defeated UVA 40-23. The score was 23-23 early in the fourth quarter, but then the Deacons scored two touchdowns in a span of 96 seconds to blow the game open.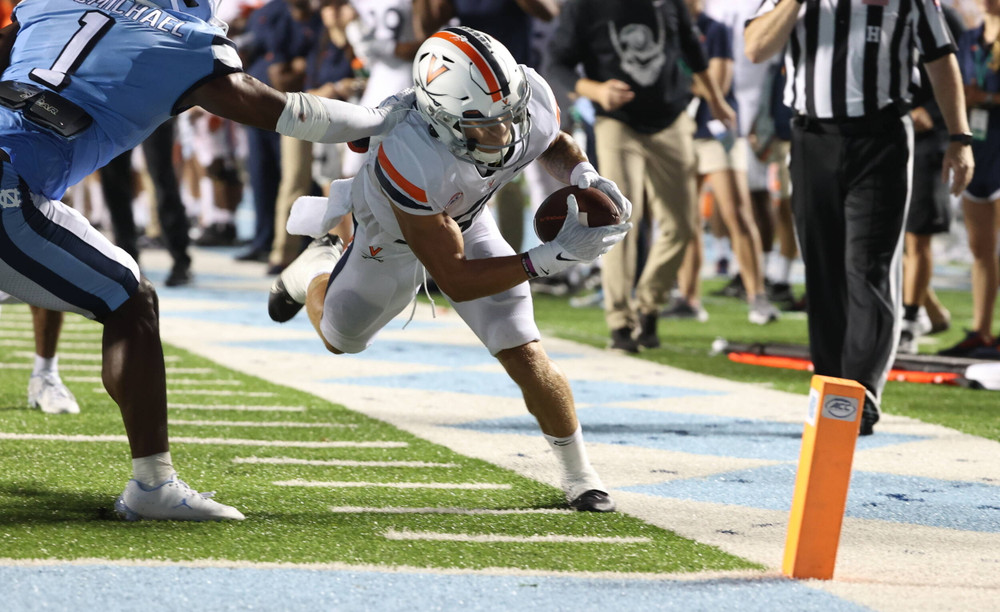 SOUND BITES: In a series that dates back to 1892, the 59 points were the most the Heels have scored since 1936, when they romped 59-14 in Charlottesville. Among the postgame comments Saturday:
* Mendenhall on keeping Armstrong in at the end of a one-sided game: "He's our leader, and I thought it was really important for our team to see him battling right to the end, because of his example, and we could have used more of that. My job is to prepare and train players to be more like that, and he right to the very end was exceptional."
* Mendenhall: "There was basically two different games going on. There was our offense against their defense, and I was really impressed with our offensive performance. But then there was their offense against our defense, and they clearly won that matchup in every way. They were the more physical team on that side and in that match-up from beginning to end."
* Mendenhall on UVA's run defense: "Just a poor performance from beginning to end."
* Mendenhall on his team's season-high 102 yards in penalties: "I think we were undisciplined, and I think that [was] reflected in the penalties."
* Armstrong on his performance: "To be honest with you, I really don't think about the record. I think about the loss. Kudos to my offense. I don't do that without them. Now we take a bus ride home, got a quick turnaround with Friday with Wake at our place. So, forget about it, recover Sunday and just get back to work on Monday."
To receive Jeff White's articles by email, click here and subscribe.