By Jeff White (jwhite@virginia.edu)
VirginiaSports.com
MIAMI GARDENS, Fla. –– Virginia's players and coaches braced for heartbreak. A moment later, they found themselves celebrating when Miami kicker Andy Borregales' 33-yard field-goal attempt hit the left upright and bounced away as time expired Thursday night.
"It was crazy," quarterback Brennan Armstrong said after UVA's 30-28 victory. "We stormed the field, we were just running around. It was just kind of chaos."
"It was a roller coaster of emotions," defensive lineman Mandy Alonso said. "It was honestly surreal for me."
For the Cavaliers (3-2 overall, 1-2 ACC), the win was their first over the Hurricanes at Hard Rock Stadium since 2011. It was their first victory anywhere since Sept. 11, when they crushed Illinois 42-14 at Scott Stadium.
Back-to-back 20-point losses followed that win––one to North Carolina, the other to Wake Forest––and the Wahoos came to South Florida in dire need of victory. Not since 2013 had they started 0-3 in ACC play.
His players, head coach Bronco Mendenhall said, have "been working their guts out and they respond, and they're allowing themselves to be coached and they're listening and they're working and they're listening and they're working and they're listening and they're working and they're trying. Same with the coaching staff. To see that much effort go into it and have a tangible yield, and to see the smiles, there's no way to describe that. It's unbelievable."
The victory "builds a lot of confidence," Alonso said after UVA's first appearance since 2012 on ESPN's Thursday night showcase. "Just getting back in the win column is always a good thing. Back-to-back losses, that just eats at a team mentally."
Alonso, one of the team captains, is from Miami, and this was the fifth time he'd played at Hard Rock Stadium as a Cavalier. It was the first time he'd won. Virginia lost there to Miami in 2017, 2019 and 2020, and to Florida in the 2019 Orange Bowl.
His cheering section numbered about 30 friends and family members Thursday night.
"I just I couldn't write it any better," Mendenhall said, "nor be more happy for anyone on our team than him, and I'm really thankful for him and his efforts and what he's done for us and what he's doing."
Alonso finished with a career-high three tackles for loss. Two were sacks. The other one produced a safety that pushed UVA's lead to 9-0 in the first quarter.
"We knew they were pinned down to their own end zone, and we were just trying to get after them," Alonso said. "We knew they were probably going to try and run it out, and we came in through the inside and I came free and I was lucky enough to make that play."
In a jubilant locker room, Alonso's teammates left Mendenhall no choice but to give No. 91 the honor of breaking the ceremonial rock, a tradition after every UVA win. But had there been two rocks, Mendenhall noted, Brendan Farrell would have swung the sledgehammer to shatter the second one.
Farrell, who joined the program as a walk-on in 2019, began this season as the Cavaliers' No. 2 punter and No. 2 kicker. But when starting kicker Justin Duenkel was injured last Friday night during UVA's game with Wake at Scott Stadium, Farrell received a battlefield promotion.
He was flawless against Miami (2-3, 0-1). All six of his kickoffs went for touchbacks, he was 2 for 2 on extra points, and he made both of his field-goal attempts. Farrell's first field goal, a 43-yarder, pushed Virginia's lead to 19-7 early in the third quarter. His second, a 30-yarder, made it 30-21 early in the fourth.
"Brendan was exceptional," Mendenhall said, "and to come in and do what he did … what a great story. He was the anchor of that game for us. I just was so, so, so proud of him."
Virginia never trailed Thursday night. The Cavaliers led 16-7 at halftime and 27-14 late in the third quarter. But the Hurricanes' offense, stymied in the first half, heated up after intermission.
After Farrell's second field goal, the Canes drove 75 yards for a TD that made it a two-point game with 9:09 to play.
The Cavaliers' next drive stalled, but Jacob Finn's punt pinned Miami back at its 9-yard line with 5:36 left. That didn't faze Miami. The Canes methodically moved down the field before calling a timeout with 2 seconds left to set up what appeared to be a chip shot for its kicker.
"There's not a person I'd rather line up to kick that field goal than Andy Borregales," Miami head coach Manny Diaz said. "I think everyone on that sideline thought we were going to win the football game and that we had done enough to win the football game."
Neither team entered the game with a full complement of players. The Hurricanes were missing, among others, starting quarterback D'Eriq King and his backup, Jake Garcia. The Hoos played without four starters: Duenkel, safety De'Vante Cross, tight end Jelani Woods and defensive lineman Adeeb Atariwa.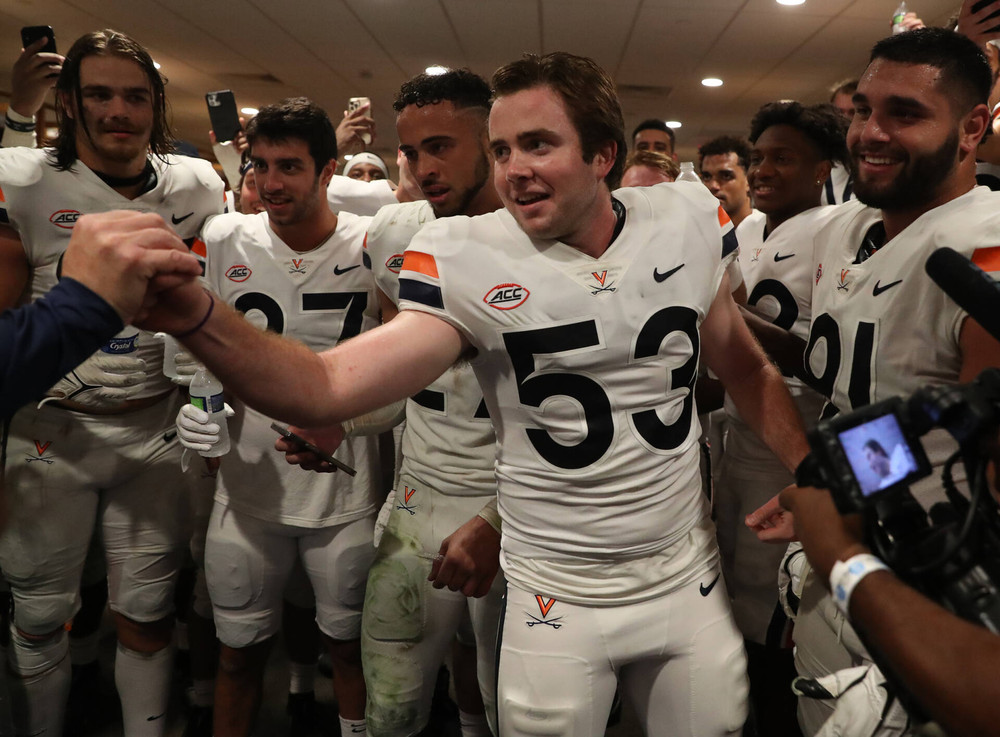 In the Cavaliers' previous two games, they had allowed 699 yards to UNC and 473 to Wake Forest, and their defensive woes were a hot topic among those who follow ACC football.
After giving up only 94 yards in the first half Thursday night, the Hoos had multiple breakdowns on defense in the final two quarters, and Miami finished with 372 yards. Still, Mendenhall said, he saw clear progress from his defense.
"We won the game, and they were a big part of it," he said. "With any part of our team, you could say it was a mixed bag, but they played well enough for us to win. And we did."
Alonso said: "We're definitely trending in the right direction that we want to see. We still have a lot to fix, just in our assignments and where gaps are, but I think just playing hard and having the mindset that our culture is founded on, it was inspiring to see some guys play out there. I'm really inspired and I look forward to this next week, just getting back onto the practice field."
The Cavaliers had a short week to prepare for the Miami, and the amount of work their defense put in "was mind-boggling," Mendenhall said. "And it held for a long, long time. There's things to clean up, but if you're not seeing [progress], you're just not looking, because they're trying so hard and they're improving."
UNEVEN PERFORMANCE: The Cavaliers totaled 449 yards Thursday night but gained only 35 in the final quarter, and throughout the game they were unable to capitalize on multiple opportunities to pull away from Miami.
About five minutes into the third quarter, after UVA's defense forced a Miami three-and-out, Armstrong threw an ill-advised pass that was intercepted. The Canes needed only 37 seconds to turn that takeaway into seven points.
For the game, Armstrong completed 25 of 44 passes for 268 yards and one TD. He wasn't pleased with the way he played or with the offense's inconsistency. Finn ended up punting seven times (for an average of 50.3 yards).
"For me personally, I have a lot to improve," Armstrong said. "A win is a win, we're happy about it, but we have a lot to work on. We've got a longer time period now to work on it [before the next game]. We get to come in, recover, relax, watch the film again, and work on certain things."
Several of the Cavaliers' other skill players shined, including running backs Wayne Taulapapa and Mike Hollins, wide receivers Billy Kemp and Dontayvion Wicks, and the uber-versatile Keytaon Thompson.
Taulapapa had a 27-yard carry and on the same drive scored on a 1-yard run. Hollins had a 25-yard touchdown run. Thompson rushed three times for 47 yards and caught four passes for 55 yards.
Kemp caught nine passes for 81 yards. Wicks had only two receptions, but one of them ranks among the most spectacular in program history.
In third quarter, on second-and-17 from the Miami 37, Armstrong threw a long pass to the end zone that was nearly intercepted. As the defensive back came down with the ball, however, it came loose and landed on Wicks' back. As Wicks rolled over, the ball popped up, and he plucked it out of the air with his right hand for an unforgettable touchdown.
"What a miraculous play," Mendenhall said.
It was, Wicks said, his best catch ever, though initially there was confusion in the end zone, where nobody seemed sure what had happened, especially after an official threw a flag. (The penalty was on Miami.)
"I didn't know that I caught it until my teammates came up to me and said I caught it," Wicks said. "I was trying to knock it out, because I don't like DBs catching interceptions off of me. So I was trying to knock it out, and it bounced up, and I just [saw] it in the air, so I grabbed it with one hand."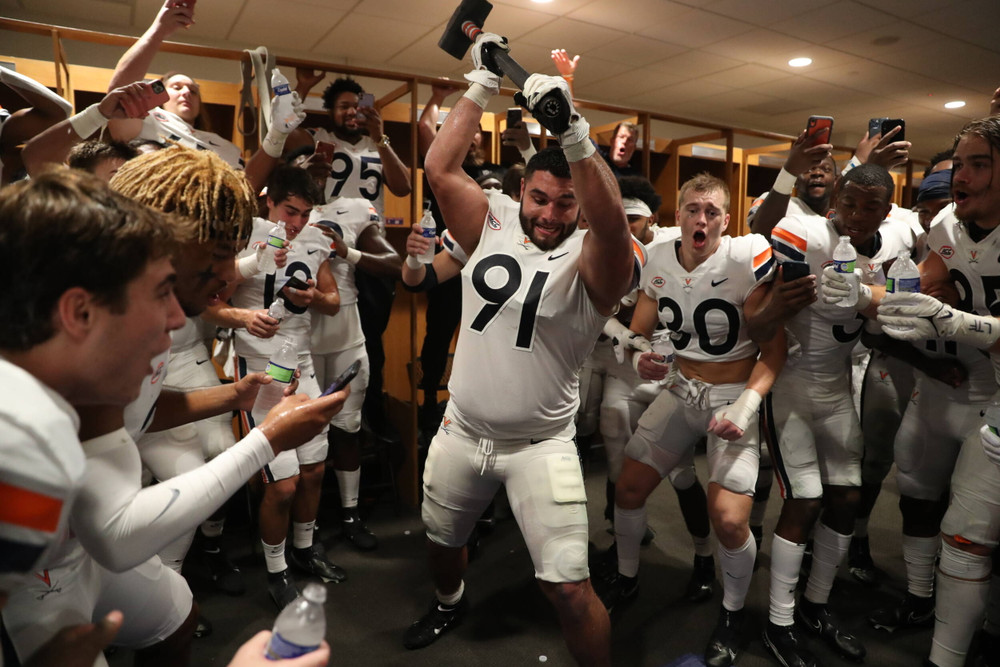 UP NEXT: In an ACC game that will start at 3 or 3:30 p.m., depending on which TV network carries it, Virginia plays next Saturday (Oct. 9) at Louisville.
Louisville (3-1, 1-0) meets No. 24 Wake Forest (4-0, 2-0) at 12:30 p.m. Saturday in Winston-Salem, N.C.
In games against the Cardinals in Louisville, UVA is 0-4. When the teams met last season at Scott Stadium, the Cavaliers won 31-17. Louisville leads the series 5-4.
One of Virginia's starting cornerbacks, Anthony Johnson, is a graduate transfer from Louisville. He enrolled at UVA in January.
SOUND BITES: With the win, UVA trimmed Miami's series lead to 11-8. Among the comments late Thursday night at the Miami Dolphins' stadium:
* Mendenhall: "I don't have any disappointment. This is just exactly where our team is. We had chances to put it away on offense, chances to put it away on defense, but this is where we are. And that's what we did, and that's exactly the result we got, which is an ACC win on the road [at] a much-needed time for this program and this team."
* Mendenhall on Borregales' miss: "There's plenty of plays that led into that one. That just happened to be the most visible play at the end, but there's tons of plays, and my heart goes out to him for that one play."
* Mendenhall on Alonso: "Mandy wasn't highly recruited, [but] he came to our camp, and I was convinced, just like I was with Billy Kemp, that he was a UVA football player because of his effort and his determination."
* Mendenhall on Thompson: "He is UVA football. If anyone wants to see what I like or love and what we're trying to become, it's him. He just is relentless in his effort and his positivity and his leadership and his execution and his playmaking … There's not a person at UVA that represents this institution better than him, in any regard. He's just exceptional, and I'm lucky to be with him every single day."
* Diaz: "Obviously, we started slowly and allowed them to take control of the game. I think, at one point, snaps were 35 to 11 [in the Cavaliers' favor]. We had a hard time getting a rhythm. We had a hard time running the football. We had a hard time protecting our quarterback. As time went on, we grew into the game and I thought our fourth-quarter effort was worthy of victory, but, ultimately, we came up one play short."
To receive Jeff White's articles by email, click here and subscribe.