By Jeff White (jwhite@virginia.edu)
VirginiaSports.com
LOUISVILLE, Ky. –– In the visiting team's interview room at Cardinal Stadium, linebacker Nick Jackson was walking out as quarterback Brennan Armstrong was walking in Saturday evening. They stopped and embraced.
"That was fun," Armstrong told his UVA teammate. "Good stuff."
Other adjectives could be attached to the Cavaliers' latest win, too. Heart-stopping. Unforgettable. Improbable. Astonishing. Stunning.
For end-of-game drama, Virginia's Sept. 30 win over Miami seemed like it would be difficult to surpass. Barely a week later, the Wahoos did so.
At Hard Rock Stadium, UVA held on for a 30-28 victory that wasn't secured until the Hurricanes missed a 33-yard field-goal attempt on the game's final play.
At Cardinal Stadium, the Hoos trailed by 17 points heading into the fourth quarter Saturday, then stormed back to shock Louisville 34-33.
With 22 seconds left, Armstrong threw a 1-yard touchdown pass to the most unlikely of targets, tight end Grant Misch. Brendan Farrell, who earlier Saturday had made two field goals, added the extra point to put UVA ahead 34-33 and silence the home fans in the crowd of 40,320.
The Cardinals did not concede defeat. They quickly moved across midfield, and with two seconds left, James Turner came out to attempt a 49-yard field goal. His kick sailed wide left, and the Hoos, who are in their sixth season under head coach Bronco Mendenhall, celebrated a second straight ACC road win for the first time since 2011.
"I don't know if have the appropriate thoughts or words," Mendenhall said, 'but I'm grateful and thankful to be the coach at UVA. I'm thankful that our players allow me to coach them and that they try hard and that it matters to them."
Virginia (4-2 overall, 2-2 ACC) led 13-10 at halftime, only to implode in the third quarter. Louisville (3-3, 1-2) scored 20 unanswered points and led 30-13 with a quarter to play.
"But to Brennan's credit and our team's credit, they just kept chipping and clawing and fighting and coming back," Mendenhall said. "They're really resilient. We did prepare, starting on Monday, for this game to be the equivalent of a 15-round fight, with the referee holding both hands, and right at the end someone's hand is going up. And sure enough, that's exactly how it came out."
After a third quarter in which Armstrong threw two interceptions, Virginia appeared destined to fall to 0-5 all-time at Louisville. No. 5 saw things differently.
In such situations, Armstrong said, 'I always think: Why would you quit? Why would you quit anything? You do all this work to go out and perform, and sometimes you don't perform well, but why would you quit? It just doesn't add up in my head."
The Cavaliers didn't quit. They scored three touchdowns in the fourth quarter. The first, a 5-yard run by the team's most versatile player, Keytaon Thompson, capped a 75-yard drive. The second, after the Hoos' defense forced a three-and-out, covered 73 yards and ended with Armstrong's 3-yard pass to tight end Jelani Woods, who played through an ankle sprain that kept him out of the Miami game.
Virginia's defense forced another three-and-out, but its offense failed to capitalize. The Cards got the ball back and mounted a drive that ended with Turner's 40-yard field goal, which made it 33-27 with 2:22 left. But the damage could have been worse for the Cavaliers.
On the second play of the drive, running back Hassan Hall took a handoff from quarterback Malik Cunningham and burst into the secondary, with no one between him and the end zone. But cornerback Darrius Bratton, sprinting from the other side of the field, hauled down Hall at the UVA 27 after a 53-yard gain.
"It broke," Bratton said, "so I just ran as fast as I could, turned on jets, and saved a touchdown for my team."
Jackson said: "That's the game right there. That's the biggest play of the game."
More big plays were to come for the Cavaliers, whose final drive started at their 25-yard line with 2:22 remaining. Twice Armstrong passed to Thompson for fourth-down conversions, the first time for a 17-yard gain, the second time for a 16-yard gain. The last of Thompson's career-high 10 receptions went for 18 yards, to the Louisville 1, and set up Misch's touchdown catch.
Thompson did all of that with a cast on his left hand.
"I hate using the word 'never,' " Mendenhall said, "but there's no one that I see that makes so many plays in so many different ways in critical times, and he's got a broken hand. It's hard to catch with a broken hand."
For Misch, who's best known for his blocking prowess, the TD catch was only the second of his UVA career. Rest assured, he wasn't Armstrong's primary target when the ball was snapped.
"There's not many below him [on the list of potential targets] on that play," Mendenhall said, smiling.
"He was my fourth option," Armstrong said. "I quickly jumped from one to two to three faster than I could even blink, and then I got to four, and then he was just [open in the end zone] and I found him."
Misch noted that a long video review, in which the officials checked to see if Thompson has scored, preceded his touchdown catch. The Cavaliers had already called their next play when the game was stopped, Misch said, so "I sat there for about three minutes just knowing what was gonna happen. And then during the play, when I just came through the middle and no one guarded me, I was like, 'Wow, he's gonna find me.' "
Armstrong found a lot of receivers Saturday. He finished 40-of-60 passing for 487 yards and three touchdowns. He struggled in the third quarter, but that didn't deter him.
"I think that's the great thing about Brennan," Misch said, "he's always going, he's always attacking. It's really hard to get him down, just because of his go-go-go attitude."
Armstrong set a school record for single-game passing yards on Sept. 18, throwing for 554 in a loss to North Carolina. His 487 yards against Louisville is the second-highest total in program history. Armstrong capped Virginia's first drive with a 14-yard TD pass to wide receiver Billy Kemp.
"If it's a neighborhood game, whatever side he's on you, want to be on that team," Mendenhall said, "because you think you're gonna win, just because he thinks he's gonna win, no matter what the circumstances.
"He's just a fierce competitor and he's so capable, and after the game he knew it wasn't perfect, but it was enough. And that's kind of where our team is."
On their first play from scrimmage, the Cards scored on a 92-yard pass play. Hall rushed for a career-high 162 yards Saturday and Louisville totaled 503 yards. Twice in the third quarter, however, UVA's defense forced Louisville to settle for field goals.
"Red zone points are crucial," Jackson said. "Every time they get in there you want to hold them to a field goal. You don't even want them in there, but if they get in there, you want to hold them to a field goal, and I felt like we did a good job of that. And every point matters, as you can see, every point matters."
Safety Coen King led the Cavaliers with eight tackles, one of which forced a fumble that he recovered. Jackson, safety Antonio Clary and linebacker Noah Taylor added seven stops apiece.
"I thought they were outstanding in the critical moments," Mendenhall said of his defensive players. "So the difference between this game and, let's say, the Wake Forest game, was the critical moment stops. The rest of it [was] about the same. But the critical moment stops is how you have success and that's what they did. And, really, I hate to say that's all that matters, but it really matters, and that's how you have success, and they're to be credited for that, because they've been working their guts out over the past couple of weeks."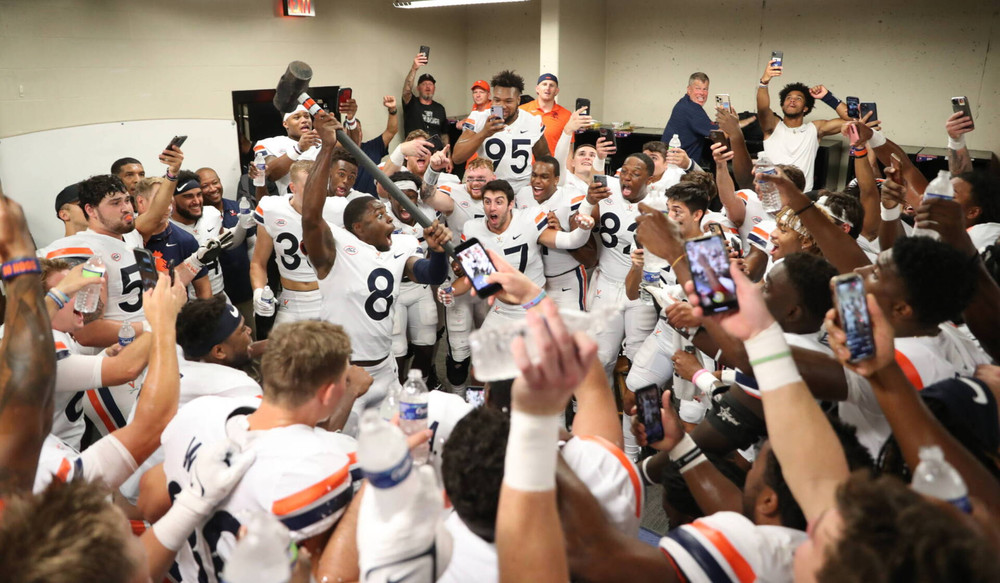 HAMMER TIME: Never mind that Bratton, who's in his fifth year in Mendenhall's program, had only two tackles. The play on which he chased down Hall earned No. 8 the honor of breaking the rock, a tradition after every UVA win.
"He didn't have a significant role tonight in terms of number of plays," Mendenhall said, "but, wow, there couldn't have been a bigger play, and his effort and fortitude and just commitment to our team, I'm not going to forget as a coach. In fact, I only remember a couple plays from that whole game, and that was the one I remember most, and Grant Misch."
Bratton's reaction to being chosen to break the rock for the first time?
"I was just speechless, just so happy for my team, and for my teammates and my coaches," Bratton said. "This is a big win for us, and we needed that win."
STEPPING UP: On a day when Woods was hobbled and big-play receiver Dontayvion Wicks departed with an injury on the first drive, courtesy of a hit by a Louisville linebacker who drew a penalty on the play, wideout Ra'Shaun Henry turned in his finest game as a Cavalier.
Henry, who joined Mendenhall's program as a graduate transfer in the summer of 2020, caught nine passes for 179 yards against Louisville.
"That's great for us going forward," Mendenhall said.
FRIENDLY SURROUNDINGS: UVA celebrates Homecomings next weekend. At 12:30 p.m. Saturday, in a Coastal Division game to be shown on Regional Sports Networks, UVA (4-2, 2-2) will take on Duke (3-3, 0-2) at Scott Stadium.
Duke lost 31-27 to Georgia Tech in Durham, N.C., on Saturday afternoon.
The Hoos have won six straight over the Blue Devils. This will be their third straight meeting at Scott Stadium. Virginia leads the series 39-33.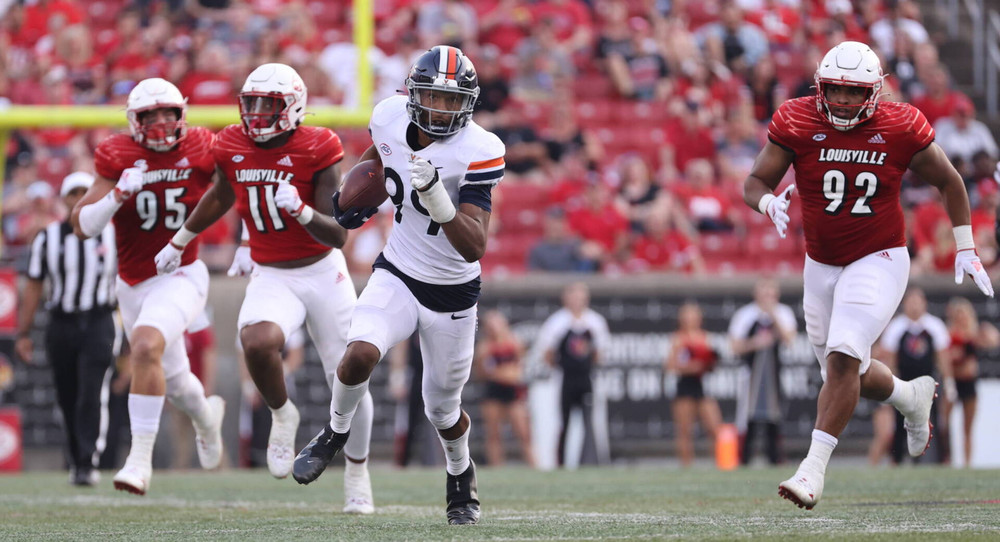 SOUND BITES: For the Cavaliers, this marked the first time they scored in the final minute to win a game since 2012, when quarterback Michael Rocco and tight end Jake McGee teamed up on a 10-yard TD pass in a 41-40 victory over Miami at Scott Stadium. Among the postgame comments Saturday:
* Jackson on the second straight road victory: "Now we're just learning we can win anywhere. Anywhere can be Scott Stadium. We've proven over the years that we're dominant at Scott and I think now we're proving to ourselves that we can win anywhere."
* Mendenhall on Thompson: "Keytaon just seems to be there when you need him, and when your heart is stopping and your breath is holding and your stress is building, there he goes, catching another one."
* Misch on what sparked the Cavaliers' turnaround: "We met up at the end of the third quarter, we all got together, and [running backs coach Mark Atuaia] gave a pretty good motivational speech. I think it got everyone a little bit fired up, and we just came out and we played fast and we played UVA football, and that's all we needed to do."
* Louisville head coach Scott Satterfield: "We kick the field goal to go up 17 and you feel pretty good about having a game in hand."
* Satterfield on Thompson: "He's got great poise and I think he's got great confidence. He's a guy that feels like he can make the plays. doesn't get rattled and that was evident on the last [drive] with two [fourth-down receptions]."
* Satterfield on Louisville's struggles against Virginia's passing game: "I think it was a little bit of everything. I think there were times where [Armstrong] squeezed the ball into windows and made those throws, there were times we had guys on their backs and they made the catch, there were other times when we were sitting in a zone and [UVA receivers] were free and open, and I think he did a good job of finding those guys in those windows."
* Mendenhall on the final kick: "I thought [Louisville] played really well, and so did we.  And so one play is really what it comes down to, and there's so many you can pick from. That was just the most visible."
To receive Jeff White's articles by email, click here and subscribe.