By Jeff White (jwhite@virginia.edu)
VirginiaSports.com
PROVO, Utah –– Two months into the season, a bye week has finally arrived for the University of Virginia football team. Nobody in head coach Bronco Mendenhall's program is complaining.
The Cavaliers have been grinding since the start of training camp in early August, and many of their players are banged up. Record-setting quarterback Brennan Armstrong joined that group late Saturday night. Midway through the fourth quarter against No. 25 BYU at LaVell Edwards Stadium, Armstrong came to the sideline with a rib injury, the severity of which wasn't clear before the Wahoos flew home early Sunday morning.
True freshman Jay Woolfolk took the rest of the snaps for the Hoos in their 66-49 defeat. The loss of Armstrong cast a pall over what was already a frustrating night for Virginia, most of whose coaches, including Mendenhall, previously worked at BYU.
"Brennan's our guy," UVA linebacker Nick Jackson said. "Definitely when you see that it has an impact."
Armstrong has passed for 3,557 yards this season, a program record. His health isn't the Cavaliers' only concern. BYU (7-2) amassed 734 yards of offense and recorded 36 first downs against an overmatched defense.
"I think the bye week is crucial for us right now," Jackson said. "We gotta really do some soul searching and really do some mental breakdown on our defense. We gotta  really figure out assignments, alignments, all that stuff right now, and it's gonna be crucial going into this last stretch … We gotta dial in. We gotta play harder. We gotta play faster. We gotta play stronger for our team."
UVA, which is in its sixth season under Mendenhall, came to Provo on a four-game winning streak. The Cavaliers' defense had been inconsistent all season, but never had it struggled as much as it did against BYU.
The Cougars scored on a touchdown on each of their first four possessions. They went into the fourth quarter trailing 49-45, but rallied for three more touchdowns to win going away.
UVA (6-3) had no answers for BYU's balanced offense. Quarterback Jaren Hall passed for 349 yards and three TDs, and tailback Tyler Allgeier rushed for 266 yards and five TDs.
"Our defense has to get more stops, has to play better from beginning to end," Mendenhall said. "That has to happen, and especially when you go on the road and especially when you play a good team, that just makes it even more critical. And we didn't and we need to."
In addition to Hall and Allgeier and a talented corps of wide receivers, the Cougars have a strong offensive line, Mendenhall said, "and they have a really good plan. In my opinion, that's the most physical team we've played the entire year. And it showed in us not getting off blocks, not making tackles, and certainly not tackling anyone backwards.
"Rarely did we win first down. We were in a lot of second-and-4s, second-and-3s, second-and-2s, and then there's shots downfield that we made some plays on, but certainly not enough, and we really didn't have enough pressure on the quarterback to affect him as well."
Any time the Cavaliers score 49 points, Jackson noted, they should win.
"Our defense has got to be better," he said.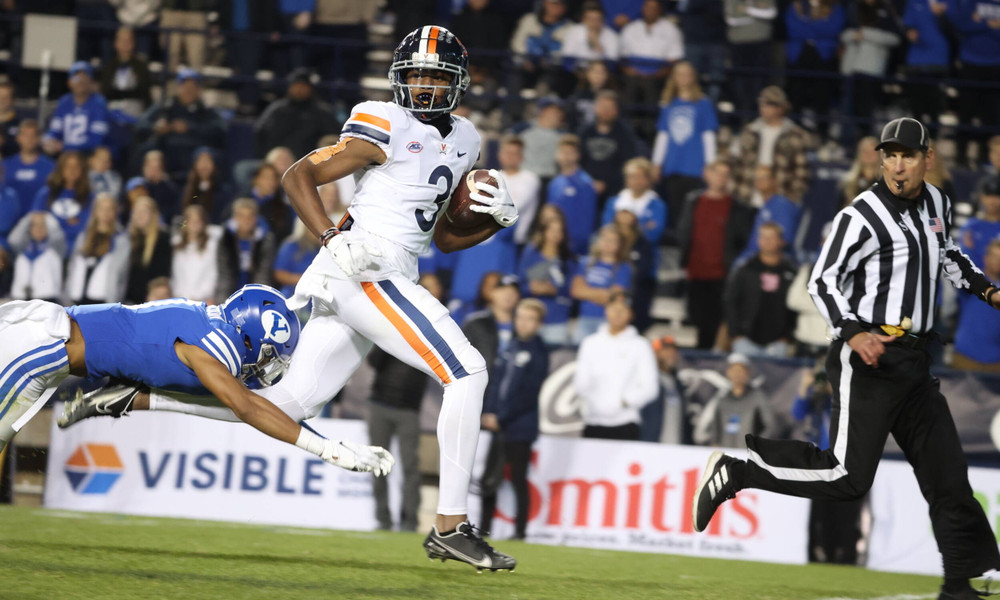 Virginia's offense totaled 588 yards, 448 of which came in the first half. After falling behind 21-0, the Hoos stunned the Cougars, and the near-capacity crowd of 57,685, with a barrage of touchdowns.
Each of Virginia's final six possessions in the first half ended with a TD. Armstrong started the comeback with a 5-yard touchdown run late in the first quarter. In the second quarter, tight end Jelani Woods (40 yards) and wide receivers Dontayvion Wicks (70 yards) and Billy Kemp (12 yards) had a touchdown catch apiece, and Armstrong (30 yards) and running back Devin Darrington (49 yards) each had a long TD run.
The Cougars "start fast against a lot of different teams," Mendenhall said, "and they jumped out on us quickly, but our team remained poised and composed, and our offense responded and went in with the lead at halftime. And that's tough to do. And so Brennan was right in the middle of all that and probably the primary reason [for the comeback]."
The Cavaliers led 42-38 at the break, an improbable turn of events after their slow start.
"It was great," said Keytaon Thompson, who finished with 91 yards on nine receptions and also rushed for 23 yards "It was fun, just to get in that groove … We never really felt out of a game, to be honest, even though we were down 21. We just keep fighting, and tonight we just didn't have enough in the second half to pull it out."
Virginia took its final lead with 2:10 left in the third quarter, on Armstrong's fourth-and-1 touchdown pass to Thompson from the BYU 2. Brendan Farrell added the extra point to make it 49-45.
Armstrong finished 21-of-33 passing for 329 yards and four touchdowns, with two interceptions. He rushed 11 times for 94 yards and two more scores.
On a night when both offenses posted video-game numbers, BYU came up with three takeaways and turned them into 21 points. Virginia, meanwhile, forced no turnovers.
"That ended up being the difference in a game like this where not many defensive stops were happening," Mendenhall said.
The players on UVA's defense need to improve, he said, and so do the coaches. "They'll have to be better and continue to be better down the stretch, and they know that," Mendenhall said.
IN PURSUIT: One of the Cavaliers' goals is to win the ACC's Coastal Division, and the loss to BYU didn't hurt their chances. The Hoos, who arrived home Sunday morning, have two conference games left. They play at Pitt on Nov. 20 and then close the regular season at home against Virginia Tech on Nov. 27, and wins in both would give them the Coastal crown.
"BYU has a good football team," Mendenhall said. "I'm excited about their future. I'm also excited about ours as based on what is happening in the Coastal Division. So we control our destiny, and playing well and winning is really what's at stake."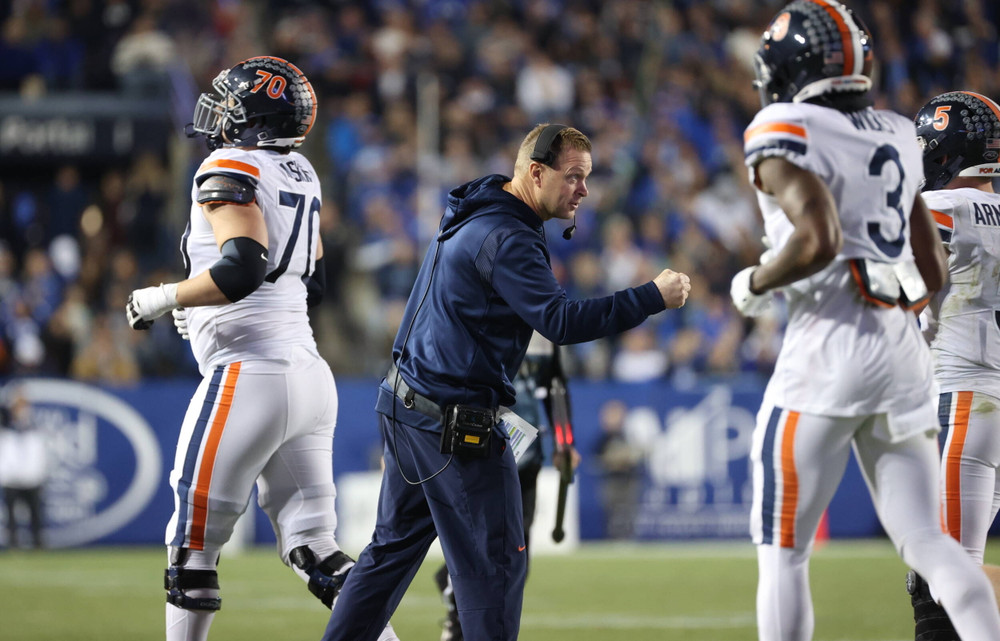 HOMECOMING: Mendenhall spent 11 seasons as BYU's head coach before coming to UVA in December 2015, and he received a warm ovation from the crowd Saturday night.
Also recognized before the game on the videoboard were the 10 members of Mendenhall's staff at UVA who also have ties to BYU: Robert Anae, Mark Atuaia, Garett Tujague, Jason Beck, Kelly Poppinga, Shane Hunter, Nick Howell, Patrick Hickman, Justin Anderson and Matt Edwards.
Mendenhall said his return to Provo brought back a "flood of memories." He was touched by the fans' applause. He hadn't been a head coach before taking over at BYU, Mendenhall said, "and "so I was given a chance to learn, grow and develop and lead an amazing program … and that really allowed me to be considered for [the UVA job]. And that wouldn't have happened without my start here, and I'm thankful for where I am now. I'm just grateful."
UP NEXT: The Cavaliers don't play again until Nov. 13, when they host No. 11 Notre Dame (7-1) at Scott Stadium. The kickoff time and broadcast information have yet to be announced.
The Fighting Irish lead the series 3-0. In the teams' most recent meeting, the 10th-ranked Irish rallied to defeat the 18th-ranked Hoos 35-20 in September 2019 at Notre Dame Stadium. Virginia, which led by three midway, turned the ball over four times in the second half.
Notre Dame defeated visiting North Carolina on Saturday night.
SOUND BITES: The 115 combined points were the most ever in a UVA football game. Among the comments after the shootout in Provo:
* Thompson: "It's great to have a bye week coming up. Guys are banged up. It's been a long season, a long year. So it'll be good to get some time off."
* Mendenhall: "My team, they love to play football and they love each other. And they're not perfect, and I'm not perfect, but they hang together and they keep fighting and they keep trying and they keep fighting and they keep trying, and even with all of our flaws collectively, they keep going. And I'm proud of them for that. That's what I told them in the locker room after: I'm appreciative of their effort and just who they are. Regardless of whether they're behind, way up, way down, they just keep going. There's lots of work to do, but I'm proud of them for their effort."
* Mendenhall on the latest gem from Wicks (four receptions, 125 yards): "He works so hard, and he's being trained really well. His position coach, Coach [Marques] Hagans, is exceptional. He's really skilled at developing people as well as players. And if someone's with him long enough, they just grow and mature and grow and mature and grow and mature. And that's all that's happening for [Wicks] in really his first year of playing significant snaps. So he just keeps getting better, as really do most of our receivers, and that's a tribute to Coach Hagans."
* Thompson: "Everything that we want to accomplish is still in front of us. We just have to get better and play to our capabilities, and I don't think we did that tonight."
* Jackson: "Like Coach said, we control our own destiny in the Coastal, so we've got to keep on improving. And we've got to make plays for our offense."
* BYU quarterback Jaren Hall on the Cavaliers' comeback: "It was expected. We knew they're a good offense and we'd have to keep rolling, and that's what we did. So they got up, scored a couple touchdowns and got the lead back, but it didn't deflate us at all. We just kept rolling, kept doing our thing and moving the ball."
To receive Jeff White's articles by email, click here and subscribe.