By Jeff White (jwhite@virginia.edu)
VirginiaSports.com
CHARLOTTESVILLE –– No one who knows Charles McDaniel even casually would doubt his love for the University of Virginia or his commitment to its football program.
The University has figured prominently in his life for nearly 40 years. Born and raised in Fredericksburg, where he still lives, McDaniel was part of the recruiting class that enrolled at UVA in 1982. That was George Welsh's first year as the Cavaliers' head coach, and McDaniel helped him revive a moribund program.
McDaniel, a hard-hitting linebacker who made the All-ACC first team in 1984, ranks third all-time at UVA with 432 career tackles.
He graduated from the University in 1986. His wife, the former Tricia Horger, is also a UVA graduate. Their two children––daughter Jordan and son Charlie––graduated from UVA, too, as did their son-in-law, Chris Hinkebein, who was a kicker on the football team. Moreover, two of McDaniel's siblings are Wahoos, as are several of their children.
His experience at UVA, particularly with football, was transformational, said McDaniel, who's president and chief executive officer of Hilldrup Companies.
"I have a debt of gratitude that I'll never pay off," said McDaniel, who's also chairman of the board for UniGroup, the nation's largest household goods relocation organization.
"It was a great experience. It changed everything about me and kind of refocused me, I think, in the in the right direction. I still refer to it every day. It's a part of my life. I'm forever grateful."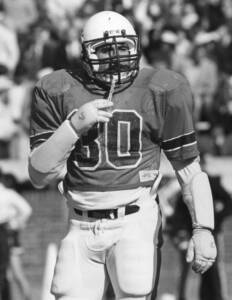 His parents attended the University of Richmond, but McDaniel, who starred at James Monroe High School, grew up rooting for UVA. The Cavaliers' football program was in such a sad state, though, that he initially planned to play college football elsewhere.
McDaniel remembers visiting UCLA, whose coach was Terry Donahue. "I thought it was the best place in the world," he said. "Prettiest girls in the world. I'd never been to the West Coast. A kid from Fredericksburg, Virginia, I didn't even know where California was."
The University of North Carolina also appealed to McDaniel. But then Virginia hired Welsh, who'd turned around the struggling program at Navy, his alma mater, and McDaniel decided to stay close to home.
In 1982, the Cavaliers finished 2-9, but they improved to 6-5 the next season, and in 1984 advanced to a bowl game for the first time in program history. The Hoos finished 8-2-2 that year and posted a 6-5 record in 1985, McDaniel's senior season.
"George brought that program from absolutely nothing," McDaniel said, "and gave it a standard of excellence. And he was as tough as they came, and his toughness, I think, helped mold a group of soft Virginia kids, primarily, into something."
In his third year, as UVA's game with Virginia Tech approached, McDaniel made unflattering remarks about Bruce Smith, the Hokies' star defensive lineman. McDaniel's comments made headlines in The Roanoke Times newspaper.
"During my playing days, I probably was too much the spokesman," he recalled.
The longtime rivals' game was at Lane Stadium that year, and Tech fans were waiting for McDaniel. "Let's just say it wasn't a warm welcome," he said. "I got pelted with everything and got called everything in the world, and I knew it was gonna happen."
The Cavaliers won that game 26-23. Much has changed in the college football world since then, "but these rivalries don't," McDaniel said.
In the regular-season finale for both teams, UVA (6-5 overall, 4-3 ACC) hosts Virginia Tech (5-6, 3-4) at 3:45 p.m. Saturday. McDaniel will be outside Scott Stadium early to tailgate with family and friends, and he'll be inside the Hilldrup suite when the game starts.
"It's a real big deal," McDaniel said, "and it matters. It matters to me a great deal."
He laughed. "If I pull up next to a car and it says 'Virginia Tech' in the back. I gotta get in front of it. I absolutely have no love lost for that school and that football program."
Since Welsh retired after the 2000 season, the Cavaliers have had three head coaches: Al Groh, Mike London and Bronco Mendenhall. Through all the changes, McDaniel has continued to support his alma mater in a variety of ways. He's a former member of the Virginia Athletics Foundation board, and Hilldrup, whose businesses include moving, has donated large trucks to UVA.
He has an excellent relationship with Mendenhall, who's in his sixth season at UVA. Mendenhall and many of his staff members came to Virginia from BYU, and Hilldrup moved their families to Charlottesville.
"I've given Bronco my thoughts on things, and he's given me his," McDaniel said. Both of them agree, as does athletics director Carla Williams, that UVA must upgrade its football facilities. That's essential not only for the Cavaliers to remain competitive in the sport, but for the financial health of the athletics department.
The centerpiece of the next phase of the department's Master Plan is a new football operations center.
"It's really important for us to get it done for all of athletics," McDaniel said. "All of the sports go through football, including basketball.
"Football has to matter. And when things matter at UVA, they get done. And that is my biggest concern right now: Too many people are not as engaged as they need to be or have not been supportive as they need to be. We need to have several big gifts, and I'm going to give a nice gift, but we need to understand the importance of football with athletics and the University."
McDaniel, who's been active in the UVA Alumni Association, noted the positive impact John Paul Jones Arena has had on the men's basketball program. UVA's football facilities compare unfavorably to those of its ACC counterparts, including Virginia Tech, and it's critical that supporters "understand how far we're behind," McDaniel said.
"We're in an unacceptable level with facilities in general, specifically football. We need to move and we need to move quickly or we will fall further behind. "
UVA has always kept the importance of its athletic programs, including football, in perspective, and that's admirable, McDaniel said. "I don't think we're ever going to be Alabama, nor do we want to be, but I do think that it matters and I think it's had a big impact on my life. I've been involved with football at Virginia for a long time, and it has helped me a great deal and I think I've helped the football program. So it's been a good marriage, and I hope that that doesn't change."
To receive Jeff White's articles by email, click here and subscribe.