By Jeff White (jwhite@virginia.edu)
VirginiaSports.com
CHARLOTTESVILLE — After graduating from Dartmouth College, John Paul Flores arrived at the University of Virginia and joined head coach Tony Elliott's football program this month.
His new teammates have yet to see Flores play, with one exception. Defensive end Paul Akere, another graduate transfer, played at Columbia University, one of Dartmouth's rivals in the Ivy League.
Dartmouth, which posted a 27-3 record and won two Ivy League titles during Flores' career there, defeated Columbia in 2018 and '19. (The COVID-19 pandemic shut down Ivy League football in 2020.) In 2021, however, the Lions knocked off the Big Green 19-0. Flores was in his second year as Dartmouth's starting left offensive tackle last fall, "and we pretty much were going against each other all game," Akere recalled.
Both players were named to the All-Ivy second team in 2021. Akere's scouting report on the 6-foot-5, 305-pound Flores?
"He has a strong body," said Akere, whose teammates at Columbia in 2018 includes Flores' brother Charlie. "He plays strong. Good feet. He's a pretty solid lineman all around the board."
The Ivy League historically has not allowed graduate students to compete in varsity athletics, but it relaxed its rules this year because of the pandemic.
"I could have taken a fifth year at Dartmouth, which was a high possibility for me, because we did have a very good team [coming back]," Flores said at the McCue Center. "But I just decided that we had a good senior year, and the ultimate goal is to make it to the NFL, and I think playing FBS and playing at a Power Five school will give me better film."
Flores, who's from Arlington, Texas, about 20 miles west of Dallas, played in only four games as a Dartmouth freshman in 2018 and thus has two seasons of eligibility remaining.
"That's huge," Virginia offensive line coach Garett Tujague said. "That's a win-win for the University of Virginia and J.P., because I think he can fine-tune his skill set to make himself valuable for the NFL."
Flores, who'll start a master's program in religious studies in August, is a welcome addition to a Cavalier team that lost its top six offensive linemen from 2021.
"The thing that I love about him the most is his desire to be good, and he's very conscientious," Tujague said. "He takes a lot of pride in being able to know what to do and when to do it. His teammates are everything to him. Just the simple things that he's done, as far as things he's put on the [O-line's] text thread, have been very helpful."
Flores earned a bachelor's degree in religion from Dartmouth. After entering the transfer portal, he eventually trimmed the list of schools he was considering to two: UVA and Southern Methodist University, "and, honestly, I was kind of leaning towards SMU," Flores said.
That changed after a dinner he had with Tujague, Elliott and UVA offensive coordinator Des Kitchings at Molly's, a restaurant near the Dartmouth campus in Hanover, N.H.
"I was kind of on the fence," Flores recalled, "and I'm a spiritual person. I come from faith." He felt a strong spiritual connection with Elliott, who said a prayer before the meal, and Flores took as a sign that he belonged at Virginia.
The Wahoos are thrilled to have him.
"During the recruiting process, J.P. knew exactly what he wanted, knew exactly what he was looking for," Tujague said, "and it was confirmed at a dinner that we had with Coach Elliott, Coach Kitchings and myself."
Flores, 23, has been working out with the Cavaliers' other offensive linemen, he said, and "I like everyone. They've really welcomed me in."
Tujague is on vacation this week. Before leaving town, though, he met regularly with Flores in Charlottesville, "just to go over scheme, and he's embracing the whole deal about being a pro, to take care of his body, to train, to eat, to study," Tujague said.
"He's just being a great leader. That's one of the things I told him when he said he was coming, that we're going to lean on him heavily because of his ability to be a great leader. He's an older guy. He's been at a different level, but still has the most game experience [of any UVA offensive lineman]. So he's kind of embracing that role and trying to become as polished as possible in the offense to be able to teach the younger classes, and then to be a rock for guys like [Jonathan] Leech, [Derek] Devine and Logan Taylor."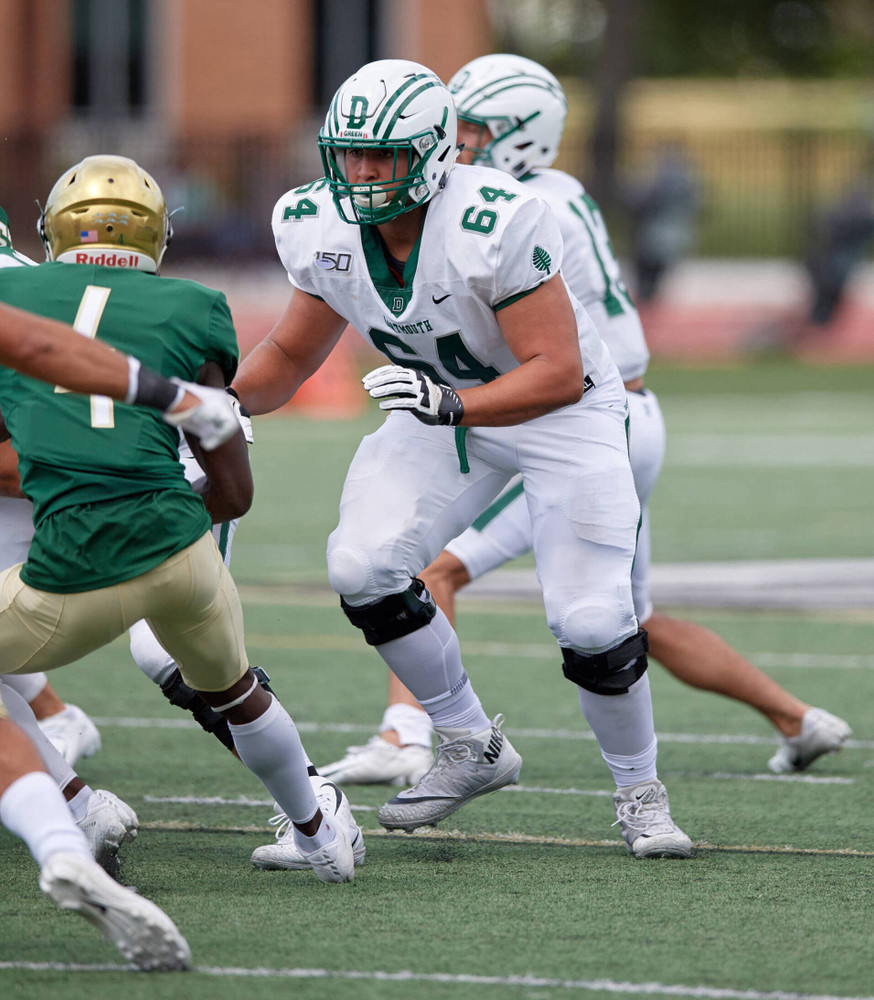 Flores has enjoyed working with Tujague, one of three assistants Elliott retained from predecessor Bronco Mendenhall's staff after taking over in December.
"He's fiery," Flores said. "I know he's gonna get the best out of me. He's a technician at heart. Developmental-wise, with the end goals of trying to make the jump [to the NFL], trying to contribute and help the team, I know he's gonna progress me as a player."
Which position Flores will play at Virginia is still to be decided.
"You know me," Tujague said, "I put my best five out there. To be honest with you, I would love for him to be at a guard spot, because I think that would be on paper our best lineup, plus it would push other players to be better. But he's working at center, left guard and left tackle."
Flores grew up in a family of athletes. His parents played football and volleyball, respectively, at what is now Texas A&M-Kingsville. He has three brothers, all of whom played (or still play) college football. The oldest, Jacob, starred at Dartmouth and then spent a year on the Green Bay Packers' practice squad. Charlie played as a grad transfer at SMU after finishing up at Columbia, and Michael is a rising senior on the team at Dartmouth. (Their sister, Lysette, also has an Ivy League connection. She has a master's degree from Harvard.)
Moving from the Ivy League to the ACC, Flores knows, will be challenging. "Obviously, everyone's gonna be bigger, stronger and faster. But it's an opportunity to go up against better players and competition and see where you really stack up. And not to mention, Virginia is a great academic school. I'm getting my master's paid for. The reason I chose Dartmouth is academics and athletics."
At Dartmouth, he formed relationships that will help him once his playing days end, and he expects to do the same at UVA. "Furthering my career on and off the football field is a huge thing for me as well," Flores said.
Flores is already strong enough to thrive in FBS, Tujague said. "I think first and foremost the biggest thing he's going to have to overcome is the speed of the game. The size part is not so much an issue as the speed. But just watching him run and do change of direction, he'll be fine by the time we get out of fall camp. I think for him the most important thing is to know the playbook inside and out. He's gone through four years of a word meaning this, and we may have the same word and it means something totally different. So re-training his lingo to our system is important."
Tujague laughed. "He's done a really good job at that, but it's way easier to talk through stuff on the white board when your heart rate is nice and rested and you have full oxygen flowing."
Akere, who like Flores has two years of eligibility left, is facing many of the same challenges in his transition to FBS. But Flores is confident his former rival will be able to make the jump, too.
"He was probably one of the best defensive ends I played in the Ivy League," Flores said. "Good player and a good guy. I know he's a hard worker who brings leadership to the defense."
Akere also grew up near Dallas, in Carrollton, Texas. He and Flores didn't know each other in high school, and when they lined up across from each other last fall, neither could have known they'd be teammates at UVA eight months later.
"It's definitely interesting," said Akere, who's pursuing a master's in higher education. "It's not something I would have seen coming, but I definitely appreciate having him around. It's going to be exciting, for sure."
To receive Jeff White's articles by email, click the appropriate box in this link to subscribe.